7 Life Lessons Learned From My Father's Cat
True wisdom is found in watching a cat.
Her concentration is unbreakable as she crouches close to the ground. Every muscle stays perfectly still except for the tip of her tail, which wags ever so slightly as the only warning to her intended victim. With eyes fixed on one spot on the ground, she's a statue waiting for her prey to make a terminal mistake.
A leaf falls from the tree above, breaking her concentration. When she glances back, her next meal has already escaped to freedom. Unaffected, she rolls on her back to scratch the itch that's been bothering her.
Sitting on my deck, I watch her dance with butterflies in the yard. My thoughts drift through time, pondering all the life lessons she taught me.
Who is she? My father's cat, Bootsy. She's the last picture in this post.
What follows are the seven life lessons she's taught me so far.
1. Patience
All good things take time to achieve. Bootsy understands this lesson better than me. She'll stand sentry for hours in her backyard kingdom, daring a chipmunk to venture into the sun. Even if an entire afternoon goes by unsuccessfully, she never gives up. The next day, she'll return to her post and wait again.
One dictionary defines patience as, "the capacity to accept or tolerate delay, trouble, or suffering without getting angry or upset." Patience is rare in today's instant-gratification world, but you can cultivate it with time. Bootsy knows if she is patient long enough, she will capture her prize. Success might not come today, but it will come.
What are you chasing? A degree? Career? Romance? Don't be quick to give up. You may be closer than you think.
2. Persistence
If Bootsy decides the mole in the yard has to go, she'll hunt him until she wins her fight. Day after day, she observes every moment, learning her prey's habits. Before long, she conquers her foe and her kingdom is again free of pests.
Achieving goals in life takes the same determination. You must decide you're willing to do whatever it takes, no matter the time requirement. Even if you fail today, you try again tomorrow.
Missing your goal is only part of the game. Showing up every day is the only way to win.
3. Focus
When Bootsy fully commits to catching a certain pest, nothing can break her concentration. She's oblivious to sounds and movement, except for that of her intended victim.
Focus is a trait I struggle with daily. While writing is my passion, email and social media alerts snatch my attention from the words on the page.
Focusing requires you to block everything else out. Your current mission deserves your full attention, even if that means shutting off your phone or placing it in another room. Sorry, Instagram. You'll have to wait.
4. Play
Bootsy plays every day. Her favorite toy is an old pill bottle with a plastic ball inside. She'll throw and chase the bottle for hours, enraptured by the rattle inside.
Play is the best part of life. As kids, play develops our imagination and teaches us about communication and interaction. As one gets older, play often gets neglected. Your mind thrives on diversion, and play is key to a healthy reset.
Play can mean different things to different people. Once upon a time, I loved tennis and hiking. As chronic illness steals more and more of my vitality, most of my fun now revolves around writing and video games.
Whatever you like to do, schedule some time each week for play. Creative recreation will refresh your mind and body.
5. Comfort
Bootsy is unrestrictive about getting comfortable. I'll frequently find her asleep on her back with her feet in the air or wrapped tightly under an outdoor rug on the deck.
Full comfort may be impossible at times. I'm sure my boss would be unimpressed if I showed up at the office in my robe and slippers. Still, it's important to be comfortable when you can.
Finding comfort includes learning to recognize and pursue the things that make you feel relaxed and peaceful. It also involves the people in your life. Maintaining comfort may require making a conscious choice to spend time with those who let you relax and be yourself.
6. Protection
I always know when it's going to storm. Bootsy is an outdoor cat and prefers to be outside. However, she hates thunderstorms, fireworks, and extreme cold. She's my little barometer and will come pounding on my patio door when she senses any of those things.
Just being inside isn't always enough. Thunderous storms will drive her to a quiet spot under my bed.
Keeping yourself safe is essential, but your inclination might be to ignore it. There may be some comfort in toxic relationships and soul-crushing jobs, but the long-term impact is too high. Protect yourself, even if that means making big changes or giving things up.
7. Love
Bootsy is unrelenting when she needs love. When inside, she'll find me wherever I am and make sure she's my chief concern. That often means getting on the back of my chair while I'm working at my desk. She'll climb my chair even during Zoom meetings if I'm not fast enough to stop her. If she's especially needy, she'll jump on the desk and sit on my keyboard.
As important as love is, many grow up believing you should never ask for it. Some equate expressing a need for affection with weakness. Wanting to be strong, they keep their emotional needs hidden.
Love is a vital component of a healthy life. Expressing the need for love shows that you recognize the importance of taking care of yourself. It's a hallmark of emotional intelligence and maturity. I don't recommend sitting on keyboards, but you should be just as direct.
Pay Attention
Life lessons are everywhere around you. If you're willing to listen, everything can teach you. Bootsy is no exception.
Keep your eyes open and pay attention. You might just see the way to be as happy as a cat.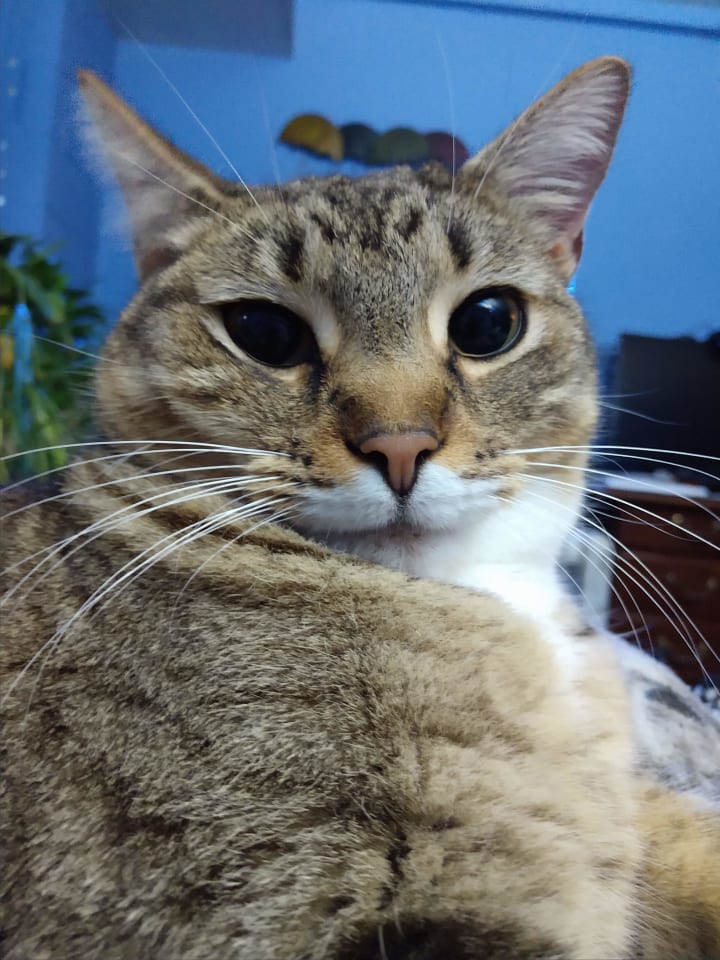 Learn to banish your negative thinking with my free Speaking Bipolar Positivity Club. The club is valuable for everyone but specifically written for those battling mental illness. Join today.
About the Creator
Bipolar for 49 years, chronically ill for 36. The voice behind the Speaking Bipolar blog. Wrestles taxes by day, wrangles words at night. Thinker. TV Addict. Poet. Links: https://speakingbipolar.com/socialmedia
Reader insights
Outstanding
Excellent work. Looking forward to reading more!
Top insights
Heartfelt and relatable

The story invoked strong personal emotions

Excellent storytelling

Original narrative & well developed characters
Add your insights