Supported by Ollie
5 Changes I Noticed in My Dog After Switching to Ollie
Start with the basics of giving your fur baby a nutritious Ollie food diet and the positive changes will begin to happen.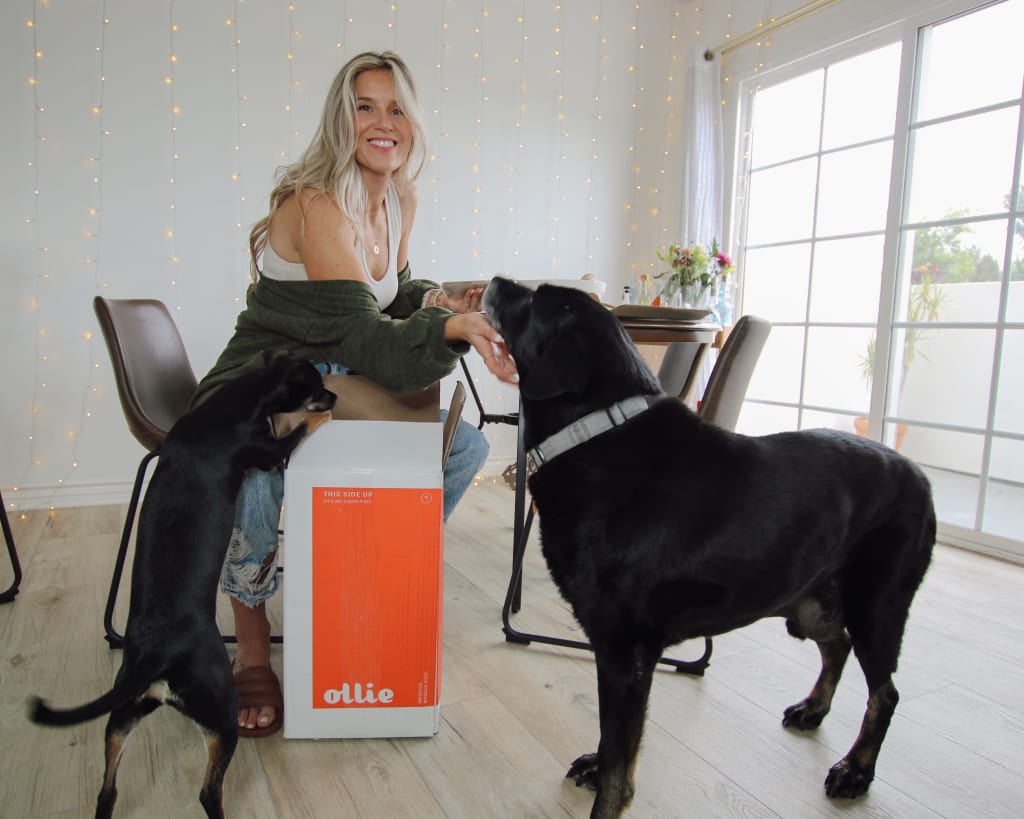 Anyone who has ever owned a pet knows that the love and bond between a human and an animal run deep. I have two pups. An older grandpa that has been with me for 12 years, Deaken. The other, a young, hip 8-month old girl that I recently adopted with my boyfriend, Bailey. We (the dogs and I) have come to a mutual understanding that I was brought to this earth to love, feed & play with them around the clock. Being that it is my duty to serve them the best life possible, feeding them the best food possible (now that I understand how important this is) has become a top priority for us.
I started dabbling in making Deak's food when he was diagnosed with cancer in December of 2020. Our Oncologist gave me some articles to read and I learned that a clean & nutrient-dense diet can play a major role in helping heal dogs with cancer. So I started making him food with the basics, ground turkey, rice & veggies.
Deak is a bigger dog, so the volume of food needed to be prepped just for one week was a lot of work. Healthy foods and "clean eating" are very important to me and my health. I already meal-prep 20 meals a week for my boyfriend and me. SO, with Deak's food on top of that, it was getting exhausting + I wasn't seeing any major changes.
I stumbled upon Ollie, an all-natural dog food delivery brand that has quality ingredients and provides a personalized nutritionally balanced fresh meal plan for your fur babies. When I read up on all of the ingredients in Ollie, I realized I probably wasn't seeing any changes because I wasn't giving him a fully well-balanced diet. What I was doing was an improvement but I was missing some key nutrients and things I don't know if I'd want to cook myself...eeek hello beef liver. :)
I'm also all about convenience right now and Ollie delivers fresh right to your door. That's right, you don't have to leave the house. I was eager to get the dogs started on it & was so ecstatic when I started to notice the benefits of switching both dogs to Ollie within the first few weeks. From shinier healthy coats to watching my grandpa of a dog play like a puppy again, I'm excited to share the 5 biggest changes I noticed in my dogs after switching to Ollie.
Cannot Wait to Eat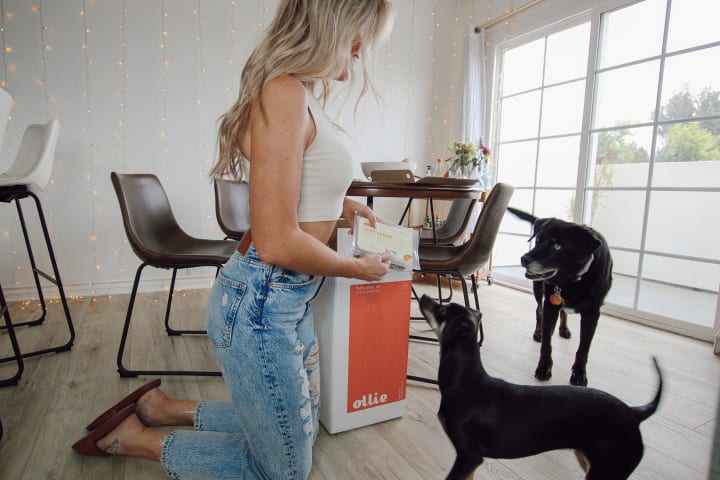 Deak is a very low-key dog. He'd stay sleeping through the morning if I didn't get him up. Now that we are on the Ollie, Deak jumps up if he hears someone moving in the bed. Doesn't matter how early, he'll try to get us up to feed him. Once we are up, both dogs rush their morning walk to come back in and gobble every last bite down.
More Energy & Vitality Improved
I think this is one of my favorite changes I noticed in Deak. Not even exaggerating one bit, he's acting like a puppy again. I honestly thought when we adopted Bailey she would get him up and moving more. But it wasn't until we switched his diet that I noticed him being more playful with her. He stopped loving long walks around the neighborhood when Chemo started and now he's excited to take his walks again. Sniffing and appears to be more interested in things he didn't seem to care for before.
Improved Digestion = Better Poops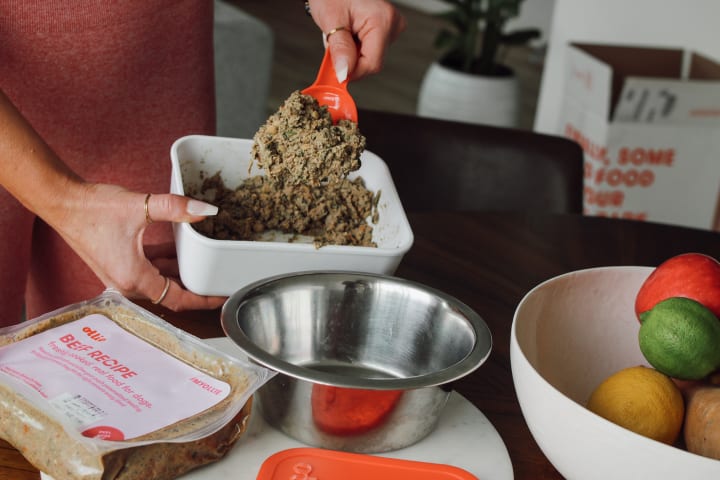 IFYKYK - seriously though, If you're a dog parent talking about poop is something you do casually in a conversation. Occasionally you'll get the person who stares at you in disgust when you tell them how your pup's morning poo went, and other times you'll have a person who asks for more details and just gets you.
When we first adopted Bailey, she was a pooping machine. She'd poop 4-5 times on a single walk. Some days it was wet and others firmer, but zero consistency. When it comes to Deak, he has had digestion issues in the past and a lot of wet poops. Now I notice both dogs poop less. Even better, it's easy to pick up because it's the perfect firmness every single time and smells way less.
Shinier Coat and Healthier Skin
When we adopted Bailey, one of the first things we noticed was her flaky dry skin. She was super itchy. We first just assumed it was allergies but after we made the switch to Ollie her skin slowly started to improve. After learning more about it, a lot of skin problems stem from the fillers in dry dog food. When the dogs eat a nutrient-rich diet full of essential fatty acids their skin will improve leaving your babies with a hydrated coat. You'll never want to end the snuggly cuddles. Both dogs now have the smoothest & shiniest coats they've ever had.
Improved Weight
When Deaken started Chemo his weight dropped quickly. While our Oncologist wasn't worried about it because it is a common side effect of chemo, it wasn't fun seeing Deak looking weak and malnourished. As soon as we started Deak on Ollie, within the first two weeks I noticed his ribs protruding less. Our Oncologist also noticed right away and was so happy to see the impact of his new diet while his body was busy fighting off cancer.
In addition to benefits for your fur babies, there are benefits for YOU, the human as well! One of the great ones is no more guessing if you're giving your dogs the right food. Ollie is the partner you always wanted to work with on a class project, they did all the leg work by teaming up with a canine nutritionist to develop the best recipes, cooking methods & portion sizes. The convenience of having two weeks of food dropped at your door has saved me so much time and any last-minute trips to the pet store when we run out of food.
I always joke that my fur babies will live forever because that would be the dream, but I'll settle for a long, happy, life full of memories and a bond that will carry on forever. They say a happy pup = a happy life. Start with the basics of giving your fur baby a nutritious Ollie food diet and the positive changes will begin to happen.
pet food
About the author
Devoted eater. Feel Good Enthusiast.
Beliver that movement is the best medicine.
Hoping I can inspire the hungry well balanced human in ya.
Reader insights
Be the first to share your insights about this piece.
Add your insights