Why Hiring a Wedding Planner is the Best Decision
A Bride-To-Be's New Best Friend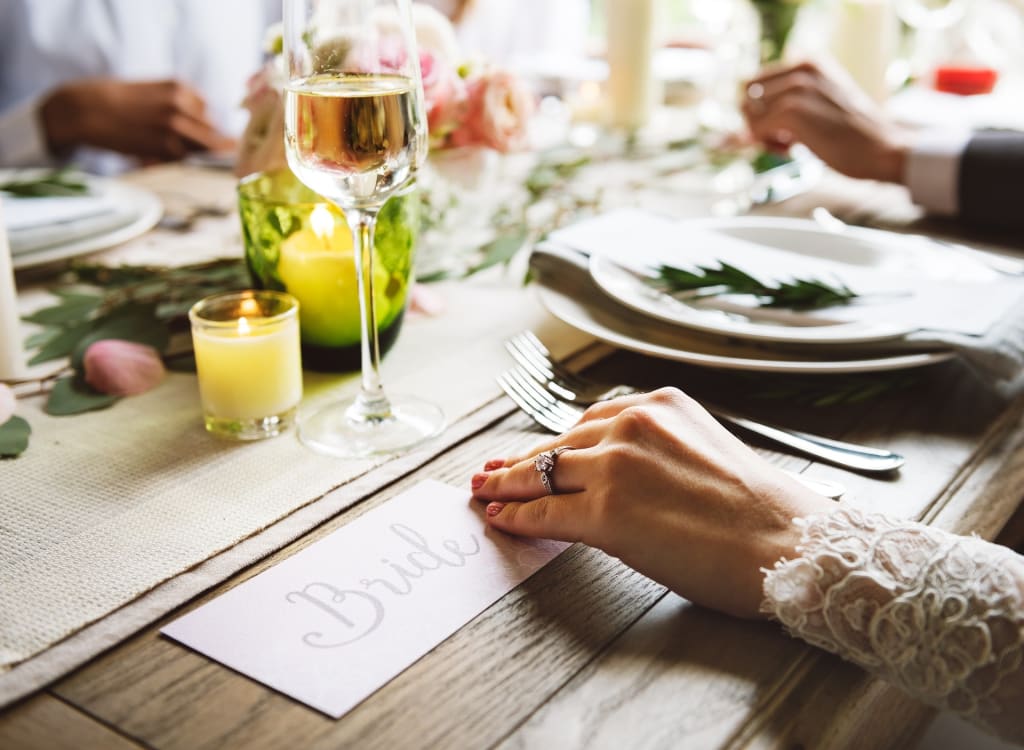 You're in heavenly shock. The love of your life just made the grandest proposal for you to be their one and only, forever and ever. Ring photos have been snapped, posted, and shared. Mom, dad, your best friend, and even the random stranger on the street have all been told the exciting news. You've been dreaming of your big day since you watched Cinderella and have been pinning wedding themes, colors, and décor on your board since first downloaded the Pinterest app. You can't wait to be the most beautiful bride anyone's ever seen. Now what?
Deciding whether or not you want to hire a wedding planner is usually one of the first questions after you say 'Yes' to that ring. Questions like 'is it really necessary?,' 'is it worth the money?,' and 'can't we do this ourselves?' start flowing in. As a previous venue wedding planner and the sole event planner for Lillie Jane Designs, I get asked these same questions all the time. I can truly tell you that no one has to hire one…but the couples that do are sure glad they did! Why? Because we make life easier! But how?
Budget Management
Most brides (and family) usually agree on the most stressful part of planning a wedding, money. A good wedding planner will work with you to understand your total budget and help you to stay inside the lines for your dream day. A great wedding planner will save you money. Previous experience with planning weddings, and usually a mix of other events, gives us a great estimated range of costs for each area of a wedding. With this knowledge, we can help in providing you a real idea of what the big day you imagined will cost, negotiating pricing, and suggesting different areas where you can cut costs with a little creativity and flexibility. I mean who doesn't like to save money??
Personal Assistant
When planning a wedding on your own, it can easily become overwhelming. Between figuring out every single thing that needs to be done and what order to do them in, who wouldn't go crazy? The answer to that question: a wedding planner. We are basically your personal assistant for all of your wedding essentials. Don't worry about making spreadsheet-comparisons of venues, sending save-the-dates and ordering invitations on time, tracking RSVPs, searching for the most affordable rentals to bring your design theme to life, or remembering what order your bridal party should line up in before the ceremony. A wedding planner is there to carry the weight and stress for you. All you need to do is bask in your engagement glow and count down the days until you marry your other half.
Day-of Coordination
On your wedding day, the last thing you want to deal with is figuring out where your ring bearer hid the ring bands, or any other minor disaster that may arise. The day of a wedding is beautiful chaos – and that beauty tends to fade real quick if you're struggling to deal with it all on your own. Imagine sitting on the phone with your cake vendor who's late, while begging the florist to wait so she can add the florals around the cake, all while you're supposed to be getting your hair and makeup done. Instead of sipping champagne and taking as many pictures as you can (to show everyone on Snapchat and Instagram how drop-dead-gorgeous you and your girls are looking for your big day), you're flustered and sweaty trying to get all the ducks in a row. Yikes! That's not the kind of 'memorable' you want…
Wedding planners specialize in running around like a chicken with its head cut off, a very organized, get-stuff-done chicken. And we do it all for YOU. Focus on being present in those unforgettable moments, and let the professionals handle the rest. With a well-stocked wedding emergency kit, a pre-coordinated itinerary, and a get-er-done attitude, your wedding planner will have you covered, and your day will be as magical as you dreamed.
The Aftermath
You may not always be able to distinguish a wedding that was coordinated by a planner vs. by the mothers of the couple at first, or even second glance. But I'd bet you the do-it-yourself brides can spot the exhaustion and angst in other brides who are planning without a professional. You know, the one trying to choose which cake topper and stand to get in Hobby Lobby, who's rolling her eyes at her mom, quietly thanking her Starbucks for keeping her calm and sane? We just want to hug and help that sweet, in-over-her-head girl…
We all want our wedding day to be perfect, with a classy send-off and once-in-a-lifetime honeymoon to seal the deal. When you hire a wedding planner, you can have that final cherry on top. No stressing about how your gifts are going to get home if you're going straight to the airport or hotel – already been coordinated. No panicking, wondering if your getaway car is going to be ready for your grand exit and get you to the airport on time – already pulled up out front with your honeymoon itinerary and flight information. No "oh shoot!" moments when you can't remember if you paid all of the vendors or not – already received payment reminders, gone to the ATM, and had totals closed out by your wedding planner.
Weddings are already made special by the people you love (and usually a little bit of alcohol). But hiring a professional can turn special into extraordinary. If you can afford to have a wedding planner, I absolutely recommend it. The relief you get from all of the stressors and worries of an important day is immeasurable. And it's simply nice to have someone around whose sole purpose is to cater to you and your needs. We all love our sweet moms and best friends who agree to be the maid of honor. But after bickering over what color chargers will go best with the bridesmaid dresses and breaking down in the bridal shop because you think no one is listening to you, a professional wedding planner starts sounding pretty darn necessary.