Why Every UK Couple Should Consider Las Vegas As a Wedding Option
There's more to Vegas than tacky drive-by weddings and Elvis impersonators, you know?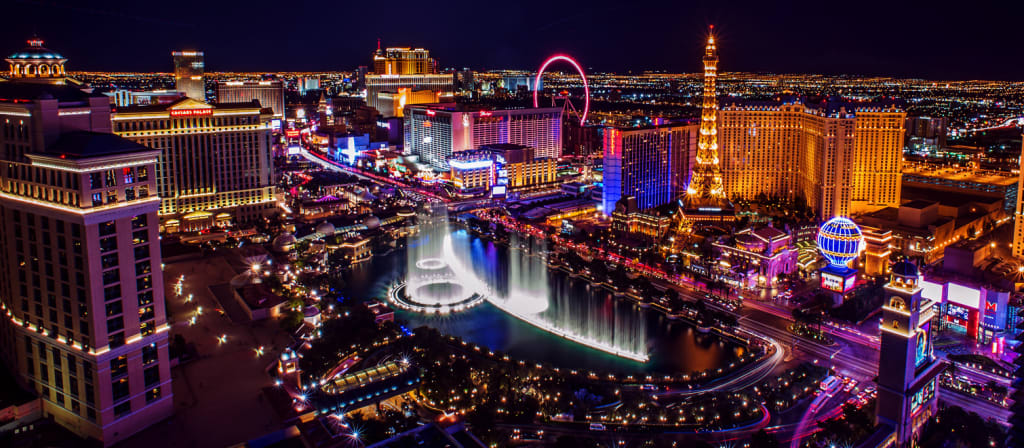 When you think of Las Vegas weddings you tend to link them to a couple of things. One, being rather tacky with a shotgun priest. Two, being associated with Elvis and cheap rose petals under a plastic spotlight. Well, what if I told you there was more to a Vegas wedding that that? You probably won't believe me, to be fair. But take it from me – the guy who married the girl of his dreams beneath the very Vegas lights beside the towering Stratosphere hotel. I'll tell you the truth behind Vegas, and why every UK couple should at least consider the possibility of tying the knot in Nevada.
First of all, you're probably expecting the trip to cost you an arm and a leg. But, in comparison to a UK reception venue, you're actually looking at far less for the entire trip – ceremony and all. Now, that doesn't mean it's tacky or less special than a local wedding. It just means it's more common and a pretty regular thing for weddings to take place in Vegas. So, whereas a luxurious castle in the UK would cost you about ten thousand, an entire wedding plus reception in a glamorous Vegas venue wouldn't scratch so much as two. Then, add on flights, accommodation for about ten nights and spending money and you're looking at a similar price as the UK venue – maybe even less.
For my wife and I, we booked ten nights in total on the strip. We spent the first two days arranging our marriage license at the bureau, visiting the beautiful chapel where we would make it official, and preparing for the big day. Then, on the third day we had the most incredible wedding ever. With two professional photographers, a dreamy backdrop in a glass garden, two stretch limousines, champagne and everything we ever asked for – we made it our own. Then, for the remaining seven nights we used them as our honeymoon, where we literally basked beneath the lights of Vegas as newlyweds. This, in total, cost us around five thousand pounds.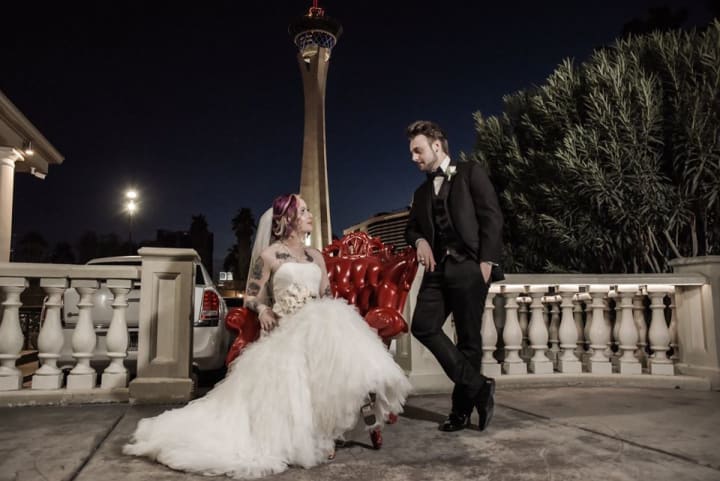 Over ten days we were able to have a wedding, a reception, a honeymoon, a fistful of spending money, flights, accommodation on the strip – all for five grand. And, you know what? Not once did we see Elvis or a plastic spotlight hanging over us. It was just as special as anything we could've dreamt of back here in the UK. And, the fact we paid off the entire trip in under two years truly is the icing on the cake.
Sure, some couples set aside twenty or thirty thousand for the most flawless wedding ceremony of all-time. But, if like us, you just dream of marrying the one you love – then consider Vegas as your wedding location. It isn't at all what you think. It's better than you can imagine and an experience unlike anything else in this world.
Every couple has different needs and, of course, the circumstances can vary. That's true, and at times can be a slight pain. But, if getting married is what you want and money is not exactly on your side, then Las Vegas should be at the very top of the deck when sitting down to discuss locations. That's something I'll always recommend to aspiring couples searching for the perfect package.
Start digging around and you'll notice the different side of Vegas which you never originally knew existed. There's far more to it than Elvis and cliche weddings. And, if you're really willing to go the distance from the UK, you can craft the most memorable wedding right there from your sofa. That's exactly what we did a year prior to jetting over. And, thanks to a generous wedding planner contacting us 24/7, we were able to tie loose ends and have every aspect fulfilled before so much as stepping on the plane.
Las Vegas truly is an amazing city. There is far too much to see and do and you never find yourself short of a life-changing experience. From exciting cuisines to jaw-dropping landscapes – Nevada offers some of the most memorable moments in North America. And, if you devote enough time to the city post-wedding, you'll come to cherish the wonders the iconic lights of Las Vegas has to offer you.
So, as a husband born and raised in the UK, I cannot recommend Las Vegas enough as a perfect wedding backdrop. It's something special and unique – and half of the price you'd pay here, too. That's something any couple should consider at some point or another. But, of course, the day is in your hands. I cannot convince you to uproot and depart from your home for a wedding. I am simply the messenger trying to open the door to a second, more cost-effective route to marrying the one you love. The rest is up to you.
Congratulations!
#DayEighteen #VocalChallenge2020 #Marriage