What Questions Should You Ask a Wedding Planner?
TIPS ON HOW TO INTERVIEW A WEDDING PLANNER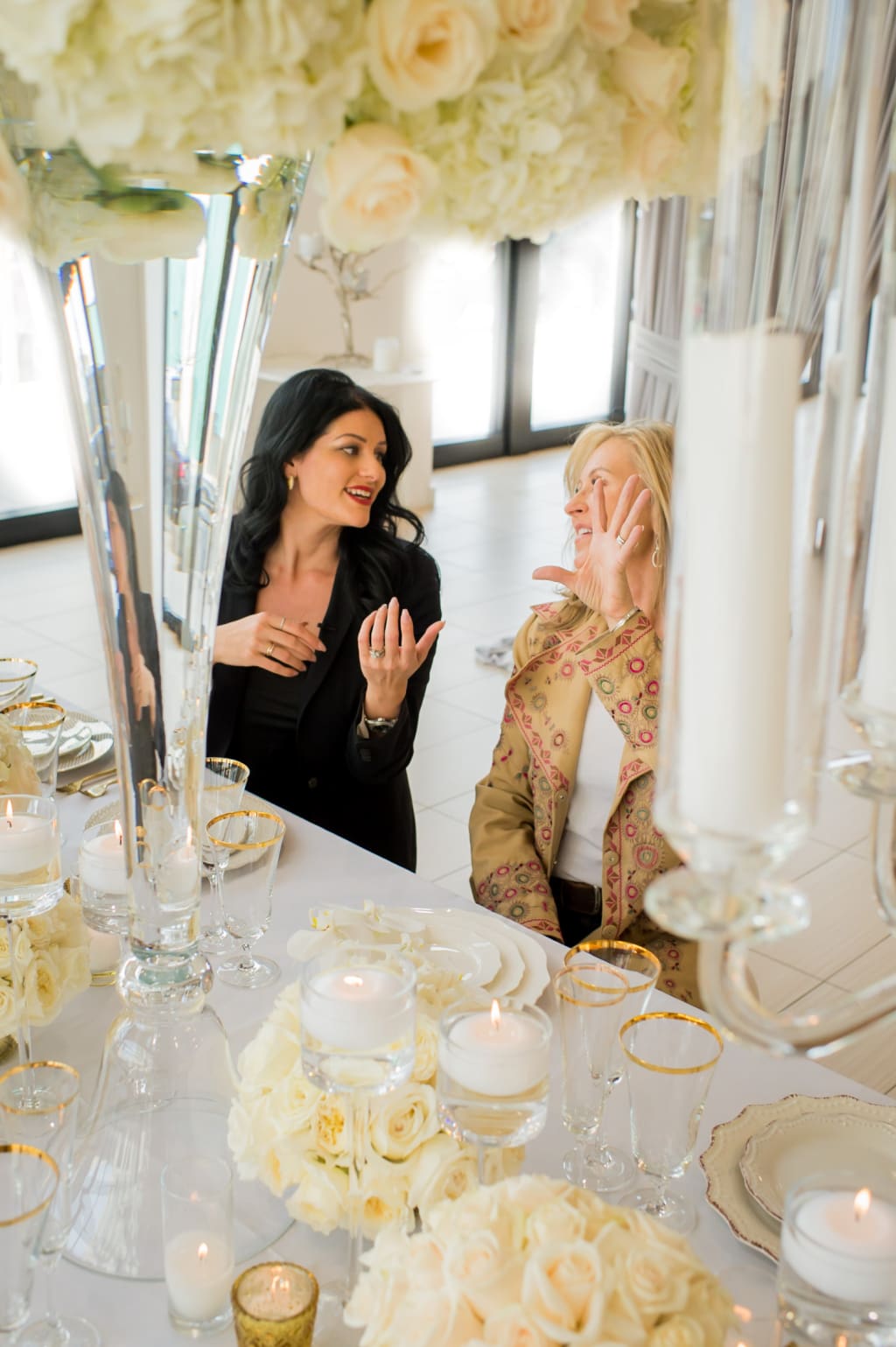 Luxury Wedding Planner Andrea Eppolito with Mother of the Bride. Photo by Banga Studio.
WHAT QUESTIONS SHOULD YOU ASK A WEDDING PLANNER? TIPS ON HOW TO INTERVIEW A WEDDING PLANNER
This week I had the privilege of being interviewed by a few couples currently looking for a wedding planner. One couple came prepared with a list of what I call "by the book" questions; the recommended Q&A that is suggested on all of the website and blogs you may read. The other couple came prepared to talk and have a great conversation, but they weren't prepared with any questions, they didn't have a lot of information to share, and they weren't quite sure about what questions they should be asking.
Interviewing a wedding planner is a strange and surreal experience. On one hand, you are looking for someone who has both technical skill and advanced industry knowledge. On the other hand, the inherent intimacy of this relationship means that you must connect on a personal level. As a couple, you want to work with someone who cares about you beyond the transactional relationship.
The relationship a couple has with their planner must transcend money. It must be rooted in trust, inspiration, a shared vision of the world, and a sold why.
When interviewing wedding planners, consider asking the following questions:
Tell me about your experience as a wedding planner.
WHY: As a couple, you want to to understand what your wedding planner's experience is like. Do they work early mornings, or late night? How do they function in the industry? How to they approach the tasks at hand? The goal is to see if your world views and work habits align.
What drew you to this industry?
WHY: In a world where you can be anything, why be a wedding planner? The answer to this question will tell you everything you need to know about your potential wedding planners motivation. Were they drawn to the glamour and production? If so, why? What is the emotional undercurrent that runs through their work? Is the planner's motivation going to help move your event forward, or will it be a hindrance?
What is the overall experience of working with you like?
WHY: You know those people who let you lead and make every decision? It may be fun at first to be in control, but in the end your wedding planner cannot be a "yes man". Clients hire planners because they need someone to guide them through the process. A competent planner will be able to outline a path way forward and give you a clear and definitive idea of what the process will look and feel like.
How involved will I get to be in the planning process?
WHY: Some wedding planners also serve as event designers and have a very well established style. Some operate as artists onsite, improvising as they go along with just the smallest input from you, while others seek to be collaborative and allow the clients to make the bulk of the decisions. Will you be allowed to choose your own vendors, or are you limited to the teams your planner works with? These are very important questions to ask, and you need to be comfortable with the answers.
How are final decisions made?
WHY: Will you make the final decision on everything, or will your planner have the right to override you? Is there a time sensitivity to making decisions?
What is not included in your packages?
WHY: Knowing that is NOT included is just as important as what is included. You need to know what responsibilities are going to be left in your hands, whether or not you are capable of fulfilling them, or if you will need to bring on additional teams and labor.
How many weddings do you take on each year? How do they compare to one other?
WHY: What are you really buying when you hire a wedding planner? Technology has given clients access to the administration of wedding, Pinterest and Instagram provide endless inspiration, and there are 101 blogs and online resources that can help you check the boxes. So why hire a planner? When you invite a wedding planner into your life, you are paying for art, attention, and intention. The artist in your wedding planner should see the world in a completely unique way, and has the skills to translate your love story into an experience that you could not create on your own. You are also paying for their attention. A planner who works with 20 clients a year will not be able to give you the time and focus that a planner who works with 5 will. Whether or not you require someone who provides a concierge level of service or a more traditional one is up to you, but you need to understand how their workload impacts the way in which they treat you. Lastly, you should have a sense of what types of clients your planner is working with at one time. Is the company handling primarily destination weddings, or local? Does the planner specialize in large, over the top events, or smaller ones? The goal is to understand the types of weddings your planner specializes in and how yours fits in.
Which wedding that you have planned in the last year is your favorite?
WHY: Understanding the type of work that your wedding planner gravitates towards and what they like to do will give you great insight into the way that they will approach your wedding.
In terms of budget, which of the weddings on your website or Instagram is possible based on our ideal budget?
WHY: Money is an important part of the equation, and a good planner will give you an honest assessment of what you can produce with the money you would like to spend.
How do you charge for your services?
WHY: What you will pay, when you will pay it, and why is an important part of the equation. As people, we value what we pay for. You as a client should have a clear understanding of what your financial obligation is, and the payments should make sense to you.
Do you take a commission from any of the vendors you refer us to?
WHY: Commission is a fairly common practice in the events industry. Whether or not a planner (or any other provider) pays or accepts commission is not something that I am here to judge. However, as the client you deserve transparency and a full understanding of the financial arrangements that are in place.
Is there anything additional that I should know about you or the process?
WHY: This is about trust. You as the client want to create an open door environment. You are inviting your potential wedding planner into your life. By ending the interview with an open ending questions you are giving the planner an opportunity to share information that would be helpful, and hopefully that information will help you make a final decision.
As with all things related to your wedding, while you will at times will make decisions with your head, much of what will guide you is your heart. Ask questions that will trigger an emotional response, and choose the person who's why most closely resonates with yours!
©ANDREA EPPOLITO EVENTS LLC | ALL RIGHTS RESERVED