Trending Fashion for Indian Grooms
The modern groom is open to new looks and willing to change their image.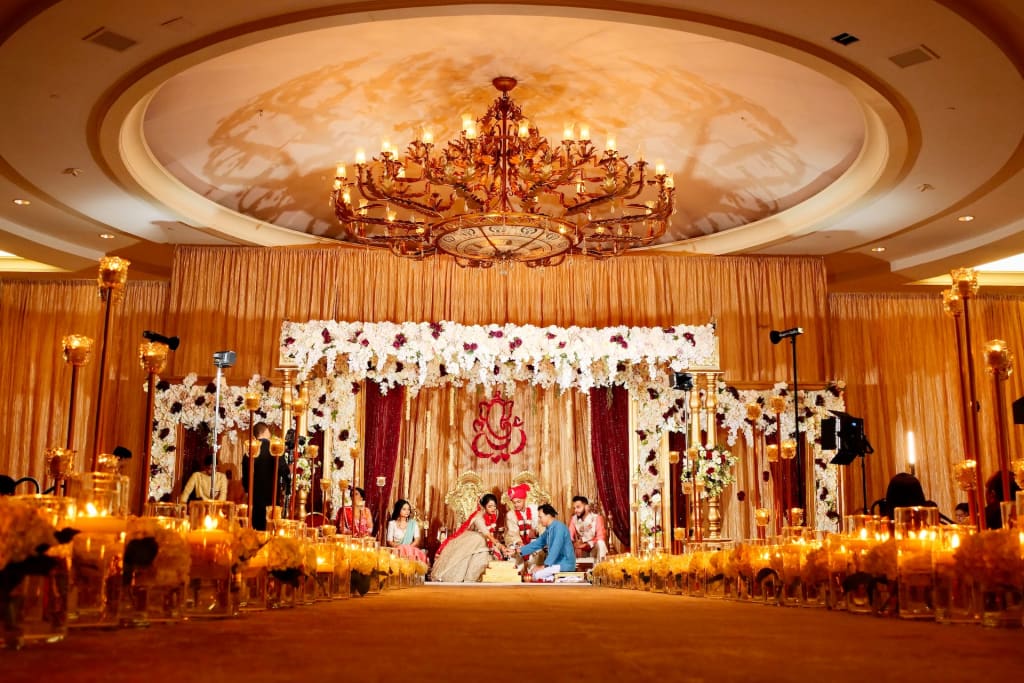 Although there are numerous articles on bridal attire for their wedding day, we cannot deny that today's Indian grooms know how to share the spotlight with their brides with an elevated sense of style. Those who married last year may be filled with resentment, because 2022 will be the year in which grooms will be highlighted. Brides may ultimately steal the show, but their better halves will give them a run for their money, as their wedding outfits have become more stylish, conscious, and sartorially experimental than ever before.
Indian men have an instinctive raw look that goes well with everything they wear, but to complement their sharp features and personality, they should choose something that brings out their natural charm. An Indian groom's attire is more formal and offers more options than his western counterparts, who are typically seen in a standard tuxedo. Grooms can coordinate colors, choose silhouettes, wear prints, and go completely flamboyant if they want to. They can wear traditional sherwanis and handloom lungi, kurta-pyjamas, dhoti kurtas, indo-western suits, Jodhpuri Bandhgalas, riding breeches, or even a classic three piece suit. The modern groom is open to new looks and willing to change their image.
Most grooms are unsure about what to wear in wedding events
Most grooms are unsure about what to wear to other wedding-related events without going overboard in order to make an impression on the wedding day. Certain looks work well for specific occasions, such as a bachelor party, such as an embroidered waist coat with a shirt and trousers or an ethnic blazer with a basic black t-shirt and denims. Cocktail attire can be bold and edgy, ranging from geometric to retro prints that make a statement. The puja is usually held during the day, so a short embroidered kurta with a printed or jute finish Nehru jacket and trousers is ideal for the carefree groom. The sangeet function can be a bandhgala in a bright color with surface ornamentation paired with a cool patiala that will definitely catch the eye of those with refined tastes.
The wedding ensemble refers to saving the best outfit for that special day. Sherwani is a classic with a traditional aura for Indian grooms and comes in a variety of colors and prints ranging from creams and beige to trendy colors and prints. Sherwanis with a lot of embellishment are paired with neutral churidars. Churidars, on the other hand, are reversing roles with embroidery or prints against a minimalist sherwani top. Modern sherwanis' silhouettes are also becoming more edgy, with elaborate layers. Grooms can go for a regal look by accentuating their sherwanis with exquisite brooches and tiered necklaces, or they can go for a sleek contemporary look.
Groomswear goes through distinct trends over time
Groomswear, like reception attire, goes through distinct trends over time. In recent years, the general trend in groomswear has been toward more casual and individual styles. The right attire for your reception must be a combination of personal taste, time of day, and wedding style. Variations and edgy treatments to the western classic three piece suit are a popular choice in India, particularly for wedding receptions.
The outfit options for Indian grooms are expanding on a daily basis, demonstrating that men are equally concerned with their appearance. Modern style trends cater to all sensibilities, whether you prefer timeless outfits or outfits with an element of surprise. Get these fashion trends from us, and you'll look like a dapper Indian Groom on your wedding day.
Lightweight Sherwani's for Men
It's not just about trends; it's also about where Indian fashion is going. Men's ethnic fashion has evolved in recent years, from neutral colors to subtle sherwanis to a growing emphasis on accessories. Men wore heavily embroidered sherwanis over cotton vest and opulent accessories such as safa, jeweled broaches, kalangis, mojris, and neck pieces in the past. The trend for the modern man has shifted to precise embroideries, exclusive handmade buttons, trim details, and richer fabrics. The silhouettes are clean, classic, and more versatile, allowing the outfit to be worn on multiple occasions. Today's generation demands exclusivity, regardless of the cost.
Summer defines the very essence of an Indian wedding, with vibrant colors embodying the vivacious ceremonies and rituals. Summer weddings are breathtaking. But, with the soaring temperatures and sizzling heat, doesn't the mere thought of donning a heavy sherwani or any lavish outfit to wear to a wedding cause perspiration? The following is a guide to help the dashing men survive summer weddings in style.
Bandhgala Sherwanis are in
This season, Bandhgala Sherwanis with unique detailing like tonal embroidery, innovative cuts, and tailor-made fit are in. Men are no longer dressed in brocade and heavily embroidered sherwanis; instead, they prefer printed or textured jacquard silk, art silk, jute silk, and embossed fabrics. This summer is all about the right mix of neutral/softer color palettes. Men nowadays are willing to try new colors such as light orange, vibrant shades of blue, rust, and maroon. Classic handcrafted shoes, brooches, and pocket squares are the perfect additions to an otherwise classic ensemble. The proper amount of accessories makes a charming impression.
Wear what flatters you, be comfortable in your own skin, and incorporate your own personality and style into your wedding ensemble. Remember that style is an individual thing. You don't have to look to male models for ideas. Be your own role model. Why should the sun and heat ruin this auspicious occasion? Put those summertime blues behind you and make the most of this special day.