Top 5 Questions You Must Ask a Photo Booth Vendor
Questions to ask when renting a photo booth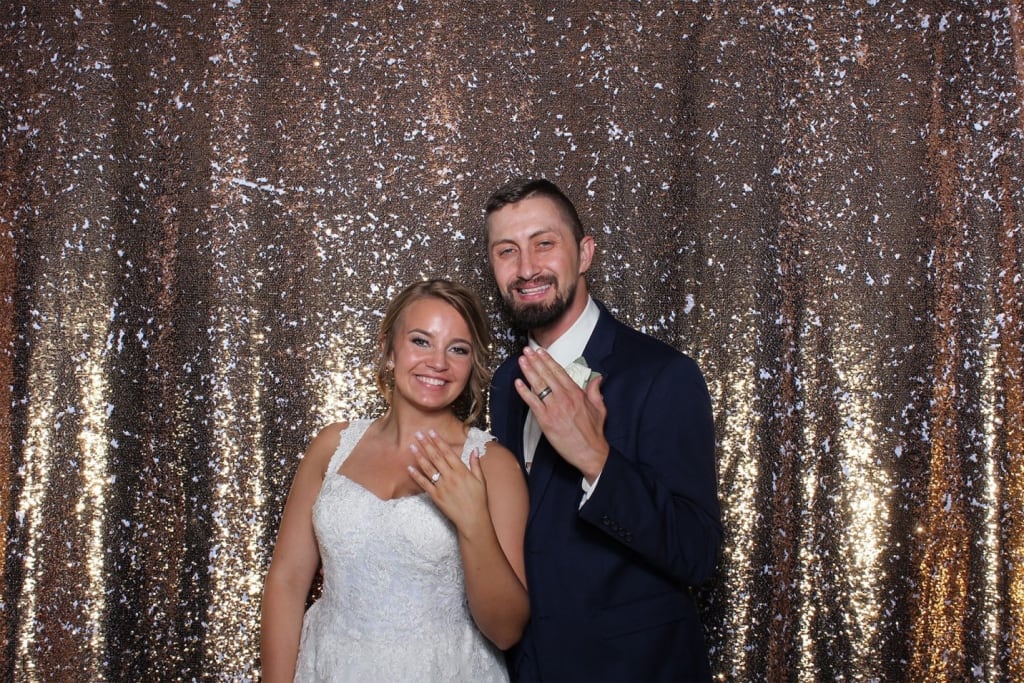 Bride and groom showing off their rings
Sometimes having good food, a DJ, and a designated dance floor isn't enough to keep your guests entertained. Consider hiring a photo booth company to give your guests something to get excited about and take your wedding to the next level.
But before you can hire a photo booth company, you need to do your research. Check out the top 5 questions to ask when renting a photo booth for your event.
1. Is your photo booth closed or open-air?
Generally, photo booths are available in two categories: Open-air and closed. When you're looking for the perfect photo booth for your event, you need to make sure the vendor has the style of booth you have in mind.
Closed booths come with the traditional box-style and can only fit a few guests at a time. However, open-air photo booths are a lot more flexible as they include a collection of beautiful premium backdrops. Moreover, you can fit more guests in a single photo.
Keeping the current pandemic in mind, you should opt for an open-air photo booth to reduce the risk of infection at your event. Make sure there's more than enough air circulation inside your photo booth and also your venue.
2. Do you provide digital props?
Luckily, we live in the days of Instagram, Snapchat, and other online apps that help create a wonderful digital experience. Don't get me wrong; physical props can introduce an element of fun. However, digital effects are much safer. You should ask your photo booth vendor what other kinds of new elements they offer to take the experience to the next level.
Some photo booths have the option of adding customized digital props and after-effects to your photos after they're taken. These are ideal as there'll be fewer chances of germs spreading when there aren't any props that multiple people can touch.
3. How much space does the photo booth cover?
Different booths have different space requirements and setups. You need to make sure the booth you're about to hire will fit inside your venue with ease. Don't forget to find out about the setup dimensions before booking it.
4. Do you offer digital print delivery?
Nowadays, many photo booth companies provide you with the option of sending all the pictures directly to your phone. A few companies also offer digital sharing stations so that your guests can leave with photographic reminders of the grand event. Ask the vendor if they offer digital print delivery as it's easier to share pictures that way.
5. Does the photo booth rental come with an attendant?
There's no reason for you to hire a photo booth company that doesn't include an attendant in the package as well. The equipment can be sensitive and challenging to handle. The last thing you'd want is for the company to accuse you of damaging the components. You need to have an attendant at the photo booth to make sure all your guests get the perfect shot, and none of the equipment is mishandled.
Bottom Line
Now that you've learned all the questions that you need to ask a photo booth vendor, there's only one thing left to do. Go on the internet to read about the company's reviews on sites like Google, Yelp, or in the comment sections of their social media pages. This way, you'll have more of an idea about the kind of experience you'll be paying for.
ceremony and reception
I am an marketer and writer. A writer by day and a reader by night as, a big music lover and foodie. When I am not doing all these, I try new things.