Tips for low budget weddings
Here are some tips to help cut the cost of your wedding without sacrificing your vision.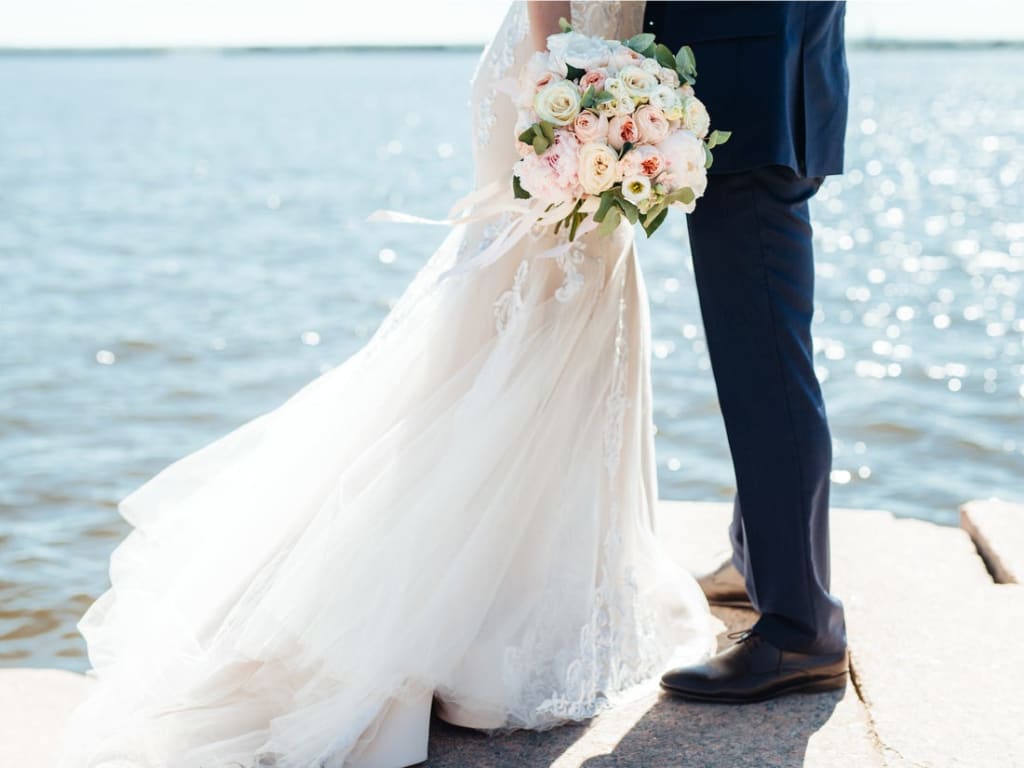 Photo from insider.com
When it comes to planning your dream wedding, things can get super stressful after seeing all those numbers adding up, planning your theme, and trying to figure out how to fly all those relatives over for the ceremony (I'm in the middle of planning my own wedding on a budget, so I understand the struggle completely!). Don't worry though! There are plenty of ways to cut those numbers down without sacrificing the beauty of your ceremony and reception.
1) The dress: You probably already have an idea of your dream wedding dress in mind as you're reading this. As impossible as it may seem, there are plenty of dresses out there that can fit your vision without costing you an arm and a leg. Try searching for dresses on apps like Amazon, eBay, and Light in the Box (I found my dream dress on Light in the Box). These apps have many low cost options as well as a range of sizes. If the dress arrives and doesn't fit just right, you can always either return it for a different size, or find a local alteration shop. If you can sew by hand or with a sewing machine, you could either do the alterations yourself, or you could even go so far as to sew your own dress. These same tips also apply to suits, tuxedos, flower girl dresses, and bridesmaids dresses.
2) Flowers: As weird as it may sound, when it comes to flowers, artificial flowers are the way to go! Not only are they cheaper than hiring a professional florist, but they don't wilt and die. You could keep those same flowers used in your ceremony and display them in your home or keep them as keepsakes. You can even design your own bouquet right down to the last detail. Stores like Walmart and Hobby Lobby have a wide range of artificial flowers. You can find beautiful artificial flowers online as well.
3) Invitations: Rather than paying for expensive wedding invitations, why not make your own? There are plenty of templates online that you can download and use to create your own unique design (there are even some on Microsoft Publisher). Simply buy cardstock from your local office supply store, load it into your printer, and get to designing! If you're a crafty kind of person, you can even make your own invitations using your own artistic abilities. The possibilities are really endless!
4) Wedding rings: When it comes to metals, silver is the most affordable metal for your wedding bands. You can cut the cost even more by choosing something that's only silver plated. As far as stones go, I would highly suggest a lab created diamond, white sapphire, or cubic zirconia. All three of these choices have the same sparkle as an actual diamond, but without the high cost of an actual diamond.
5) The venue: If you have your heart set on a particular venue, be sure to call the venue and ask about their off-season prices. In the northern part of the United States, high wedding season normally lasts through September and October (before all the heavy snow). In the South, more people tend to get married in April, May, and June (before the hot, sticky summer starts). It is possible that your dream venue may offer lower rates during their off-season. If you find that your dream venue doesn't offer lower rates during the off-season, then you have two choices. You could choose to either splurge and pay the full rate, or you could choose to find a cheaper venue. Good ideas for a low cost venue include your backyard (or a relative's backyard), your local church, or your town's courthouse.
6) Flight/Hotel costs: If you have family all over the country, one of your top worries right now is probably how you're going to fly everyone over as well as provide a hotel room for everyone. I have family here in North Carolina as well as in Ohio, so I do understand. Don't worry too much. I do have some tips that may help you out. For starters, if its at all possible, try finding a venue at a halfway point. For example, if you live in South Carolina, but most of your family is in California, try searching for venues halfway in between the two states. It may not completely lower flight and hotel costs, but it would at least help out a bit so you wouldn't be paying the full price for the flight. If a halfway point isn't possible for you, another solution would be to contact each guest in that other state and take note of who is willing and able to pay for their own tickets. Some people might just be more willing than you think. As far as hotels go, try searching for cheaper rates through websites like Trivago.com and Expedia.com. As I mentioned earlier in the Venues section, hotels might offer lower rates in the off season as well. It never hurts to ask!
7) Decorations: There are tons of cheaper options for decorations online. Personally, I found all of mine on Amazon (tablecloths, candleholders, table runners, chair covers, etc.). If you're crafty, you can even make your own. Check with your venue as well. A lot of venue packages offer decorations that are included in the cost.
8) The cake: With the internet being all that it is today, there is no shortage of baking tutorials and recipes to have right at your fingertips. Baking your own cake is by far the cheapest option and it can be fun too! My advice is to practice way before the wedding date to be sure you get it right, rather than stress about it at the last minute. If you find this too hard for you, try asking a friend or relative to bake it for you. You can also check out local bakeries too!
9) The music: You can easily create a playlist on your phone or laptop through software like Spotify or YouTube Music and simply hook everything up to speakers rather than hire a professional DJ. Simply enlist a willing guest to help with the transitions and to help keep an eye on everything. If live music is more your style, look on websites like Facebook or Craigslist. There are plenty of local bands who are constantly looking for gigs and might even negotiate the price with you.
10) The reception: Some venues have employees who decorate for you (usually only if you chose a package that included the use of their decorations). If this is not the case with your venue, the best option would be to either decorate it yourself, or with the help of friends or relatives. This is actually what I plan on doing for my own wedding reception. As far as tables and chairs go, be sure to check Craigslist and Facebook. You can even find good prices for plastic tables and chairs online.
11) The food: Arguably the most important part of any wedding reception, food can get pretty expensive. Instead of hiring an expensive caterer, why not have a potluck? Try brainstorming what kind of food you want to serve and ask relatives if they would be willing to cook a dish and bring the food to the reception. Sam's Club and Walmart sell burners and foil pans to help keep dishes hot until you're ready to serve them. You can even order these burners and pans even cheaper online. If a potluck isn't an option for you, try asking local restaurants about their catering rates (or if they offer catering at all). A lot of small restaurants that offer catering may be willing to cut you a deal or negotiate with you on pricing. Again, it never hurts to ask!
12) Hair/Makeup: My advice is to brainstorm what you want your look to be and then watch as many tutorials as you can. After that, practice, practice, practice! It is totally possible to create your own look on your own. This goes for bridesmaids as well. For my wedding, I'm choosing to do my own makeup, but my mother will be doing my hair. If you're just not able to do your own hair and makeup, try asking a friend or relative to do it for you. Another option would be to call local beauty schools and ask how much it would cost to have your bridal party's hair and makeup done. Beauty school students usually need a certain amount of hours of doing hair and/or makeup in order to graduate, and a lot of them offer their services for a lower cost than you'd get in a normal salon.
13) Photography/Videos: You can't go wrong with taking your own photos or having a friend or relative take them for you! For my photos, I use the Camera360 and Facetune apps to edit everything and make them look perfect. These apps have tons of effects and filters for you to play around with. For video editing, try Quick or Premier. You can also download software on your computer and edit everything that way. If you'd like to have a book of your photos, look around on Shutterfly. They have some good deals and cute book designs that you can order.
No matter what your wedding budget is, please know that there are plenty of options out there that won't break your wallet. Plan as early as you can. That way, you can actually enjoy being engaged instead of stressing about everything. I wish you the best of luck!