The Wedding Industry Is Making Weddings Unrealistic for the Rest of Us
Here's how to keep your expectations in check for a realistic wedding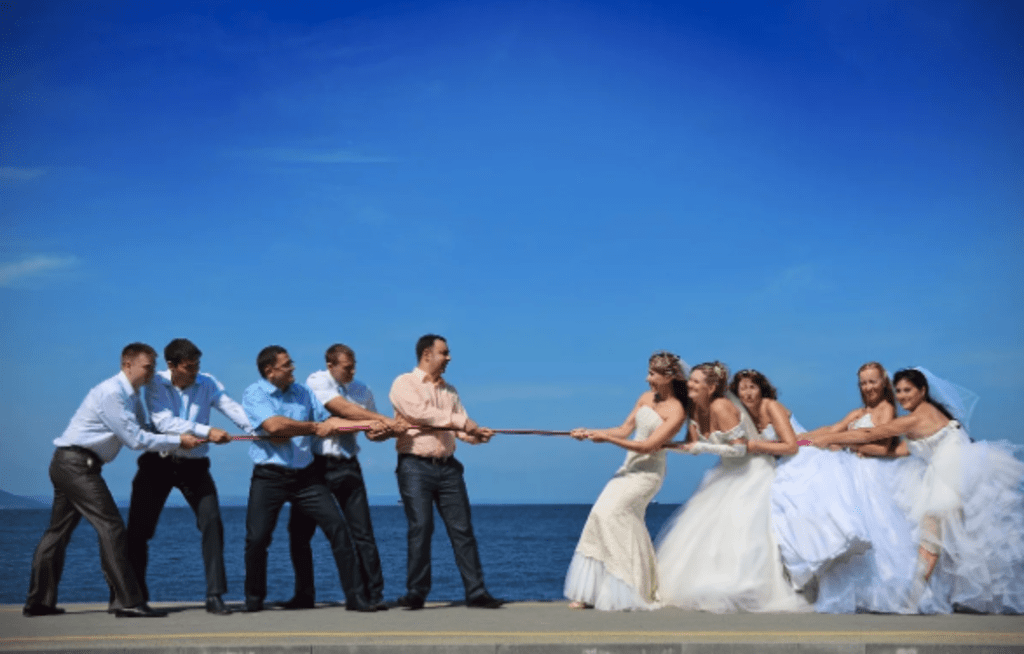 Most women will tell you that the wedding industry helps set unrealistic expectations in terms of what weddings are actually like. They market ideas of receptions that are nearly financially impossible to replicate. The wedding industry adds what seems like a romance tax on everything too, making planning the wedding of your dreams a little more complicated than you'd like.
Everyone has different expectations for their wedding day. The costs associated with this fairytale type of day are almost outrageous, but outrageous means in comparison with other average costs. For the most part, planning a wedding in this day and age can cost over $33,900. Millennial weddings are expensive, to say the least.
Even if you have an idea of what you'd like your wedding day to end up like, most brides-to-be can agree that planning the actual day-of your nuptials is a bit different than most women initially expected.
Here's How Your Budget Will Influence Your Wedding Day
Planning your wedding is actually an event shrouded in mystery. Before you're actually engaged, plotting out the to-dos of your happily ever after, it's likely you really have no idea what you're getting yourself into when it comes to planning your wedding.
One of the hardest parts of planning a wedding is considering the financial burden of the event. It's widely known that the wedding industry tacks on dollar signs onto pretty much everything - so how is it that you'll get every little cost covered? Somehow, in the end, it all works out in the wash. This isn't to say figuring out how to shoulder the financial burden of a wedding is easy. It's just to say that others have been there before you, and there are little things you can do to make the total tally of your big day a bit easier to stomach.
Here's the thing though. One wedding that costs over the average of $34,000 means that the lower-tier wedding is still going to look like it costs way more. It's important to keep this in mind when looking at national averages in terms of wedding related events. Of course, there are ways to allocate money in your budget for the wedding of your dreams. It just takes careful planning and actual budgeting to do such a thing. With that being said, when you start planning your wedding, it can be especially helpful to outline your top priorities and the things that are non negotiable to your special day.
Budgeting Dollars In Categories That Matter… To You
If you want to spend more than the national average on your dress but you're prepared to compensate for this expense by hiring a less expensive photographer or something of that nature, that's totally okay. Planning for your particular experience is a highly personalized thing - maybe some folks would rather spend on table settings than bridesmaid gifts. Everyone has a choice and that's what makes planning your own wedding such a special endeavor.
Though movie weddings set the industry standard and offer women highly unattainable expectations of what our weddings should be like - let's face it. Movie weddings help us fantasize and get excited about our own big days. Maybe you can't budget over $30,000 for the perfect white dress for Lillian bought for her wedding with Doug in Bridesmaids. And not everyone has the $70,000 to host the caterers that Carrie chose for her Sex and the City wedding. Your wedding day is a culmination of your dreams, not the dreams of fictional characters who have wallets fueled by fictional careers.
Be Realistic
The only thing that can ruin wedding planning for you is if you plan a wedding that isn't realistic by your own standards and means. Stick within your budget for your wedding and the day will become less stressful than you imagined it would be. Delegate the financial burden among the folks who are helping you plan the day itself, and be ready to host a beautiful and personal reception.