The Five People You'll Meet in a County Probate Court While Getting Married
A portrait of humanity in Georgia bureaucracy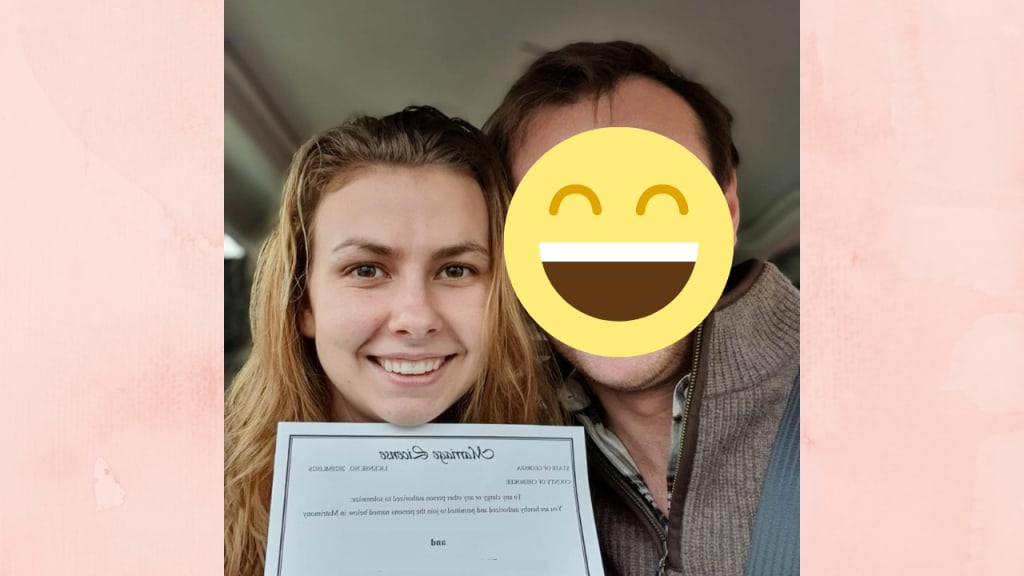 Picture of me on the day we got our marriage certificate.
Six years, two months and 28 days after I met him, I applied for a marriage license to wed my partner. It cost $66. There was no waiting period. The event took 45 minutes, including the obligatory selfie outside the courthouse with our license.
My soon-to-be was new to Georgia. He'd visited before, but most of his trips had included typical sightseeing destinations — places like Amicalola Falls, Dahlonega, Stone Mountain, Savannah.
The County Probate Court is, for good reason, not on the list for top touristic spots. The building was grey and drab; there was a metal detector to walk through. There were a few dust bunnies haunting the floor.
But the people we met were something special.
As we went through the floors of the building, trying to find the right room, each individual we crossed paths with was like a person from a parable. Each one had a story to tell, a lesson to impart, a message to deliver.
1. The security guard who joked with us
This man was jolly — imbued with a thick Southern accent and the country charm that can come with it. He laughed with us as we made our way through the metal detector, and joked with me about potentially hiding weapons of mass destruction in my sunglass case when it set off the detector.
As he was the guardian of the gates, I was prepared to encounter the worst kind of petty power tyrant. You find these people in minor positions of authority — TSA agents, bouncers. You know the kind.
I was visibly nervous as we approached, and he could obviously sense that. But instead of exercising his authority, he put me at ease as best he knew how — with a comfortable sort of humor.
"Enjoy the wedding!" he shouted after us once we'd made it safely past the entrance. "How'd you know?" I hollered back.
"You just got that look." He smiled until we turned the corner.
2. The veteran who hated Meghan Markle
"You see, it's just another case of uppity wife loving the spotlight and tearing a family apart," this man explained to me while I tried to hide my head behind a magazine.
We'd made our way safely to the office to purchase a marriage license, and we waiting for our turn. This man was a retired veteran, wearing a baseball cap with an American flag patch stitched on, and who sported an eyepatch. He'd already warned me that the office staff would be useless, because (he said, raising his voice to be sure they heard), "they were all just a bunch of nosy women."
He'd picked up on my partner's British accent, which he took as an invitation to start complaining about how Meghan Markle was ruining the British monarchy. Simultaneously, in his head, Meghan loved the spotlight which was why she married into royalty but also hated royalty, which was why she was dragging her husband, Prince Harry, out of the spotlight. He punctuated every angry sentence about her with, "Women!"
It turned out he was there to sort out a will. His deceased wife had left him the house but misspelled his name.
3. The good guy with a gun
While I was being unwillingly dragged into a conversation with that angry man, there was a lovely guy about our age who was engaging my partner in some idle chit-chat, seemingly as a way to save him from my own angry man.
They had a nice exchange about sports — it turned out he was into rugby, too. My partner was visibly relieved about not having to engage with the guy who hated Meghan Markle that he happily bantered back and forth with this dude for five minutes until he was called up to the front.
"Henry Davis, gun permit?" came the call.
"Oop, that's me," said our guy. "Good luck! And congratulations!" he said as he got up.
My partner turned to me in disbelief. "A gun?" he whispered under his breath. "But he seemed so nice!"
4. The man who lost his concealed carry permit
There was another guy in there for a gun permit, this one after a license that would allow him to carry a concealed gun.
He spent his waiting period studiously ignoring both the veteran's anti-Meghan rant and the sports convo. When his name was called, he carefully set aside the magazine he'd been hiding behind.
"Yep, that's me. I lost the last one," he volunteered needlessly to the lady.
I saw her eyes widen in horror and disbelief that the man who wanted to secretly carry a gun had been so careless as to lose his last one and apparently did not see the irony. He left, satisfied.
5. The pizza delivery person
Finally, our names were called too and we received permission to marry. Smiling triumphantly, we held hands as we made our way back through the bureaucratic labyrinth, permit carefully tucked in my purse.
As we passed the security setup, we spotted a pizza delivery woman who had been made to put the pizza in through the metal detector. Our security guard was chatting with her familiarly.
The pizza passed through without incident, and as she collected the box, she met eyes with my partner.
"The probate court is one of my most common stops," she explained in answer to his unasked question. "They love their pizza here."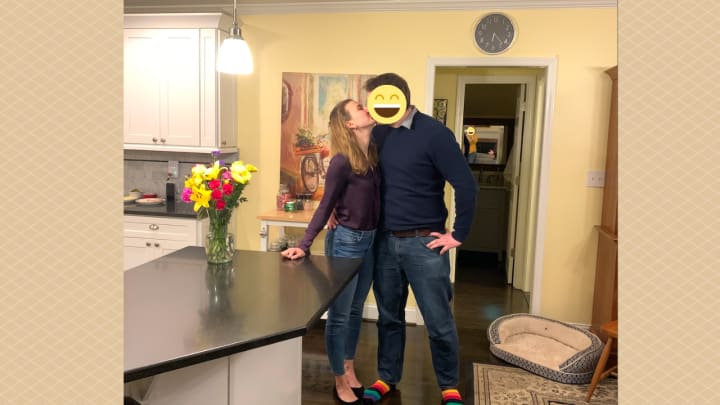 My partner and I got married the next day, in our kitchen, with our family. We had a small celebration in a local restaurant, where my mom secretly told the waiter that we were now married, resulting in us being applauded by the entire restaurant staff and then the entire restaurant.
It didn't feel real. Being a wife still sounds odd to me. The most real it ever felt was as we waded through the various stages of the county probate court, surrounded by a cross-section of humanity, each with their own lives and stories that intersected with ours for just one day.
I still think about each of our five characters. I still consider them to be our guardians of the gate, the moral tales we had to experience in order to be married. It may not have been a magical, fairytale day with sparkles and glitter, but the people we met in the County Probate Court while getting married will stay with me forever.
ceremony and reception
Cat mom, lover of pop psychology, freelance content creator. Find me on zuliewrites.com.