Planning a Pinterest Worthy Wedding in as Little as 3 Months!
Planning a wedding is hard work and takes time, but planning when your significant other is on a strict timeline can really take away some of the glamour. Here's some tips to still make it feel like a fairy-tale.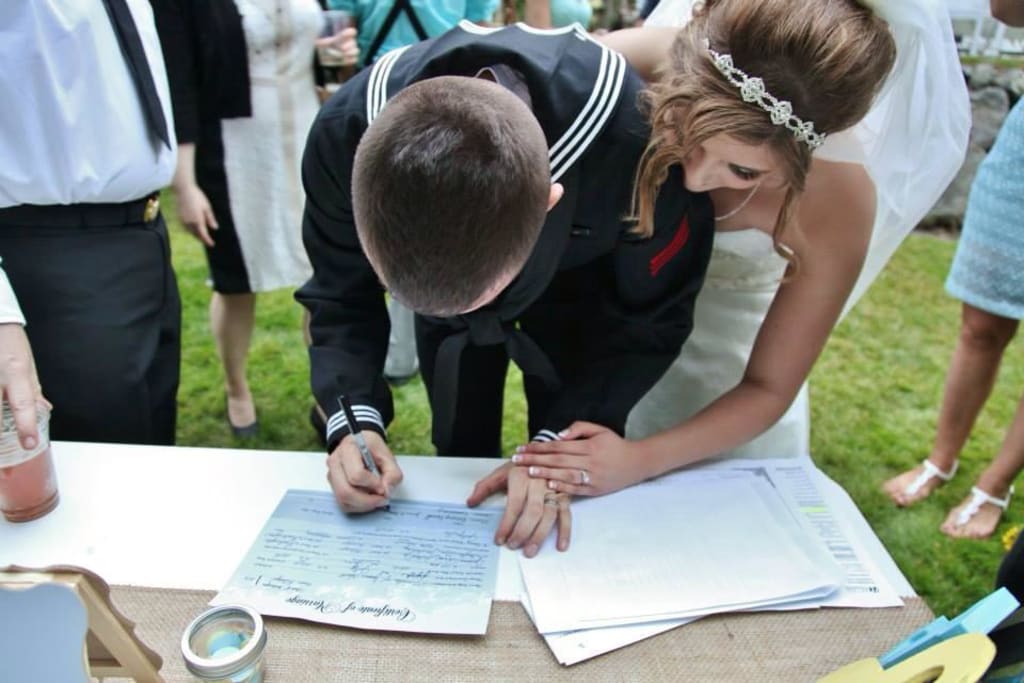 My fairy-tale! courtesy of Maggie Montgomery Photography
When planning a wedding, couples—or primarily the brides—take months to plan out the perfect day. In some cases it can cause so much stress they end up hiring someone to work out all the tiny details. Most girls start the wedding Pinterest board before they even graduate high school and fantasize over this day for years. Here are some ways to make this day as magical as possible in as little as three months.
Never Too Soon to Get the Dress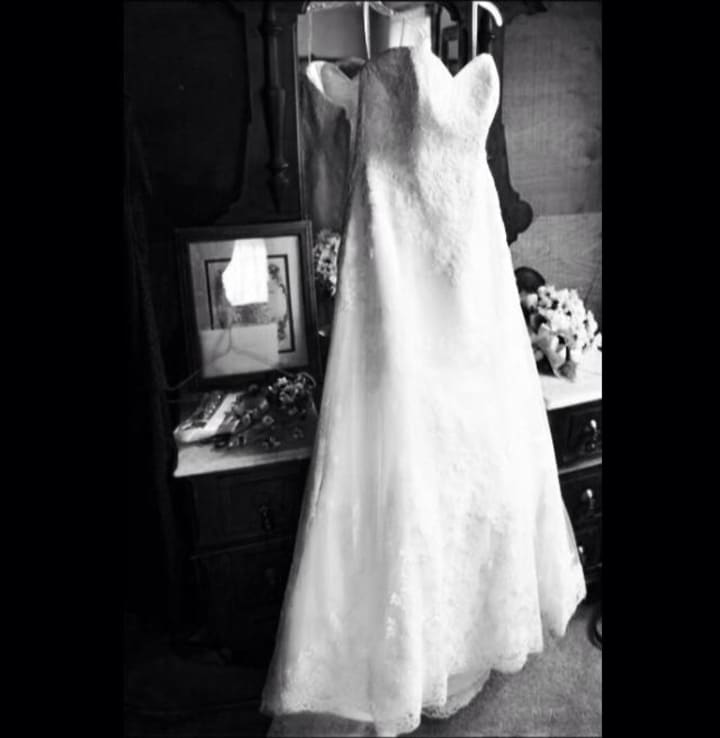 It's never to early to get your dress. The weekend after the magical proposal I went to the local dress shop, What I had imagined and pinned quite a few times actually looked very very bad on me. I had tried on so many styles and ended up leaving after two hours with no dress. The following week I went to another shop and ended up saying yes to the dress but it definitely took some time, and alterations. By the time you make one of the biggest decisions in the whole wedding planning process (besides saying yes to your future groom) you're going to need to have alterations done. Unless you're that rare one-percent who fits perfectly in the floor models. The alterations can take a few weeks and up to a couple of months, depending what your dress is made of and the type of alterations you'll need. So the sooner you get your dress and that process started the less likely you'll be fighting to get your dress done before you walk down the aisle.
Pick your wedding party ASAP!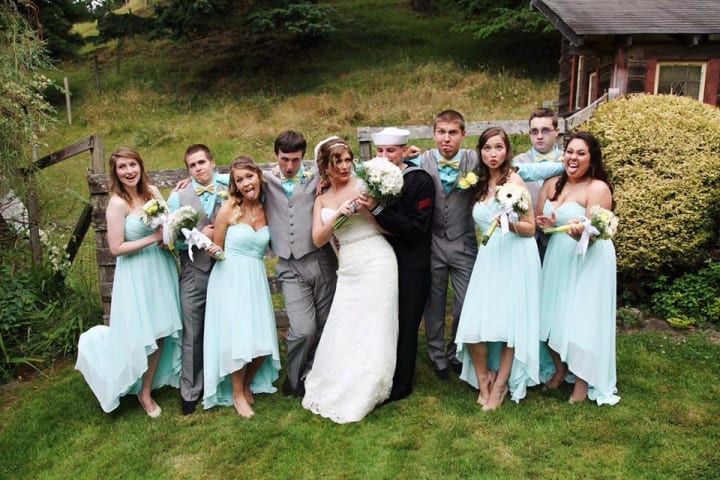 If you are anything like me you know exactly who you want there on your special day but you better act fast before they commit to other plans. If your are planning in a short time frame and in the prime of wedding season you may want to ask before you even have a venue just to make sure your party can all be in attendance. I had a bridesmaid wedding hop since she had one earlier that day, it all worked out but its never fun stressing until they get there.
Magical Venue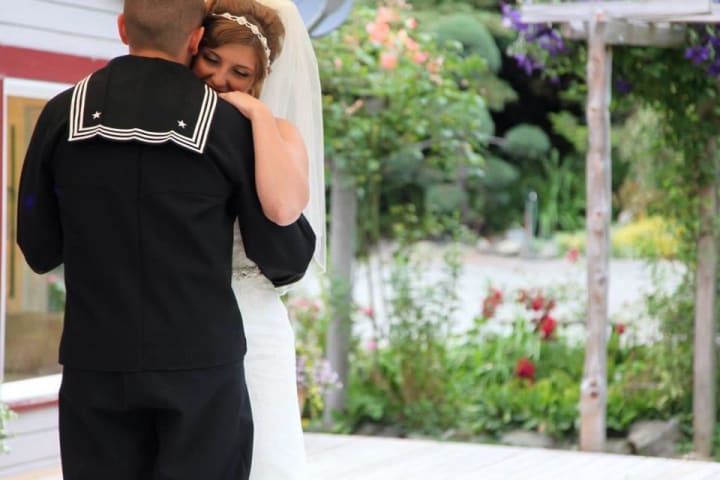 Picking a venue is never stress free but especially when you have a time crunch. If you can find a venue in a garden or scenic setting its less decorating and planning since everything all ready looks magical. Finding a venue that has availability your wedding date is tough when you're planning a year out but forget about availability a few months away. The best thing is figure out what theme you're going for and start narrowing down the venues, see who has openings and if at all possible put your self on wait lists in case a wedding falls through. Some venues will also give you names of other places just to help you with your search. I also went to wedding shows and talked to venue hosts explained our situation and a lot of them were very helpful and even willing to help find venues for us.
Wedding Shows
Depending on when your man, or woman pops the question there will normally always be at least one wedding expo. Attend! I know they sound silly but Honestly helped so much! You get an idea of caterers, bakers, DJ'S, photographers and venues all in your area. A lot of time the vendors will have raffles! we ended up winning a free tux and I won a free bouquet and discounts on the bridesmaid bouquets. That was extremely helpful because I no longer had to find a florist, one kind of fell in my lap and the flowers were lovely. It will also show lots of fun things like flashy photo booths, extravagant decorations and things that will hands down make your wedding picture perfect but remember with the more things you want the more planning and coordination that is required. (Not to mention stress.) Try and narrow down all the necessities and once all those are in place see if you can coordinate adding extras.
Use your connections.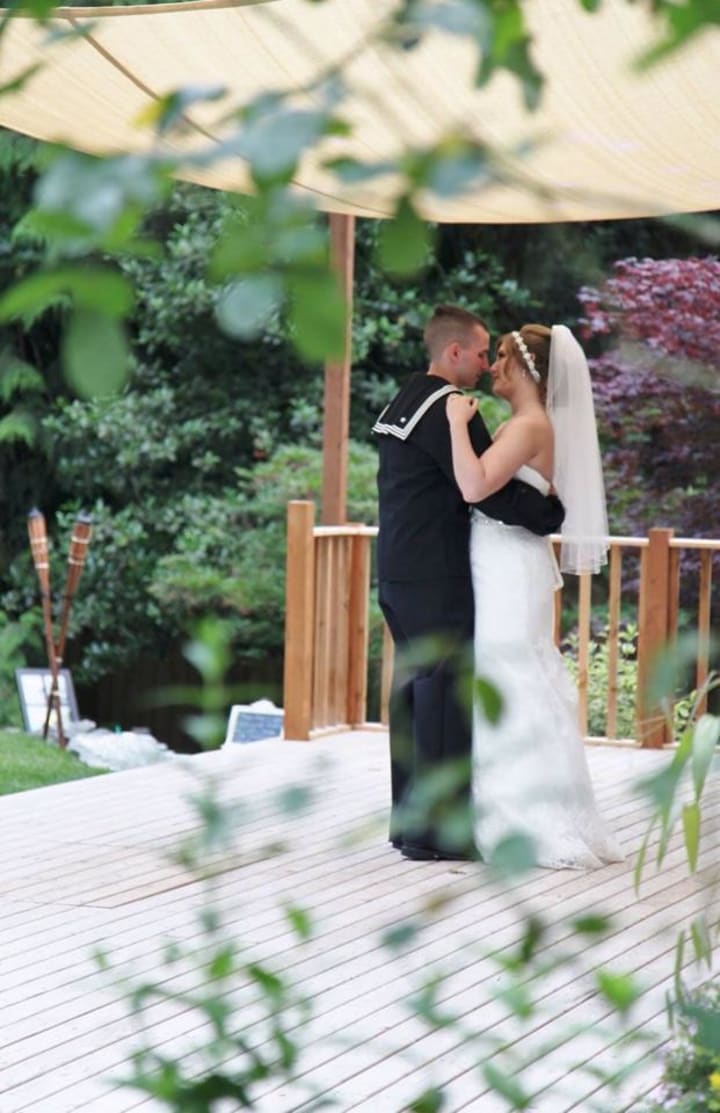 If you have connections, USE THEM! I'm not saying to use your friends but we had several friends starting or trying to plant there feet in the wedding business and offered our wedding as practice for them and to use for their portfolios. We obviously payed them for the services but since it is a foot in the door for them they really went up and beyond to make a good impression in this industry. A bonus is since they were all family friends they were already going to be invited so we didn't have a bunch of strangers hanging out at our wedding. Be careful some people cant work with friends and family so if you are one of these this may not be an option for you, but it definitely saves time hunting and looking for well known vendors with short notice availability.