My COVID-19 Wedding
Was it worth it?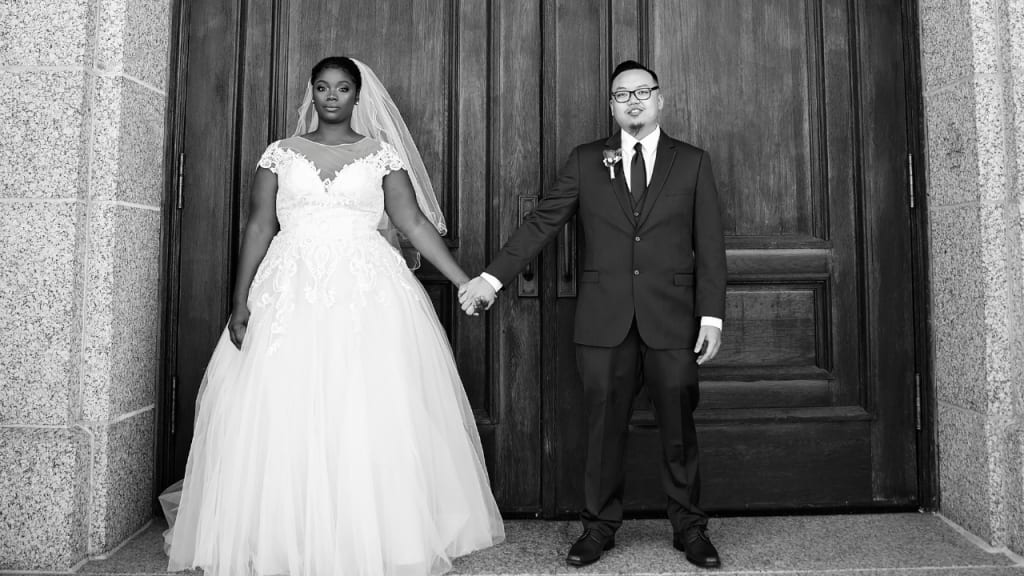 It was October 10, 2020, when we wed. My husband and I made the decision in 2019 that we're doing this in 2020. When the pandemic hit us in March of 2020, we had to decide how we were going to work around it.
The question of moving the wedding date, was not on the table. Matter of fact, the only question was whether we were doing courthouse, online, or limited guests!
I had 7 bridesmaids, all of which weren't too helpful when it came to planning. My Maid of Honor slipped off to her own little corner and neglected her duties (I'm not bitter, you are) and I had to bare the weight of doing all the DIY projects we planned, solo.
My husband's groomsmen were, ya know, dudes. They helped with practical stuff like planning the bachelor party for 2021 (shouldn't it be called a hitched party now?) and pitching in to buy his tux and helped us purchase food.
By the time September 2020, I felt like hot glue was my staple utensil. I sat for hours creating things for each person in our wedding party. I created our welcome sign, guestbook, boutonnieres, bouquets, accessories, gift bags, gifts for the groomsmen, and gifts for my parents. I spent more time in Hobby Lobby than I would have ever spent.
Seriously, who repacks a used easle and sells it for full price ($50) and all the screws were missing?!
Anyway, I digress.
The week of the wedding, I was exhausted. My bridesmaids finally decided to get involved even after I'd requested their help weeks prior.
Venue
Did I forget to mention that we decided to have our wedding at my dad's church? Well, we did and it was a good idea too! We had a ton of space and were able to be super picky with who we invited.
The church holds 136 people at full capacity, and at the time half capacity was the limit by Gov. Walz. So, we made sure to only invite 40 people, and that included our wedding party.
We also have a full kitchen at the church with seating areas. Since we were going to be there all day with our wedding party, we decided that we wanted to have a private reception with them and their guests.
What sucked is that my stepmom decided to have guests put our gifts in that room, so many of the people that came to the wedding thought they were also invited to the reception. Do you know how hard it was to have to turn people away? Even family?! I felt horrible.
Invitations
I created the save the dates, invitations, and programs for the wedding. All of which were created on Canva. I was going to use templates and just copy and paste, but I liked mine way better ahahaha.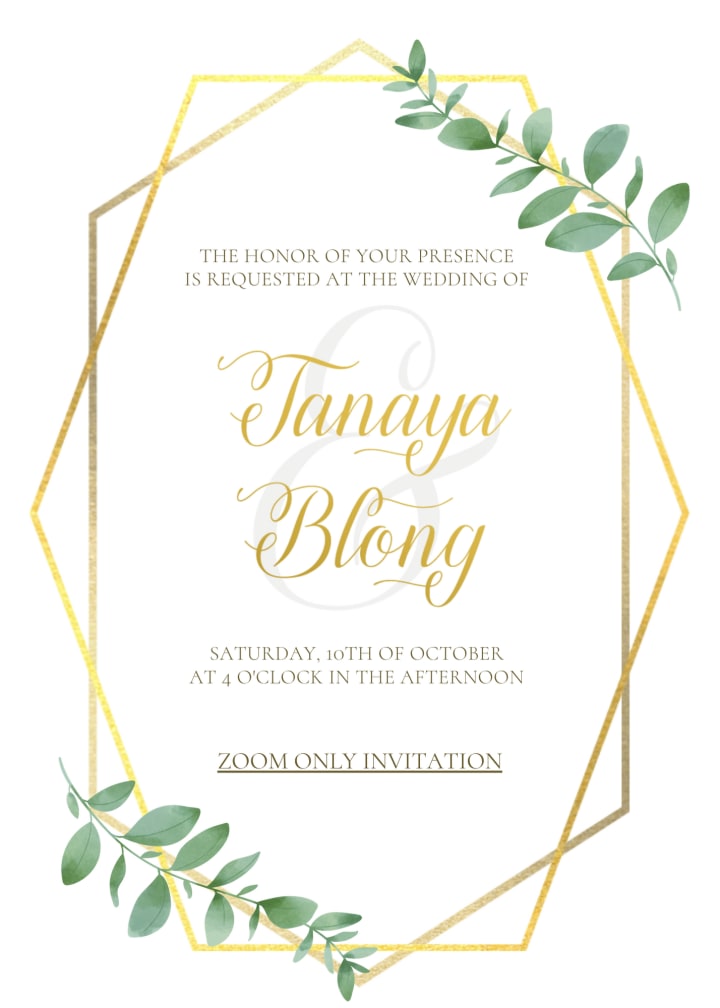 I used Zola for my wedding website and used that as a place for everyone to RSVP. The fun part about Zola is that it got with the times and allowed us to connect ZOOM to our site so people invited virtually could watch!
I then learned about Paperless Post. This is a virtual invitation sending platform. You pay for "stamps" like a typical letter, but they are definitely cheaper than a stamp. You create an invitation (or upload your own) and send to all the guests on your invitation list.
Once they are sent, you are able to see who's opened them and when, and send direct messages to them. What's fun is that it allowed me to link my invite link so the guests could RSVP on my Zola site. Unfortunately, it was not as smooth a process as I'd hoped. I got so many questions about how to register even though all the instructions were attached to the invite.
I divided the invitations by online and in-person. if the person was only invited online, the invitation says "Online Invitation Only". If it were in-person, it said the church's address.
I also attached a FAQ card for those that would ask the simple questions. Trust me, people still asked the questions. It was like people didn't read or something.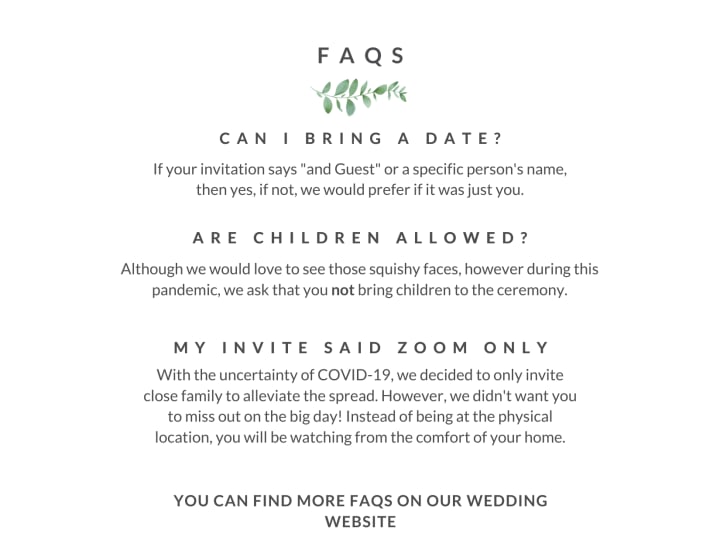 Day of the Wedding
Okay, finally we are here. I woke up early with anxiety through the roof. I was so nervous because, well duh. My husband dropped me off to my friend's house and we drove to the church together. My bridesmaid, aka my sister, bought me make-up session, the day before my other bridesmaid bought me a massage session. Another bridesmaid also paid for my nails to get done. Which was nice for them. Two out of those three bridesmaids were out-of-town bridesmaids, so I hadn't expected them to do much in regards to help. But they still came through.
I got my makeup done, the groomsmen got their tuxes on and we all headed to the St. Paul Cathedral to take our photos. It was October in Minnesota, and for some reason the weather was perfect. The sun warmed us when the wind tried to chill us, and we stuck to our schedule (that I also created).
The ceremony lasted for about 20 minutes, and we sat in the lobby afterwards greeting our guests (about 25 people). We then head over to the "reception" and saw that people really got us gifts. We were thoroughly surprised. And we saw that my step-mom and my brother's fiance had completely fancied up the party room! I couldn't believe it. They really came through.
Ultimately, what I assumed was going to be a disaster, ended up being the perfect wedding day. It wasn't the wedding that I wanted, but it helped me realize the fancy party isn't nearly as important as spending the rest of our lives together.
We kept the theme simple and full of love. I'm glad we decided to get married in 2020.
___________________________________________________
If you like what you read, please go check out my other stories!
If you want to show out, share this or any one of my stories on social media.
If you are just big ballin' shot callin', please leave a tip for your BFF (me).
Thank you for reading, you're eyes are jewels, always shining.
Toodles,
Tanaya Eyvette
ceremony and reception
About the author
Poet, writer, book enthusiast, Christ follower, total newb to anime #NarutoIsLife, and some-timey actress
Reader insights
Be the first to share your insights about this piece.
Add your insights