Instant Family
When marriage makes you a wife and a parent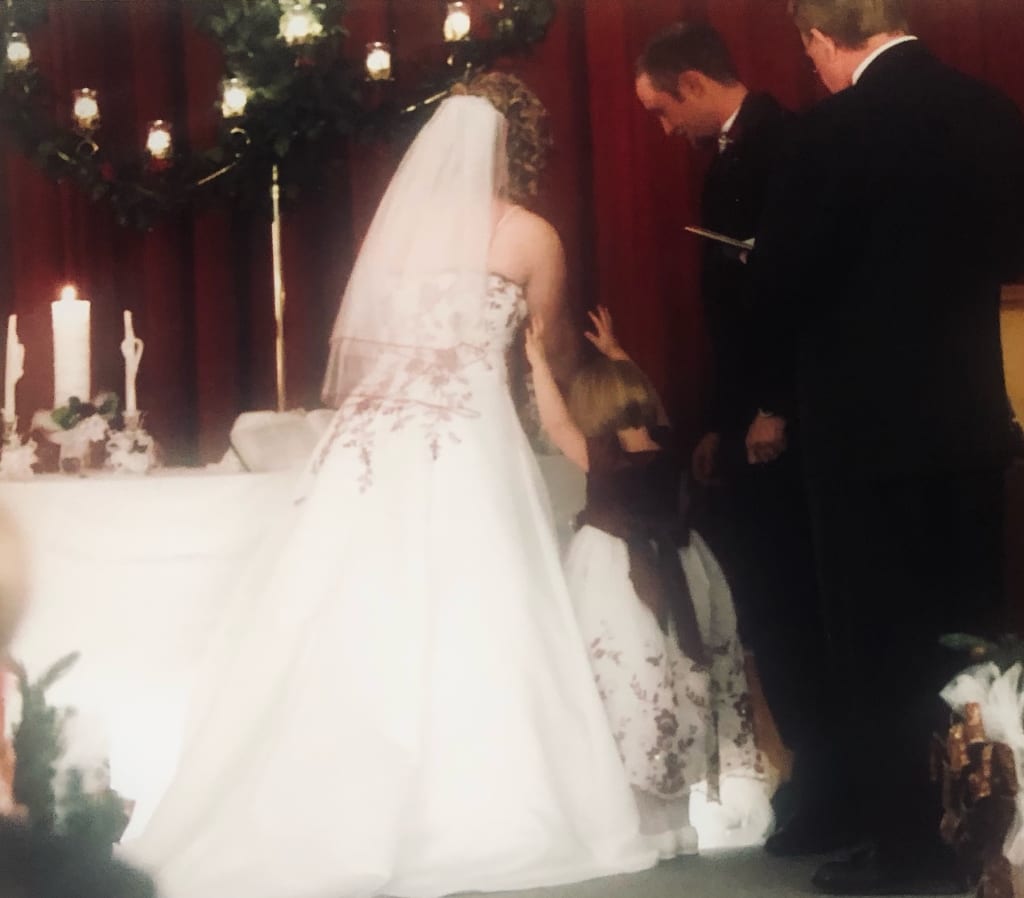 Forgive my blurry image.
That picture above, it's one of my favorites. I hired professional photographers for my wedding and those two ladies did NOT disappoint. The only reason the quality above is subpar is because I have the hard copy photos and somewhere is a CD with my release, but it is packed away. So I took a picture of a picture.
I also had a family member sit up front and record my wedding on a handheld camera I owned.
Our puppy ate that video disk after we had been married a few years. Only copy I had. That is one horror tale reason why ladies and gents, it pays to just hire someone to video the wedding too. Then someone may have had a backup copy online or in storage somewhere.
As it is, I have my photos. I still remember out of the whole wedding this was THE moment everyone talked about. I had some ask me if we had planned for it to happen. I had my suspicions that it may would happen, so we did prepare just in case, but we did not tell baby girl to reach up to me while we were both in our beautiful but full dresses and ask me to hold her.
She was 3 years old and 3 months at the time. Yes, I state the months only because I want you to understand she was a younger 3. She was very much still a hip baby. We were working on having her understand her legs worked just fine, but she was a snuggle baby and just a little spoiled by us all.
Of course, she loved being in front of people, but to an extent. We worked real hard on making sure she understood she would walk the aisle alone. She did great.
The moment you see here is when we walked over to do our sand ceremony together. As you can see on the left hand side, my husband and I did our unity candle just the two of us. It was important to me that baby girl felt included too though. She went around that time telling everyone that we were all getting married. So we included a sand ceremony with the plan that later I would add wax to the top of the sand and make a forever memory item. My mother just has added that wax for me within the past year or two and we have been married now for 13 years, so it was a great plan, but one that I quickly let fall by the wayside.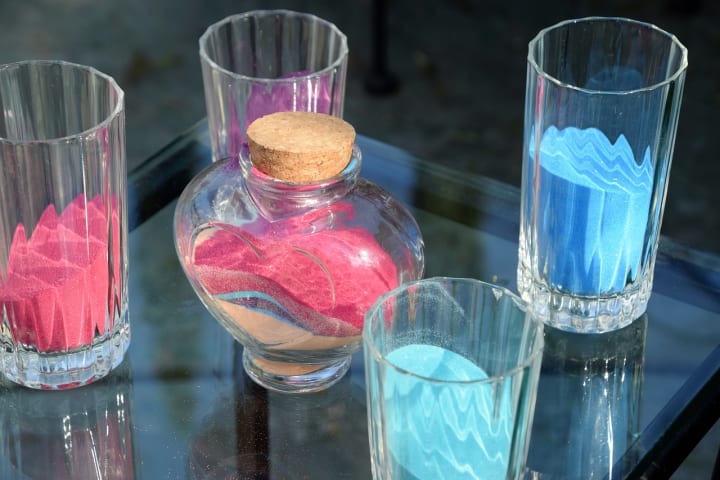 So back to the story. As soon as baby girl poured her sand and she knew her part was done, she reached for me. I remember her saying "hold you" during this time in her childhood, when asking you to hold her; like she was the one doing the holding. This time she just reached for me, having all confidence in the world that I would pick her up and hold her. Why would she not, when any other time I was around and she wanted to be held, I would hold her in a heartbeat.
Now, you have to remember the full wedding attire. I was in the full skirt here. My top was very modest, but I had several layers of skirt on underneath. Any pressure on that skirt, and I knew I would not be able to walk very far. So at first I looked towards my soon to be husband.
Ladies, do not rely on your soon to be husband to make any decisions on your wedding day. He knows he's there just as a wedding prop for the pictures and ceremony. Not my words, my husband's, and literal advice he received right before our wedding day.
So he just gives me a look and tells me to pick her up. Thanks Romeo for the advice; it's super helpful! So I reach down and pick her up. The ceremony is basically over anyways at this point. Just need to be announced husband and wife and then we are to walk down the aisle. Easy peasy when holding a 3 year old on your hip in a full skirt wedding dress, right?
Luckily, I had talked out this very scenario with a family member. I do not remember if it was my mom or sister or who, but with someone close. We decided a distraction would be needed if this did happen. So before the ceremony, my father in law to be was given a pretty princess necklace. I do think I tried to make sure it had love or something on it, because I was young and in love, and loving the idea of being an instant parent. My father in law stood up as my husband's best man and so he was close in our wedding party and was able to show the necklace to baby girl, and my diva in true fashion, went with Papa who had the pretty necklace. What little girl does not enjoy jewelry?
So as soon as the transfer was made, we made our way down the aisle. I was not just a wife that day, but I knew when we returned from our honeymoon, I would be a parent to baby girl too.
I look back and think on that day. To that young girl who walked down the aisle. She had no clue the trials and things that life would bring to her doorstep. She had no idea the tears she would cry over this baby girl and shared custody issues and step momma problems.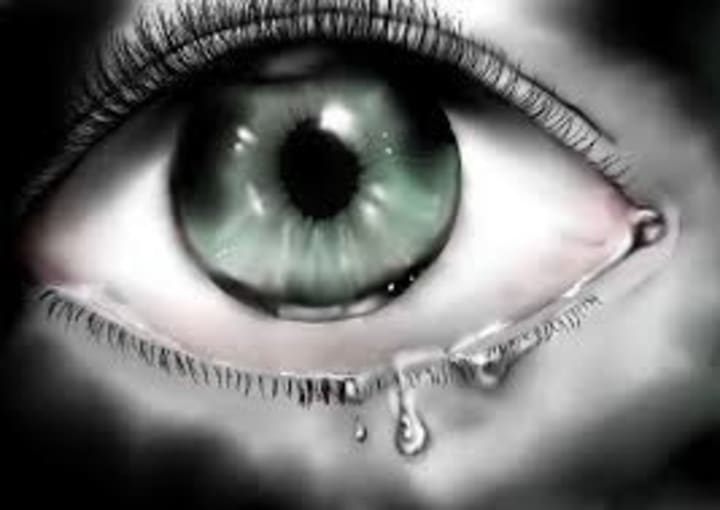 Maybe it is better she did not know. She had some major growing up to do; still does. She had to learn to not be the center of her own universe. Having a child immediately in your new family has a way of shoving you to the background quickly. Not really what you are thinking about before you say "I do".
No, the girl who was on that stage has since learned some hard lessons. Through it all though, I would do it all again. I love my family. I am very blessed to be the mother of two and still married to my best friend. I look back through these pictures and this was a great day; and this is still one of my favorite pictures of that day.
ceremony and reception
About the author
Married to my loving husband for 14 years as of December of last year. Mother of two; one 17 year old daughter and my 9 year old son. Full time employee of local government office as an Admin Asst.
Reader insights
Be the first to share your insights about this piece.
Add your insights