How to Throw an At-Home Wedding Even the Old Folks will Love
Total budget: $3,200 — Regrets: Absolutely Zero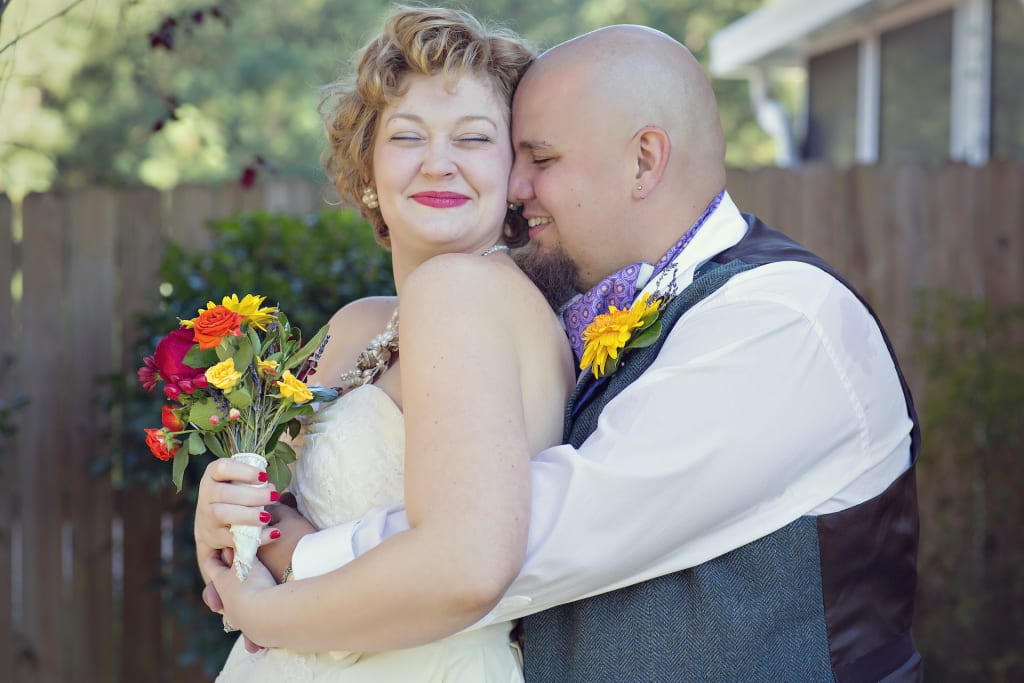 Alyson & Frank – October 22, 2016
The Quick Highlights:
We bought a house instead of paying for a wedding venue
We hired a food truck, tents, tables and chairs
73 people came and everyone had plenty to eat
Our color palette was plaid
Our budget was $3,500 (my dress was gifted) — we came in $300 under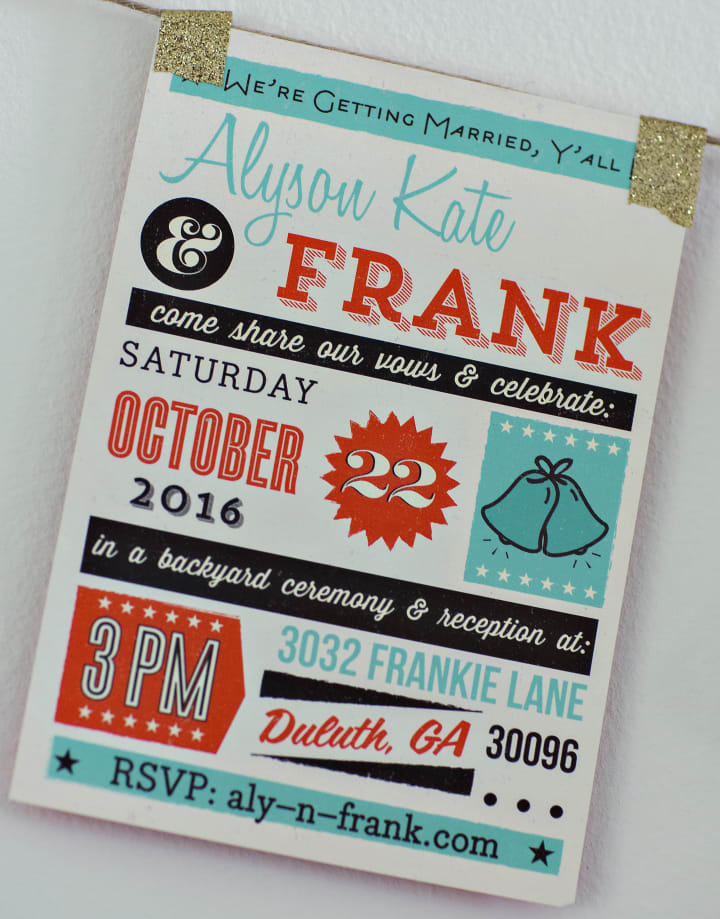 Where to Spend Most of Your Budget:
Food and photography! We decided from the get-go that we wanted a delicious meal with no pre-plated chicken in sight; and lots of heirloom-quality, candid photos to remember it all. Our new hometown was known for Food Truck Fridays so why not bring one to the house? The best part — aside from "The Poodle" (an epic creation of beef hotdog in a French toast bun with green apple slaw and a maple/mustard smear) is zero cleanup. As for the photography, we wanted someone who could capture that vibrant "big family dinner" vibe.
Where to Spend the Least of Your Budget:
Doo-dads, DIYs, and anything that would likely be thrown away. With the exception of custom napkins (after finding ones from my grandparents' 50th anniversary and Frank's grandparents' wedding day, those were a must) we skipped give-aways, color-matched tablewear, and a full bar. We drink beer and whiskey, so that's what we offered along with tea, lemonade and water — and not one person minded mixing their own drink.
What Is Totally Worth It
Buying our house instead of renting a venue. Along with our parents, we put in major work to clean up "Kudzu Thickets" for the day of. Oh boy, it was stressful; but standing in the middle of the living room after everyone left and feeling our new home filled with all the good vibes and well wishes of those who love us most was priceless. Waking up to each other the morning of, having coffee in our own kitchen, and falling into our own bed that night meant the excitement lingered for weeks after.
Also, having my dress and his vest custom-made. After being body-shamed and budget-shamed for 40+ dresses, I ask Mama if I could have her old dress. We took a roadtrip to Virginia (where she grew up) and watched while her dress was took apart at the seams, chopped off at the knee, and remade into my dream dress. As for Frank, I wanted him to feel like a million bucks, too, and we found a shop that let him pick all the fabrics, the cut, and the buttons for a vest that he'll want to rewear for ages.
We also created a "memory table" with photos of our grandparents who'd passed away. I added photos of us as kids, lit a big candle, and loved that they were there to greet everyone when they came in the door.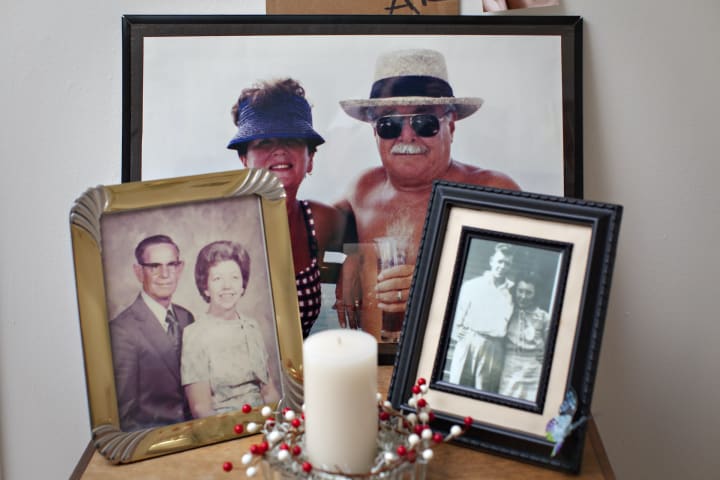 What Is Totally Not Worth It
Worrying about how many people wouldn't like it. With plaid as our color palette, a food truck, and new takes on most of the traditions we (okay, me) worried that it was going to be "too simple", "too homemade", or "not worth the drive". A month later, people were still calling to tell us how meaningful the ceremony was and how much fun it was to just relax, hang out and get to visit with family they hadn't seen in years!
What Helped Along the Way
Not designating people for particular tasks but taking them up on the offer to help. We fired our day-of coordinator after she chastised us for the "stress-less" motto that we adopted. Skipping the big-ass list of musts and someone shouting orders meant the people we trust just pitched in where they were comfortable and on the day of, the only thing I had to worry about was that I forgot to shower.
My Best Advice for Y'all To-Be-Marrieds
About a week beforehand I blurted out, "If they don't live here, they don't know what hasn't been done!" While that was my rationale for not worrying about trying to clean the windows (it's a Southern thing, y'all!) it became the mantra for the rest of the week. After spending so much time meticulously tracking all the to-dos, it's easy to forget that no one else has the list. Never apologize for a sink-full of dishes and don't forget that everyone is just excited to see you.
Our 5 Favorite Wedding Things
1. Cutting our cake in Frank's woodworking shop — I used a vintage cake server, he used a Sawzall — it was fantastic.
2. Keeping it small so we could visit with and remember everyone that came.
3. Skipping the traditional desserts. Our cake was a yellow butter batter, layered and drizzled with spiced peach puree, and covered with a browned butter bourbon frosting. (Delicious!) Frank requested my Mama's homemade banana puddin' and watching her brandish an electric mixer while threatening the meringue before it decided to brown was just hilarious.
4. Finding our dads and all the guys out in the workshop passing around a jar of moonshine and chatting.
5. Hanging out in our pajamas the next day, watching Jusitifed and eating leftover cupcakes before packing for our honeymoon.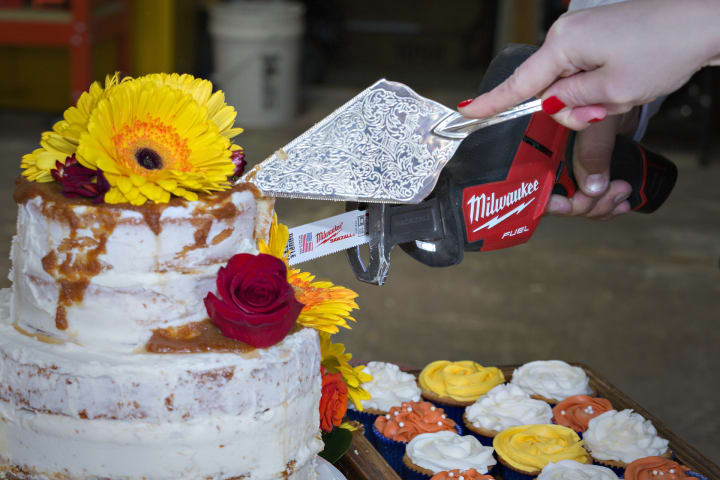 Everything Else They Won't Tell You
If it's done with love it is perfect. My Mama and best friend tag-teamed the desserts, I made all the floral pieces at 3 a.m. with gorgeous blooms from the Whole Foods bulk section, Frank's parents went all out to whip the yard into shape, and everybody helped fix up the house. Plus, there was more than one jar of moonshine making the rounds. Was it all picture-perfect? Well, yes actually.
There were a lot of financial constraints, family issues and upset for the majority of our 1 1/2 year engagement. A lot of the time it was hard to focus but putting family first is something that's very important to us both. I'm so grateful to online communites with threads, comments, and articles detailing the raw feels. Knowing that "everyone's got something going on" makes it more manageable — and it reminds you just how special the people are who do show up to cheer you on into your new lives together.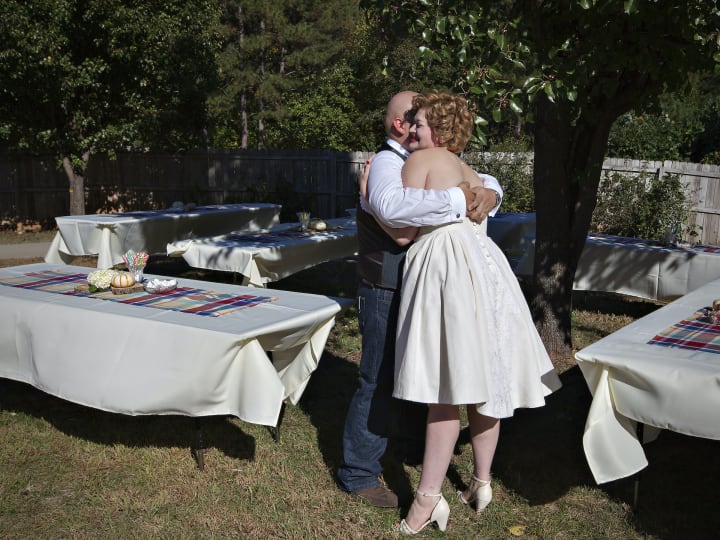 Good luck and go with love! It's really all you need.
About the Creator
I'm a small business owner by day; a Kindle junkie by night. I love Indian food, MacGyver reruns, breaking grammar rules for the sake of sentiment & my tattoo of falling into a really great book. There is always time for coffee or a nap!
Reader insights
Be the first to share your insights about this piece.
Add your insights