Good desserts to try, don't try to resist them!
Recipes for Cubes of biscuits and walnuts and Almond cookies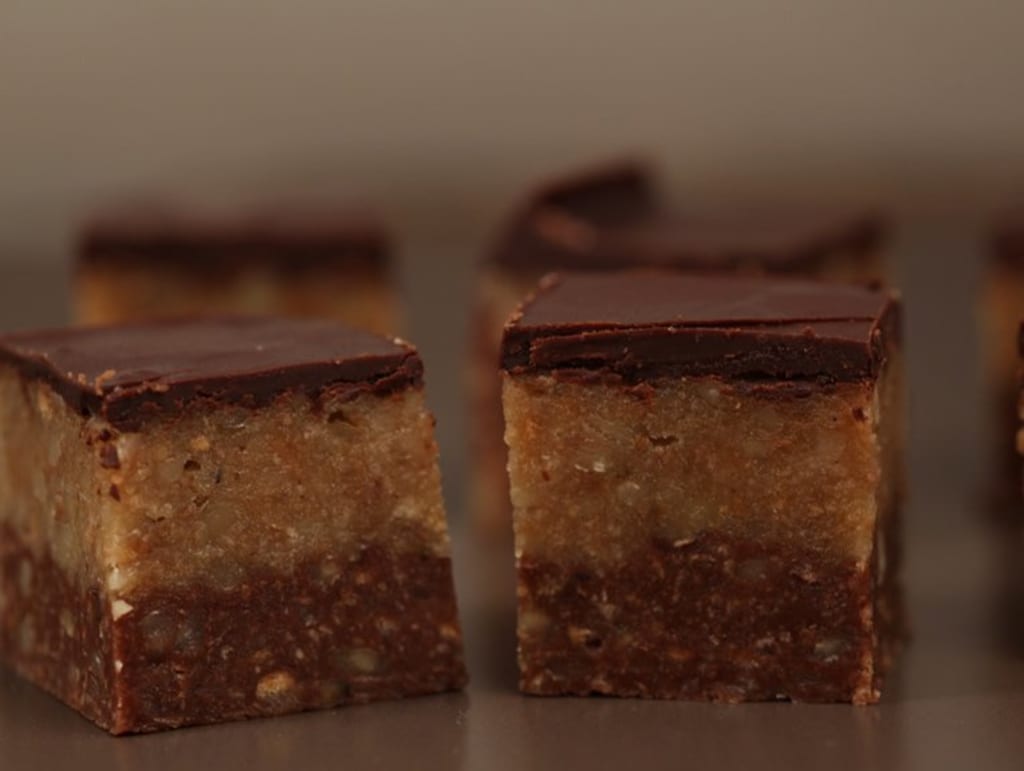 Such a simple dessert to prepare.
Cubes of biscuits and walnuts
Ingredients
225 gr simple biscuits (type petit beurre, butter biscuits)
225 gr walnuts (or a mixture of hazelnuts and almonds)
225 gr of butter
125 ml water
200 g sugar (can be brown)
200 g dark chocolate (50% cocoa)
1 tablespoon rum
1 teaspoon of vanilla essence
1 tablespoon oil (with a neutral taste)
Method of preparation
Melt 100 g of chocolate over steam.
Crush the biscuits (I ground them in a food processor). Nuts are ground. Mix well.
Put water and sugar in a saucepan. Until the sugar dissolves completely, leave the fire on low, not to boil, then you can increase its intensity a little. After the syrup starts to boil, leave it on the fire for 3 minutes.
Remove the pan from the heat and add the butter cut into pieces. Mix until the butter is completely dissolved. Add the vanilla.
Pour the syrup over the biscuit+nut mixture. Mix it up.
Divide the mixture into two equal parts. In one of the parts, pour the melted chocolate and the rum and mix quickly, until it is homogeneous.
Let the two compositions cool a little (about 5 minutes).
Put the chocolate mixture in a 20 x 20 cm square pan (lined with baking paper). Level everything well with the back of a spoon.
Place the simple mixture on top. It also levels well.
Melt the remaining 100 g of chocolate on steam. Add the oil and mix.
Pour the chocolate glaze over the cake. Shake the pan a little to self-level the glaze. Cover the bowl with foil and refrigerate for a few hours (or even better overnight).
Cut bars or cubes. If you wish, you can sprinkle a little cocoa on top. The cake is kept in the refrigerator, otherwise it softens. If you can't cut it perfectly, leave it for 5-10 minutes at room temperature and then it will cut easily.
Almond cookies
Amaretti from Croatia. 4 ingredients. Gluten free. Do not try to resist them.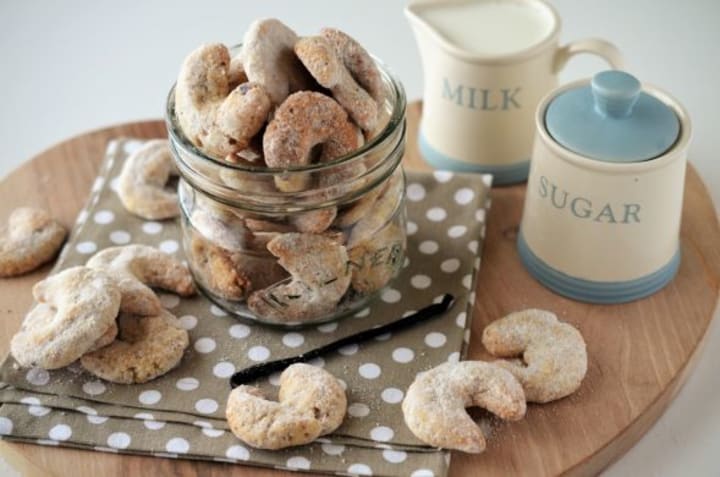 Ingredients
200 gr almond flour (or almonds without skin)
200 gr powdered sugar
grated peel from 1 lemon
2 egg whites
1 tablespoon of pear brandy (optional)
25 g whole almonds (with or without skin)
Method of preparation
If you use almond flour, just mix it well with powdered sugar. If you use whole almonds, grind them together with the sugar until you get a fine mixture.
Add the grated lemon peel.
Beat the egg whites with a fork just until they foam a little. Add them over the almonds together with the brandy and mix with a fork until you have a homogeneous mixture. The dough will be quite firm, it is difficult to mix it. If it is soft and sticks to your hand when shaping the cookies, just add a little almond flour (see photo 3, the cookies do not stick to your hand at all when shaped).
Grind the whole almonds briefly, just enough to crumble and look like a coarser crumb.
Break pieces of the dough and shape them into balls (the size of Raffaello candies) or sticks. Roll them through the coarsely ground almonds. Place them in a baking tray lined with baking paper (place the balls as they are, give the sticks a half-moon shape, like cornuclettes).
Bake the cookies at 180C for 10-12 (if you made them into cones) or 12-14 (if you made them into balls). Take them out when they are slightly brown on top. They will still be soft in the center, so take them out of the pan carefully.
They are good immediately, but the taste and texture seem to improve until the next day.
About the Creator
Food recipes for you and your loved ones. I present both food and sweets, from different countries, for a diversification of tastes to your liking.
Reader insights
Be the first to share your insights about this piece.
Add your insights