Floral Chair
For Weddings and Special Events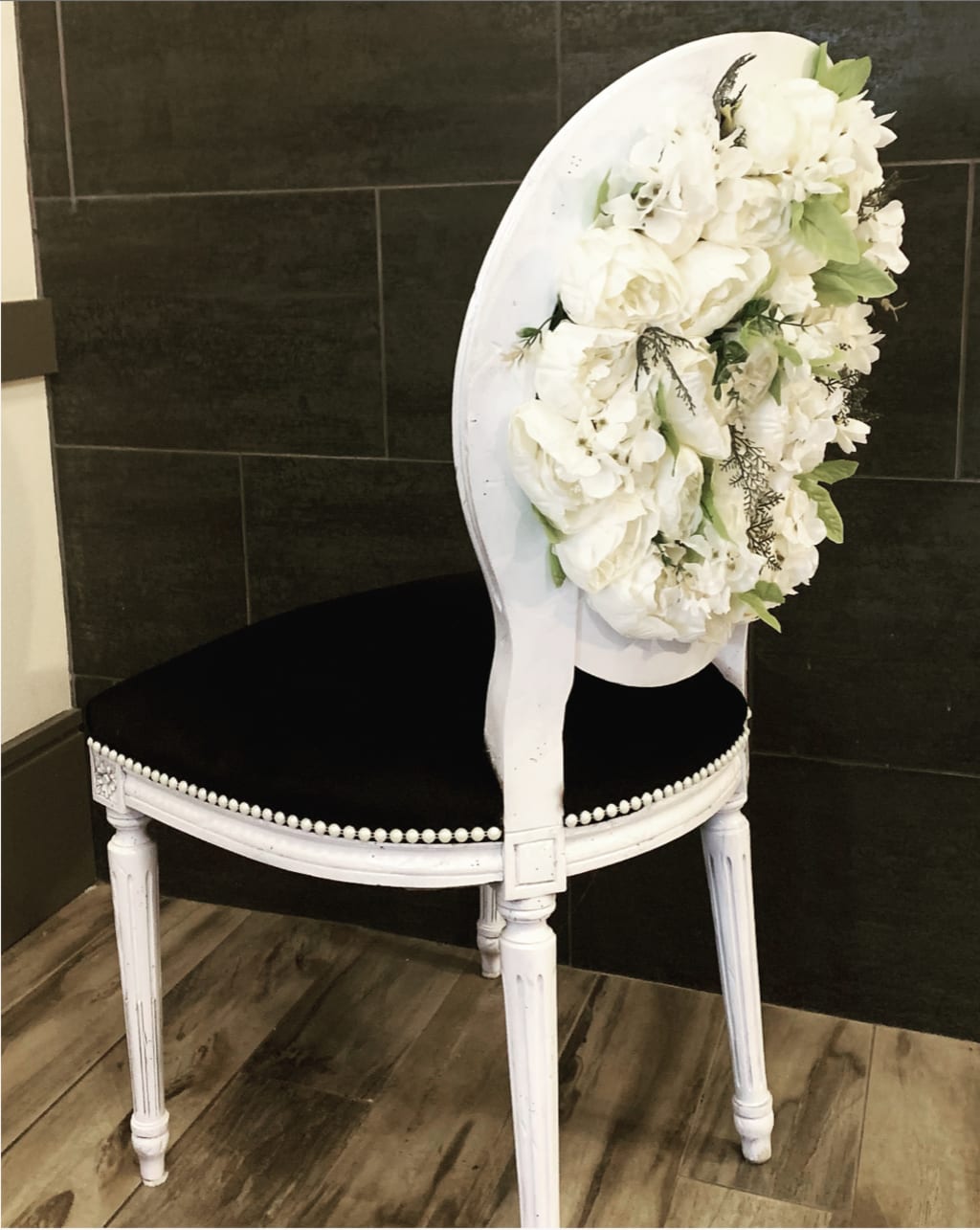 Floral Chair
My name is Meyetta "Meme" Grimes and I've been a creative for quite a few years now. I started creating for commission back in 2014 when I entered a contest through Black & Decker titled "I Finished It". My bookcase was chosen as a finalist and was displayed on their Times Square Billboard, along with several others, for approximately 1 month. I also had my work featured by HGTV on their social media website. I have truly been blessed and feel honored to have been a part of such an amazing opportunity.
A little more about my crafting and where my ideas are stemmed from…..There are many times when I'll have a dream about a project and will wake up so that I can execute it. I typically sleep with a sketchpad next to my bed because I wake often with dreams or visions of creative projects. If I go back to sleep, I would forget what the idea was about by the time I woke again. So, I started sleeping with a sketchpad next to my bedside so that I could jot down the idea and it wouldn't escape me. This has allowed me the opportunity to be able to create outside the box and unique pieces for myself and for clients. That was the case with this floral chair.
For years, I've wanted to put this dream into a reality. I finally buckled down this week and created, what I envisioned. The floral chair, in my mind, can be used for weddings, special events, a glam vanity, etc. It can also be customized with different paint colors for the frame, fabric options for the seat, flower colors and styles and then finally the trim. I chose to go with basic colors – black and white. I just felt that it would go with a lot of different things and would suite a lot of décor.
This morning, when I woke, I decided to reach out to wedding venues, bridal shops, photographers and event rental companies to inquire about collaboration opportunities. I would love to be able to work with different individuals to showcase my chairs and hopefully end up featured in a few magazines. I also reached out to the event coordinator for the Denver Bridal & Wedding Expo. I would love to be able to showcase my chairs at this event as it would expose me to lots of other vendors, photographers, event planners, and even brides.
How the chair was created: I purchase used chairs from Goodwill, Habitat for Humanity ReStore, Facebook Marketplace, Yard Sales or from the side of the road. I remove the old foam and fabric then sand the wood and prep it for paint. Most of the time, I use spray paint, because it's quicker, but I have used other types of paint, as well as gold leaf on my chairs. I decided to use spray paint on this particular chair. Then the paint is sealed with a Polycrylic water-based sealant. Next, I reupholster the chair with new foam, fabric, cotton, muslin, etc. I use my upholstery scissors to cut the foam, fabric, muslin and any other items that need trimming. This year, I started teaching online upholstery classes and include instructions on how to put a chair back together. Once the new fabric has been attached to the chair, I add the trim, in this case pearls, and then add the flowers to the back of the chair.
I love the possibilities of being able to change the colors with these chairs. With the contacts I've made this morning, I am hoping that I'll be able to land a contract so that I'm able to produce more of these chairs to make weddings and events beautiful and unique.
ceremony and reception
My name is Meyetta (Meme) Grimes and I'm a creative soul. I enjoy creating a lot of unique things, including home decor and fashion items. I look forward to creating more.
Receive stories by Meyetta Grimes in

your feed