Don't Get Pushed Around By Instagram
Stick to what you actually care about.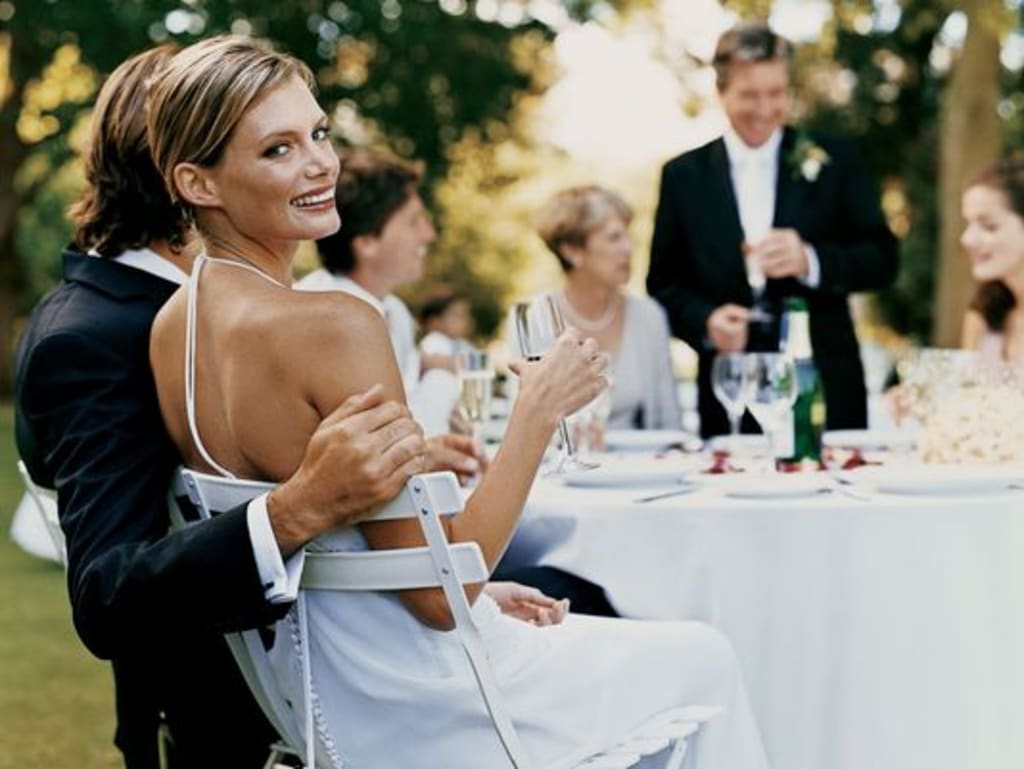 The "Perfect" Wedding
I was born in 1997, and although that wasn't all that long ago, it was exactly the right time for me to remember what it was like before Instagram, Pinterest, and a hell of a lot of pressure on what a good life ought to look like. As a kid, I only felt that crushing inadequacy from the occasional magazine I glanced at in the dentist's waiting room. As for things like "social media influencers," or entire accounts dedicated to extravagant weddings, no such thing ever really encroached on my reality.
I've been married now for a little over three months. Our wedding was on December 28, 2018 at a historic venue in Richmond, Virginia. We had around 60 guests, no sit-down dinner, and the entire thing (not including my dress) cost about $12,000. My husband and I don't have much money, after all, we are two musicians fresh out of college in our early twenties– but my parents were, thankfully, able to contribute the entire amount out of pure generosity.
Let me explain what that $12,000 did NOT include:
Expensive wedding invitations
Party favors
Extravagant bridal party gifts
An engagement party
Expensive rings
The aforementioned sit-down dinner
A large guest list
A wedding cake
Professional lighting
A DJ
An MC
A $5,000 wedding dress
Professional decorating
An expensive photographer
A videographer
Weekend activities
An engagement photo shoot
Fresh flowers
A honeymoon
Hotel reservations for the bridal party
Live music
What we DID get*:
A large, beautiful venue
Delicious hors d'oeuvres catered by the venue
Bakery cupcakes (instead of cake)
Decorations from Amazon (designed by my husband and I)
E-vites to the wedding (free)
A $600 photographer for 4 hours
An open bar
Lighting & sound system by the venue
Parking for guests
A religious officiant
Bubbles for send-off
A hair-styling appointment
A semi-professional makeup artist
Two at-home meals for the bridal party
$400 in wedding dress alterations
An iTunes playlist (free)
My father as MC (free)
My dress was about $700 (not including alterations), and even that seemed like a lot to me. We had our priorities in mind–we did not care about thousands of dollars worth of fresh flowers or perfectly engraved wedding invitations. We didn't care about several parties, before, and after, the actual wedding, and we definitely didn't care about having an elaborate (or even simple!) seated meal. The celebrations you see on your phones cost $50,000-$200,000. Are you really going to kill yourself trying to imitate a wedding that's basically the same price as a new house? Do you really want to scrimp and save money for years for the "perfect" wedding? You could travel the world for years on that money.
All I wanted was to be in a beautiful room in a beautiful dress, surrounded by the people we loved. I wanted people to sip cocktails to their hearts desire, and eat food that we liked. I wanted them to be able to mingle freely, and dance to the playlist we put together and played over the stereo system. I really didn't want an expensive diamond or a gold ring–in fact, I settled on titanium rings with simulated diamonds for a total of $100. I wore exactly the amount of makeup I wanted, and insisted that the photographer did not take pictures of my bridal party getting dressed. We had our friends stay with us at a family member's house, and the morning of the wedding, we all drove over to the venue to decorate every inch of the place by hand.
Don't let Instagram or wedding sites tell you what you need for your ideal wedding. The wedding business is a billion dollar industry, and you're going to get a lot of encouragement to do things a certain way. There's a cultural obsession with weddings being the "best day of your life," and it's largely based on ad-campaigns that are trying to serve the market, not you. Plus, a great wedding is NOT the height of your relationship. If you can pull off a day that feels special and doesn't put you in debt, I'd say that's a huge success.
I'm including a few pictures as proof that this slightly "stripped down" wedding was nothing to be ashamed of. It was beautiful, and to us, it was perfect. Now, go create the wedding you actually care about.
*This is not a perfectly comprehensive list, but it gets the idea across.