Does Anyone Here Object to This Union?
How to have a COVID-19 safe wedding. By: Shawnee Eskridge,CFBCT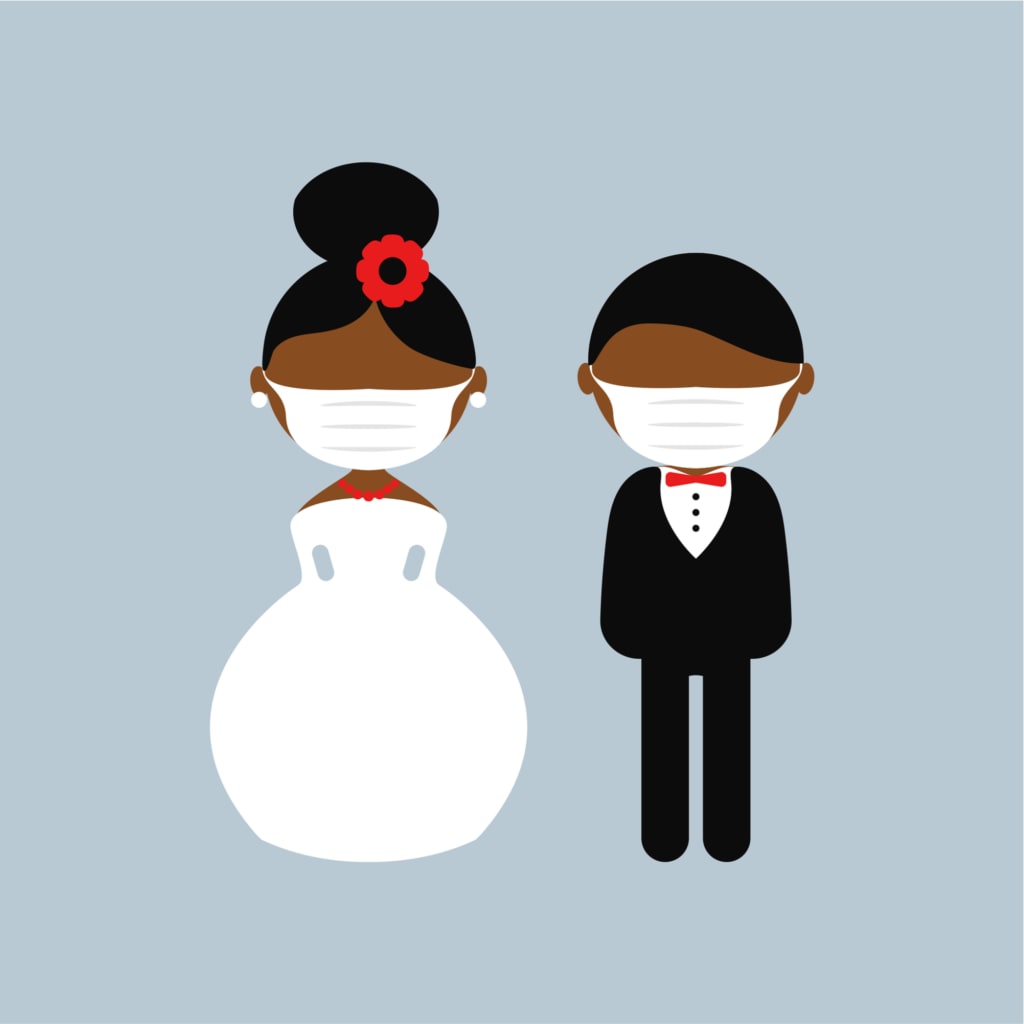 COVID-19 Weddings, Credit: Shutterstock
This year I performed my very first marriage ceremony as an ordained minister. Initially, I was hesitant to perform the ceremony because I'm taking COVID-19 seriously. It's so important to protect my neighbors near and far as well as myself and my own family. Some questions I considered were:
Do I push to only officiate online?
That wouldn't work because signatures must be done in person for marriage licenses.
Do I wear masks and gloves and risk looking crazy or will it turn off my clients?
Well, I might have looked a little overdressed, but I also looked cautious and like I cared for my clients.
How do I maintain a social distance of 6ft?
Turns out it wasn't that hard. They took the couch. I took the love seat across the coffee table.
To have been a part of making their special day possible means a lot to me. I took additional necessary precautions including using hand sanitizer in spray form and gel upon leaving my client's residence. However, in retrospect, there were so many small things I would love to have done for them. Brought flowers, provided a small video to commemorate that special moment. Should the opportunity arise again during this pandemic I will be better prepared, but I imagine my clients are certainly not the only ones to face this obstacle in 2020.
For couples seeking to get married this year hosting a wedding has seemed like an insurmountable task. 2020 may seem like "I object!" personified. As the pandemic has progressed and we've learned more about flattening the curve, it would seem 2020 has given us the unexpected gifts of getting back to intimacy and using social media with purpose. Social distancing, social streaming live events, hand sanitizer and some creativity have finally put COVID safe weddings within sight.
Social Distancing
Most venues have capacity limitation policies in place due to COVID. The policies are designed to minimize exposure to the virus in one place over time. What this means for couples looking to wed is the guest list will need to be trimmed or scaled down. This is an opportunity for couples to highlight their core support group. The people who have been there for them to the point of engagement and the people they trust to see them through any forth-coming rough patches. These are important people which makes for a very exclusive list and a capacity limitation an asset rather than a liability.
Creative Ideas:
Use "exclusive" as an element or theme for the event day. On a save the date announcement try something like:
"We're officially making this relationship exclusive"
Use "thank you" cards with name plates on the seats in the venue. Have a special message addressed to each guest or member of the wedding party in attendance. Instant keepsake.
Use the extra space in the venue to customize the seating arrangements. Shape the seats into a heart, circle, or the initial of the last name of the couple.
Social Streaming
Despite the capacity limitations there is no restriction on the amount of people who desire to share in your big day. Thanks to platforms such as Zoom, Microsoft Teams, and Google Meet all you need is a strong internet connection in order to share your joy with others. As the pandemic has unfolded, streaming platforms have tightened up on digital security. This means you only have to share your link with your intended guests. Anyone without the correct password cannot enter. If you utilize the waiting room feature, you can weed out any unwanted guests or anyone with unrecognized usernames just as a precaution.
Video streaming platforms have also the added benefit of providing additional recorded video of your ceremony from your audience. Now, your videographer can focus on the wedding ceremony and splice in the audience in post-edits.
Creative Ideas:
Use the music playlist for the wedding as a soundtrack as the guests wait for the ceremony to start.
Record a brief, message video to play for your digital guests either before or after the live stream as a "thank you" to the guests.
Precautions When In Contact With Others
Hand sanitizer, masks, and even gloves sound so romantic. No? Well, it does sound like preserving good health and good health is sexy! The goal here is to make these elements seamless, unnoticeable, but functional.
Creative Ideas:
Take advantage of the translucent packaging of hand sanitizer. Use bottles as centerpieces illuminated by plastic accent candles.
Further personalize your centerpiece by customizing the label to the wedding couple.
If a hand sanitizer centerpiece is practical, but too goudy, then consider hand sanitizer stands at key checkpoints within the wedding venue. This includes restrooms, entrances and exits, the end of aisles, or the sides of the reception table. Attach some pretty steamers or garland and viola! Instant decorative piece.
Keychain hand sanitizer are easy party favors.
Customize masks to match the wedding colors and outfits for the wedding party.
Turn masks into keepsakes by engraving them with monograms, the wedding date, wedding party member's name, or a cool slogan about the wedding.
Use fitted, clear gloves instead of color gloves unless you luck up and find some in your exact wedding colors. Remember to wear your accessories on top of your gloves rather than underneath. Clear gloves work well underneath lace or decorative gloves.
Get your friends and family together. COVID-19 is not here to object to your nuptials this year.
ceremony and reception
About the author
Welcome to I AM . . . on VOCAL. On the surface I am a woman, wife, mother, and Christian minister. Professionally, I am a writer, clinical faith-based clinical therapist, and podcaster.
Reader insights
Be the first to share your insights about this piece.
Add your insights