Do's and Don't for Weddings
The ultimate checklist for any wedding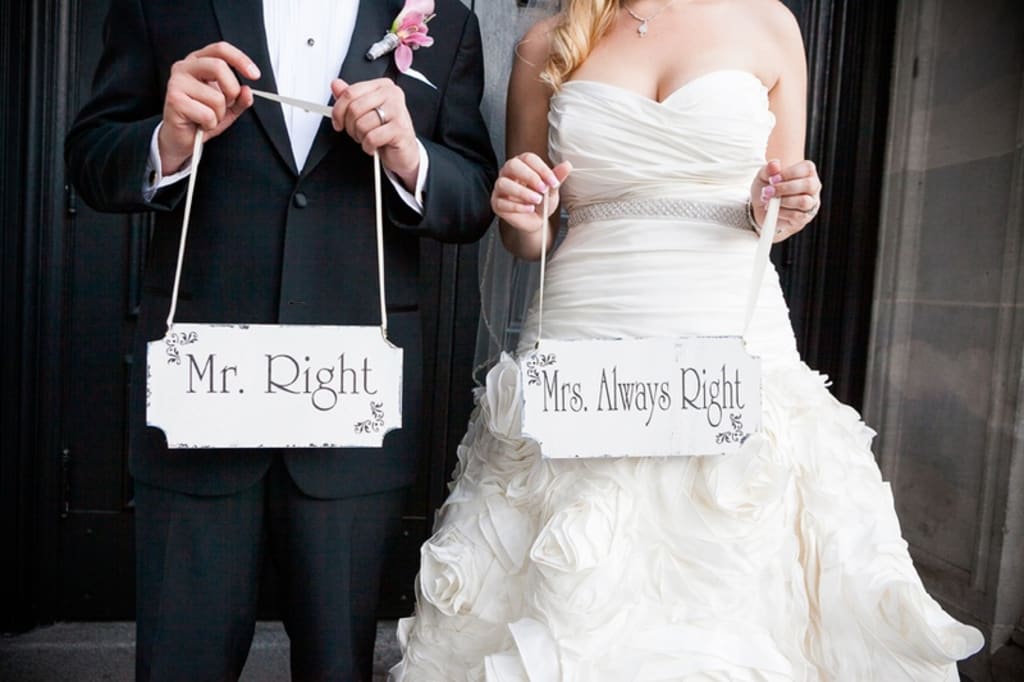 Every day in this country, many a merry person gets wed. Whether they are big ceremonies or small, in cities or countrysides, traditional or modern, expensive or budgeted, we all come across guidelines of things we should or should not do, in order for our wedding to be as smooth and enjoyable as possible.
Indeed, after getting married in 2016, I have my own list of do's and don'ts. Now, not all of these problems arose for me, mainly because I listened to the advice of others, so their gems of genius, or miserable mistakes, helped me to be prepared and equipped. So listen up guys and dolls, I've been there and done that, so my words of wisdom might just save you tears and bring you smiles when your day comes.
PICK YOUR BRIDAL PARTY CAREFULLY
If you listen to wedding horror stories, the bridal party is often at the heart of it all. Everyone is different; some people have loads of bridesmaids and groomsmen, others have a select one or two. Some have family only, others have friends, and there is also the option to be polite and mix in people we don't really know or like, but because they're somehow linked, we feel obliged.
My husband and I went for the option of picking people that mattered to us. He had his brother as his best man, a guy from work and a friend as his other two groomsmen. I had my young niece as a flower girl and three friends as bridesmaids. All I can say is, the whole thing was a blooming disaster. Nobody helped with anything!
As we know, bridal parties are not just there to be symbolic and look good on the day. They are there to assist the bride and groom along the way. Hence their very titles. They are literally the maids of the bride and the men of the groom. However, our brood didn't lift a finger most of the time. In fact, our best man didn't even come to the reception the night before and help set everything up and one of the groomsmen cancelled a few days before, because he was feeling tired.
And then, one of my bridesmaids dropped all her hen party duties last minute and decided to leave me to organise it all, because she didn't feel like it anymore. I mean, what?! What bride has to plan her own hen party? How pathetic. And even then, the bridesmaid turned up and had the nerve to complain that the activities on the day of the hen weren't to her taste. Grrr!
So, for the majority of the time, we were left with a heavy workload throughout the planning and preparing process. And even though we were the least demanding bride and groom around, we often felt we were there to help and support our bridal party, rather than the other way around.
And if you think I was just unlucky, I can assure you that my experience was not original. If you chat to husbands and wives, they will often tell you that whether it was just on the wedding weekend, or throughout the whole story, their bridal party were a pain in the butt.
So my advice is this… by all means, pick people you like and who you want to share in your special day. But I would also recommend having people—even one or two—who are keen to help. Also, experience is often key. For me, a lot of my group were in their early twenties like me, so they may have attended a wedding or two in their time, but had never been part of the intimate circle. So, I would suggest having people who know the drill and can bring their knowledge to the game.
REHEARSE THE CEREMONY
When it came to my wedding, I was really lucky, because my parents were involved at every stage. And after having four sisters get married before me, my Mum and Dad knew what they were doing and insisted that we rehearse the ceremony.
Why is this important? Well, if you look at a wedding ceremony, there is often a lot going on. People come in, people go out. People stand here, people stand there. Certain people get up, move, or perform a role. And of course, there are often children involved, and that alone has scope for oops moments. So, in a nutshell, there are loads of opportunity for things to go wrong.
To me, your ceremony is really important, because it is the moment you actually get married. It is magical. And you don't want it to be marred by confusion or mishap. I've been to weddings where there has clearly been no practice, and you soon notice people giving each other lost or nervous looks and people bumping into each other, or the order of service becomes mixed up, as there is no sense of a coherent plan. Sadly, it can then come across as a bit embarrassing, and it can lead to guests remembering the fuss of it all, rather than the joy. But most importantly, it can distract the couple from savouring perhaps the most important hour of their lives.
Therefore, going through the service and working out how aspects such as the music, standing positions, when certain things are said and done and in what order people move, can just make everyone feel more relaxed and prepared. And of course, that leads to the ultimate goal, of everyone, especially the bride and groom being able to delight in the beauty of the ceremony.
STEAM CLOTHES
There are so many gorgeous clothes involved in a wedding. From the bridesmaids, to groomsmen, to mother of the bride, to prominent guests. And I know from talking to people, that it can be so disappointing to pay for stunning outfits, only to find that on the day they're all wrinkled and crinkled as a result of being packed and traveling. This problem can take the charm away from clothes, and often take away from the presentation of the day.
So once again, I was lucky in this regard, because my Mum insisted I took the clothes a couple of days before the wedding to get them steam cleaned, and so, on the day, everything looked a million dollars and the way I had hoped and imagined.
Now, naturally, for lots of people, this may seem a very superficial issue and you think, who cares? As long as everyone is happy and healthy, does it even matter how slick the outfits look? In a way, I appreciate your point. But, with weddings, you put in a lot of time, money and effort. You often spend hours hunting the shops and the web for your perfect clothes. And if on the day, you feel that side of things have let you down, it may not influence the important of the overall point, but it can be a downer if your main players look disheveled rather than dashing, and it is something that is really easy to avoid.
BE WARY OF CUTTING YOUR HAIR
This one is really personal to me. I was one of those brides who wanted a big, bold, beautiful hairstyle, that was dramatic, but elegant at the same time. Like many people, I went for a hair trial and had a gorgeous look all worked out and I dreamed of my princess like hair.
However, disaster struck. A couple of weeks before the wedding I went for a hair cut. I specifically told the hairdresser more than once, that I wanted no more than half an inch cut off, because I was getting married and I needed the length to achieve my style.
But what did she go and do? She cut off about two and a half inches! The sacrilege! Now, this might not sound like a big deal, but for any of you who know much about hair, that difference in length made a massive difference. When I went to the hairdressers on the day, they couldn't do the same style, and the whole thing was smaller, lesser, tighter and looking back at photos, I always regret not having that Disney Princess like hair which I had wished for since I was a little girl.
So, my recommendation is this. If you really want your hair cut, go to a hairdresser you know and trust and make it really clear to them before they snip that you appreciate you may ideally need more cut-off than you ask for, but for now, you can only spare a certain amount. But, I would also say, unless you plan to wear your hair down, question whether you really need your hair cut. Depending on your style, your split ends may not even get noticed, so if you can hold off, it might just save you from experiencing my own little nightmare.
CONSIDER YOUR BAR SITUATION
The bar at a wedding is a big deal and often one of the main make or break areas. It is also a really contentious subject. Lots of people feel really strongly that you should provide an open bar, as they feel it is super rude to invite people to your party and then make them fork out for a drink. Others hate open bars and feel it encourages people to get as drunk as they like and lower the tone of the wedding.
For me, I was in a good position where the majority of my own family were not big drinkers, so alcohol was never a huge pressure. So, personally, we chose to provide a couple of glasses of champagne throughout the day and a couple of bottles of wine per table, but I didn't have an open bar. And as far as I could see, nobody was annoyed and for me as an individual, I didn't like the idea of people becoming really rowdy and the venue stinking of beer and spirits.
And actually, call me crazy, but I don't feel it is rude not having an open bar. I actually think it is more rude for people to come to an event, which they know is already a big financial burden for a couple, and to feel fine about creating an extra really big bill for them. As a guest, I want to help make their day special, not to add to any stresses or concerns about paying it all off. So personally, I have no issue spending my £30 on my drinks during somebody else's wedding day.
But the reason I even bring this up is because I encourage you to make your own mind up. At the end of the day, it is your day and even although you want your guests to be happy, they should also be able to set one day aside to help you enjoy the day in the way you want. So whether you want the drinks to flow, or feel alcohol might not be the way you want to go, it is okay to have your own say and choose what is best for you.
BE ON THE SAME PAGE AS YOUR PHOTOGRAPHER
When we were looking for our wedding photographer, we looked at portfolios and we saw a brilliant range of fantastic snaps, and this led us to pick who we wanted to capture our day. But if you listen to stories, people will tell you that their photos often let them down. Why? Because they hadn't communicated with their photographer and made them understand what they really wanted. This can include everything from style and tone, to emphasis, to location importance.
Your photos are a really essential part of your package. As any bride and groom will tell you, the day zooms by in a crazy blur and you often don't get to feel part of it and miss so much. So your photos are the best way of witnessing and cherishing it all and getting an insight into the intimate moments throughout the day. It is also a chance to get a glimpse into the personality of the couple and the unique relationship they have with each other and their family and friends. So, if your photographer doesn't have a strong awareness of what you want out of your photos, you may just find your albums don't reflect the image you wished for.
So my advice is this, chat to your photographer. Get in touch before the wedding and convey what matters to you. Let them know what style from their portfolio speaks to you and the types of looks and locations you want to focus on. Therefore, when they show up on the day, they are able to provide a more tailored and personal service. And once again, on the day, keep speaking to them and if you feel the photos aren't going in the direction you want—feel safe to discuss that.
Of course, not all of my do's and don'ts will be relevant to every bridal couple. Each person will have their own story to tell and much of my list may not be relevant to your own values, or even the style of your wedding. And there are screeds of lists out there of recommendations about things you should seek out or avoid for your big day and you may find both inspiration and irrelevance in each.
But the main advice I can give is this; just think everything through. Whether or not you believe your wedding should be really polished, you want to enjoy it and look back with fond memories. For many people, it is not a day they will repeat. So actually, strategic planning is not about taking the fun out of the event, but the total opposite. It is about making sure everything is ready and organised and any of the glitches are ironed out. So come that splendid day, you can actually have the most relaxed, sensational and magical time possible.