An Italian Wedding
No single event has brought more remarkable people into my life than the day I married my soul mate in Verona, Italy. This is a story about love, and the strangers (many of whom I now consider friends) who helped us bring our vision of said love to life.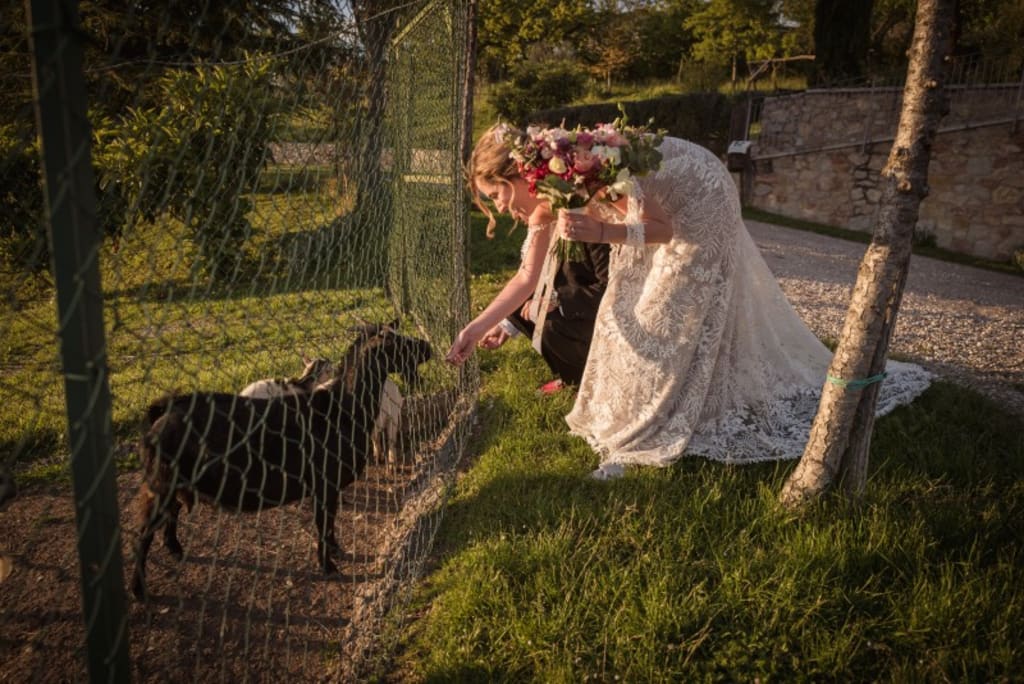 We spent our wedding reception at Agriturismo Corte Maccini on the outskirts of Verona. During the celebration, we had the spontaneous idea to go and feed the goats. It made the day even more perfect and a uniquely special magical moment for us.
I was never one who believed in fairytales. In the deepest and most private parts of my heart, I sometimes prayed and hoped that they existed. But, I genuinely did not think they happened on Earth. So, this spring, when I finally experienced my own fairytale wedding, it almost seemed too good to be true. It is only now (after allowing some time to pass) that I actually understand how beautiful and special my Italian wedding was.
The moment I laid eyes on Brendan Moran (my now husband) I knew he was the man for me. There was never even a second of doubt or confusion; he put me at ease, and I simply knew I belonged to him in this life. We got engaged over a series of conversations. But, the primary proposal happened on a warm fall day in Naples, Florida. I went down to the pool of our apartment complex and felt overwhelmed and overcome with love for Brendan. I wanted a whole life with him, and I wanted to make it official before God, family, and anyone else who cared to be a witness to our love.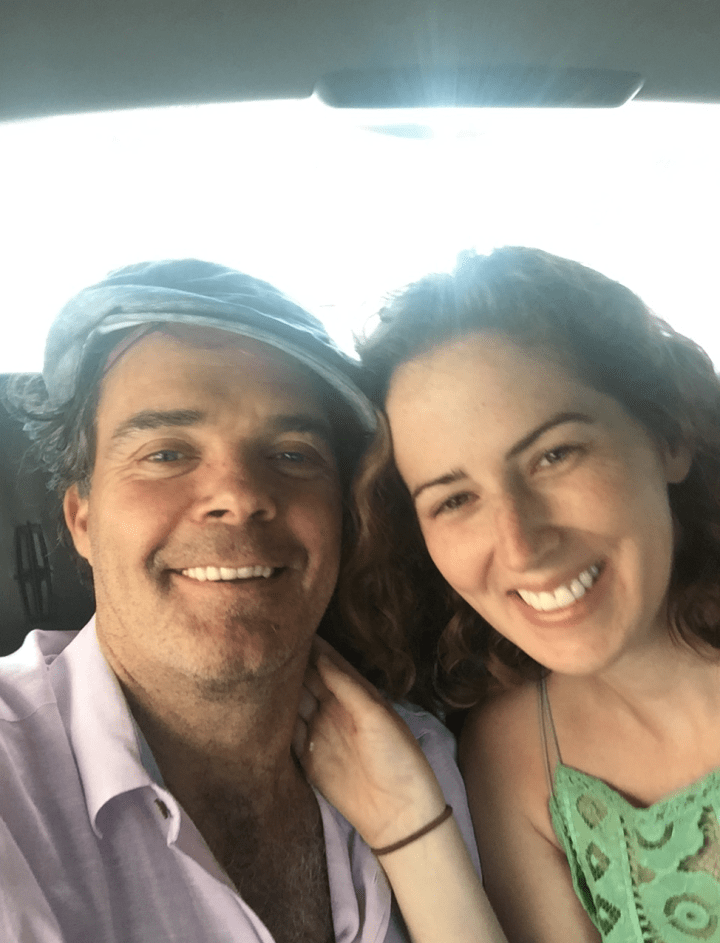 I pulled out my phone and looked at the calendar. In a burst of courage (that I never even realized I possessed) I texted Brendan (who was all of two hundred feet away) and asked him what he was doing on April 29 (a Monday). He said that he had nothing special planned but would probably be spending his time with me somewhere in the world. I asked him if he would like to marry me that day in Verona, Italy. He reacted with the "love/heart" emoji to my question before immediately asking me to come upstairs so he could say "yes" in person. I went up to our apartment where Brendan was slaving away in the kitchen making some beautiful shrimp dish. When I walked in, he kissed me and said: "Of course I will marry you." Brendan then asked me why I was interested in getting married on a Monday. I told him that Mondays were days that people usually dreaded. Our relationship had changed my way of thinking about nearly everything up until that point. I told him that I wanted us to be able to associate something beautiful and positive with Mondays. And, getting married on a Monday in Verona was a surefire way to do just that.
I explained to him that I desperately wanted to get married in Verona because that was a place that was meaningful to us on a personal level. The previous summer, Brendan had surprised me in Italy by showing up unexpectedly at my apartment door. That was when I knew he really cared for me and that our relationship was going somewhere extremely special. During the two-week period he stayed with me, we made a few little visits outside the small town where I was living. One weekend, we attended an outdoor opera performance in the heart of Verona. On that trip, we stayed at a glorious agriturismo just outside the city. An agriturismo is a farmhouse combined with a guesthouse where various crops are produced. The industry is highly regulated by the Italian government, and agriturismos have to produce a certain percentage of the food they serve in order to truly qualify as an agriturismo. The one we stayed at had goats, sheep, and other farm animals, as well as wonderfully fresh food and extremely welcoming hostesses. It was called Agriturismo Corte Maccini. Being in Verona together was a defining time in our relationship because it was in the infancy of our relationship when we were just beginning to learn about each other on a personal level. On that trip, we grew significantly in our understanding and appreciation for each other. It was also during that weekend getaway that we discovered a mutual desire to one day leave the States and build a life somewhere in Italy. It seemed perfectly fitting, then, that our marriage should begin in the place we both one day hope to call home. Brendan agreed, and felt that the idea of getting married in Verona made total and complete sense.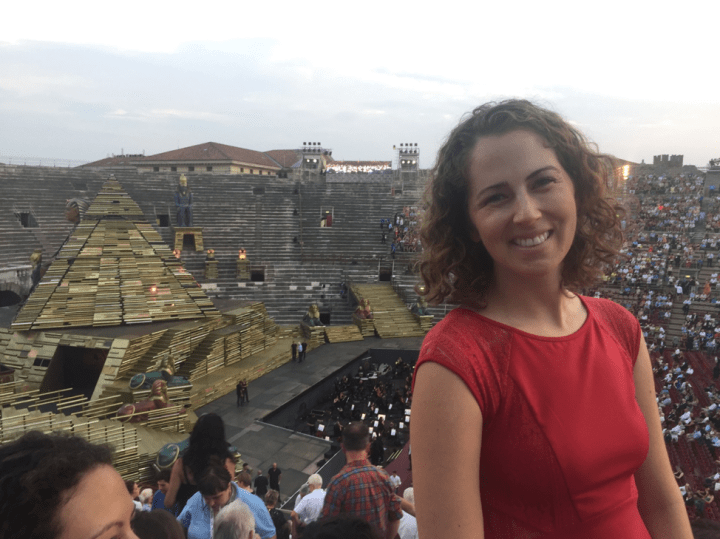 Shortly after we were engaged, it was time to tell friends and family. Although most people were happy for us, there were quite a few who thought a wedding in Italy sounded unrealistic or outlandish. They wondered why we simply would not get married in my hometown of St. Louis, Missouri. To all of them, it seemed to make a lot more sense and be a more logical option. Multiple people told me that I was living in a "fairytale" (and not in a positive way) if I thought I could get married in Italy.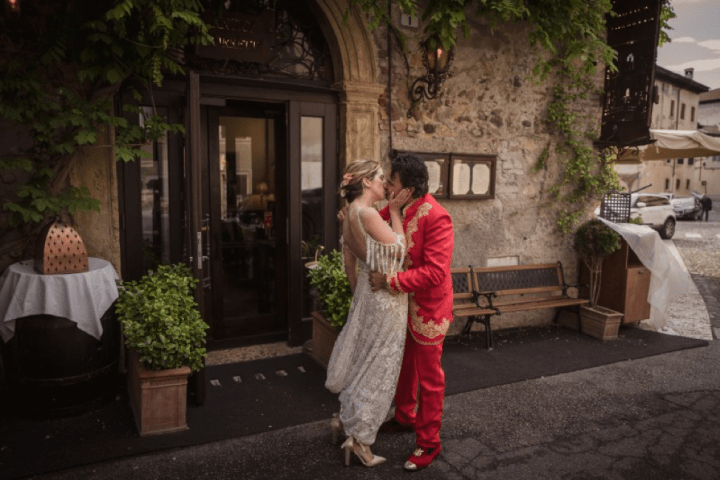 My family had never been to Europe before, so they had fears and concerns about everything imaginable. They worried about the flights, getting a rental car, where to stay, pickpockets, scam artists, lack of access to bathrooms, the quality of drinking water available, which cities to visit after the wedding, and so on. I was there to answer and guide them through the whole planning process. I sent them tidbits, information, recommendations, and much more. But, it was honestly a lot. It was essentially like planning a European vacation for a sizable family with varying interests and opinions while simultaneously planning a wedding. Oh, and we were also working to establish a plan for our honeymoon during this time. So, my cup truly runneth over before the wedding.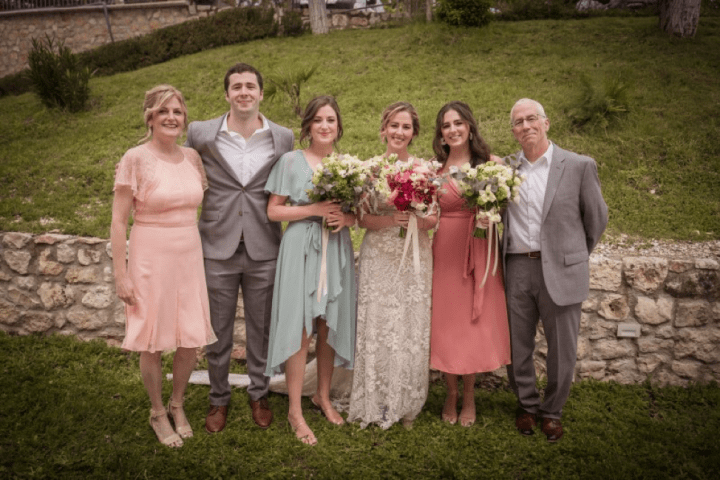 It was not simply friends and family who made things challenging for us, though. Figuring out the legalities of getting married in Italy was extremely time consuming and draining. The Italian and American governments were not keen on advising us or giving us clear counsel. And, since we desperately wanted a Catholic mass performed in English in Italy, we had even more hurdles to jump over. The Catholic Church made things challenging for us in every conceivable way. They always wanted more paperwork, signatures, and wedding preparatory coursework from us, even when it seemed inconceivable that we could do anything else.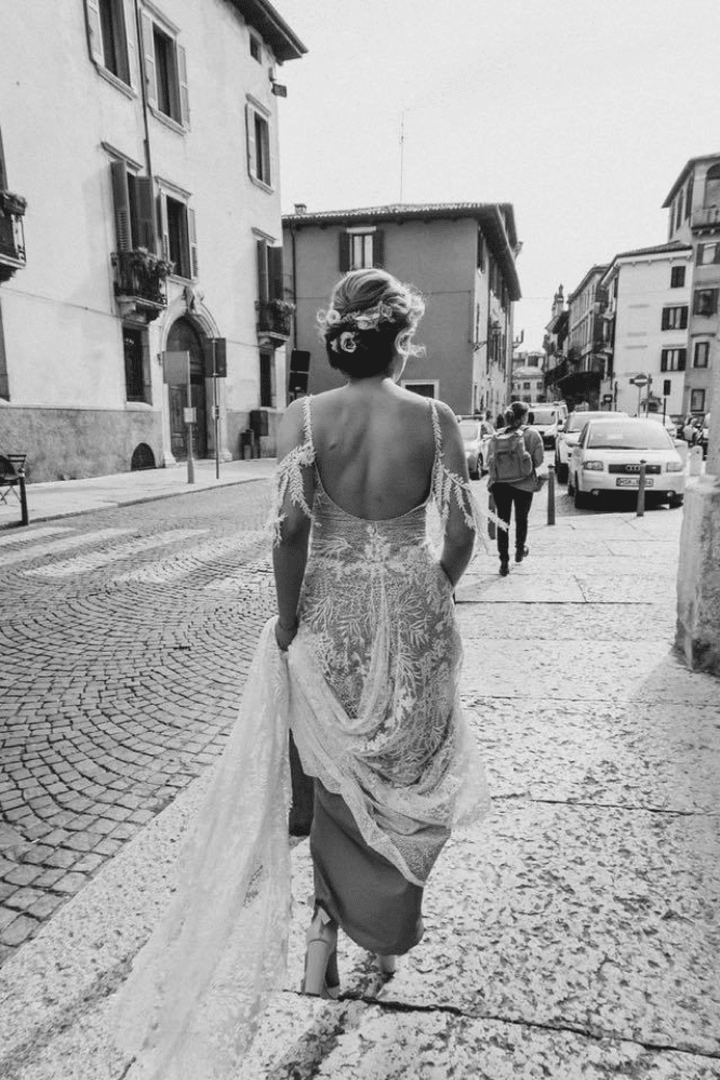 By the grace of God (and due to a lot of Earthly effort and planning), it was finally time for us to begin our journey to Italy. On paper, it sounded long, but do-able. Just a drive from Naples, Florida to Miami followed by a flight from there to Madrid. Then, just a quick eight-hour layover in Madrid, another flight to Milan, and a quick two-hour drive to Verona. We knew it would be a little painful but figured it would be super manageable travel day. We did not anticipate things going so horribly awry, though. The first portion of our journey went relatively smoothly. Brendan and I were both tired, but still reasonably happy. When we landed in Madrid, though, I noticed that the bottom of my foot was super swollen and uncomfortable. I had stepped on something sharp the day before at the beach and thought nothing of it. But, flying across the Atlantic had definitely worsened the situation on the sole of my foot. It was now painful to walk on or even put weight on.
Instead of venturing out into Madrid (which was our initial plan), we ended up hanging in the airport, so I could rest my foot and try to get it to heal. But, things with my foot only got worse as time passed. By the time we were boarding our next flight, my foot was black and swollen on the bottom. It looked very infected, and it hurt like I couldn't believe. When we landed in Milan, we got our rental car and headed to Verona. As we approached the agriturismo (the same one we had stayed in our previous visit-Agriturismo Corte Maccini), we stopped at a local pharmacy just to see if they could recommend a cream or something to help ease the discomfort in my foot. The moment the three pharmacists saw the sole of my foot, they said I needed to go have it examined at the Emergency Room. So, my husband (then fiancé) and I headed to the nearest reputable hospital and waited for eight hours so my foot could be looked at by a Doctor. Halfway through the waiting debacle, I considered walking next door and calling an ambulance. Patients who arrive via ambulance are always made a priority and seen more quickly than those who simply stroll in through the front door. But, patience prevailed, and I waited with Brendan in the waiting room. The only thing that kept me sane was my love for Brendan and an occasional desperate decade of the Rosary to keep me from losing my mind. And, of course, when I finally did get called in to see one of the physicians, it only took the doctor five seconds to put some iodine on my foot, prescribe me a topical cream, and send us on our merry way. It is always the waiting that is the most challenging in hospitals. By the time we got to the agriturismo that night, it was 3AM, and we had been awake for around 34 hours (with little bits of sleep scattered here and there). It was a situation that truly tested our patience, and a reminder that things never go exactly according to plan when you are traveling internationally.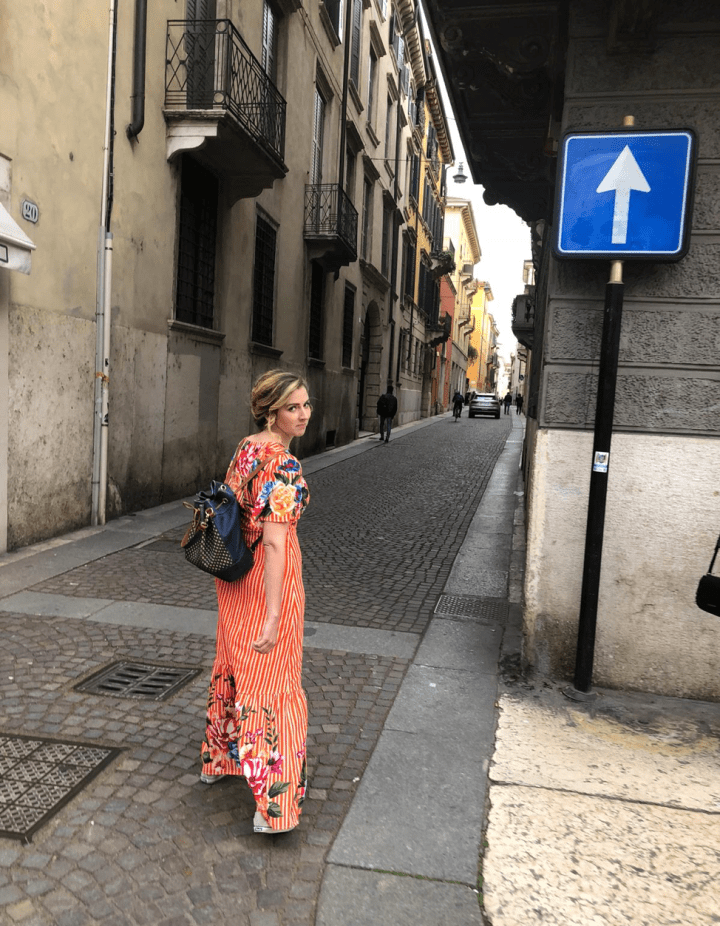 The next day, we discovered that my family had not had a breezy journey to Italy either. They had struggled to fit all of their luggage into the rental car, even though they ordered the largest possible option. European car sizes are simply not conducive to American packing habits. They were exhausted, had not slept on their flights, my sister had gotten sick in the airport, and they had all been shouting at each other the entire ride from Milan to the agriturismo in Verona-wishing they had skipped the wedding and being angry at me for having chosen such a faraway place to get married.
On April 29, I woke up and felt full of joy and energy. My foot was feeling better, and I no longer felt so horribly weighed down by the tiredness that so regularly accompanies jet lag. The previous few days had been dedicated to sightseeing around Verona and eating plenty of amazing, local Italian food. The moods and attitudes of every person in our group gradually improved with each passing day and each passing experience in Verona. As I climbed out of bed, it became apparent (almost immediately) that our wedding day would be something extraordinary. It seemed to contain an element of magic from start to finish. We began the day with a wonderful and filling breakfast of eggs, croissants with Nutella, fruits, yogurts, and an array of other pastries. We were treated with the utmost respect and kindness from the employees at Agriturismo Corte Maccini. And, every subsequent person who crossed our paths on our wedding day was a true and perfect gem.
Yasmin Sanchez did my hair and makeup for the wedding. She listened to me blabber on and on about how I wanted my hair to look like Jennifer Aniston's locks (a wish that will never come true because I have a wild mane of untamed hair, and Aniston's locks are always perfectly coiffed and controlled). I showed her countless pictures on Pinterest of hairstyles that I thought might work with my wedding dress. She was more than a hairstylist, but also served as a sort of advisor or hair counselor to me on my wedding day. And, somehow, Yasmin turned all of my talking and yammering into a beautiful, elegant look. She enhanced my natural features, while also managing to make me look interesting and elegant. Yasmin also made sure that my Mom and sisters were satisfied with their "wedding looks," a feat that has never before been accomplished by anyone.
Tania Muser was our florist, and she brought such spirit and love to the bouquets she created for our day. She chose bright and beautiful colors to reflect the passion and joy we wanted to be part of the wedding. Our photographer, Chiara Berzacola, was a young woman who was wise beyond her years. She had a great eye for capturing simple moments in truly beautiful ways, and she made us all feel at ease in front of the camera. That is something I have always struggled with; it is quite difficult to act natural and still look nice while getting photographed, or so I have found. I think the fact that Chiara was such an unassuming person helped us all behave more comfortably in front of the camera.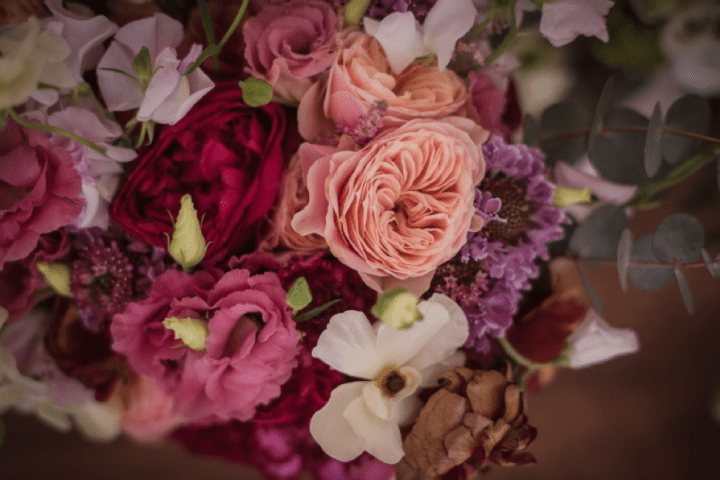 Fr. Giuseppe was the priest who performed our wedding ceremony. We struggled to find a priest who was willing to work with us but were lucky enough to randomly find Fr. Giuseppe. From the moment he first spoke with us on the phone, he guided us and helped ease all of our fears about the challenges of getting married outside one's own country. Fr. Giuseppe married us at San Giovanni in Fonte, and he did a stellar job. He did our Catholic ceremony in English but brought all the life and flair to it that only a true Italian can bring to such an affair. He made us feel special, connected to our faith, and somehow also grounded in the realities of love in the modern world.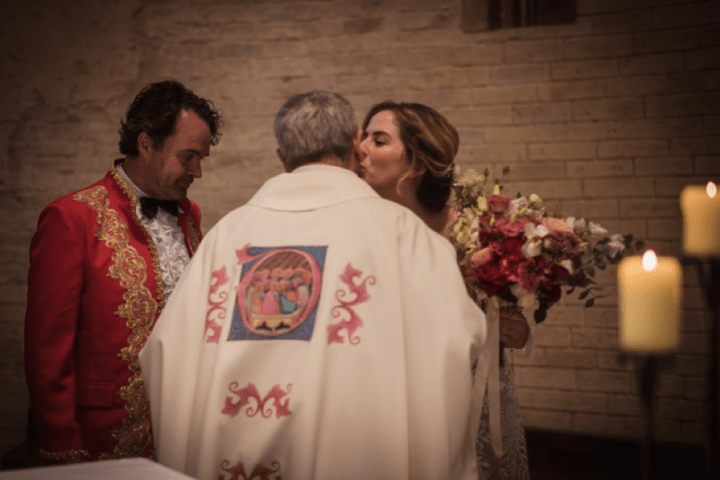 It is also worth highlighting how beautiful and spectacular San Giovanni in Fonte is. This is a chapel within a larger cathedral in the heart of Verona's city center. It is primarily used as a baptismal area, but Fr. Giuseppe said that its chapel would be perfect for our nuptials. And, he was absolutely correct. There was something utterly perfect about exchanging vows in the same place where babies first become part of the Catholic family. They are new humans who are precious and welcomed with open arms into the Church. In that same vein, our marriage was two people starting a new journey and path together. Our marriage washed away our separate past experiences and mistakes, and allowed us to enter into a new, precious, and pure union with each other. The Church welcomed us as they would welcome a new member of the faith-with open arms and love, and that also seems very fitting to me.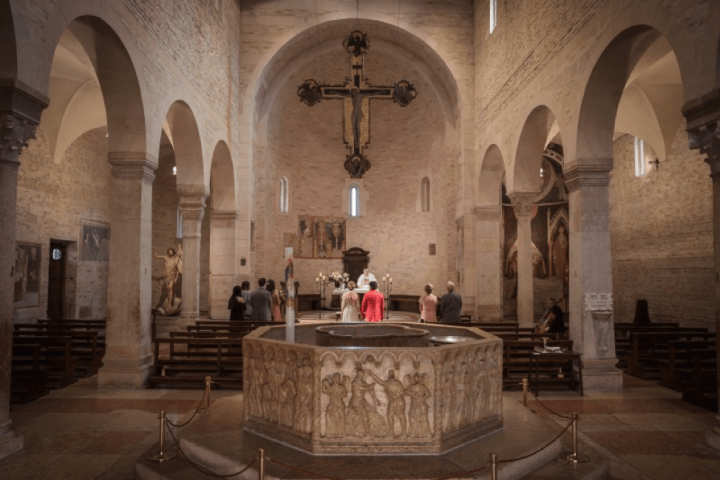 The music throughout the course of the wedding was also truly spectacular. We had a wonderful and lovely gentleman, Maestro Angelo Maggini, play cello before and during our wedding ceremony. He played classic pieces like "Ave Maria" along with lovely melodies from the likes of Gershwin and Cole Porter. Our reception was also blessed with lively and fun music. Laura Rizzetto is a marvelous soprano (who was joined by her company of musicians). And, although she spoke absolutely no English, she worked to learn all of the songs we requested. She told us (through a translator) that she did not know what message she was conveying in the songs we had chosen. Had she not told me about her lack of English language skills, though, I would have thought she was a native English speaker because she so truly and accurately captured the essence of the pieces. She sang songs from Diana Krall, Nina Simone, and Nat King Cole as if they were her own compositions.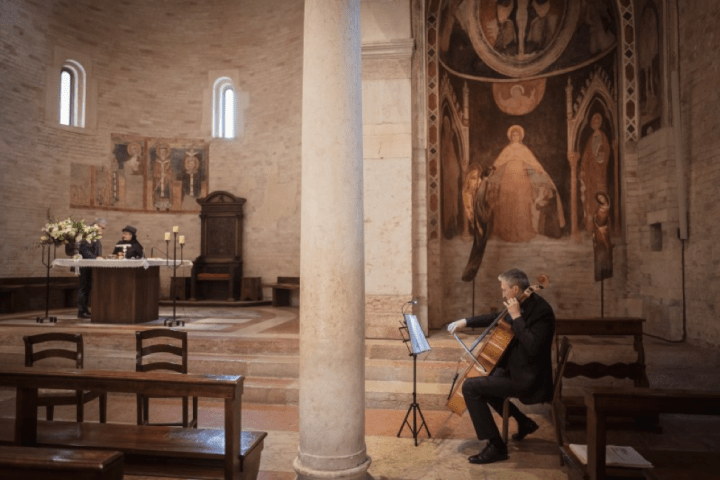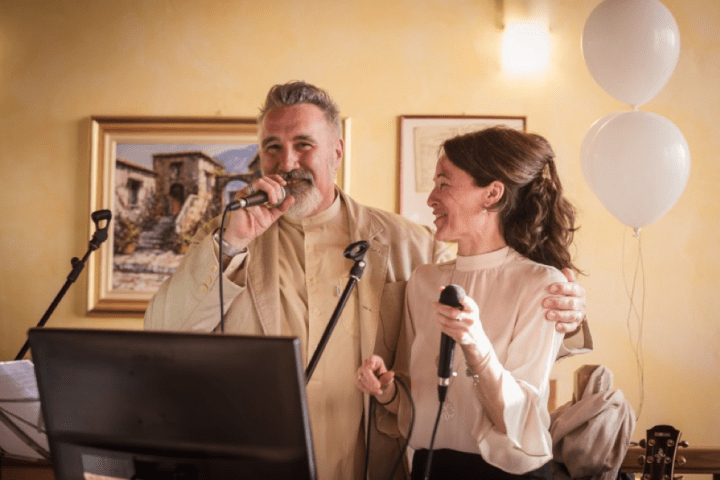 Finally, I would be remiss if I did not highlight how amazing the women at Agriturismo Corte Maccini were. This particular agriturismo is family owned and operated, so three sisters currently manage and handle the entire place. Their parents still step in to help with larger projects, but the three young women handle almost everything on their own. And, handle may not even be the right way to describe what they do. More accurately, they excel and go above and beyond at every turn to make people feel special, welcomed, and appreciated. They put in so many special touches for our wedding, and they helped so much with the planning process. They were always very communicative, kind, and interested in making our ideal wedding into a reality.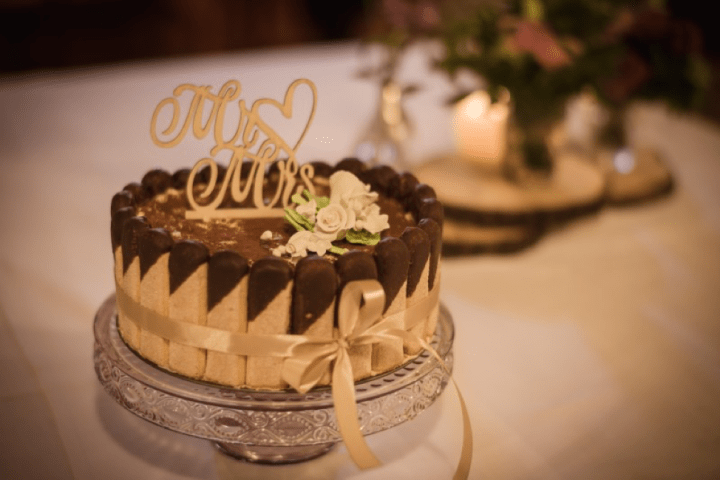 It is also worth mentioning how amazing the food was at our wedding reception. We had aperitifs followed by an insanely delicious five-course meal; each dish was truly exquisite. It was absolutely the best meal of our lives. We went from gnocchi to a regular pasta dish with pesto. We followed that up with an entrée of meat, polenta, and plenty of vegetables. And, we had not one, but two fantastic and lovely desserts: gelato with strawberries and sauce followed by a tiramisu wedding cake. Halfway through the meal, it seemed that no one could possibly squeeze in another bite. But, when food is so insanely wonderful, there always seems to be room in the body to fit in just a few more bites (or, in this case, courses). There is also some irony in the fact that we were all so stuffed early on in our meal. In the wedding planning process, the sisters from the Agriturismo had advised me to have fewer courses than an Italian. That seemed funny to me because Americans are known worldwide for their skill at scarfing down large quantities of food. But, apparently, our appetites pale when compared to the hunger that lives inside the average Italian. When I say the food was out of this world, it actually feels like an understatement. Brendan always says that the best food is made with love, and that the love can be tasted when food is prepared with genuine affection. Our food was definitely made with love, and the results were truly spectacular.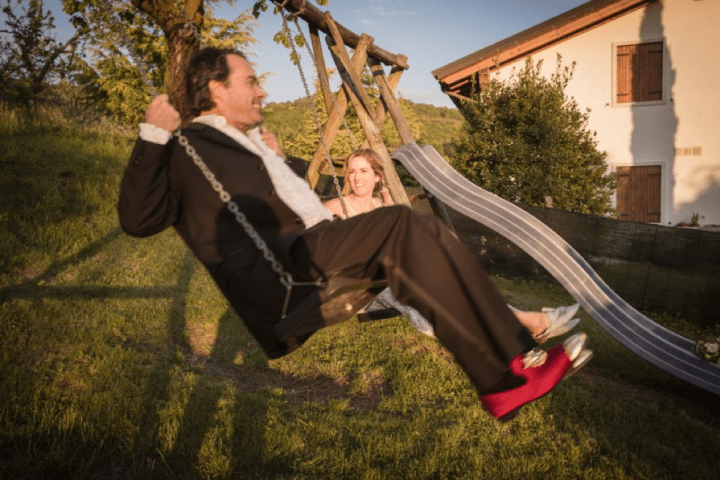 All of these people went out of their way to make our wedding day into a fairytale experience. Without them, it would have still been extraordinary because I got to marry the man of my dreams and soul mate (which, in and of itself, was marvelous). But, due to their efforts and hard work, the whole experience of having a wedding felt wonderfully exciting and blissful. Plus, as an added bonus, we got to swing (like only children do) and play with goats for a few moments in the middle of our reception. If that is not icing on the cake of a perfect day, then I truly don't know what is! Now, we have a marriage which is even more magical and special than a wedding because it is an opportunity to share love and build a life over the course of our existence here on Earth.