A Grecian Elysium: Unveiling Exquisite Luxury Wedding Locations in Greece
In this comprehensive guide, we explore the most captivating luxury wedding locations in Greece, highlighting their unique features and the unparalleled experiences they offer.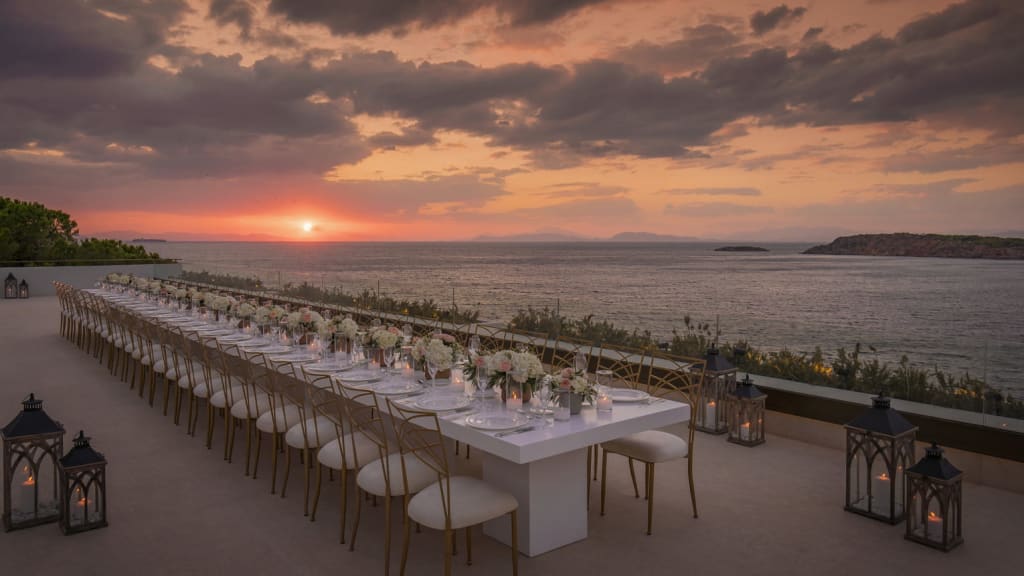 Greece, a land steeped in history, mythology, and breathtaking beauty, provides an enchanting backdrop for couples seeking a luxurious wedding experience. From iconic islands with pristine beaches to historic cities with ancient ruins, Greece offers an array of exquisite locations that cater to the most discerning couples. In this comprehensive guide, we explore the most captivating luxury wedding destinations in Greece, highlighting their unique features and the unparalleled experiences they offer.
1. Santorini - The Jewel of the Aegean:
Santorini, with its stunning caldera views and whitewashed cliffside villages, is an idyllic destination for a luxury wedding. The iconic blue-domed churches of Oia and the picturesque town of Fira provide breathtaking settings for exchanging vows against a backdrop of the azure Aegean Sea. Luxury resorts and boutique hotels nestled into the cliffs offer lavish accommodations and unparalleled views, ensuring an unforgettable experience for you and your guests.
2. Mykonos - A Cosmopolitan Oasis:
Mykonos, known for its vibrant nightlife and upscale atmosphere, is a glamorous choice for a luxury wedding. The island's charming narrow streets, iconic windmills, and world-renowned beaches provide a picturesque setting for your celebration. Choose from luxurious beachfront venues, private villas with panoramic views, or exclusive resorts that offer exquisite amenities and personalized services. Mykonos promises a chic and sophisticated ambiance for an unforgettable wedding experience.
3. Athens - Where History Meets Luxury:
The historic city of Athens offers a unique blend of ancient wonders and contemporary elegance. Exchange vows in the shadow of the iconic Acropolis, surrounded by millennia of history. Luxury hotels and rooftop venues with panoramic views of the city provide a glamorous setting for a lavish wedding celebration. Experience the city's vibrant culture, indulge in gourmet cuisine, and treat your guests to a luxurious stay in the heart of Greece's capital.
4. Crete - A Tapestry of Natural Beauty:
Crete, Greece's largest island, is a tapestry of natural wonders, charming villages, and idyllic beaches. The island offers a variety of luxury wedding venues, from secluded beachfront resorts to elegant villas nestled amidst olive groves and vineyards. Explore the ancient ruins of Knossos, immerse yourself in Cretan culture, and create memories against the backdrop of crystal-clear waters and dramatic landscapes.
5. Rhodes - A Medieval Fairytale:
Rhodes, with its well-preserved medieval old town and stunning coastal scenery, is a captivating location for a luxury wedding. Choose from historic venues such as the Palace of the Grand Master or elegant beachfront resorts that offer world-class amenities. The island's vibrant atmosphere, rich history, and picturesque beaches provide a perfect blend of luxury and romance for your dream wedding.
6. Corfu - An Island of Aristocratic Charm:
Corfu, known for its Venetian influence and lush landscapes, offers a touch of aristocratic charm and natural beauty. Luxury wedding venues on the island include opulent villas with private gardens, exclusive beachfront resorts, and historic estates steeped in elegance. Enjoy the island's serene beaches, explore the charming old town, and savor the flavors of Corfiot cuisine as you create an enchanting and sophisticated wedding experience.
7. Peloponnese - A Haven of Serenity:
The Peloponnese region, with its rugged landscapes, ancient sites, and tranquil beaches, is a haven of serenity for an intimate luxury wedding. Choose from secluded villas overlooking the sea, historic castles with panoramic views, or boutique hotels nestled amidst olive groves. The region's natural beauty and laid-back ambiance offer a perfect escape for a private and luxurious celebration
surrounded by Greece's timeless charm.
8. Zakynthos - Paradise Found:
Zakynthos, also known as Zante, is a paradise island in the Ionian Sea. With its stunning turquoise waters, pristine beaches, and iconic Shipwreck Cove, it is a captivating location for a luxury wedding. Choose from luxury resorts and villas that offer exclusivity and impeccable service. Enjoy the island's natural wonders, take a private yacht excursion, and bask in the beauty of Zakynthos as you celebrate your love in style.
Conclusion:
Greece, with its rich history, breathtaking landscapes, and warm hospitality, offers a myriad of luxury wedding locations that promise an unforgettable experience. From the awe-inspiring Santorini and cosmopolitan Mykonos to the historic Athens and serene Peloponnese, each destination provides a unique setting to celebrate your love in opulent style. Whether you choose a clifftop ceremony with panoramic views or a beachfront celebration with toes in the sand, Greece's luxury wedding locations offer a perfect blend of sophistication, natural beauty, and cultural richness. Embrace the enchantment of Greece and let its timeless allure create the wedding of your dreams, leaving you with cherished memories that will last a lifetime.
About the Creator
We are Destination Wedding Planners across the Globe. Whether you wish for a rustic wedding, beach wedding, luxury palace wedding, intimate/grand yacht ceremony, or an elegant wedding you can have it all hosted exactly as you desire.
Reader insights
Be the first to share your insights about this piece.
Add your insights