A Grand Proposal
Total Eclipse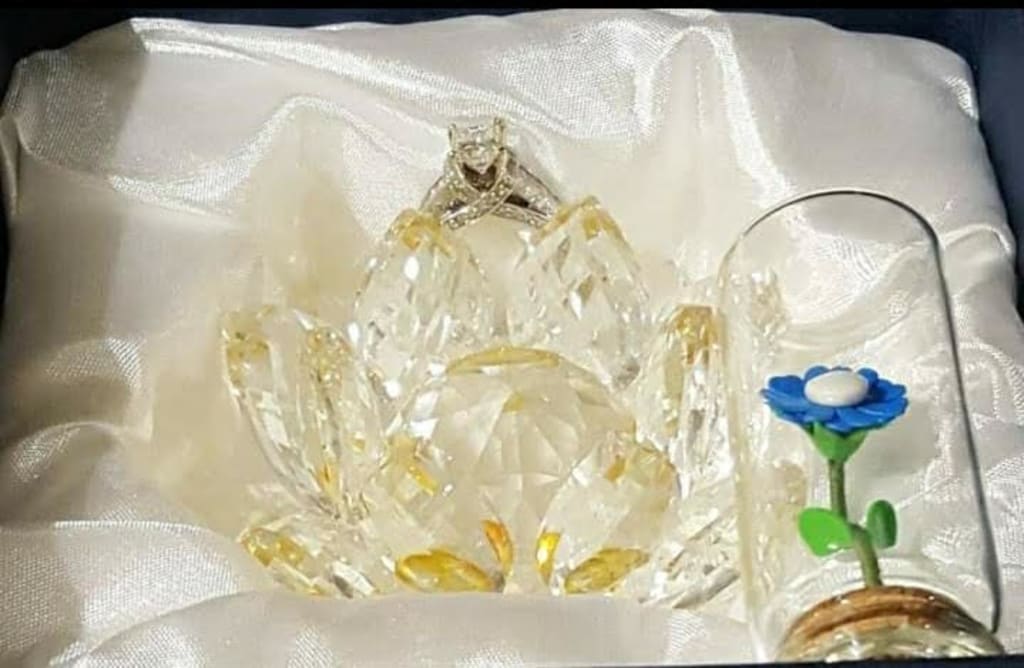 It's been seven years I've been with the love of my life and marriage has always been a subject we've talked about. It has always been something to personally feel bad about when someone in her age group she knows gets married. She's not the one to hold it against me. However, I do feel responsible for taking so long to pop the question. Especially since it has taken me this long due to financial circumstances. She is also aware of this and knows that it will come eventually. Putting myself in her shoes I can't help but wonder if and how often she hasn't questioned why or if I'll even ask for her hand in marriage. It's 2017 making it seven years in August that we will together. This is my year as I plan to pop the question. The only thing left is to plan a California vacation with her not knowing the main reason and finish my payment on the ring I placed on lay away out for her.
In April of 2016 I traveled to Virginia via the U.S Army Reserve where I worked for two weeks at the Pentagon in Washington. The medical unit I traveled with was responsible to aid their medical department known as DiLorenzo Tricare. Upon my visit I came across the most beautiful ring I had ever seen. My future wife always voiced her styles in rings as I was always curious and asked multiple times in the past. I even had her ring size locked in my head years ago. I knew that she wanted a princess cut with two smaller stones on each side. What I found was a single princess cut on a band that resembled that of a crown with a vintage touch. It was so unique compared to other rings I had looked at having three or one stones. It had her name and style written all over it. What made it great was also that I found it at a unique place as well. This was the only jewelry store located in the Pentagon and they were just about to renew their licenses for another ten years. The day I saw it I could not sleep thinking of its uniqueness. The following day I went to the place on my lunch break and started negotiating for a reasonable price. I left the jewelry store that afternoon with a diamond selected for the band and a large down payment which I placed on a credit card I had resorted to maxing out. The ring would be mailed to me upon completion of payment.
All my future wife knew was that we would celebrate our seven year anniversary together in a place she's never been before and coincidentally it would fall on a total solar eclipse. Something which the world had not witnessed in almost a century. It was a perfect setting. Seven is both of our favorite numbers, it was the year 2017 and the story behind the place I would propose took place in 2007. Not to mention, we both love astrology and the wonders of the universe. Yes even though it all fell into place I tried to keep it as romantic as possible. I would propose at the tree of wisdom/life at Cahuenga peak, California. For those that don't know this tree is said to answer your prayers if you truly believe. In the year 2017 there was a huge forest fire in the area and miraculously, it was the only tree left standing. At the trunk of the tree lies a chest. In that people place letters and ask for health and good fortune. People even ask to overcome life hardships like drugs or a gambling addiction. Many have reported life changing experiences as a result of their actions. Whatever that may be. That year I would be planning a hike with my future wife to see the total solar eclipse and ask a life fulfilling question I've been anticipating on asking and she's been waiting on for years.
It was the first month of the year and we decided to get tickets for our planned California trip. She was aware of all the plans we had except for the proposal of course. I also led her to believe that the only main reason we'd be going was to visit family. It was a late working day we had went to the bank to book tickets. Reason being was that I had occur many points on the card when I maxed it out on the ring that previous year. We walked out the bank that day paying less than two dollars out of pocket for a two person round trip. I was so nervous when she asked me how was that possible. I replied that I had built up points over years and it all added up. She bought it and I never questioned it. I knew that I'd just need to focus on paying off that card with time. All my saved money would be going towards the trip from now on as opposed to plane tickets. We also went out to buy special sunglasses just for the occasion as they were already hard to find in advance for the event.
In the first week of July I had paid off the ring at the Pentagon and was now waiting for it to arrive in the mail. I was so excited with joy and anticipation that I gave myself the chills just thinking of how the day would play out. I told her parents and her sister of my plans after the ring was sent out and asked them to secretly give it to me when it arrived at their house in the mail. I went on amazon to purchase a glass lotus flower which I would place the ring on and present it to her. The ring came, I examined it and left it with my future mother-in-law for safe keeping. I picked it up a few days before my departure. In the mean time I had to get other things together for the trip of a life time.
Before we left I had one more thing to worry about and that was generating a card to put in the chest at the trunk of the tree. With that in mind I would write my proposal and surprise her when the time comes. I made a card that opened like a book. The front and back was green with black Riddler question marks having her first name camouflaged on it. Her favorite villain was The Riddler in Batman and what better way to be surprised if you think a riddle/mystery is inside a card. Inside was sparkling pink with my proposal words typed up. I went to a staples and had them laminate three copies. One to leave in the chest, one to keep as a remembrance, and one in case either were lost. The weekend before our departure I decided that we would start our vacation at home by venturing to the city to have some fun. We did just that. On her last day of work I sent her an edible arrangement with a card attached letting her know how I treasure and love her so. The day had eventually come for us to take that trip and we were both excited for the same but different reasons.
As we touched down in LAX my future wife starts singing Party in the USA by Miley Cyrus. I slapped my forehead saying "Wouldn't a nice clap of approval be sufficient?" She responded with "No! It's my first time in California and this is how I feel." Who was I to object? It was her proposal trip after all and I would make it great and as meaningful as I possibly could. We proceeded to pick up our rental and I drove us to our hotel in Downey California where my Uncle and Aunt reside. We got to the hotel and it was nothing like pictures or description stated on the website. She was fine with it but I was not given the nature of our stay. I started making a scene before I realized that I might ruin what I've been working so hard to accomplish all due to false advertisement. I calmed down; we both made due with what we had and got ready to meet my Uncle and Aunt.
That evening we met my uncle, aunt and cousins at their house. We were staying a five minute drive away from them. We all gathered at their house and went out to eat at a buffet as a family. They were so heartwarming and hospitable that my heart filled with joy as sadly not even my family from where we came from was this nice and accepting. It was a great night and our time was well spent with everyone catching up and with my future wife getting to know each other. The trip was full of excitement and places we went to explore as the day of the eclipse would take place near the end of our trip. We went to Universal studios where we had a blast with my little cousin; We traveled to Venice beach where I found a clay flower in a bottle which I would use with the lotus flower to present the ring to my empress; My uncle and aunt took us where we could walk with the stars on that famous strip; We even went to Long Beach where we took a tour on the Queen Mary and heard some spooky history behind it. At the time they were exhibiting Princess Diana's life and her clothing collection. The day of our proposal would also be my Aunt's birthday but we celebrated it the day before with a barbecue at the house. It was a wonderful day and just before I left, I broke the surprise to my cousin who had guessed it for some reason and my Uncle.
That night I went to bed checking off a list in my head making sure I did not forget anything. We had bought a purse that was insulated inside. Perfect for me to put ice packs in and a bottle of champagne. Snacks were packed. We had a blanket to cast under or beside the tree as a picnic area as we watched the eclipse. We had proper eye-wear. I had the card and ring hidden while other plans were set in motion to celebrate our lucky seven anniversary and my proposal/her engagement day. That morning I remember trying to get her in a dress to do the hike. I know she would object and didn't want to push it or else she would have caught on to my intentions. It was worth to try, Ha. We took a cab to the base of the hill and proceeded to walk towards the tree. As we were walking up, thinking I was talking to myself, I mentioned that I was nervous. She looked at me and asked what for. I immediately said that I don't know where the tree was located and I might be scared of the height. The sun was already partially covered by the moon. We stopped a bit, placed our eye-wear on and took a glance at the eclipse. Eventually we reached the top of the hill where the tree could be seen with the chest at the trunk of the tree. Behind the tree was a huge American flag which blew gracefully at the edge of the cliff in the background.
I immediately looked for an open spot close to the tree where we could both lay down and watch the eclipse together. We stayed there for a few hours eating snacks and anticipating the popping of the champagne. There was one moment she mentioned her intentions to drink the champagne. I told her not yet because the sun was not fully covered. Little did she know that we were in a location that the entire eclipse would take place without us seeing total darkness. This gave me the opportunity to propose whenever suited me with no questions asked. At 11:00am I got up from the ground and walked over to the tree. I dropped the card in the chest and approached a stranger standing near by. I told him that I planned to propose sometime shortly and asked if he could start recording using my phone when I get up with my future wife to take a walk by the tree. He agreed and I went back to sit down. At 11:09am I got up and asked her to take a walk with me to check out what the chest looked like. We both proceeded towards the trunk of the tree as I pointed out that the card has her name on it. Surprised by the question mark symbols she stooped down and started to read. The time was now 11:11am. I took a knee and waited as she read. As her head turned over to the second page I pulled the box containing the flower with the displayed ring and opened it in front of me facing her. Her jaw dropped after she finished reading the card. She held her mouth gasping for breath in shock as she looked up at me, her ring display and back at the card in surprise. She was definitely not expecting this anytime soon. She started crying as she nodded yes and I placed the ring on her finger. We stood up, kissed and hugged. We faced the camera which by now was in a different angle than the recorder had started. We proceeded to get my phone from the recorder whom we thanked before heading back to our spot. Now was the perfect time to pop the champagne as we enjoyed the remainder of the eclipse.
After the eclipse was over we proceeded to walk towards the back of the Hollywood sign as it was only hiking distance away. At last I could finally talk about the ring and everything leading up to the proposal. It was the hardest secret to keep especially since I had known about it more than a year prior. There was so many times I had almost slipped during conversations talking about our trip and how we needed a vacation that year. It felt like a weight had been lifted off my shoulder and I felt as high as the first time I fell in love with her. I was falling in love all over again and wouldn't change that feeling for the world. We hiked to the Hollywood sign, took some pictures and proceeded down the hill to catch a cab for the hotel where we would get ready to head out for a final trip of the day. We reached the hotel, showered quickly and dressed nice as we made reservations to watch the sunset on a cruise elsewhere. We took a cab to our destination and continued with a splendid evening. We took pictures on the boat, the sunset and ourselves. We talked and laughed and had a great time. I held her in my arms as the sun went down thinking that we would always look back at this day knowing that if nothing else, It would always be a romantic and memorable one.
Like what you read? Show it by liking and leaving a small tip which inspires more interesting literature from yours truly. Thanks.