7 Simple Ways to Personalise Your Wedding Day
Make your big day as unique as you are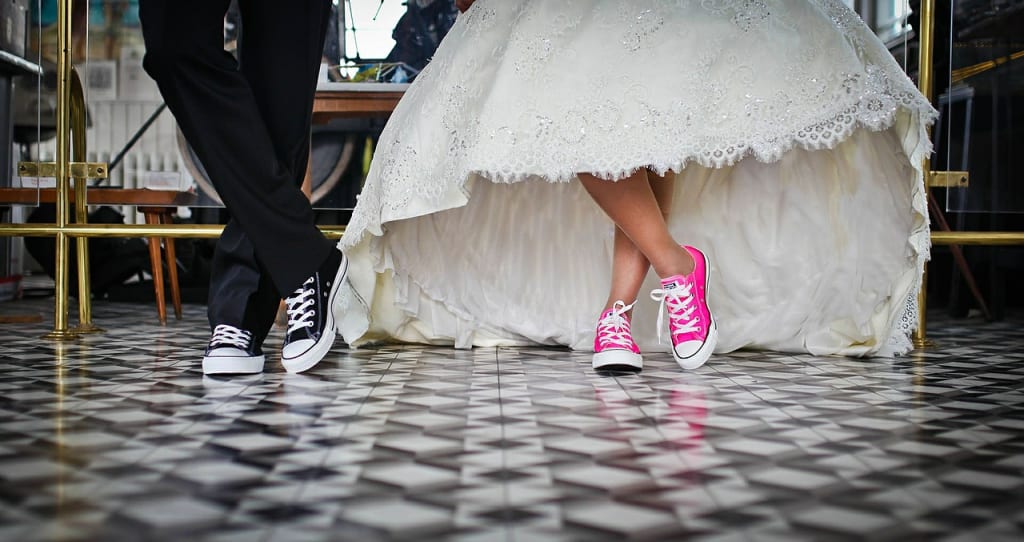 While selecting a colour palette is all some couples do to personalise their wedding, many choose to customise more of their ceremony to create a truly unique celebration. Here are seven simple ways to personalise your wedding day.
1. Theme
Traditional white wedding, rustic, bohemian: There are more than a few wedding themes. But if you really want to make your wedding day stand out, you should try to find one that truly reflects you as a couple.
Reflecting on things like hobbies and interests, the season and wedding venue can help. For example, if your venue has lots of outdoor space and you're planning a summer wedding, a festival theme with flower crowns and street food might be the perfect option.
2. Invitations
Wedding invitations are the first things your guests will see, so you'll want to make sure they're extra special, and give your guests a taste of what's to come.
A quick and easy way to make beautiful hand-crafted invitations is using rubber stamps. Customisable rubber stamps are available online, and there are lots of designs to choose from. Making your own invitations also removes the possibility of providing the printer with the wrong details.
3. Your vows
Personalised wedding vows are a simple yet effective way to make an impact during your nuptials. There will, of course, be words you legally need to exchange during a religious or civil ceremony. But there's no reason not to add some personality to your vows, and make promises that truly mean something to you and your partner.
Talk to your officiant beforehand and come up with a format that you can both stick to. This will ensure your wedding vows are similar but not identical, and mean you can keep them a secret until the big day.
4. Wedding favours
There are plenty of wedding favours that you can buy online or on the high street. But many of them are impersonal, and might give your guests a bad impression.
If you decide to make your own wedding favours, don't make the mistake of trying to do everything yourself. Instead, focus on the finishing touches. You can order a batch of succulents and pot them in hand-painted pots, or buy a large batch of sweet and savoury goodies and package them in hand-stamped paper bags.
5. Signature cocktails
When it comes to making a true "just married" statement, signature cocktails are a great place to start. From inventive names to personalised glasses, there's plenty you and your groom can do to make these heady mixes your own.
If you're hosting a summer wedding, consider using seasonal fruit like strawberries or lesser-known gems like gooseberries. Alternatively, if you're worried your mixology skills aren't up to scratch, leave the recipe to the professionals and add a personal touch with his and hers cocktails that take inspiration from your favourite tipples.
6. Cake toppers
It's easy for traditional tiered wedding cakes to look similar. However, personalised wedding toppers can completely change how they look, and create an attractive focal point at your reception.
Cake toppers are a fun way for couples to show their guests how they see themselves and be creative. Best of all, because it's a small detail that's unlikely to affect the rest of the wedding, you can be as quirky and as wild as you like—so go crazy! Personalised cake toppers include using your new last name or small figurines in your likeness, or models of famous couples to represent you and the groom.
7. Entertainment
Fireworks and a live band aren't the only options when it comes to entertaining your guests, so be inventive and think of something that relates to you as a couple. Are you and your partner self-confessed selfie addicts? Then hire a photo booth or install a flower wall, and invite your guests to join you in a spot of selfie-taking. For classy couples, keep it traditional and hire a jazz band or a close-up magician to wow your guests.