10 Women's Wedding Suits for Those Who Hate Dresses
As non-traditional marriages have seen an uptick in popularity in recent years, so to have women's wedding suits.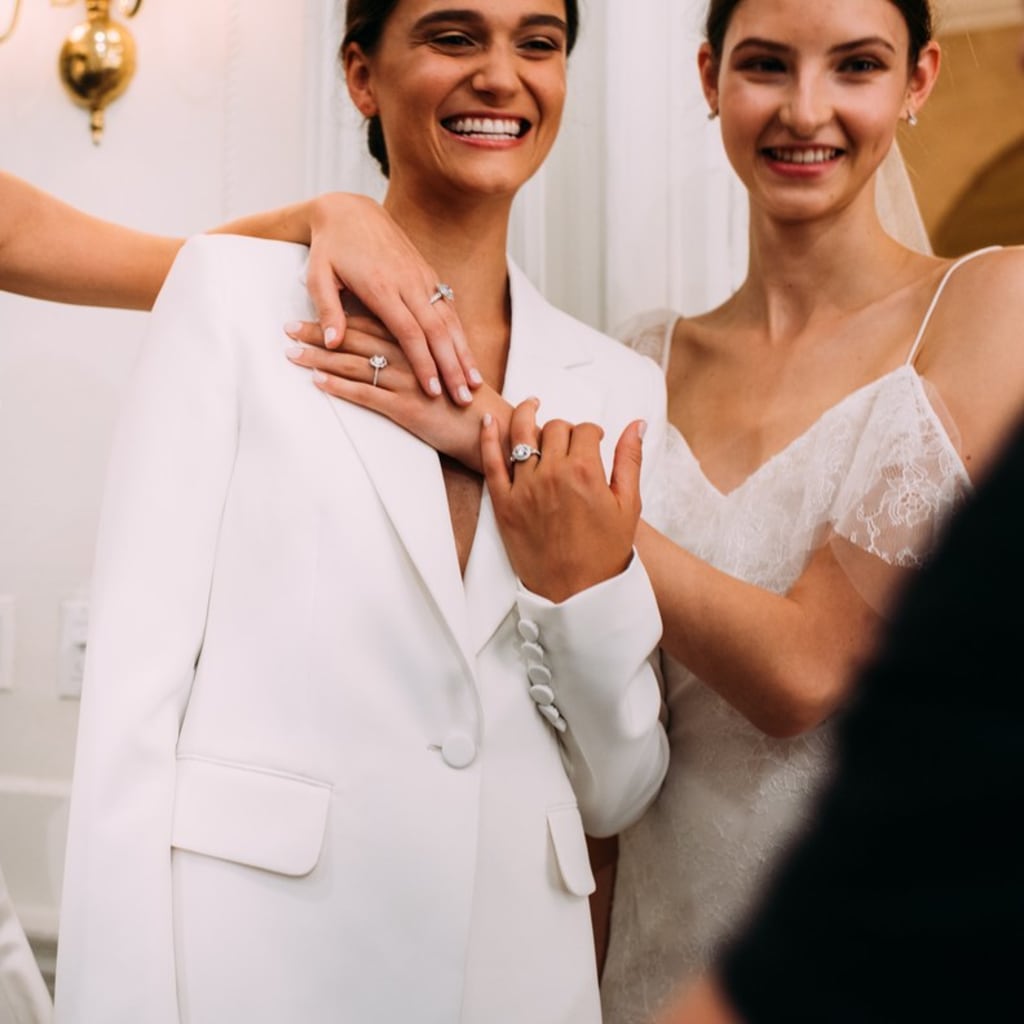 Source: Brides
Weddings are constantly changing with the trends. Some brides want their weddings to be a little more unique than the classic white chapel, and some want the little white chapel, but with a twist.
Suits for women have been in style, in general, for the past few years, and women's wedding suits for brides are expected to trend in runway shows coming up this year. A woman in a suit is comfortable, practical, and bold all at the same time. We express ourselves through fashion everyday, so showing off your personal style should be a priority when choosing something to wear on your wedding day.
There are so many reasons a woman might choose to opt for a suit instead of a dress. I think one thing we can all agree on though, is that every woman wants to look her best on their big day. In some cases, you might have always been a suit woman; but for others, it might just be looking to make a bold statement. Maybe you would like to show off your figure, and how are you going to do that under all of those ruffles? Maybe you just want to do something a little different.
If you are considering a wedding suit for your big day, you are widening your options with so many looks to choose from. There are two-piece suits, as well as jumpsuits, sleeveless, and long-sleeved; some might even argue that you have more options than you would with a dress! If you like to keep up with the latest trends, a wedding jumpsuit might be just the thing to put you ahead of the curve. You will look red carpet and down the aisle ready in some of these perfect options.
Whether wearing a suit for your wedding is something you would consider or not, hopefully these looks will spark some inspiration. If you are planning your wedding, or just into the latest fashion, these are the women's wedding suits you should check out.
A classic suit; the kind traditionally worn by a man, with long sleeves and buttons up the front; is probably what you are picturing when you hear the words "wedding suit." Luckily for you though, traditional gender roles are dying out. For some, a traditional look may be the right choice; but if this is not for you, there are plenty of women's wedding suits out there that are just as traditional as men's suits. A blazer with matching pants might be exactly what you're looking for; a little bit relaxed, yet formal, form-fitting, and phenomenal.
Some people might feel that suits for women are not feminine enough, but those people probably haven't seen this look. This might be the exact look that would make a woman consider wearing a suit for her wedding in the first place! The great thing about a jumpsuit with an overskirt is that many of them are removable, providing you with two entirely separate looks!
Designer Naeem Khan put out some amazing jumpsuits in her 2019 bridal collection, including both a strapless and long-sleeved jumpsuit with an overskirt. This unique take on wedding wear is great for inspiration if you're trying to imagine what your feminine wedding suit would look like. Some of her beautiful long-sleeved jumpsuits feature a tulle overskirt, which turn up the bridal element of the outfit. You will feel like an absolute queen in one of these. If you are looking to combine the traditional garb with something fresh, this might be the look for you!
Sometimes a women's wedding suit can be more practical than a wedding dress, especially if you are having a destination wedding. Suits for women will be much easier to pack and travel with, making for a less stressful ordeal overall. If simple and comfortable is what you are going for, a wedding jumpsuit is probably right for you.
Picture yourself on a breezy beach day in September wearing this. If you are thinking about a beach wedding, perhaps a sleeveless jumpsuit is a good idea. When you are going for a simple outfit, whether it is a dress or a women's wedding suit, accessories are key, and you can easily style it up with the shoes of your dreams. Whether that means beautiful blue jewelry or a pair of Jimmy Choos is entirely up to you!
Maybe the reason you want to wear a suit is because you want to be different. If you are really looking to draw attention, you might as well go for something with a design like this white jumpsuit with silver stars.
If you are looking to make a statement at your wedding, and wear something your guests won't have seen 10 times already this wedding season, consider something like this starry Starlet Jumpsuit.
If you are not going to be one of the oh so many spring brides, a women's wedding suit will keep you warmer than a dress, guaranteed. Are you one of those girls who have considered your perfect wedding taking place in the winter? Because if you have, there are so many long-sleeved women's wedding suits to choose from. Long, lace sleeves have always been a good choice for a bride, and they can be appropriate for almost any month of the year.
If you are going completely unconventional, maybe you you already picked up on the lessons learned from a non-traditional wedding. If you want to wear silver, nude, or pale pink, you absolutely have that right. If you are looking for something unique but not completely out there, you might consider something with silver. Silver brings in a modern element, while not straying too far from the traditional white.
It's your day, and you can wear whatever the hell you want. Maybe you have always pictured yourself in a black suit on your wedding day, and just because that's a traditional outfit for men, who says you can't pull it off, too?
A jumpsuit with a cape is undeniably bold, and it will give your look some added flair. It is a look sure to draw all the attention your way, even when you're not walking down the aisle. You have options when it comes to a cape, too.If you picture yourself as bold and powerful on your big day, this might be exactly what you are looking for.
Lace is one of those traditional wedding dress elements that is actually timeless, and can be done in so many unique ways. You want to wear a women's wedding suit, and that doesn't mean you need to compromise your femininity or tradition because of that, after all. A long-sleeved or short-sleeved jumpsuit is the perfect balance between traditional and modern. Like a dress, suits for women can be partially or completely lace; Which style you prefer, however, is entirely up to you.
If you are on a budget, you can consider renting a wedding suit! There are several companies online where you can sell your wedding outfit, or purchase one that has previously been worn, if you are looking for something with a thrifty vibe or just want to save a few hundred (or thousand...) dollars.
After all, men do it all the time. Why has this just recently become popular for women? Some people are getting away from spending their life savings on their wedding and moving towards a more economical event. If that's the case, why spend so much money on an outfit you are only going to wear once?
If you are actually going for a more typical groom look, perhaps you would rather wear a tuxedo than a women's wedding suit, with a tux shirt, lapels, a tie, and all.
Wearing a tux used to be more of a challenge for women. For a long time, a girl's journey in men's fashion was met with a number of issues. Being that suits are long-sleeved, that would likely require many alterations in order to fit properly. In today's day and age, however, there are companies out there making tuxes and suits for women.
With all the options out there though, there is a lot for you to consider in order for you to pull off your non-traditional look the best way you can. The first question is, are you bold enough to go unconventional for your wedding? Suits for women might be trending, but that does not mean they are for everyone.
Whatever you choose to wear on this very special day though, the important thing is to enjoy the time with your friends and family. Don't let the stress of planning get to you. No matter what happens, from the dressing room to the reception, as long as you look good on your big day, you'll feel good.