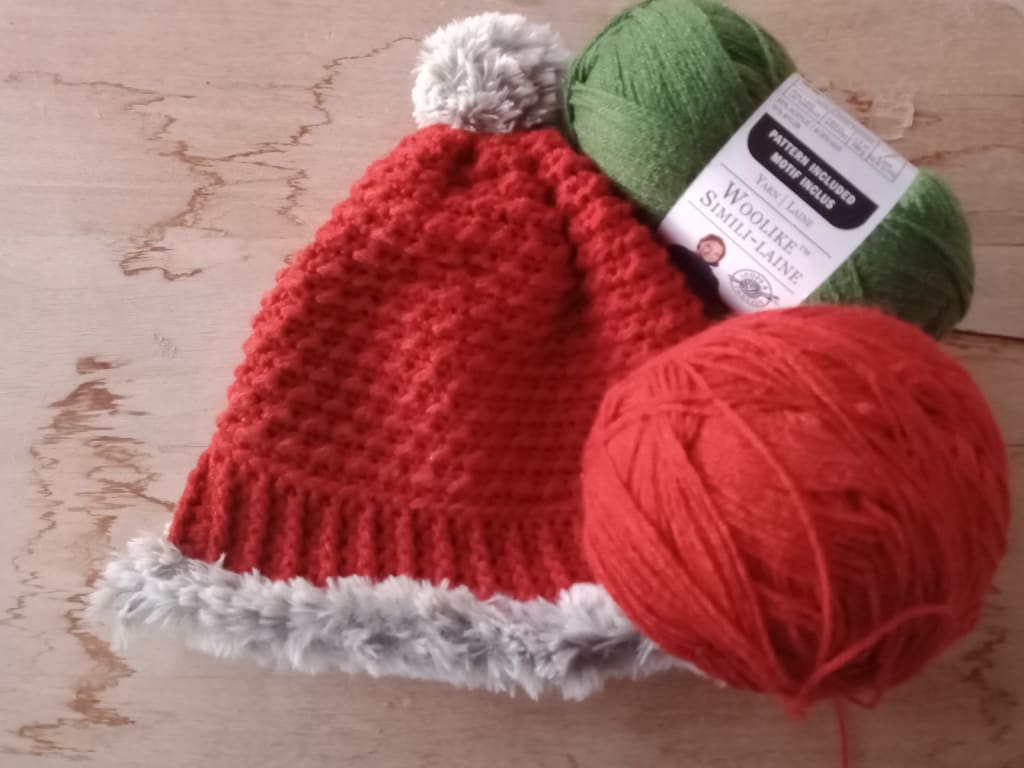 Easy textured beanie and Woolike
Whether you're starting a new hobby or a yarn-a-holic, there's never a bad time for new yarn. Woolike by Loops & Threads is a to die for super fine weight squishy yarn. It comes in several colors, and at roughly $3.00 per ball with nearly 700 yards, it's a great deal. To provide you the best review, I will showcase the yarn in two patterns I've worked up. Links for the free patterns as well.
I admit it; I am a yarn snob. For a long time, I paid the premium cost for the best fibers. Marino, Angora, Alpaca, Silk, etc. This is one of the very few acrylic yarns that have begun to change my mind. I'm not a fully recovered yarn snob; I still demand extremely high quality, and Woolike delivers. It is so soft and squishy, like buttery wool. The yarn has a spring to it as well. I would say it's about 25% as springy as a tight wool. It's not enough to worry about pulling on the yarn and getting strange stitches, but it's pleasantly noticeable.
With 85% Acrylic and 15% nylon, Woolike is vegan-friendly, 100% washable, and a wonderful substitute for someone with allergies to wool. When I look for quality yarn, I consider several factors; softness, feel, drape, and vibrancy. In general, I want my finished piece to look and feel like it's worth the investment I put into it. I often give my pieces as gifts, and one day I'd like to sell my work. So, high quality means a lot to me. Don't get me wrong, value yarns that aren't as soft are still great for home décor or bags, and I'm definitely going to write about those in the future.
Working with Woolike in a pattern is a dream. You can get a lot of versatility by doubling up the yarn, and it frogs beautifully. When trying out a new or complex pattern, the ability to frog the work (undo rows of stitches) without hassle or losing the yarn's integrity is monumental. I frogged the pocket/gauge swatch in the cardigan pattern, probably 15 – 20 times, and the yarn held up well. It did have some stretching, but not to the point where I felt it was unusable. 
To the patterns!
I worked up The Arctic Beanie from "The Loophole Fox" with Woolike in "Pumpkin Spice." The pattern calls for an Aran or 4 weight yarn. I matched the beanie's required weight by tripling the Woolike. It made for a plush, warm, squishy, and vibrant hat. The Pattern is also extremely forgiving. I made several mistakes during the project, and they're barely noticeable. The first mistake I made was the band's posts; I missed a Front Post Half Double Crochet. I noticed it when I got back around to the stitch, and it was a simple fix by doing a Front Post Double Crochet around the skipped stitch. I'd also say that it's easy to accidentally do a single crochet and not a slip stitch before/after the half double crochets. It's easy to see if you've done that because it won't puff out the half double crochet on the "Right Side" of the work. As shown in the picture, I also messed up joining the rounds and somehow created a triangle peak. Luckily when the beanie is sinched together, no one would know! I think it's important to note how a pattern can withstand mistakes. There are those, myself included, that might be hesitant to start a pattern out of fear of messing up. The great thing about crochet is that it doesn't always have to be perfect.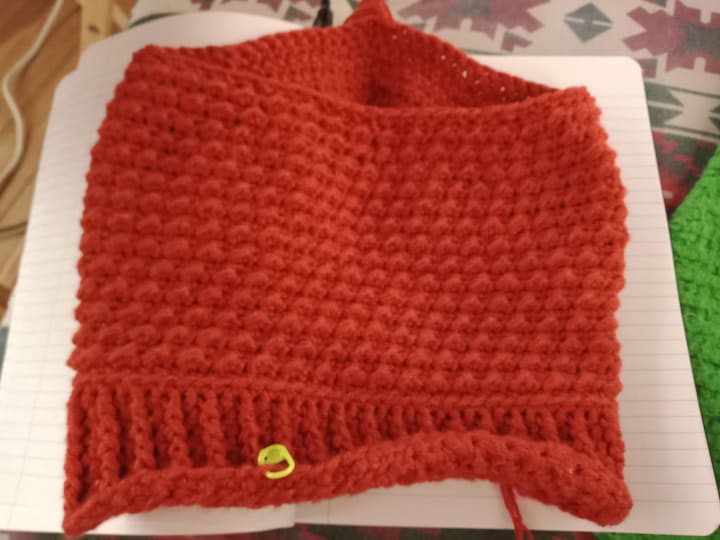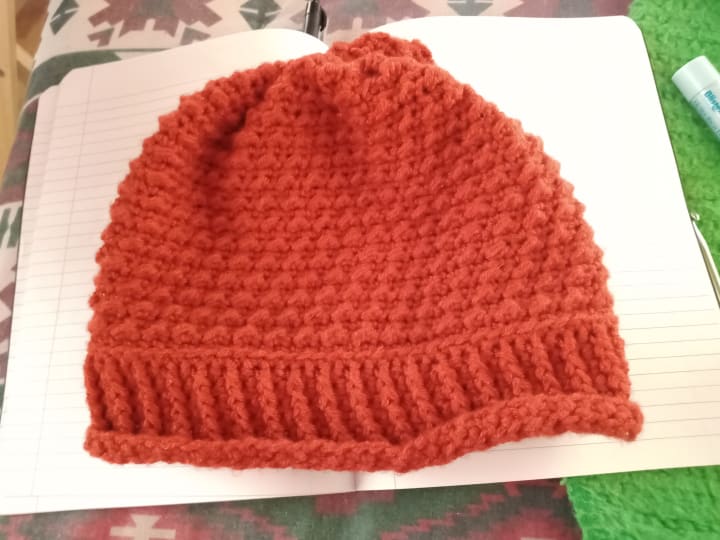 When it synched up: it looks nearly perfect. I think the curling resulted from dropped stitches from the band to the textured pattern. However, blocking might fix it, but I'm impatient and decided to hide the curl with a fur fringe. In hindsight, this may not have been the best idea since the only fur yarn I could find was white or silvery grey. I opted for the silvery grey "Huskey" by Lion Brand's Go for Faux. I was hoping for the lovely chestnut color in "Fawn," but the store was out. After applying the faux fur trim and a homemade pompom, the hat became far more Santa like than I was hoping. Oh well... Learn from my mistakes.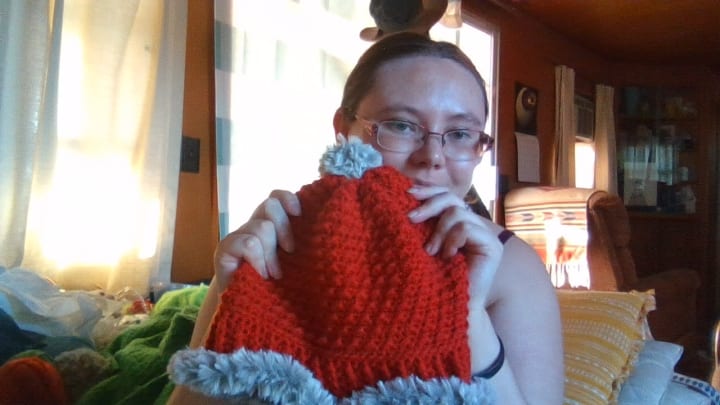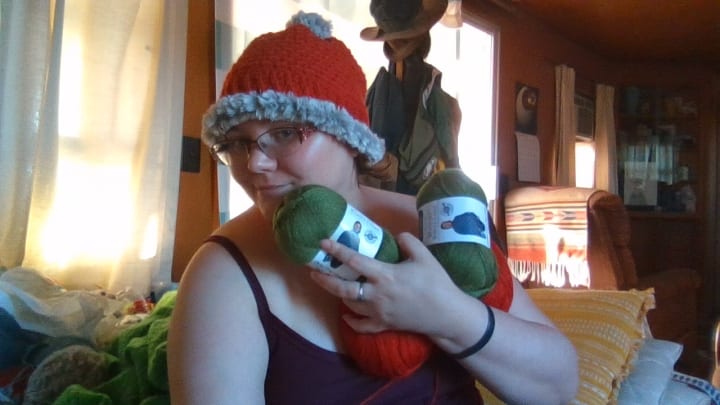 What if you're not into hats? Well, my friend, have I got the cutest cardigan for you!
I've been working on The Eva Cardigan from "Yarn and Chai" for a while now, and I don't have a finished piece to show just yet. I do, however, have a few stripes worked up and a pocket. Don't be afraid to use this pattern in a single color or to shorten the length. There are examples of variations to the cardigan on Yarn and Chai's Facebook page, and they look great for men too.
For my cardigan, I'm going with a woodsy green and dark brown color scheme. Even with a single strand, the Woolike creates a light but warm fabric with incredible drape. I know the cardigan will stretch a bit with gravity, so I'm interested in seeing how the yarn will handle it. The stitch definition is... "Muah" Perfection!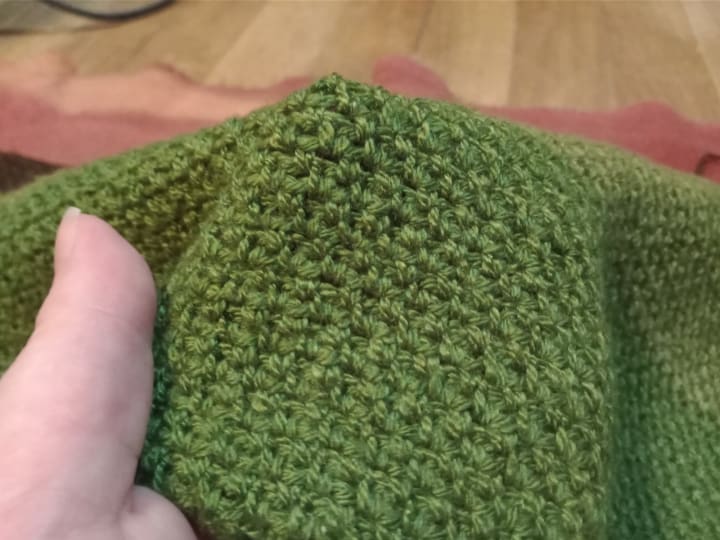 Here's what I have so far. Pay no attention to the wonky sides. For some reason, I just can't keep straight sides and have to find ways to fix it. Luckily, these will be somewhat hidden when I seem up the front panels. This will be the back panel.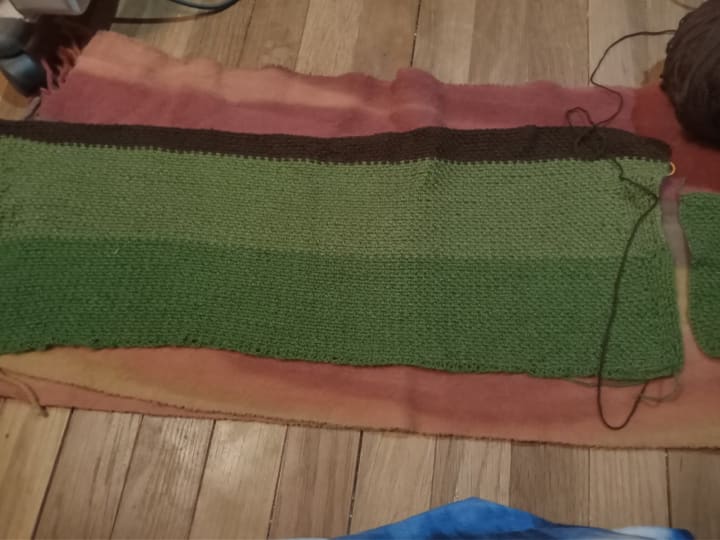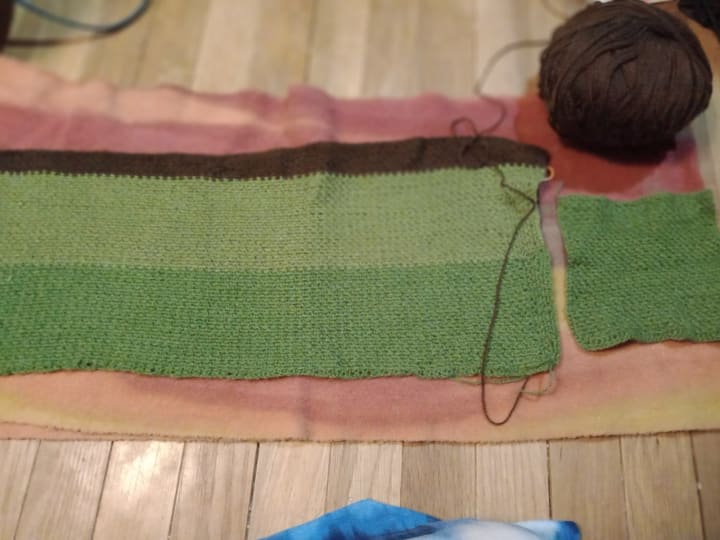 I can't begin to express how much I love this yarn. From doubling up the yarn for faster projects; to just using as is, Woolike creates beautiful results. I'm currently working on a mixed yarn plaid pattern scarf with this yarn, and I can't wait to show you. Look for my next article coming soon.
In closing: If you're a knitter, a crocheter, or a friend of one, Woolike by Loops & Threads yarn is easy to care for, easy to work with, and creates stunning results. I give it a 10 out of 10, will continue to buy forever.
You can find Woolike at Michaels. Loops & Threads is their in-house brand. I do not have any business ties or monetary gain from recommending this yarn. This is simply 100% of my love for this yarn and crochet/knitting from me to you. I hope you found this article useful and entertaining!
I feel the need to add a disclaimer: these are my opinions, and while I strongly feel any knitter/crocheter would wholeheartedly agree with me, to each their own. Run by a Michaels if you can, pick up the yarn ball, and give it a squish. I think you will fall in love.
Cheers all you beautiful people! I will also be writing short story "Adventures" with a few recurring main characters. If you like fantasy and mystery, keep on the lookout for that.