Wrapper's Delight!
Why Good Things Come in Small Packages…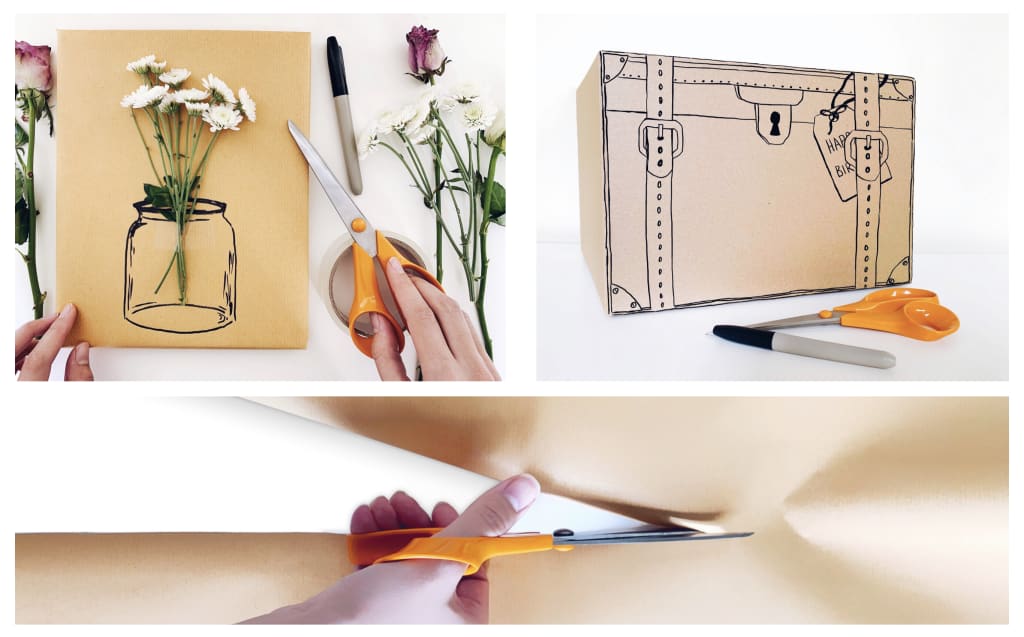 When Maria Von Trapp (through the beautiful prism of Julie Andrews) sang about brown paper packages tied up with string in 'The Sound of Music', I knew she was my people. I get an obscene amount of pleasure from wrapping - gifts, parcels, cards, I don't care - if it sits still long enough, I will wrap it.
There's just something about a beautifully wrapped parcel that gives me all the feels. I love to receive them but above all, I LOVE to wrap them. It's like a crafty meditation. The sexiest sound in the world to me is the satisfying cssshhhhhhhhhh of a sharp pair of scissors gliding effortlessly through a thick sheet of paper.
Wrapping is important. It turns an inanimate object into a gift and, if you get the packaging just right, a gift into an experience. Would a ring from Tiffany's carry the same sentiment without the iconic little blue box? Would a bouquet of flowers hold the same wow-factor if I handed each bloom & fern to my girlfriend one-by-one? Would my Mum be just as happy if I presented her with her annual Christmas cookbook in the Straight-Outta-Amazon flat envelope? (To be fair…probably. Amazon packages have their own special sort of je ne sais quoi!)
If you think about it, a thoughtfully wrapped present is literally the gift that keeps on giving! I get so much joy from the wrapping process - looking for inspiration, dreaming up a theme, collecting materials and finally sitting down to create it; and the recipient gets the joy passed on to them when they're presented with something beautiful! Whenever one of my wrapped creations elicits a look of delight on someone's face, a little "oooooh" of admiration or, my personal favourite, "I almost don't want to open it, it's too nice!" - well, then, I just get that joy back all over again!
A parcel wrapped with care and consideration says something to the recipient. During the times in my life where I've been a little strapped for cash during the holiday season, my gifts to friends and family weren't the most expensive or luxurious items but I would always take the time to package them in a special way. It's my way of showing someone affection and saying "you deserve something extra special!".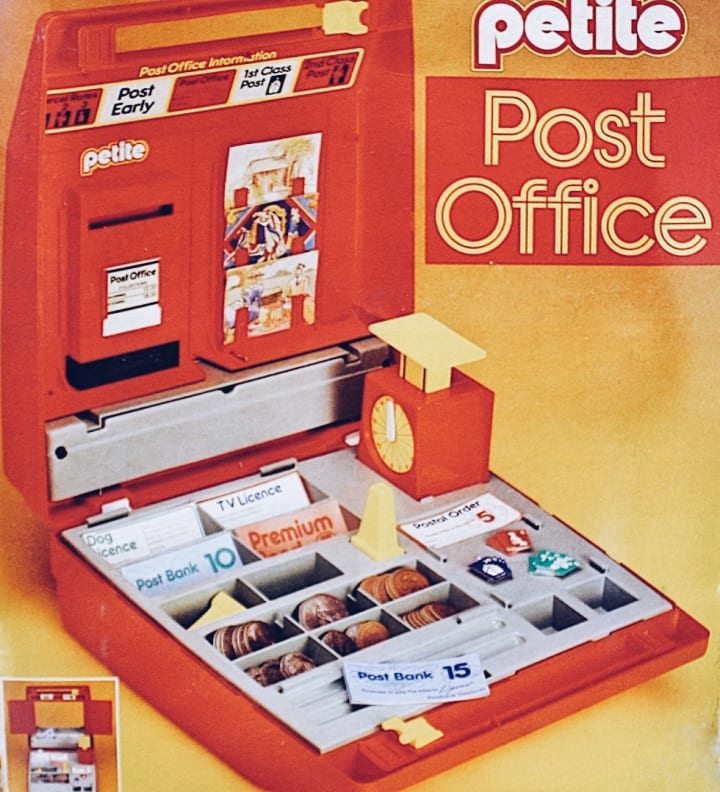 My obsession with parcels and packages runs deep. When I was 5 years old, I BEGGED my mum for the Petite Post Office - possibly the greatest toy ever created. On Christmas Day, 1989, my dream came true and I became the proud owner of my very own tiny, plastic post office. I took my role as Post Master very seriously; my parcels were all wrapped in brown paper and tied up with string (I also took Julie Andrews very seriously). They were weighed and stamped and franked to perfection and I would then force my Dad to stand on the inside of our front door as I posted them through the letterbox from the outside, whistling merrily as I worked because that's what I imagined post men & women to do.
Man, I loved that job.
A lot of my favourite books and movies growing up also achieved their favourite status because they feature some form of wrapped delight! I longed to hold a Wonka Bar in my chubby little fingers & peel back the colourful wrapper to reveal a shiny golden ticket; I prayed for a Hogwarts Letter, tucked in a crisp, cream envelope, signed in emerald green ink and stamped with the Hogwart's crest.
My favourite game as a child? Pass The Parcel!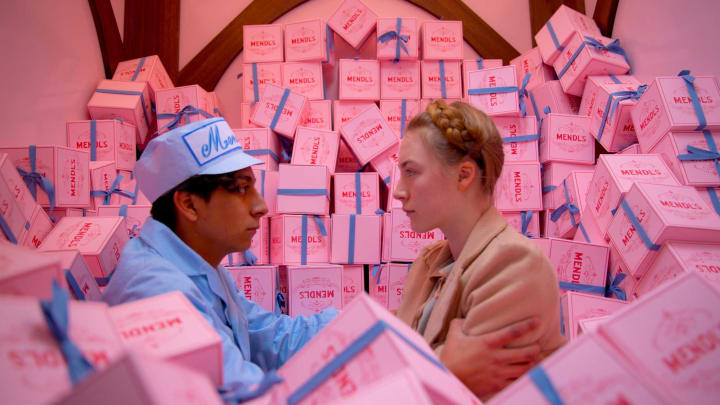 As I've gotten older, my love for all-things-wrapped hasn't waned. I'm still drooling over packaging in movies - I think I could happily live in the Mendl's Patisserie box from Wes Anderson's 'The Grand Budapest Hotel'. Swoon.
Wrapping has become my thing. It's a way of expressing myself, adding a little magic to someone's day and, on some days, it's a form of therapy.
Come with me as I take you on a potted history tour of my wrapping creations from years gone by!
There was the time I wrapped, wax-sealed and vintage-stamped every single Christmas gift for my family and friends (I developed a serious case of 'waxer's elbow' that year).
The year I turned every gift into a chalkboard!
Yep. I even wrapped my Halloween Pumpkin.
One of my favourite wrapping creations happened during lockdown 1.0 when I couldn't get to the shops to replenish my brown paper supply. I had to improvise and wrapped a parcel I was sending to my mum in a banana bread recipe from a newspaper. Proof that thoughtful wrapping doesn't have to be neat and tidy or 'perfect' (and also a serious contender for the most lock-downy parcel EVER - we went banana bread NUTS here in the U.K. during quarantine!).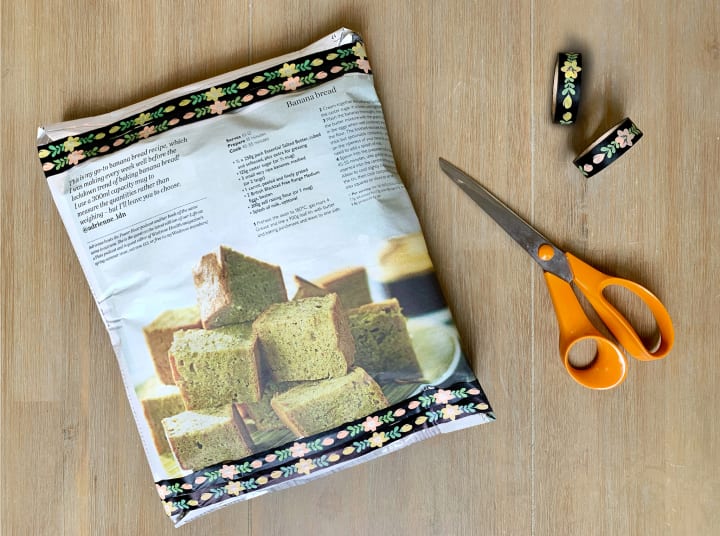 I don't just limit my paper-joy-spreading to people I know either, sometimes I like to surprise complete strangers with a little package of magic! Here's how I wrapped a vintage shirt I sold on eBay this month. I like to imagine the buyer did a little squeal when she opened it. YES she may have thought I was some kind of weird, shirt-obsessed, crafty serial killer but…did she leave me good feedback? 5 Stars baby!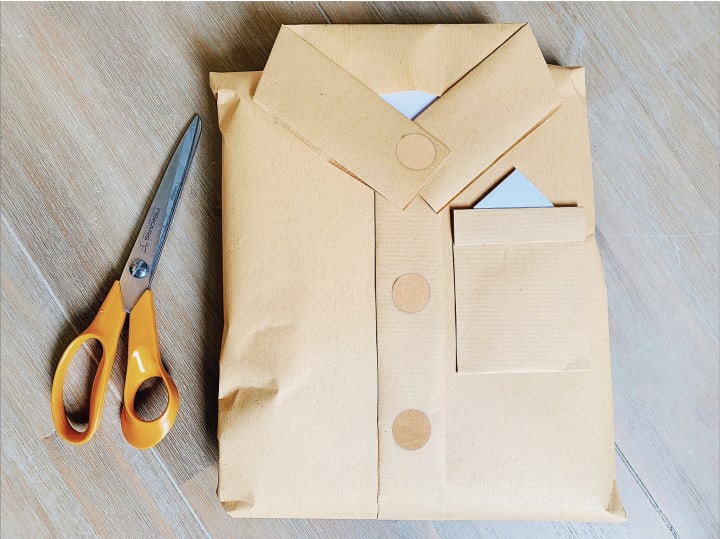 INSPIRATION
I find inspiration for wrapping everywhere: a movie I'm watching, a book I'm reading, the season, a mood. Sometimes I'm inspired by the 'thing' I'm wrapping itself - à la the eBay shirt!
I love parcels that look that something else - my current obsession is packages which look like another form of 'container'…
Here are two SUPER SIMPLE wrapping ideas which are so easy to do but are guaranteed to elicit gasps of delight!
The Vintage Trunk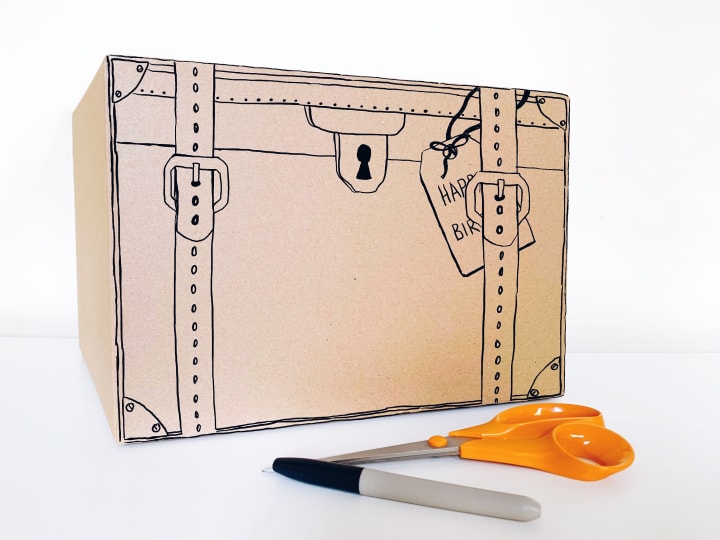 It was my friend's birthday last week and I had ten minutes to wrap her gift. I've been going through a bit of an Agatha Christie phase recently (ha! 'Phase!' Who am I kidding? I'm a ride-or-die Hercule Poirot STAN!) and that morning I'd been reading about a lady who'd discovered Christie's long lost family jewels in an old trunk. Whilst I wasn't gifting my lovely friend any priceless heirlooms, I did like the idea of turning her present into a vintage box. This is now going in the craft-bank as my go-to method for a 'quick yet impressive' way to wrap a gift!
To Make: Simply wrap your gift in brown paper, grab a marker & doodle away! Don't worry about being neat - wiggly lines make it all the more fun!
The Vase of Flowers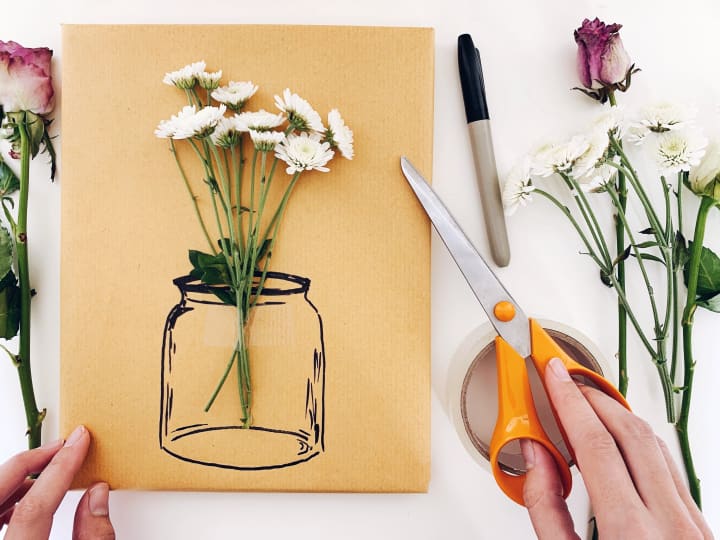 Perhaps my favourite wrapping style of all time - this technique solves the age-old question of "should I get a gift or flowers?". I love to give books to my friends and I've found this to be the perfect way to package them up!
To Make: Wrap your gift in brown parcel paper (or any colour of your choice!). I was wrapping a magical craft book here, a craft-within-a-craft, which I worried could break the space-time-continuum but…meh…it seems fine.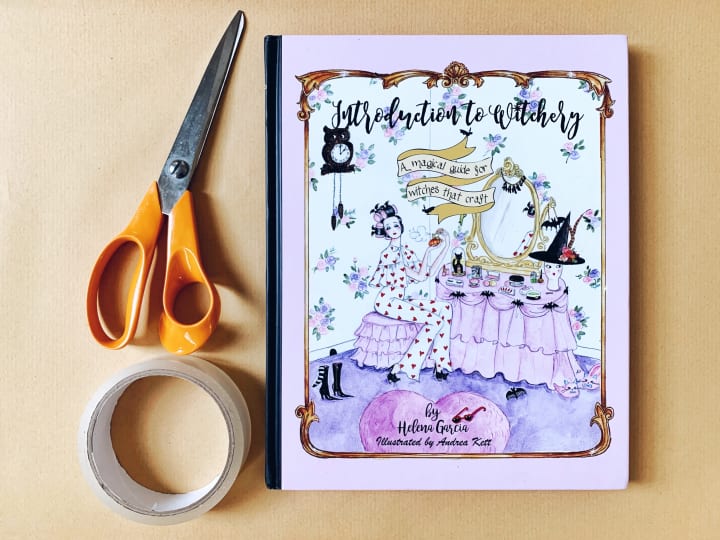 Doodle a jar/bottle/vase, whatever you'd like to hold your flowers, onto the front in black marker. Again, don't be scared to just go for it - the more 'rustic' the better!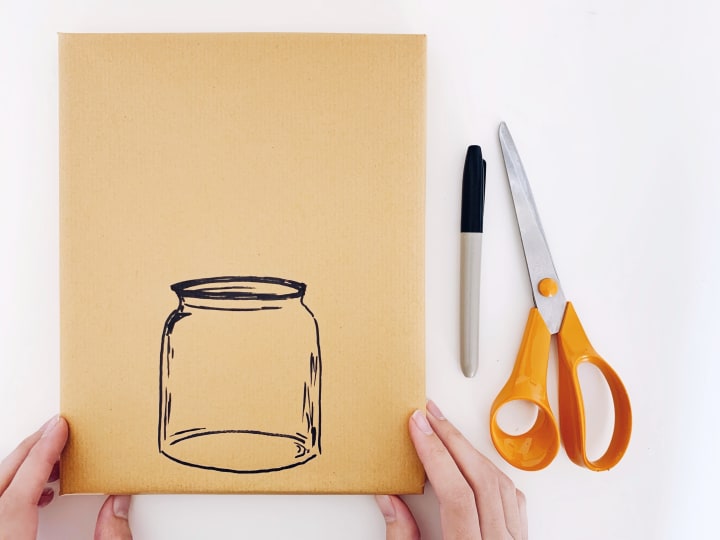 Next, cut some flowers to size and have a play around with their 'arrangement' in the jar. I took these flowers from a bouquet I already had in the house which would soon be off to flower heaven so it's a great way to get another lease of life out of them!
Secure them with a piece of clear tape.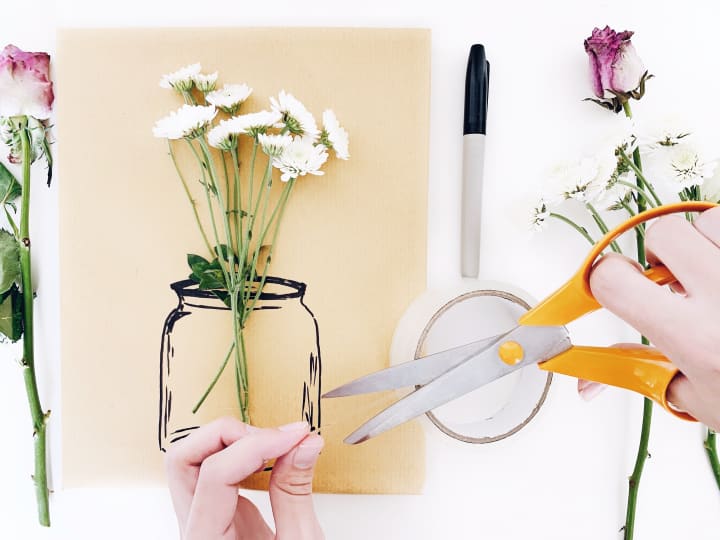 Et Voila! I also whipped another one up whilst I was at it, these look just as good with a single bloom!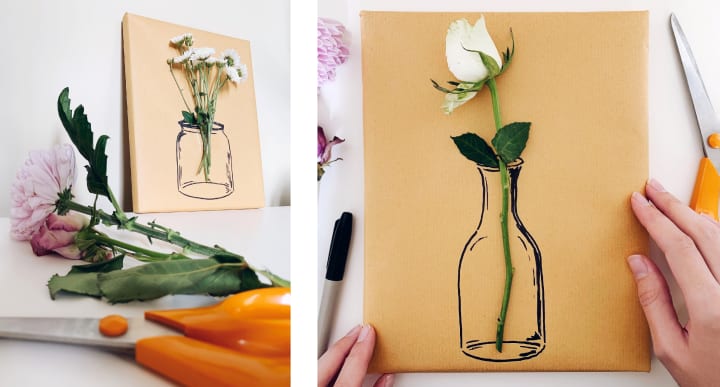 Well…time to wrap this up.
*groans & snorts from the audience*
I hope you've enjoyed my manifesto on why wrapping is one of the most joy-sparking activities on the planet! I'd love to know what your obsession is, please get in touch and let me know your favourite thing.
Until then, singing us out, ladies & gentlemen, please welcome…everyone's favourite wrapper…the woman who started it all…
DAME!👏JULIE!👏ANDREWS!👏
📦💌