Wattpad Creators Program: How to Make Money Writing Fiction Online
Can you make money on Wattpad?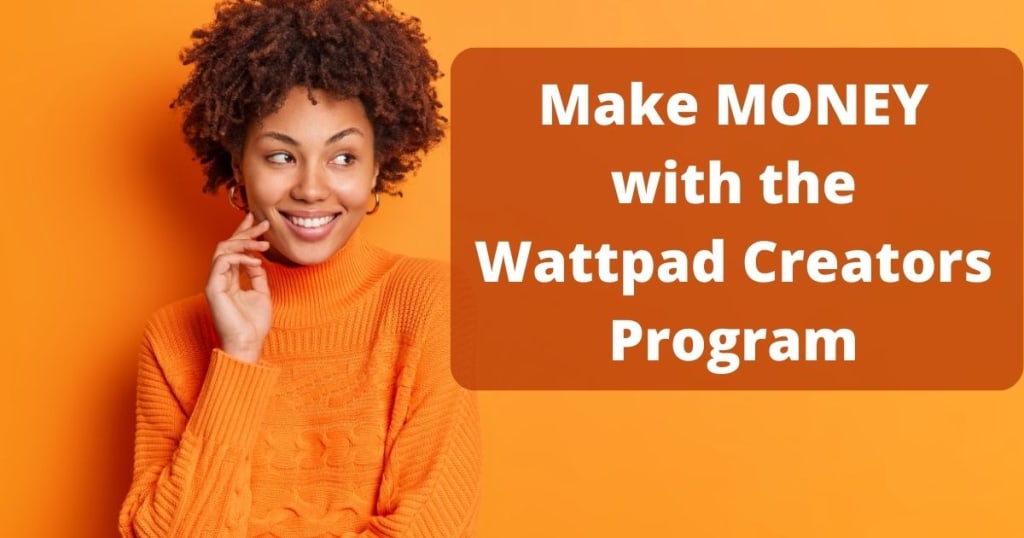 Studio shot of pleasant looking thoughtful smiling ethnic woman concentrated aside expresses positive emotions wears casual sweater stands against vivid orange background with copy space for text. Licensed purchased from Shutterstock.
How to make money off of Wattpad?
In the past, the only ways to make money on Wattpad were to join the Wattpad Stars Program and to create Paid Stories on the platform, or to make a viral hit sensation a la After that transcended the written word and became a successful film series.
But recently, Wattpad has introduced a new way for writers to make money writing stories on their platform.
In July 2022, Wattpad launched the Wattpad Creators Program.
In order to benefit from the program, writers must satisfy the following criteria (taken directly from the site):

Like creator platforms Medium and Youtube, Wattpad has set a standard benchmark to which writers must adhere if they wish to make money writing fiction online.
I'd like to examine a bit further how you can make money writing today on Wattpad:
1. You've created and published a new story part in the last 3 months
Wattpad is looking for writers on their platform that are CONSISTENT at producing content (there's that C word again…)
Wattpad doesn't want writers that are going to dump the entirety of their manuscript on the platform and then disappear, expecting to be paid.
Obviously, it would help if a writer already has their story planned out and written. That way they can update on a regular schedule that falls in line with having activity on Wattpad at least every 3 months.
2. At least one completed novel (50,000 words)
If you've ever succeeded at NaNoWriMo, then you have what you need to join the Wattpad Creators program.
I currently have one story that exceeds 50,000 words, but it falls into the fanfiction category (more on that later).
I'm presently working on an ongoing story on Wattpad titled Crush on Teacher, Obsessed with the Bad Boy (formerly Elite and Tawdry), but it has not yet reached the 50,000-word threshold.
Fifteen-year-old Tawny Matthews is a poor student who receives a scholarship to attend Ivoree Gates, an elite private…www.wattpad.com
I will keep you posted when the story is eligible for consideration into the Wattpad Creators program.
3. No Trust or Safety Violations on any of your stories
This one seems self-explanatory - adhere to Wattpad's safety guidelines in order to maintain your eligibility into the program. Youtube works in a similar manner where content producers must have no active Community Guideline strikes in order to join the Youtube Partner Program.
My only concern is not knowing if my account has received a Trust or Safety violation. I would hate to go through all the effort to satisfy the requirements to join the Wattpad Creators Program and apply only to be denied because I wasn't aware of a pre-existing strike.
4. You have at least one story in an eligible category/genre that achieved a minimum number of Engaged Readers
And here is the most challenging parameter when it comes to joining the Wattpad Creators program.
Before applying, writers must have a story in an acceptable genre and maintain a minimum number of Engaged Readers: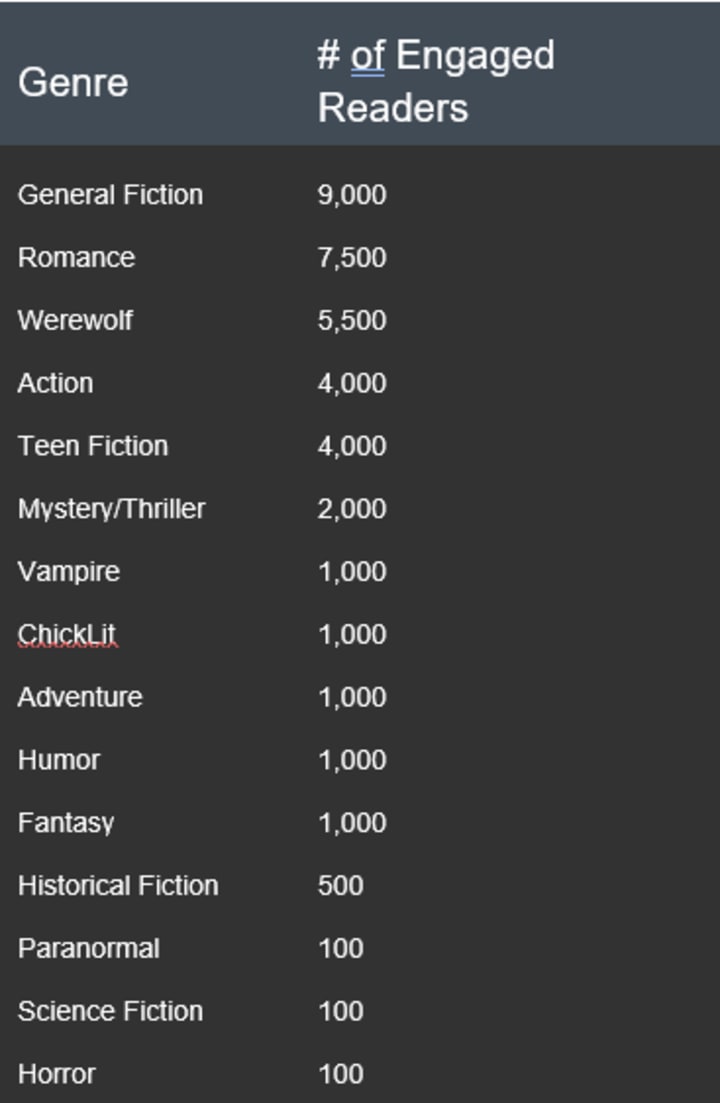 According to Wattpad's Story Statistics page, an Engaged Reader is someone who spends at least 5 minutes reading your story in the last 365 days.
Note the part about the "last 365 days". That means this metric isn't static; it's dynamic, constantly changing.
Even though you may have reached 1,000 Engaged Readers one year, there's no guarantee you will have that same amount in the following year.
In fact, unless you are consistently updating your story and engaging with your audience, your Engaged Reader count could actually DECREASE over time.
Another thing to take note of is the number of engaged readers needed is dependent on the story genre. Writers of Science Fiction and Horror only need 100 Engaged Readers to be eligible for the Creators Program.
But suppose you choose to write romance novels for money.
Writers in the romance genre on Wattpad must maintain a rather daunting minimum of over 7,000 Engaged Readers in a 365-day period!
At the time of this writing, my original Wattpad story has only garnered a total of 6 Engaged Readers, a woefully far cry from the 7,500 I need for my story to be considered for the program.
And remember my 50,000-word fanfiction, Sailor Helga? Apparently it is ineligible, as fanfiction is not listed as an accepted genre for the Wattpad Creators Program.
This is to be expected; writers shouldn't be paid to write stories about someone else's IP.
However, as I predicted in a previous post, this is a clear pivot away from Wattpad promoting fanfiction and instead positioning itself as a storytelling platform for digital, ORIGINAL fanfiction.
Fanfiction will always be popular on Wattpad, but Wattpad wishes to champion original stories and compensate and keep writers with original ideas.
At the moment, the Creators Program is still invite-only, but I see a lot of potential in this being a lucrative endeavor. When Crush on Teacher, Obsessed with the Bad Boy is complete, I fully intend to use it as an opportunity to financially benefit from the program.
What do you think? Will you join the Creators Program when it becomes widely available to Wattpad users? Do you currently meet the requirements to be eligible for the Wattpad Creators Program, and if not, what strategies will you implement in order to increase your chances to make money online writing stories?
Reader insights
Be the first to share your insights about this piece.
Add your insights