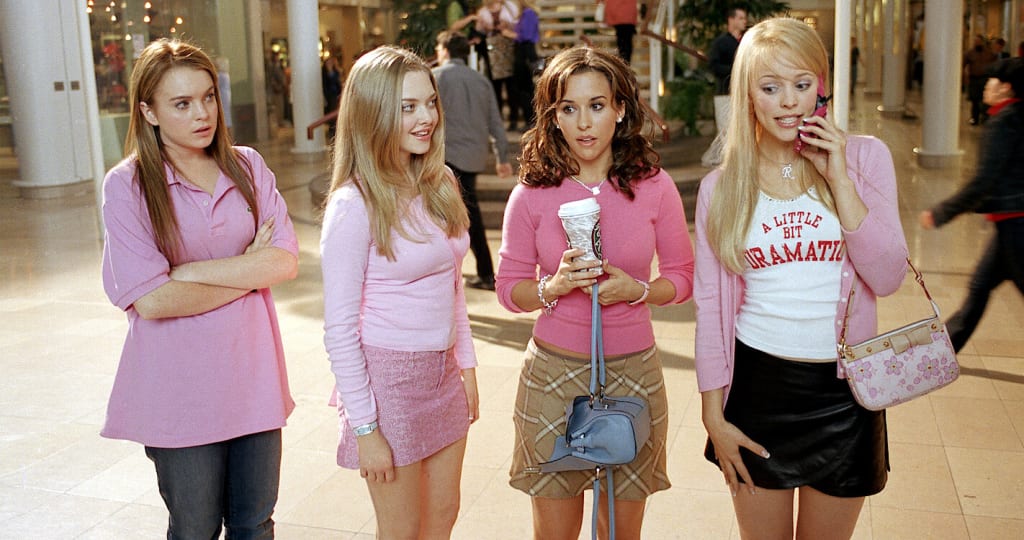 On Wednesdays we wear pink, and in the month of August we're watching Mean Girls.
The Lindsay Lohan-led comedy was released in 2004 and has since graduated to the ranks of iconic teen comedies — even now, nearly 20 years later, many of its most memorable quotes ("She doesn't even go here!") are still heard at dinners with friends, around office water coolers, and on TikTok. If you've somehow never seen the movie or you want to watch it for the thousandth time, you're in luck: You have one more month to stream it on Netflix.
Mean Girls isn't the only departing film that you should put on your to-watch list, though. If you're finding yourself sweltering in the summer heat and needing a little TV and AC time, there are a number of movies and TV shows to help keep you entertained while you cool down.
You can sing the song of angry men with Hugh Jackman, Russell Crowe, and Anne Hathaway in 2012's Les Misérables. Or, pop yourself some Jiffy Pop and plan a scary movie weekend with Paranormal Activity, The Ring, and all three seasons of the 2015 Scream TV series. If you're looking for something a little more romantic, try classics She's Gotta Have It or Sleepless in Seattle.
Read on for those options and more films and shows leaving Netflix in the US in August. No matter what you choose, make sure to get it into your queue while you have the chance.
Aug. 12
Knightfall
Aug. 14
Winx Club (Seasons 6–7)
Aug. 15
Les Misérables
Aug. 24
Jobs
Aug. 31
A Knight's Tale
If Beale Street Could Talk
InuYasha the Movie: Affections Touching Across Time
InuYasha the Movie 2: The Castle Beyond the Looking Glass
InuYasha the Movie 3: Swords of an Honorable Ruler
InuYasha the Movie 4: Fire on the Mystic Island
The Italian Job
Mean Girls
Moving Art
Open Season
Open Season 2
Paranormal Activity
The Ring
Salt
Scream (TV series)
She's Gotta Have It
Sister, Sister
Sleepless in Seattle
If you don't have enough free time to watch these videos before they leave, then you can use Kigo Netflix Video Downloader to download them and save them to your computer so you can watch them whenever you want without worrying about them leaving Netflix.
Take downloading "She's Gotta Have It" in 1080p MP4 for example, you can follow the next steps to use Kigo Netflix Video Downloader to download your favorite videos as you need.
1. Click the setting icon to set the output format.
From the setting window, you can choose the video format between MP4 or MKV and also set the video quality among Low, Medium, and High. You can also choose the audio track language, and keep 5.1 audio or AD audio as you need.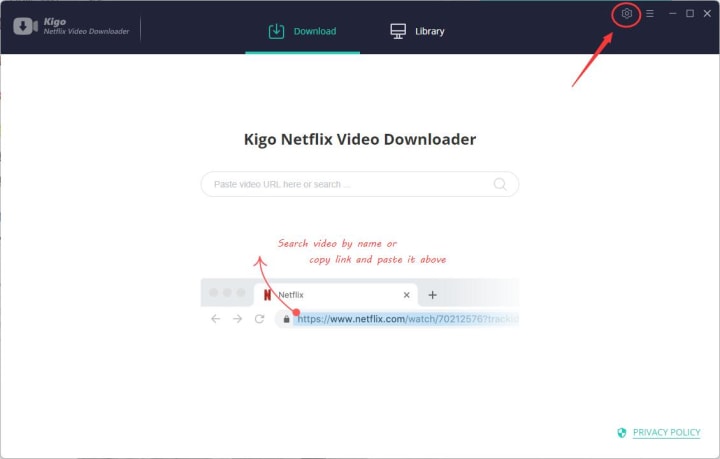 2. Input "She's Gotta Have It" to Search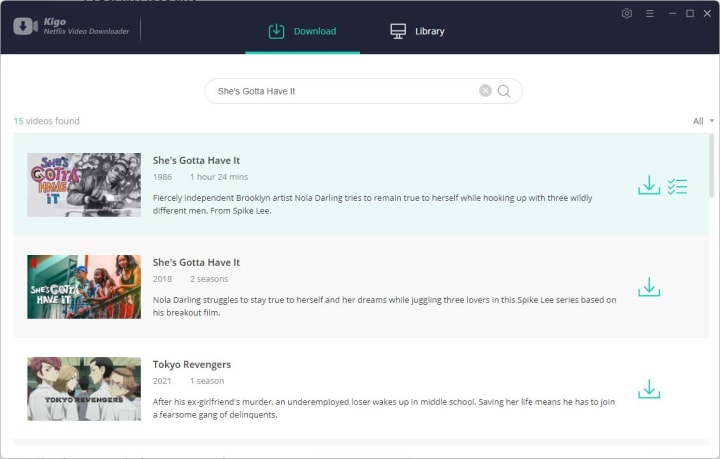 3. Choose all seasons.
From the drop-down list, you can select "Season 1", "Season 2" and "All Seasons", Once you click "All Seasons", all the TV episodes will add to the download quene.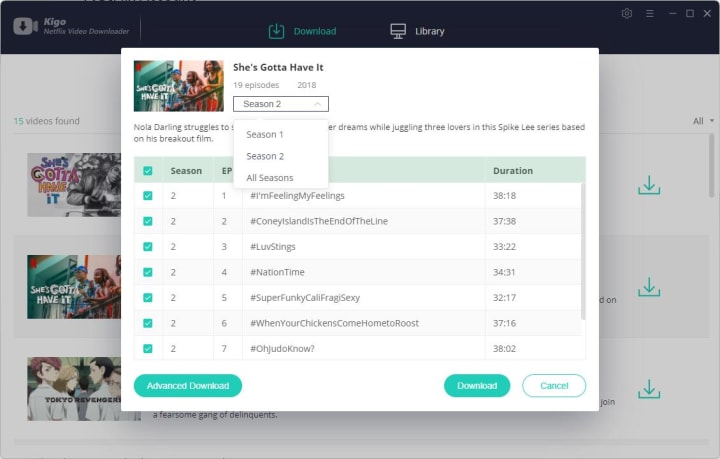 4. Click "Advanced Download" to set the video quality, audio track and subtitles.
Kigo supports users various output quality with various bitrates to choose, please note that he bitrate you choose, and the bitrate the video can deliver, will be a bit off, and will be infinitely close to that value.
In the Download as option at the bottom, you can download Download as video, download as audio, download as subtitles, to fulfill your different needs.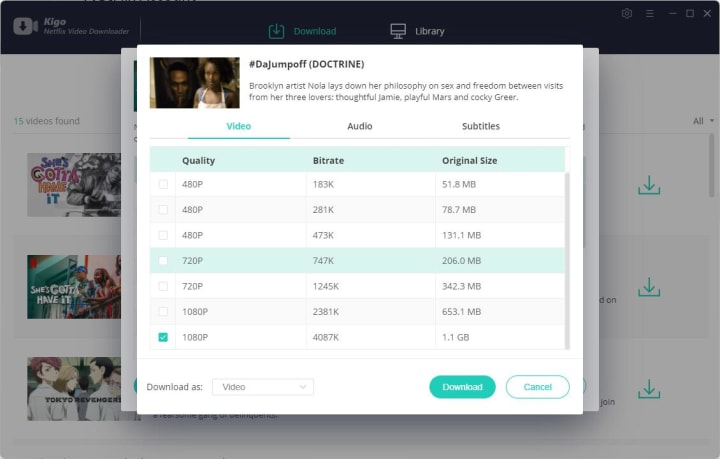 5. Click "Download" to start.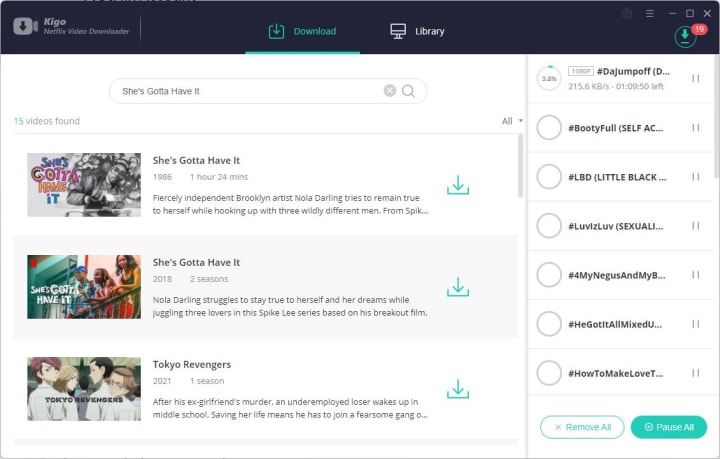 Summary
After the download is complete, you can quickly find all your downloaded videos through History, you can play them on your computer, and you can also transfer them to a USB or SD Card.
Reader insights
Be the first to share your insights about this piece.
Add your insights