Supported By Lull
The Ultimate Guide to Better Sleep
Since sleeping on a Lull Mattress, I've become obsessed with getting the best sleep ever.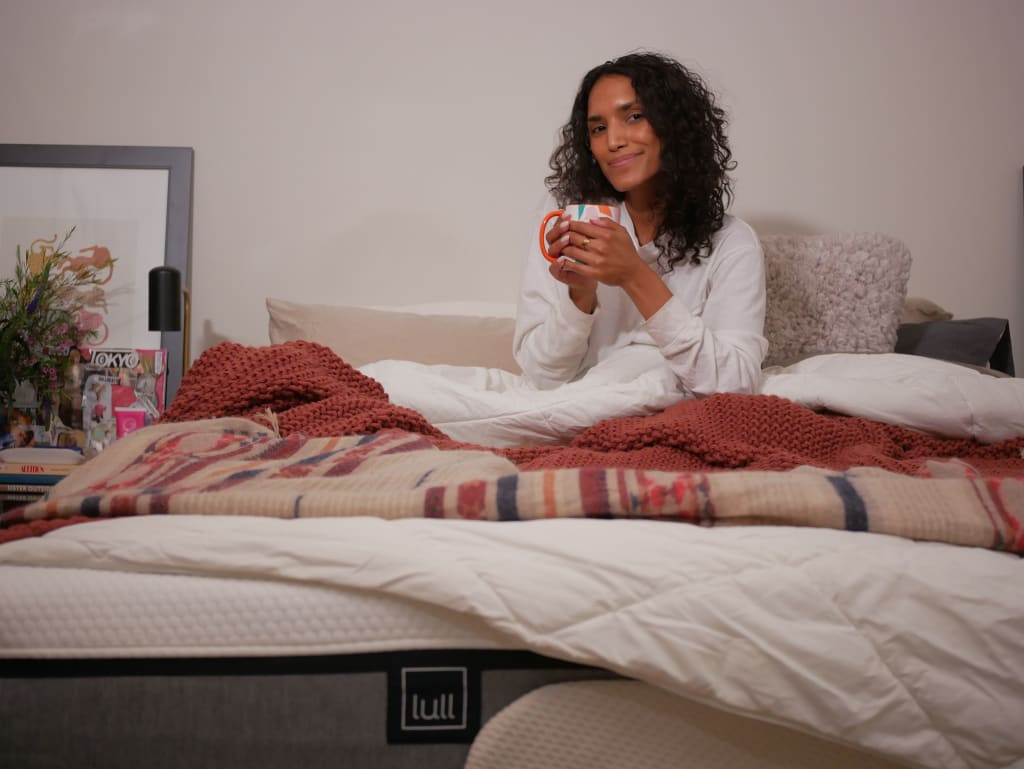 Do you remember the quote that was passed around on t-shirts, plaques, and mugs that said, "You have the same amount of hours in a day as Beyoncé"? No judgment if you owned or still own an item with this quote on it. This is "hustle culture" at its finest. Although I never bought the mug, I always applied way too much pressure on myself to be busy and have some type of project brewing at all times. Over the last year, however, I've been challenged to rethink "the hustle" mindset and part of this process has included changing my mentality about sleep. I've gone from someone who used to pride themselves on not needing a lot of sleep, to now fully valuing the need for quality rest and allowing myself to be indulgent in it. It wasn't until I upgraded to Lull that I realized what I've been missing out on all these years! Since sleeping on a Lull Mattress, I've become obsessed with getting the best sleep ever. Lucky for you, I've done the research to curate the ultimate guide to better sleep! Here are some tips that I practice that may help lead you on the path to healthier and more gratifying sleep habits.
SUPPORTIVE LULL MATTRESS
Like anyone, my mattress plays a major role in helping me fall and stay asleep. I recently made a much needed upgrade and purchased a new mattress and I couldn't be happier with my decision. Getting a new mattress should have happened ages ago. I was sleeping on a mattress I bought in college and it was just "fine". Having a "fine" mattress kind of went in line with my poor attitude towards sleep. But with my upcoming move, it was a perfect opportunity to grow up and buy a new mattress. Lull was a great choice for me, especially during Covid, because prior to being vaccinated, I didn't feel comfortable going anywhere unless it was work-related. Lull makes the mattress buying experience so safe by allowing you to order your new favorite mattress online and offering no-contact, free delivery right to your doorstep. I love that I didn't have to go anywhere and lay on mattresses many other people may have just laid on, and that my mattress arrived at my doorstep with no hassle. In addition, Lull has an amazing 365 night trial to test out your Lull Mattress in the comfort of your own home which really set my mind at ease when it came to an online mattress purchase. Lull's no-hassle trial allows you to return your mattress if it doesn't end up being the right fit, for a full refund. This past year has been stressful in so many ways and I was so happy that purchasing a new mattress from Lull didn't come with any additional stress.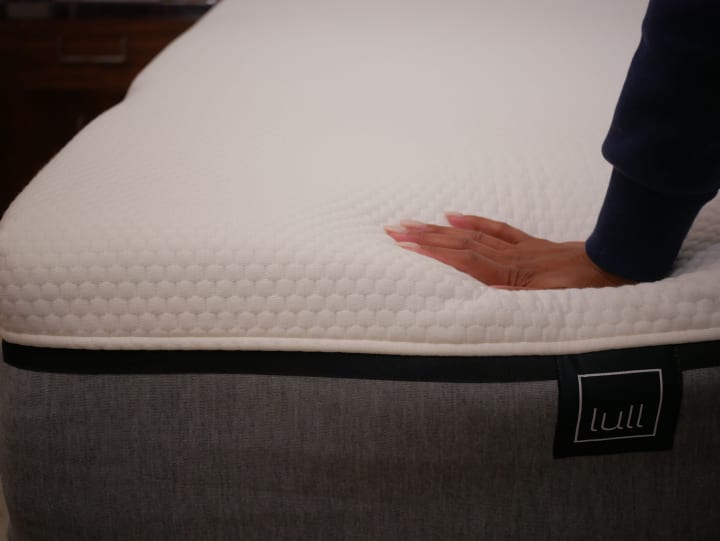 When I first heard about Lull, I was a bit skeptical because I've never had a memory foam mattress and I was worried it wouldn't provide enough support for my creaky, former-dancer body. My concerns quickly faded away after seeing and skimming through thousands of positive reviews from customers with all kinds of sleep preferences raving about Lull. The honest & authentic reviews sold me! So I decided to give Lull a try. I placed my order online and was excited to see my mattress delivered to my doorstep that same week! I was amazed at how such a big mattress could be condensed into such a small box. After the first week, I noticed a significant improvement in my sleep and was already satisfied with my Lull. My Lull Mattress has a cooling, gel-infused top layer that provides breathable comfort with a supportive foam layer underneath. This advanced sleep technology gives you the best of both worlds without feeling like you're sinking into the mattress or sleeping on a stiff board. Lull's mattresses are the perfect mix of being soft & firm.One thing that I noticed and appreciated right off the bat was how quiet the mattress is. If you roll around or move a lot in your sleep, you won't disturb yourself, a partner or a pet because of the even motion distribution technology. I also have to admit, I'm finding myself working in bed way more than I used to because it's just so comfortable! If you're looking to get better sleep, the first step is to get a supportive mattress like Lull.
A CHANGE IN ATTITUDE
When I was younger, I definitely held the belief that sleep was for the weak. Okay, maybe I didn't think that harshly, but I had the mindset that in order to become successful, I had to push myself to work super hard and that sleep often got in my way. I would pull all-nighters, overcommit myself, and literally avoid getting ready for bed to the extent that most nights, I fell asleep in my day clothes with the lights on. I was desperately lacking a night-time routine and now it's something I look forward to everyday. Starting and ending my day with the comfort of my Lull has really impacted the way I appreciate sleep.
I felt like I needed an attitude check and that came with a tough reality. We are all human and sleep is necessary for maintaining a healthy body and mind., Now that I'm sleeping peacefully and no longer feeling sluggish in the morning , I can't wait to jump into my Lull bed every night. Sleep helps our brain cells regenerate, protects toxic proteins in the brain from forming clumps that have been tied to Alzheimer's, and benefits not only our memory and productivity but also our heart, skin… pretty much everything. Once I accepted that sleep would, in fact, add to my life rather than take anything away, I started to take sleep seriously.
Lull is CertiPUR-US®-Certified meaning their mattresses are free of harmful chemicals, which is really important to me because of how much time you spend sleeping on your mattress. When I upgraded my mattress, I wanted to do it right the first time and I'm so happy I went with Lull. Lull offers a lifetime warranty so I know I will have my Lull for many years to come. I strongly recommend Lull to anyone looking to upgrade their sleep.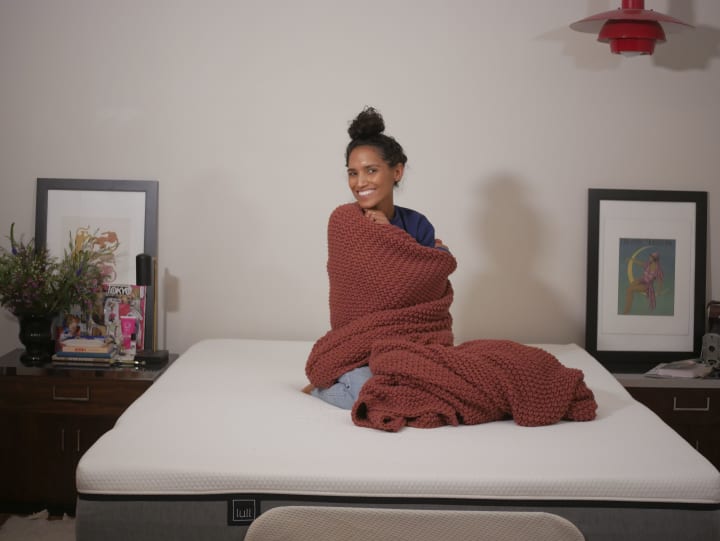 BEDTIME ALARM
Having a "bedtime" may sound juvenile, but it's been a game-changer. The word "routine" is hard for me as I grew up very Type-A, in a not-so-healthy way. Over the years, I've loosened up a lot and work as a freelance artist, so I don't subscribe to a set daily routine. However, I'm finding setting a bedtime alarm is working out pretty well for ensuring I'm getting enough sleep. What's a bedtime alarm? It's an alarm feature I recently discovered on my phone that lets me set up my hourly sleep goal and a daily bedtime, in addition to a wake-up alarm. I can also set a wind-down time that sends me a gentle notification each night letting me know I have X minutes until bed. I have my bedtime set to 11:45 pm, an hourly sleep goal of 8 hours with a 45-minute wind-down. I now look forward to my bedtime alarm because I know that means I get to cozy up and curl up into my Lull Mattress. And who wouldn't? With their 95% customer satisfaction rate, I'm not the only one who looks forward to getting into their Lull bed.
During my wind-down, I make a point to mentally start checking out of my day. I write down anything that is work-related that I want to accomplish for the next day as well as any lingering thoughts or other reminders to get them out of my mind and onto paper. I also use this time for doing all of the healthy bedtime habits that would often slip when I let myself crash at any random time. I brush and floss my teeth (and retainers 😂), wash my face, apply creams - this sums up about half of the wind-down time. Then I get into bed feeling well taken care of and mentally calm, making it easier for me to fall asleep.
SOOTHING ESSENTIALS
In addition to a routine and high-quality mattress, here are some essential products that really calm me down and help me settle into a good night's sleep.
Meditation apps that offer amazing Sleep Stories that are just the right level of boring to make you lightly listen but help you drift off if you need something to fall asleep to.
Soft and comfortable sheets! When I was purchasing my Lull, I wanted my entire bed to be transformed. Lull has an amazing bedding bundle that comes with two Original Lull Pillows, a Sheet Set, a Lull Original Duvet, and a Duvet Cover. This is the perfect all-in-one bundle to completely transform your bed. Lull also offers $375 off when you pair the bedding bundle with Lull's Original Mattress!
A humidifier! This is such a nerdy confession but I love my humidifier. It is great for keeping my sinuses and voice healthy, which are especially key for me as a voiceover artist. And it also has a nice hum sound to it that is great ambient noise.
Peppermint or chamomile tea is my beverage go-to before bed.
Reading a physical book helps get my mind off of my day and helps me be present, which usually leads to getting sleepy after a few pages. I'm currently being gutted by Toni Morrison's The Source of Self-Regard: Selected Essays, Speeches, and Meditations. Add this to your reading list.
And if I'm feeling like a real indulgent diva, I will take a bath before my wind-down and use either a Tub Tea or Calm Soaking Salts.
Those are my tips for better and healthier sleep. It may be hard to get yourself into the right mindset, but I keep telling myself I need to enjoy as much sleep as possible before I potentially have children someday (because we all know sleep is long gone if and when that happens). It just takes little changes in your life to upgrade your sleep to the next level and I highly recommend Lull for anyone ready to make that change!
Happy sleeping!
x Mikki
Important note:

I'm not a doctor. Insomnia is a very real thing as are anxiety and depression so if you believe you have issues sleeping due to health reasons, please speak with your doctor to seek out solutions. I do have anxiety and depression, do not take a form of medication for them, but I've managed to create tactics (with the help of therapy) over the years that do contribute to being able to get better sleep.