The Quilter
Bridging the gap between tech geek and quilter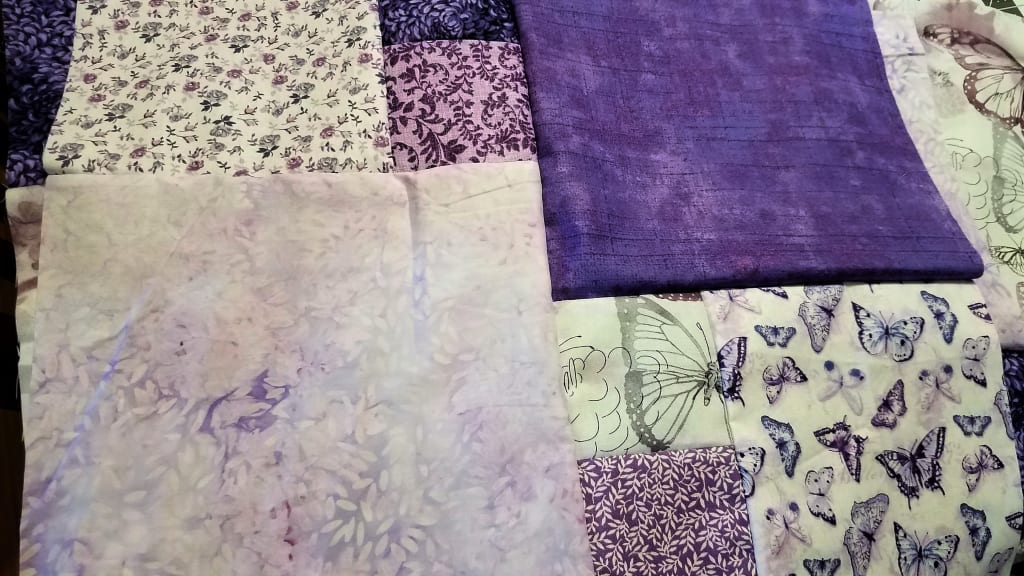 A quilt fit for a princess
When I was younger, I was definitely an outdoor kid. Riding bikes, playing in the huge dirt pile my dad created, or just exploring the neighborhood. As I got older, I became a video gamer and tech geek, usually sitting at my computer playing a game or listening to music. Eventually I would learn the basics of computer repair and would often help out a friend with tech problems just for the challenge. I sold wine for twelve years, split between two different companies. After medical problems forced me to leave my job managing the wine shop at the Pennsylvania Renaissance Faire, I took the first job I could get: a part-time supervisor at a fabric store. That was when I learned I had an interest in quilting buried deep inside of me, like a genetic code hidden within, buried under my father's genetic predisposition to tinker, build, and fix things. I could sew basic quilts, and I kind of enjoyed it.
My grandma was a quilter and she made each of us grandchildren our own quilt when we were born. These were just the simple blankets that were knotted rather than actually quilted, but she would often have a more complex one in progress on her quilt frame. I never really took an interest in her sewing, preferring to visit the nearby sheep farm with grandpa to see the animals, or playing badminton in the backyard with my cousins. Grandma was Mennonite, descended from Amish, and she could sew, quilt, knit, crochet, and bake better than anyone I ever met. I had some interest in learning to make her homemade rolls and cookies, I just never fully committed the time and focus needed to learn some of it from her. I didn't want to be a homemaker like grandma—I wanted to be more like the men, fixing things and doing yardwork. It was the expectation to adhere to gender stereotypes that drove me away from learning from grandma. I saw knitting and sewing as "women's work," as it was sometimes called by male chauvinists, and back then I wanted to avoid being viewed as some weak woman.
As time passed and I added a wide range of skills to my knowledge base, I felt less compelled to go against the gender norms, realizing that I could do almost anything if I took the time to learn it. I had gained a lot of self-confidence throughout my years and I no longer cared what people thought of me, or at least most of the time. When I started working at the fabric store, I fought against crafting. It wasn't really my thing—I was a tech geek in a different world. However, wine was never my thing and I had learned so much about it and could find the right wine for almost every customer, so I was sure I could learn some crafts. I already had basic knowledge in certain areas, like sewing and baking. Though I didn't like to cook, I knew I was good at it and enjoyed eating tasty desserts. Sewing, on the other hand, was not something I enjoyed, but knew how to do the basics. We had learned how to make a pillow in school, and my mom had worked in a sewing factory and knew how to sew. For years she worked in garment engineering, putting together the info and steps needed to make gymnastics leotards, some of which would be used by Olympic athletes. I could sew straight lines, and that was about it.
After seven months at the fabric store, I was promoted to store manager. I had some experience in management and had an Associate's Degree in Business Management, so when they had an opening, they offered the position to me. I was hesitant, not sure if I really wanted to run a store where I was still unfamiliar with much of the products. I decided to take it, if not just to help out my family's financial struggles. Jumping from a part-time supervisor position to store manager, I was now spending a lot of time at the store, which helped me learn more about the products we carried. I had already been attracted to many of the fabrics by both color and feel, and now that I had more income, I felt it was time to actually try sewing something. I bought myself a new sewing machine—a basic one with some added functions for sewing clothes—and attempted to make myself a pair of pajama pants out of flannel fabric. I proudly wore my new pants around the house and attempted a few more clothing patterns, but I struggled too much with the complex sewing and connecting pieces, something my mom could do so easily.
After giving up on making clothes, I had the sudden urge one day to attempt to make myself a quilt. Nothing too fancy like the ones my grandma made; just something basic for on my bed. I watched YouTube videos and read articles online. I put my ideas in an Excel spreadsheet to calculate how much fabric I would need—I was still a tech geek after all. At work, I started to pick out fabrics for my quilt, deciding to go with many different fabrics that complemented each other, using mostly blues, blacks, and greys. I bought quilt rulers, a rotary cutter, and a cutting mat to make cutting my blocks easier. I spent so much money on that first quilt…and I still have not finished it. I had a great plan laid out that included a wide border around the outside, and that was where I ran into trouble. Every time I thought about how I wanted to finish it, I would get frustrated and give up. It still sits neatly folded in a trunk, waiting for me to get the urge to finally complete it.
Though my first quilt came to an impasse, I had the idea to make a throw for my brother in Washington. My mom was driving across the country to visit him, and I wanted to surprise him with it, if I could get it done in time. I followed the same basic block idea, only this time I would not use a border as that was my struggle with the first one. It was difficult to find "manly" fabrics, knowing that my brother would not want floral prints on his blanket. He like basic, neutral colors, and we had received some new cotton quilt fabrics that would work well together, mainly tonal and crosshatch patterns. It was then that I discovered my love of Batik fabrics, an expensive addiction to have as far as fabrics go.
I cut my blocks and started sewing them together. Soon I had the top finished and was ready to assemble the quilt. I laid it out on my living room floor and started pinning it together, moving the cat out of the way more than once. Once it was pinned, I sewed around the edges, leaving a space open to turn it outside-in, and then sewed again to seal it up. Then it was time to actually do the "quilting." I used a method referred to as "stitch in the ditch," sewing in the seam of the blocks to hold the quilt together. Because of time constraints, I ended up only sewing in the vertical seams, not having time to sew the horizontal ones as well, but the quilt was finished, and it look fantastic. The back was a wood pattern, which hid the stitches and added a nice touch of nature, something I thought my brother would appreciate. Though I was still learning and had picked up a few techniques along the way, I was quite impressed with the throw I had made, and so was my brother when he received it. It complemented his living room perfectly and I was right about the back—he loved it so much he told me he puts that side out every once in a while when he feels that he wants a bit of nature in his apartment.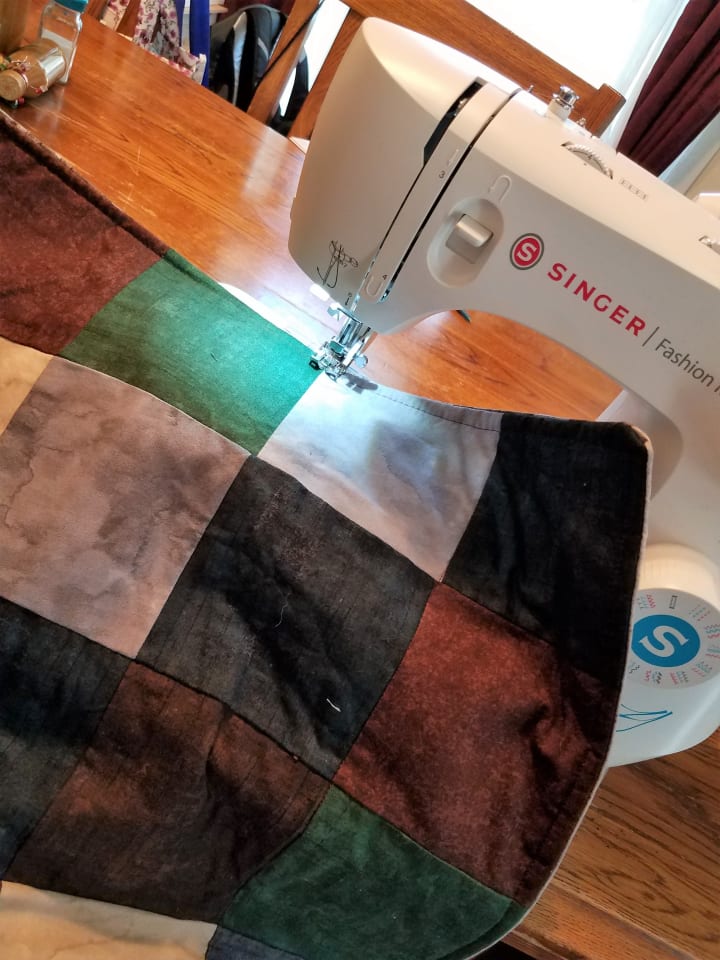 After completing my brother's quilt, I started buying random pieces of fabric here and there. Anything I liked, I bought to add to my stash. I never would have thought of myself as someone who would ever have totes of fabric, and yet I have several in my basement, waiting for the next project. I bought another sewing machine, this one with a detachable table to make quilting easier, along with decorative quilt stitches that I have only ever used on my cat's mini quilt. I bought more quilt rulers, various scissors, and another rotary cutter. I had a full collection of quilting supplies for any project. I made a throw for my other brother, this time using fleece on the back instead of batting and cotton backing. That brother lived in Florida, so I figured he did not need as many layers in the Florida "cold," if a natural-born Pennsylvanian could even call it that. His was Penn State fleece on the back with New York Giants, red, white, and blue squares on the front. After posting pictures of his throw on Facebook, one of my oldest friends was jealous. She loved the NY Giants and wished she had a similar blanket, and I knew she would say something about the pictures. Not long after, she was diagnosed with leukemia, and so I made her one and surprised her with it, using heavier fleece in a red plaid pattern for the back of hers. She thankfully was able to win her cancer battle, which was no surprise to me—she was always extremely tough, even all the way back in first grade when we met.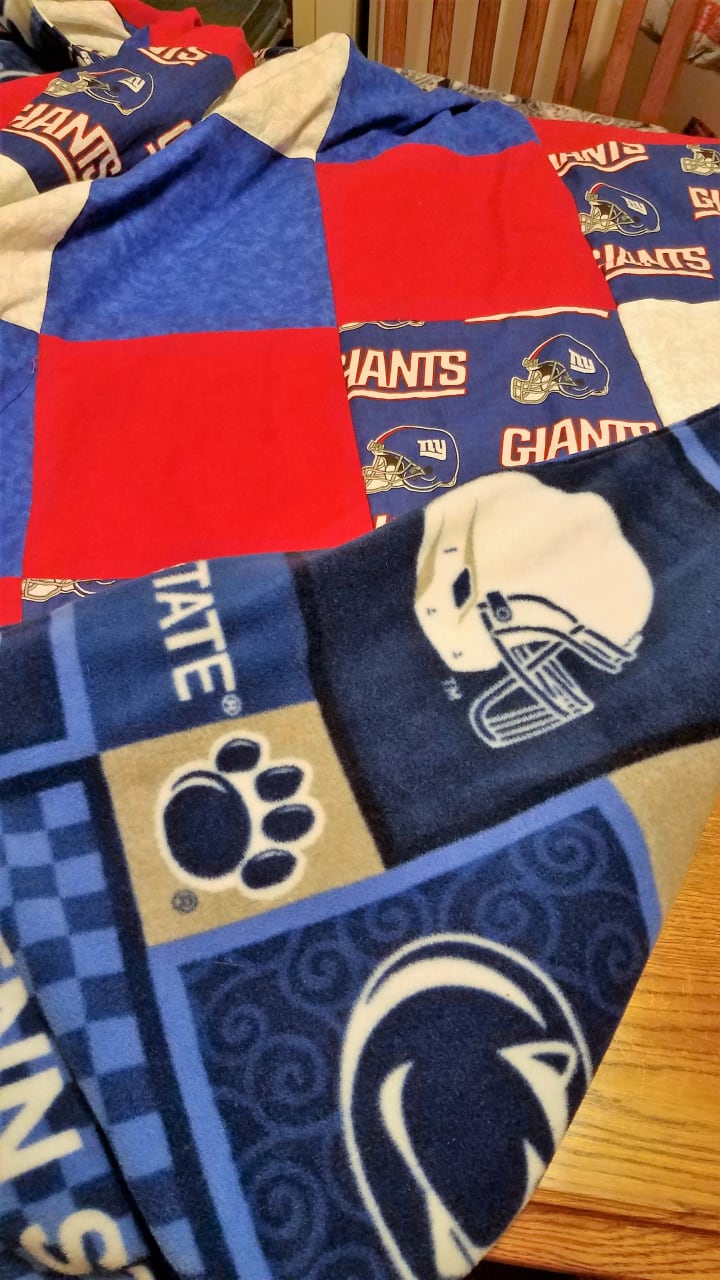 In 2019 I was on six weeks of medical leave for a hysterectomy. I had pre-cancerous growth and decided to remove any chance of it growing. My mother and husband kept insisting I needed to relax, rest, and recover, but I was bored. Though I was, and still am, a gamer, one can only play so many video games before you just want something else to do. My mom kept trying to find me projects to do that would require sitting. We had planned to visit a friend of ours in my hometown and I wanted to take something special to her children. I looked though patterns for stuffed animals and debated if they were something I could easy complete. Then it hit me: quilts. Just like grandma, I felt that kids should have a blanket that was personally made for them.
My mom and I went through my fabric stash, looking for colors and patterns that would work. We found enough to make the quilt for the little girl and decided to go shopping to find trucks and construction vehicle prints for the boy. I was soon working on making my first twin-sized quilt, using the block pattern again for the little boy's blanket. For the girl's, I decided to try something different and came up with a pattern of various sized squares that interlocked. When I had the quilt tops finished, my mom and I went to her church where I could lay them out on the floor in their library and pin them. Shortly after, we took the finished quilts to the kids and they absolutely loved them. The little girl had not yet grow into her twin-sized bed and insisted she use the quilt on her toddler bed that day for her nap. The boy was excited and decided that day that I was "cool."
Though I am very different from my grandma, I have no doubt that her love of quilting influenced my sudden inspiration to try this new hobby. It is unfortunate that my grandma had passed away before I felt the desire to try quilting, though, understanding myself as well as I do, I doubt that I would have tried it knowing that she would have focused on it too much. I loved my grandma, but we did not often agree on things, including gender stereotypes and religious beliefs. I think it was because my grandma was gone that I felt the need to take on this hobby, a sort of passing of the torch. I will never be the quilter that she was, especially since I have no desire to ever quilt by hand. I have my own style and my own techniques, almost like a bridge between the geek world and the sewing world. I do not always have the desire to sew, but when it hits, I'm probably making a random quilt for no reason other than the urge to create. And someday I will finish the very first quilt that I started, and I have grandma to thank for this talent.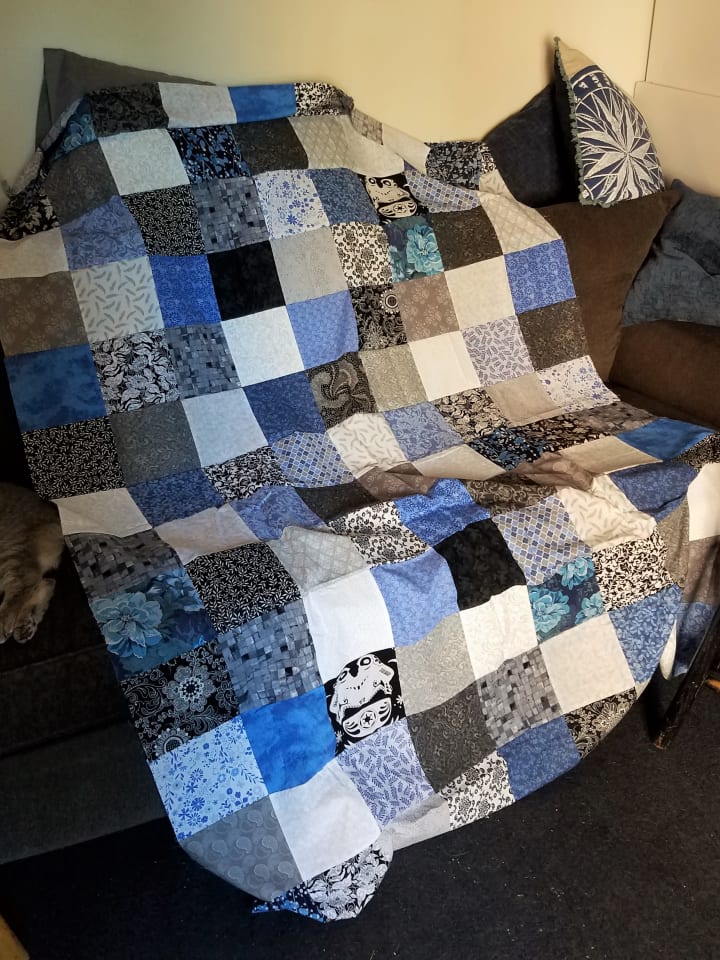 crafts
I am a gamer, a geek, and a gardener, among many things. I enjoy writing as a way to relieve stress and to just share with others.