The Not-So-Secret Garden
Giving Mother Nature A Helping Hand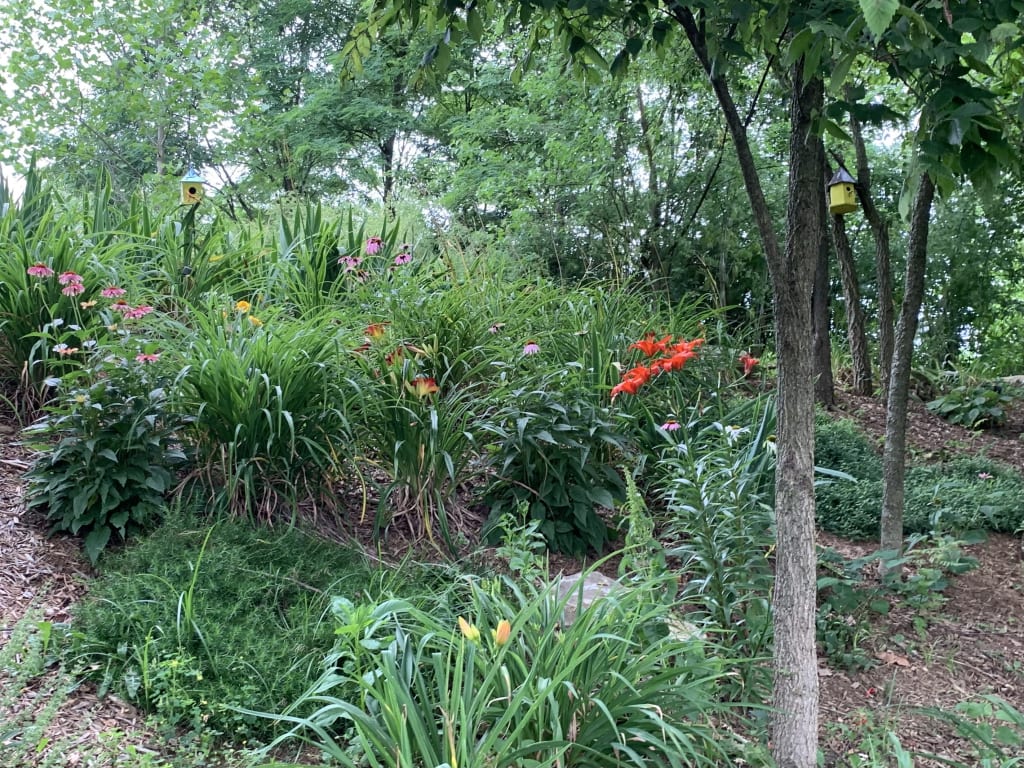 The Not-So-Secret Garden
THE NOT-SO-SECRET GARDEN
Several years ago, when my husband's health began to deteriorate, we decided to say good-bye to what we thought would be our forever home. It was all on one floor, spacious, and had the kitchen of my dreams. We had it built exactly to our specifications, so we thought it would suffice into our golden years. We discovered, however, that maintaining two acres of land was more than what could be managed with only me to care for it. I had lovingly created eight flower gardens but was always fighting off deer and rabbits for the blooms and greenery.
So, we looked into condo living and purchased a newly-built home that backed up to what I can only call a jungle. Nature had taken over the hillside behind our home and the weeds and saplings were so thick I couldn't see the golf course beyond. Our next-door neighbor soon became a dear friend and we discovered we both loved to flower garden. Condo restrictions kept us from planting anything in our yards so we inquired about the ownership of the hillside behind our homes. The jungle wasn't claimed by the contractor, the golf course, or the homeowner's association. It seemed to be a no-man's land where a few harmless snakes, a ground hog, and several chipmunks resided.
My neighbor and I decided since no one claimed the land, it must be up for grabs – so we claimed it as our secret garden. It took months of hard work to clear the overgrown hillside. It measured approximately one hundred feet wide and the hill sloped gently upward about fifty feet from the edge of our backyards. The saplings were young and yielded to my lopper shears and I felt like Paul Bunyan as I removed almost two hundred of the young trees. None of the trees could be used in our yards and friends rejected them as well, so off they went to a nearby ravine. We established a sunny section and a more shaded area to preserve the larger trees and to provide variety in the garden. Weeds six feet tall were dug out and a very stubborn vine that traveled underground and up into the tallest trees gradually gave way to our persistent digging, cutting, and spraying. After two months of work, the hillside was ready to become our palette for a large variety of plants and flowers. We hauled soil, mulch, and plants many times up and down that hillside and continued the fight with the recalcitrant vine that threatened three Redbud trees which stood at the top of the garden as sentries overseeing our progress.
The golf course maintenance crew soon became interested in our project and lent a hand with their chainsaw to remove two dead trees from the space and came by often to check our progress. It was eventually decided by the golf course maintenance supervisor to extend the golf course by tackling the jungle at the top of the hill. A bulldozer pushed back the thick foliage and readied the ground for seeding. Soon, new green grass grew where chaos had reigned only a short time before. The sixth tee was moved to the new space and golfers began to comment on the garden. Our secret garden was becoming not-so-secret and neighbors took an interest. The owners of the third condo along the garden pitched in and cleared their section. Together, we made quite a crew and shared watering duties as new plants were added.
In all, we planted over four hundred flowers and plants. Almost all were perennials to be enjoyed year after year. We bought some locally, ordered more from catalogs, and were given many by other avid flower gardeners. One particular friend who was moving into town to a new home, offered to share plants from the extensive gardens she was leaving behind. I was particularly interested in shade plants to plant under the deck where grass would not grow. She shared fern, Hosta, and a variety of plants I cannot remember the names of. They are thriving and provide a nice surprise every spring. To make it easier to navigate up and down the hill, I created a horseshoe-shaped path and a second winding path with flat stones. We topped off the space with two decorative concrete benches so we could sit and rest from our labors and admire the blooms.
By late summer and into the fall, we had planted dozens of lilies, azaleas, hydrangea, peonies, irises, roses, pink dianthus, spring bulbs, coral bells, sage, coneflowers, and many, many more. We knew our work would be even more beautiful as the years went by but the result has left us breathless at times by the sight of all the colorful blooms. One flower variety followed another as spring turned into summer the next year. We were often asked for tours of our garden by neighbors. Golfers would pause in their game as they neared the sixth tee to admire the riot of color on the hillside below. We couldn't have been prouder and were always glad to share the garden. After all, no one before us had claimed it, so we gave Mother Nature the space and allowed her to show off her best raiment.
I have moved away from the garden I helped to create, but I return occasionally to visit with my friend who still lives there. She cares for her part of it with loving care and now must remove and transplant areas of overgrowth. The new owners of our home love the garden as much as I do and are tending their portion with zeal. When their friends come to visit their new home, they tend to linger on the deck as they stare in amazement at the colorful garden. I am so glad the new owners love the garden. They can't see the many weeks of work that created the space, but they do appreciate the end result. They will be good caretakers for our not-so-secret garden and it will provide enjoyment to all who see it for years to come.
garden
About the author
After retiring from a career in physical therapy, I began my writing career and have written seven books. In my spare time I enjoy needlework and flower gardening. I live in Central Kentucky with my husband and faithful beagle, Bailey.
Reader insights
Be the first to share your insights about this piece.
Add your insights