The Best Smart Home Tech You Should Know About
Alexa, Siri, Google aside, there are many other useful smart devices not frequently talked about, here are my top five
There are tons of ways to improve your home with technology; some of the most common ideas include buying a smart speaker, smart lights, or video surveillance cameras. However, there are many other useful methods you can use to bring smart tech to your home for under $500. The following is an apartment-friendly list of devices that will update your place and impress your guests.
June Oven
The app-connected nine appliances-in-one smart June Oven that starts at $499 is the best kitchen app-controlled gadget I have ever used. The ability to preheat, change settings, view a live camera feed of what's cooking inside the oven and have the oven automatically recognize food you put inside to recommend cook times is a no brainer for me now. Cooking with the app is so easy. The built-in cookbook with beautiful step by step instructions, one-click ingredient list sharing and short video clip tutorials make trying some of the June's original recipes fun and easy.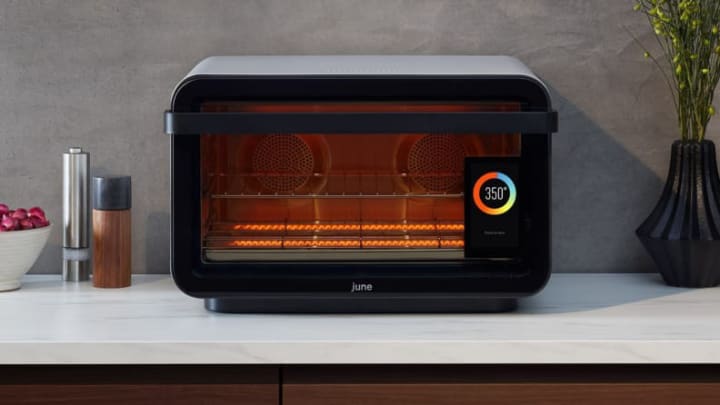 August Smart Lock Pro
This next one is a frequent conversation starter. And it has also saved me a couple of times when I needed to unlock the door and wasn't home. The August Smart Lock Pro is an easy to install smart lock that attaches to the deadbolt on the inside of your door. It currently retails for $249 and is controlled by bluetooth and a network hub that can unlock and lock your door from anywhere. The amount of time this little lock has saved me not fumbling around with my keys is amazing.
If you are coming back home from the grocery store and have your hands full, there is a feature for that: "Auto-Unlock". If you don't like locking your door on the way out (or frequently forget your keys) there is a feature for that too: "Auto-Lock". Want to let your friends in remotely? Or add them to a guest list and give them permissions to unlock or lock your door? There is a feature for that too. Not that many people talk about this easy-to-install affordable smart lock when talking about smart home gadgets but I think it deserves not to be overlooked.
AWAIR Air Quality Monitor
Did you know the air inside your home can be five times more polluted than outside, due to everyday factors like paint, furniture, carpet, air fresheners, toys, and more? That's where this little air quality monitor comes in. Think air quality is not important? Think again. Air quality affects allergies, asthma, focus, sleep quality, skin health and your overall health. A simple monitor that displays your indoor air conditions in an app is an effective way to have awareness about the quality of the air around you and tips that you can use to reduce your conditions to better levels.
The amount of data this device tracks and saves is quite stunning. It is fascinating to watch the levels of carbon dioxide rise when people arrive home and fall when someone leaves. If you are cleaning the PM2.5 particles will increase as your stir up dust and other chemicals. Live a cleaner life with better indoor air quality thanks to the AWAIR monitor.
Phillips Hue Lighting
Smart lighting has become a great way to set the mood for a party, date night, work sessions, or bedtime. Controlling light color and color temperatures from your phone or voice, with compatible smart home assistants such as Siri, you can set ambiance that gives your home a unique flair.
In the range of $149 to $499 depending on how many lights and accessories you need to connect, and if you already have the Hue Bridge hub, you can retrofit your home with smart lighting that is controllable with your phone. A few cool hidden features of Phillips Hue include setting scenes based on the colors in photos you have taken, control individual lights and colors, sync with apps for Spotify and Pandora to have light shows based on the songs you are playing, and more.
Sense Energy Monitor
We all should be more aware of saving money on electricity and what our habits are costing us and how we can save power. Ever wanted to know what devices are using what amounts of electricity in real-time? With the Sense home energy monitor, you can view trends by day, week, month, or year to see how much energy you are using at any given time.
The Sense device installs in your electrical panel over the mains (with the help of a licensed electrician). It uses artificial intelligence, AI, to detect what devices are using energy in your home based on the signals the power draws when your devices are in use.
The more users that monitor their electricity with Sense over time, the smarter it gets.
There is also the ability to link with Phillips Hue to monitor the (low) costs of the Hue bulbs and accessories since most low power devices like cell phones and lights won't be recognized with the AI algorithms. The device runs for $299. Installation takes less than an hour and ranges from $49–99 depending on electricians in your area.