The Art of Choosing the Perfect Coffee Table
How Best to Elevate Your Living Space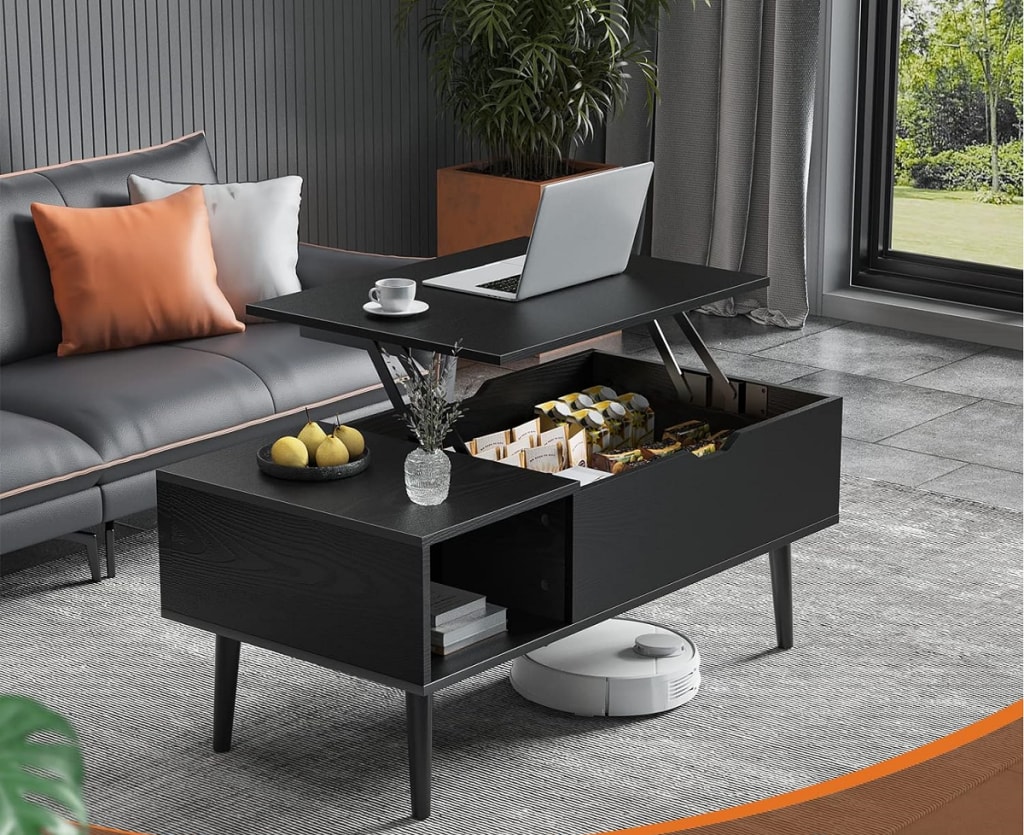 Introduction
A well-chosen coffee table can be the centerpiece of your living room, enhancing both its functionality and aesthetics. This comprehensive guide will walk you through the intricate process of selecting the ideal coffee table to complement your living space. We'll explore various styles, materials, shapes, and sizes to help you make an informed decision, ensuring that your coffee table becomes a statement piece that ties your room together.
Understanding Your Space
Before diving into coffee table styles and designs, it's crucial to understand your living space. Take a step back and evaluate the room's size, layout, and existing furniture. For instance, in smaller spaces, a minimalist coffee table like the Furinno Simple Design Coffee Table can create an open and uncluttered feel. On the other hand, if you have a larger room, you might consider the NSdirect NS Round Coffee Table to fill the space and make a bold statement.
Consider the flow of traffic within your room. A round coffee table, such as the FIRMINANA Small Oval Coffee Table, can work well in tight spaces, eliminating sharp corners that can obstruct movement. However, if your room allows for it, a larger round table like the O&K FURNITURE Round Coffee Table can encourage conversation and create a sense of unity.
Defining Purpose and Function
The next step is to identify the primary purpose of your coffee table. Do you envision it primarily for serving coffee and snacks? In that case, a practical option like the SAYGOER Glass Coffee Table could be an excellent choice, offering a sleek surface that's easy to clean.
If storage is a priority, consider a coffee table with built-in shelves or drawers. The LHLLHL Nordic Living Room Sofa Corner Coffee Table exemplifies this functionality while maintaining a modern design. Alternatively, a piece like the Semjar 2-Piece Modern Round Coffee Table provides ample storage with a touch of elegance.
For those looking to maximize versatility, there are coffee tables with lift-top mechanisms that transform them into dining or work surfaces. These can be particularly useful in smaller apartments or multi-purpose living spaces. Sweetcrispy Lift Top Coffee Table is ideal in this case.
Coffee tables come in various styles to match your interior design preferences.
Materials and Finishes
The choice of materials significantly influences the aesthetics and durability of your coffee table.
Shapes and Sizes
The shape and size of your coffee table play a crucial role in both function and aesthetics.
When considering size, remember to balance the table's dimensions with the seating arrangement. It should be within easy reach of your seating without overcrowding the space.
Aligning with Your Budget
While some coffee tables may be considered investments, others are more budget-friendly. Set a budget range that aligns with your financial constraints and explore options within that range. Keep in mind that a well-constructed, durable coffee table can be a long-lasting addition to your home. Consider the value and quality over the immediate cost.
Reflecting Personal Style and Taste
Lastly, don't forget to infuse your personality into your choice. Your coffee table should reflect your personal style and harmonize with your existing decor and furnishings. Whether it's a minimalist, sleek design like the SAYGOER Glass Coffee Table or a rustic, farmhouse-inspired piece like the Semjar 2-Piece Modern Round Coffee Table, let your coffee table be an expression of your unique taste.
The Final Selection
After considering all these factors, you're ready to make an informed decision. Ensure the coffee table fits seamlessly into your living space and enhances its functionality and aesthetics. Once you've made your choice, celebrate it as an essential piece of art that elevates your living space to new heights.
Conclusion
Choosing the perfect coffee table is an art that requires a delicate balance of form, function, style, and personal expression. By understanding your space, defining your needs, exploring styles and materials, and aligning with your budget, you can find the ideal coffee table that transforms your living room into a space that reflects your unique personality and lifestyle. So, take your time, explore your options, and elevate your living space with the perfect coffee table.
*Take note* - I will get commissions for purchases made through links in this post.
Reader insights
Be the first to share your insights about this piece.
Add your insights