The 10 Best Garden Instagram Accounts to Follow
We all can use some gardening and backyard inspiration, and these Instagram accounts serve that up in spades.
Do you love to spend time in the garden? Are you a plant whisperer, or maybe just a beginner trying to earn your green thumb? No matter who you are or your experience level with gardening, I bet that you love and appreciate when you see a beautifully cared for and thoughtfully put together garden or yard. I know I definitely do.
And even if you have a deep passion and love for the world of plants, it can be a daunting task when it comes to designing your own garden. Your amount of space can dictate your plans significantly, and should you plant just flowers, or fruits and veggies too? Do you want a more functional or aesthetically pleasing garden? There are too many questions and choices!
Whenever I feel overwhelmed by design choices like this, I love to scroll through Instagram and look for some great garden inspiration! And in the spirit of this search for inspiring gardeners, I've put together this list of my 10 favorite garden Instagram accounts that you can follow to get instant ideas and inspiration for creating your own green oasis!
1. @leneslandlust
Magdalene at @leneslandlust has really pinned down the cozy cottage style in her garden and backyard. We can just picture ourselves out there in the early morning, peacefully roaming the flowers and cozy decor pieces with a nice cup of tea! If you are looking to make your garden feel old world and down to earth, this is definitely an account to check out!
2. @kathrynhermandesign
Kathryn Herman is truly a garden and landscaping GENIUS! Every photo on her page will instantly transport you to a cozy and welcoming outdoor space. To me, her designs feel very traditional but simple, not too busy with a ton of different plants or colors, well defined paths, and beautiful architecture and lighting.
3. @sharonsantoni
If you've ever wanted to be taken to a fairytale world of flowers and European country sides, look no further than Sharon's Instagram page! Being the founder of My French Country Home, we can safely say that Sharon knows what she is talking about when it comes to gardens and especially European gardens! Her page combines very structured and refined traditional gardens and more whimsical and natural ones!
4. @thegoodlifeainteasy
Now what about a functional, productive garden? If you need inspiration on how you can turn your backyard into a farm, then you NEED to follow Rachel at @thegoodlifeainteasy. Throughout her page, you can see the blending of her beautiful farm, plants, animals, and her family! It really is the essence of living the good life.
If you're looking for some cute garden decor to add to your yard, check out this adorable Welcome to Our Garden Squirrel Sign! Plus, it's solar powered!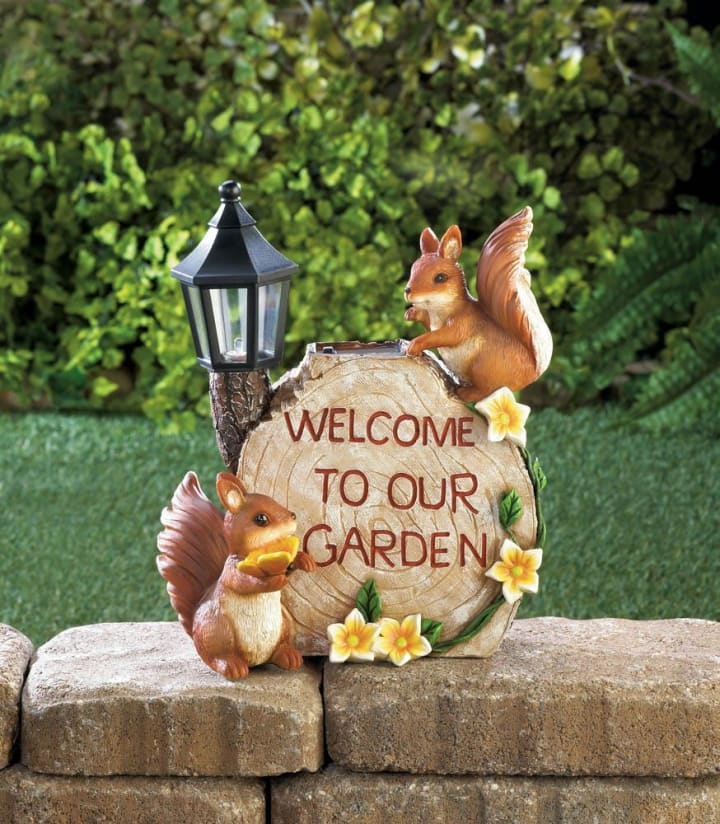 Just click here to grab this cute solar powered garden sign on sale! :)
5. @carmenjohnstongardens
Carmen Johnston is an EXPERT when it comes to all things gardening and garden design! Her Instagram page is full of wonderful videos with helpful tips and tricks for taking care of your plants and putting your garden together! Plus, just look at those beautiful flowers! Whose day wouldn't be better with a few of those photos on their feed?
6. @man_about_gardening
If you are looking for a nice POP of color in your garden, then you need to head over to visit Luke at @man_about_gardening! His page is overflowing with fun colors and is a great way to get inspiration on how to add a little fun and life to your garden! A lot of times bright and bold colors can feel overwhelming, especially if you have a smaller garden space. But Luke manages to make it look so well put together and welcoming!
7. @t.p_gardens
Another amazing garden inspo page you need to check out is Timothy Pilgrim's! He introduces a quite different garden style and mood on his page than others on this list, and that is what makes gardening such an amazing passion! You can really craft your garden to fit your personal tastes and style, there's not one right style or answer. We love Timothy's gardens as they feel very natural and wild, not overly controlled or pruned.
8. @pollyana_wilkinson
Polly Wilkinson is an award winning garden designer based in the London area who is creating some truly inspiring and wonderful garden spaces! She has TONS of videos and photos showing behind the scenes of her designs as well as tips and advice.
9. @the_worm_monger
While not a traditional gardener or garden account, @the_worm_monger is a celebration of living an intentionally waste-free life and talks about the importance of composting and vermiculture! This is definitely a page to check out if you want to make your garden or yard more sustainable!
10. @theseasonalhomestead
Becky over at @theseasonalhomestead is a true inspiration for anyone who wants to get into farming or homesteading! Not only does she provide advice and information about growing, but she also talks about canning and other aspects of homesteading!
Do you have a favorite gardening or plant Instagram account that you love to follow? Let us know in the comments!