SOCIAL MEDIA BEYOND FACEBOOK AND INSTAGRAM
For long, the world of social media was dominated by the likes of Facebook, Twitter, Instagram, etc. It was next to impossible to find anyone who has not heard of or was not aware of social networking platforms like Facebook, Instagram, etc.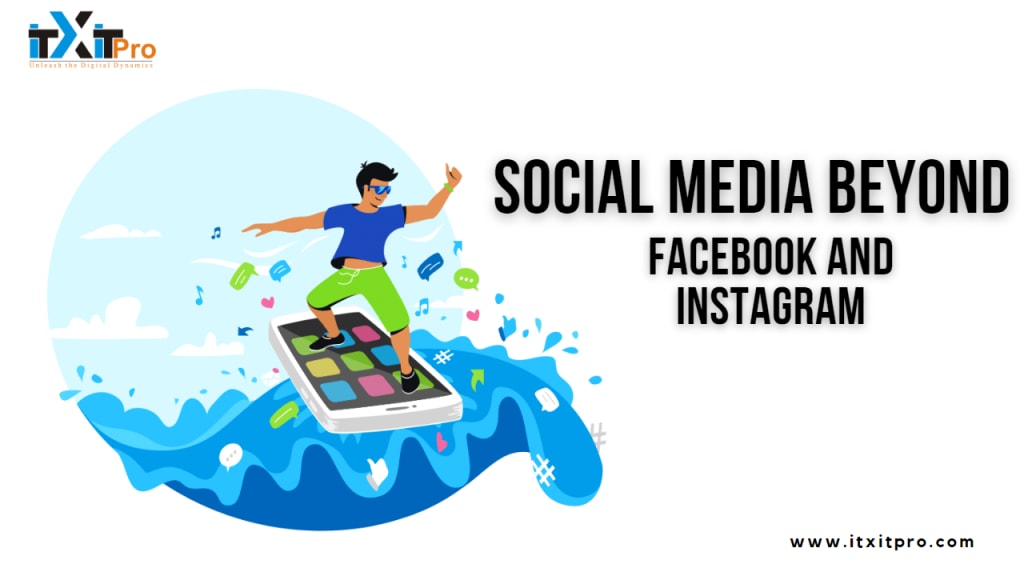 However, in recent months, people, especially the younger generation is gravitating to newer social media platforms. The younger lot was especially suck of the superficial nature of social media dominated by Facebook and its likes, offering the same old staple diet. This compelled them to turn to dozens of new social networks to satiate their experiences. The shift in their preferences, promoted businesses to shift their priorities and leverage social media services to stay ahead of the competition.
Leading social media marketing services India provider, ITXITPRO explains in this blog post the evolving landscape of the social media and what kind of social platforms that people are resorting to beyond Facebook and Instagram.
BEYOND FACEBOOK AND INSTAGRAM
As the social media juggernaut continues to roll on spawning in its wake newer social media platforms, the world of social media has shifted beyond Facebook and Instagram to newer platforms.
Like
TIK TOK
Considered to be the world's most downloaded social media app for short-form mobile videos, it allows users to create short-form video content that can be customized with filters, music, and special effects, all of them shared in a video-feed like environment.
Currently, it is said to have around 800 million monthly active users, with an audience mostly in the age-group 16-24 years.
However, in recent years it has been targeted by several Governments around the world including India and banned in some of them. Aside from this, its targeting and reporting capabilities are considered to be weak.
TWITCH
Rated as the world's leading streaming platform for gamers, Twitch owned by Amazon allows users to watch and chat with millions of other gamer fans from around the world.
With over 15 million monthly active users and over 71 percent of them being millennials in the age-group 23-38 years old; it is among the most popular social media platform outside of Facebook and Instagram. Even though it's targeting capabilities' have been rated weak, it offers tremendous influencer opportunities to businesses to target the millennial audience base.
HOUSEPARTY
It is a messaging platform that is now trending hot in India.
Earlier introduced as Meerkat, and later rebranded in 2016, Houseparty with its many attractive features allows group video messaging and video chats; and also have fun during the chat process with stickers, fun effects, and video-filters.
It offers
In-chat gaming feature that allows users to play games with others. Today, over 10 million users of all age-groups play this game.
Ad-space; companies, whether they are big or small, can sponsor a 'Houseparty' where influencers can answer questions pertaining to the said brand; and simultaneously show attendees can show what the brand can really do for them. This helps to promote the brand and reach as many users as possible instantly.
With a user-base over 25 years of age, it has grown to more than 20 million users from a mere 1 million users back in 2016.
CHINGARI
Termed as an Indian alternative to the famous Chinese app, Tik Tok, Chingari in the form of an app is available in several Indian languages apart from English, like Hindi, Kannada, Punjabi, Tamil, Telugu, Gujarati, Marathi, Bengali, and Malayalam.
What makes it great is it pays its users depending upon the virality of the video they produce. For every video the user creates and shares on the platform, he/she acquires points per view which later can be redeemed for money.
Aside from this, it allows users to download and upload videos; chat with friends; interact with new people; browse through the feed; read local and international news; check the weather forecast of the city; and play games or participate in quizzes and win prizes.
TRELL
Termed as a video 'Pinterest' in India, Trell is a technology-driven community-based social media platform. It enables discovery of lifestyle via video-based meaningful content in vernacular languages.
Trell comes with four aspects – Discovery, Create, Share, and Shop; and is available on Android, IoS, and Web.
For those who are engaged in e-commerce business, the tab 'Shop' is especially helpful as it helps users to browse through videos for product shopping. Similarly, vloggers can endorse brands as influencers; and add a mix of photos and videos in a single trait in different categories like travelogues, cooking classes, food blogs, trip journals, make-up tutorials, etc.
With its simple user-interface, Trell facilitates useful activities that help to maintain and sustain user engagements like live games; and rewards like coupons for Myntra, Paytm, OYO, Swiggy, etc.
VERO
Termed as the digital media equivalent of Instagram, Vero platform comes with no algorithm governing. This makes it purely organic, and a good alternative to Instagram.
It allows users to
Share movies, books, places, photos, TV, links, etc; and
Open-up the 'Collection' feature to build a better profile; and use it for research purposes to find out what customers look for.
Aside from this, it displays content through 4 options – 'Close Friends', 'Friends', 'Acquaintances', & 'Followers; and is also a good medium for artists looking to release their own artworks and share them with others.
Marketers can create a VERO profile and use it as engagement for brands and promotions.
Today, it has a user-base of over 3 million. Looking ahead, it aims to come up with features that will alleviate the pain points found in other social media platforms like ads, data mining of personal information, and non-chronological feeds.
In a world where people are not just always connected with some social media device or the other but are also multi-tasking, audio ads if effectively leveraged can help to capture their attention.
Digital audio ads are extremely cost-effective when compared to the traditional ads like radio placements. They give the marketers the opportunity to reach out to a wider audience including the younger audience. When they are used on music experience platforms like Spotify, they create a quality advertising environment. This will offer the businesses the chance to connect with the audience and initiate meaningful conversations.
By leveraging the social media services of a proven social media marketing services India provider like ITXITPRO, businesses will also be able to find out what works and what does not with the audience; and accordingly make data-driven decisions in a way that will help to send across the message through the maze of clutter to the audience.
CONCLUSION
With ITXITPRO's social media services, you can not only confidently look beyond Facebook and Instagram but will also be able to leverage the available avenues effectively to your benefit and up your game in a competitive market landscape.
About the Creator
ITXITPro, an IT consultant company offers Website Designing & Development, Software & Mobile App Development, and Digital Marketing that adds real value to your business.
Reader insights
Be the first to share your insights about this piece.
Add your insights