Pokemon+Puns = Best Christmas Cards!
Can you bel-Eevee its Christmas already?! Every year, my friends and I decide on a theme to create, badly, Christmas cards for each other. This years theme... Pokemon!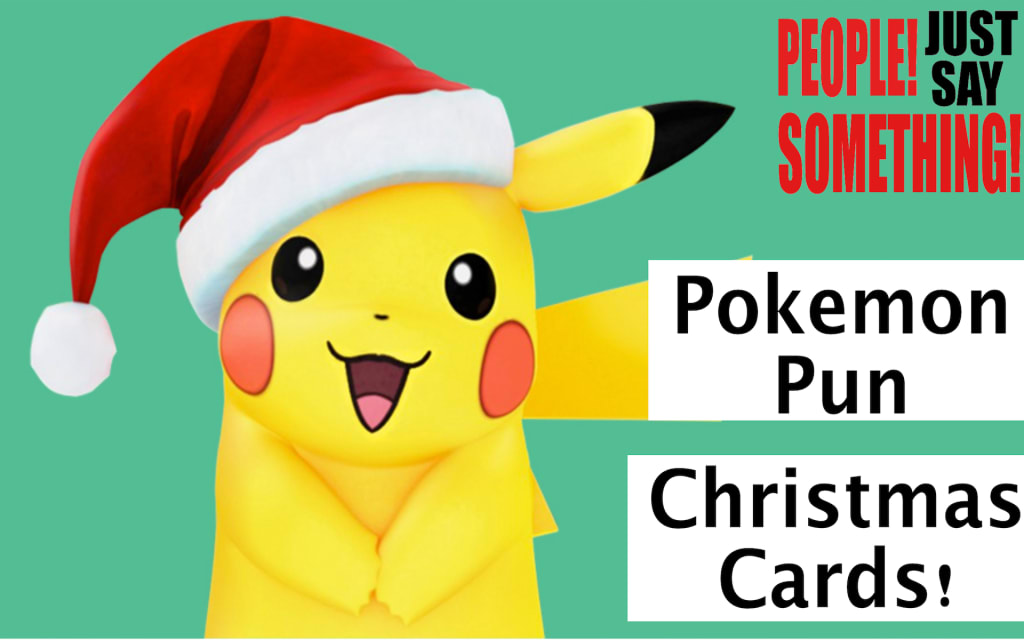 Merry Christmas to all trainers out there!
Christmas is a time for family, friends and the less fortunate than us. There are many traditions that families do every year that are only there to bring a smile to everyone's face and have a little bit of fun within all the chaos. The UK Christmas culture has engraved itself in the Christmas card exchange culture, and my family and friends are no different! Every year, I exchange cards with others within a specific theme of our choice. In the previous years, our themes included: Star Wars, Marvel Superheroes, Countries and Nations and many more. There is only one rule: they must contain a Christmas pun. The more unique, the better! Here are 5 Christmas cards that I have created for my friends this year.
All I want for Christmas is Chu!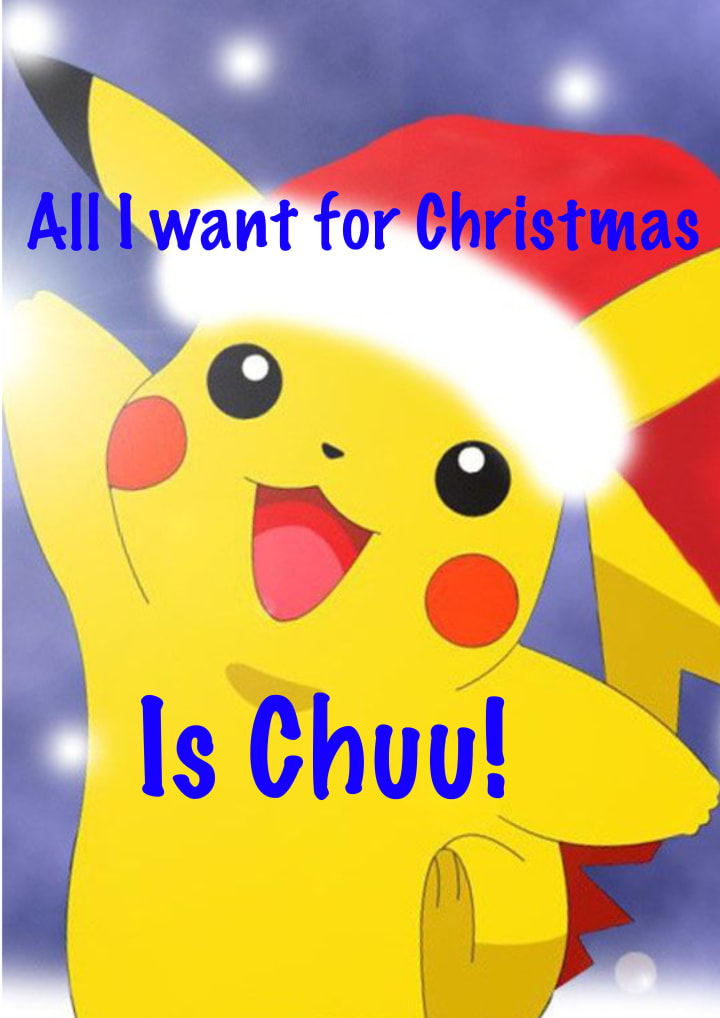 It would not be a Pokemon themed Christmas card without Pikachu in the mix. Even if you aren't a fan of Pokemon, you would have heard of Pikachu from someone, somewhere. In my case, I would say roughly 90% of my friendship group are diehard pokemon fans, so the theme is great for me to play with. This Christmas card is a classic to give to younger siblings or friends, it is the best way to wish your loved ones the most electrifying Christmas this year! All I want for Christmas is Chu!
Merry Christmas to M-Abra!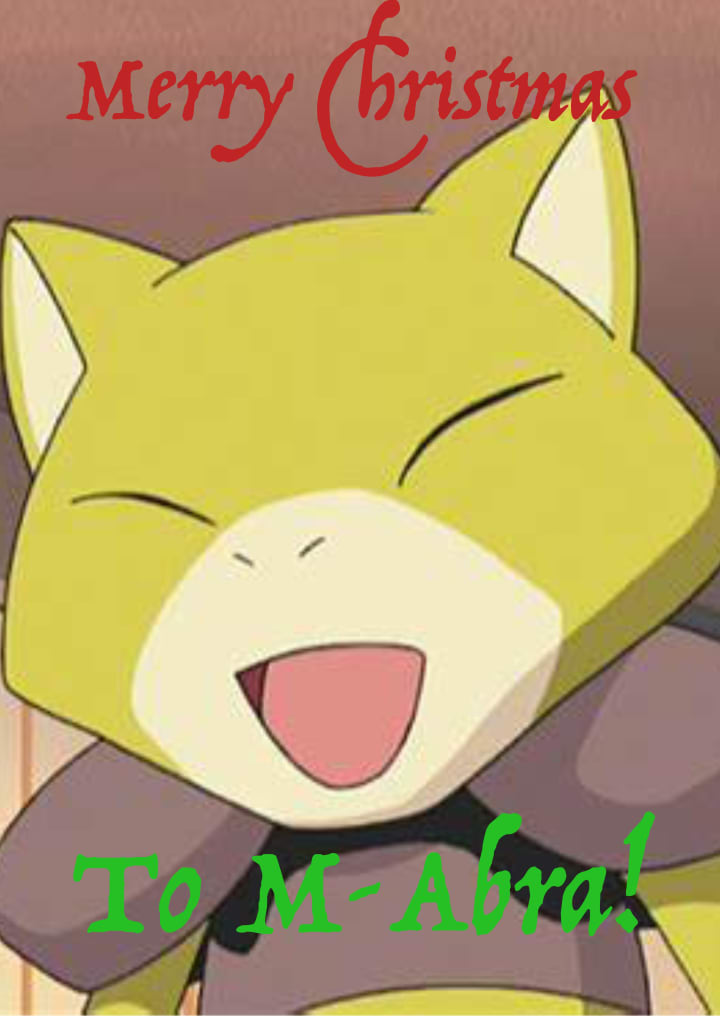 The perfect Christmas Card for my nerdy, psychic loving friend! I have never seen him not place Alakazam in his Starting 6 if the region allowed it. Some find Abra cute, some that find him cool. I have not had much chance to explore Alakazams strength as I am more of a Slowbro type of guy, but the one thing we can agree on is that it makes a great Christmas Card pun for your psychic type buddy! Merry Christmas to M-Abra!
Have a Lit-wick Christmas!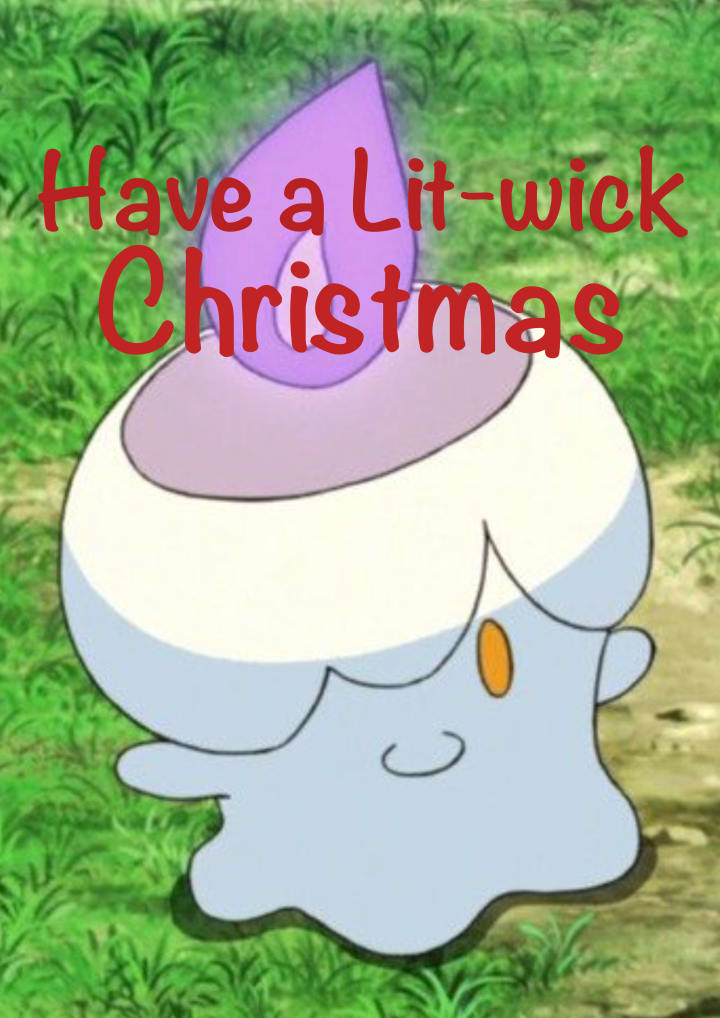 Ever since the Pokemon Black and Pokemon White games came out, my friend fell in love with Litwick. She always sees herself as a ghost type trainer and has had her good share of Gengars, Mismagius' and Drifblims. However, ever since Litwick was released into the pokemon universe, she found her partner that she would never dare to evolve, and I understand why she has decided to keep Litwick as Litwick. I do like Lampent, but Chanderliere is just a little too far for me. This is why the Litwick Christmas Card is a little edgier and designed specifically for your Ghost lovers! Have a Lit-wick Christmas peeps!
Merry Christmas to my Bud-ew!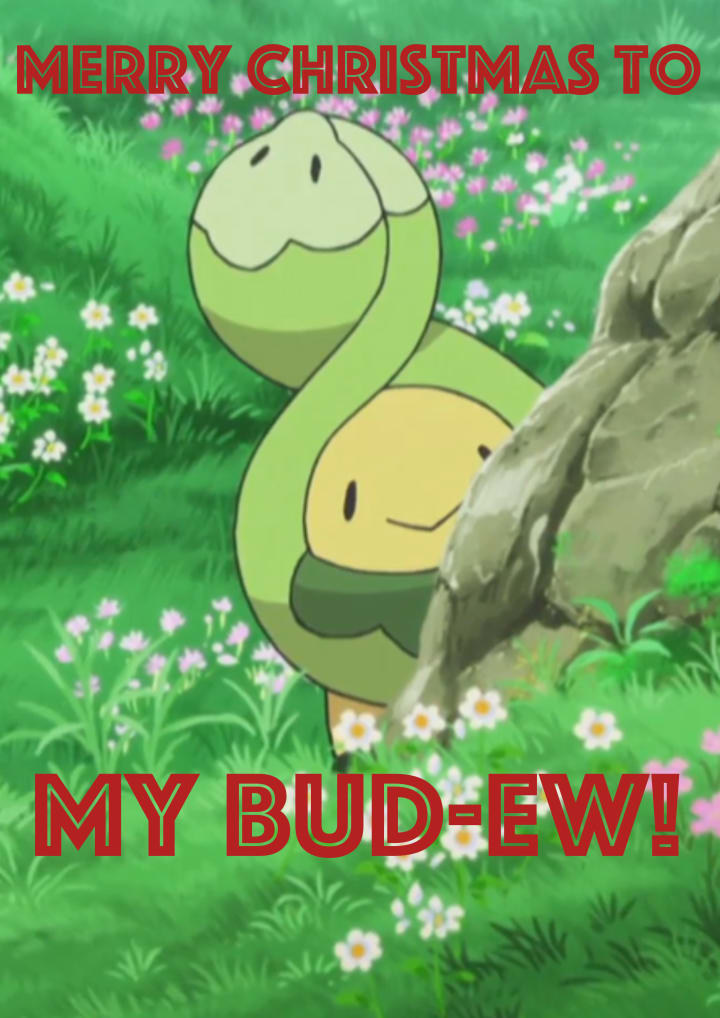 This one is a Christmas Card for... myself. I am a grass type trainer through and through. From Venusaur in the first generation all the way up to Flapple in Pokemon Sword and Pokemon Shield. (Or in my case, Pokemon Espada... I bought it in Tenerife on holiday...) Pokemon Diamond, Pearl and Platinum hold a special place in my heart as it released some of the best Grass-type Pokemon such as Roseraide, Torterra and the grass type eeveelution, Leafeon. I also remember not realising I have to talk to Roark in the mine so I managed to grind my team to the point where I have Empoleon, Staraptor and Roselia at level 45 and over... So yeah, Merry Christmas to my Bud-ew! or myself!
Happy HitmoncHan-ukkah!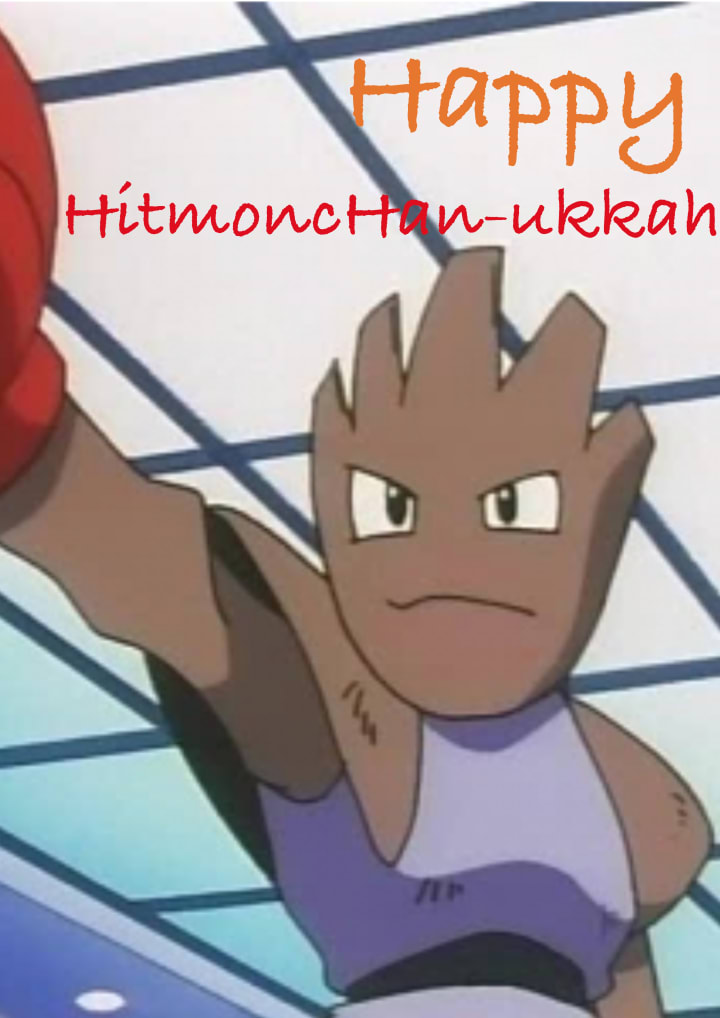 You cannot forget your fellow Jewish friends! My friend is as hard as a rock and always stands up for his fellow trainers. Also, he is a huge gym freak that loves his fighting types. Funnily enough, he is also extremely scared of flying so it is perfect that his Christmas Card is everything combined, sprinkled with some punny goodness! Happy HitmoncHan-ukkah!
That is all! I hope that you enjoyed these Pokemon, Pun Christmas Cards! I look forward to sharing next years cards with a brand new theme next year! I am sure they will be puntastic! On the topic of Pokemon, check out my pokemon team blog if I was a trainer in the Pokeverse here!
We hope you enjoyed this post! If you want to find out more quirky, informative posts then why not check out our profile!
Please consider giving us a small tip and Like this post to support us and our writing! It helps us out a lot and keeps us working hard to provide you with daily posts and develop more projects for the future!
Follow us on our Social Media so you never miss a post! We upload a new post each day from Monday to Saturday!
Twitter: https://twitter.com/PeopleJSS
Facebook: https://www.facebook.com/PeopleJSS
Thank you, and until next time!
- David