Part 1: How to Save $$ for Traveling!🌎
For Beginners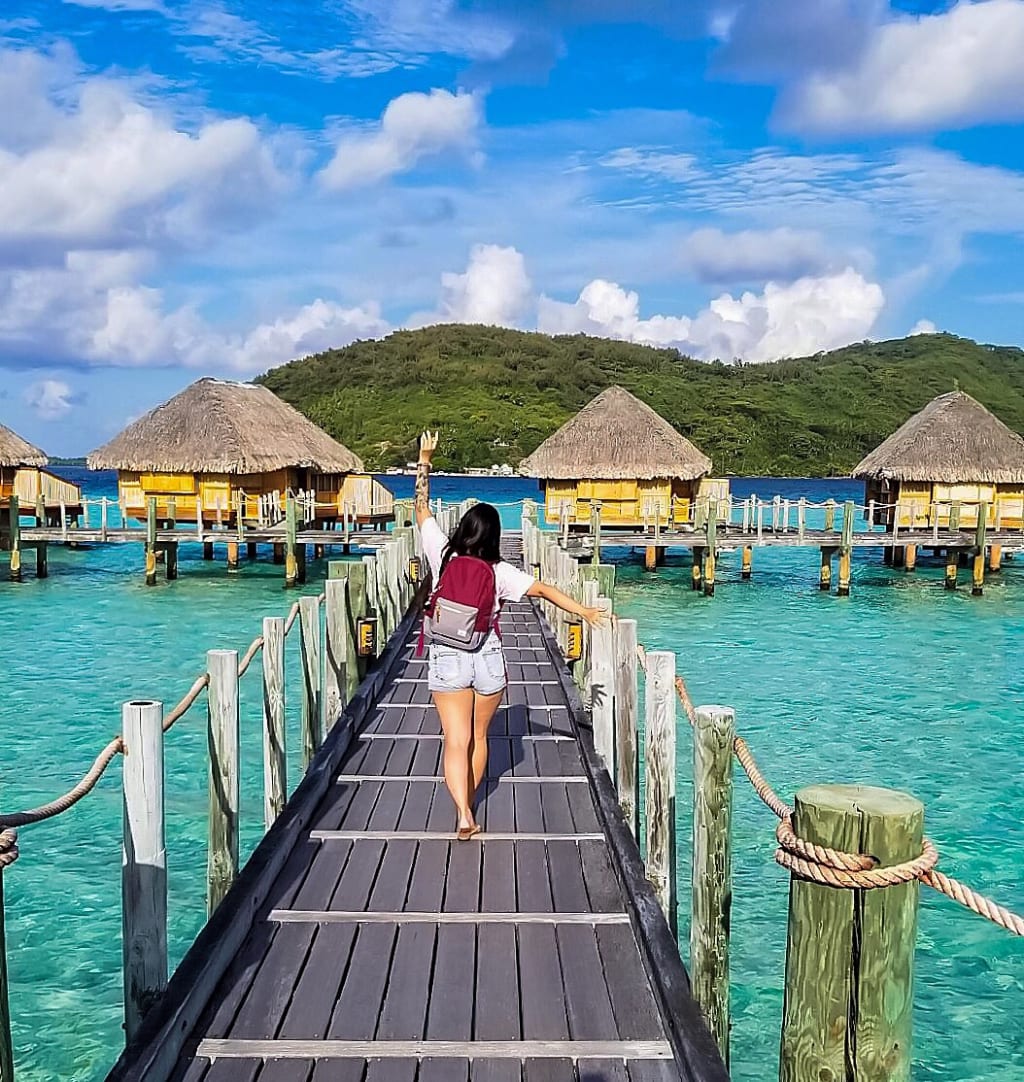 Bora Bora
Yes, this is me in this photo. And by following my own advice, I saved almost $2,000 on my trip here to Bora Bora & Tahiti. So keep reading to learn more!
BUT WAIT. Hold on, guys. This one little article will not be able to explain absolutely everything about saving some serious cash on travel. There is just too much information for me to cover in order to do that. Follow up articles will come! Stay tuned ;)
So, this will just be about how to get started. What is the first step you should take if you want to start traveling? You ready?
Here we go:
Get a credit card!!

Credit cards will be your new best friend if you want to start traveling.
No, not a debit card (the card you get for free at your bank/credit union), a credit card (this card requires a formal application). They are different for many reasons. Most importantly, credit cards will give you an advantage for traveling.
Here's a list of reasons why:
Credit cards give you benefits: cash back, miles, points, etc. (nearly all debit cards do not offer this).
Credit cards are preferred to debit cards for travel-related purchases. For example, many rental car companies and hotels will ask for a credit card instead of a debit.
Better protection against fraud. I can go into more depth on this if you wish (please provide feedback if so). But yes, it's true. There is less risk for you and your cash flow if you use a credit card instead of a debit.
Credit card companies will send you free gifts! Usually it's an intro offer when you first apply. But usually your credit card company will email you more wonderful freebies the longer you stay with them.
INSURANCE and/or PROTECTION! Big, big one! Many reputable credit card companies will offer you some type of insurance/protection when traveling—which you must always have, especially if in a foreign country! You just never know what might happen on your trip. Obviously, the credit cards fixated on travel will give you better deals on travel insurance. However, most credit cards in general will have some type of protection plan and they are usually FREE with your travel purchase (such as reserving for a rental car or airline ticket). I have NEVER seen a debit card till this day that gave any type of protection benefit for traveling. Contact me if you know of one.
Handling your finances is a lot easier. With credit cards, you pay a single bill every month per card. Therefore, you can review the statement to see what your spending habits are like and you don't have to worry about "waiting for a paycheck to come in before purchasing something." Sound familiar? The last thing you want to worry about when traveling is worrying if you have enough in your bank account to buy something important—like sunscreen or food.
If you are interested in getting a credit card, but don't know where to start, then I highly suggest reviewing online the different credit cards that are available for "first time borrowers." I, personally, like Discover a lot. However, they have a huge downfall, not many merchants accept them. So, even if you get a card with them, you may not be able to use it wherever you'd like. However, if your main target is to start building up credit, and you aren't picky on the card benefits yet, you can also do a secured credit card with your bank or credit union (I, personally, recommend a credit union because they typically have lower interest rates, but to each their own).
If you have established credit, and are just looking for the "right card" to apply for, then be sure to think about what benefits work best for YOU.
For instance, cash back is my favorite benefit, but I still have a couple cards that earn miles/points instead.
Since the purpose of my article is for BEGINNERS, here is a list that will likely be suitable for most of you:
Capital One Venture Card
Citibank Costco Anywhere Visa Card (but, of course, only if you have/want a Costco membership)
Discover it Miles Card
Chase Freedom Card
Bank of America Travel Rewards Card
YOUR LOCAL CREDIT UNION! Since credit unions are focused on their exclusive membership, and they tend to be local-oriented, their cards are not as well advertised as national banks. However, most of them usually offer their own travel credit card (or even cash back credit card), and because they are a credit union, they likely offer pretty sweet rewards for a lesser annual fee or NO annual fee! PenFed's Pathfinder Rewards is a very good travel card considering it has no annual fee, and even Navy FCU has a Flagship travel rewards credit card with a very affordable annual fee. Be sure to check with your credit union to see what they offer! *I decided to mention PenFed and Navy FCU here because they are available nationally. Not in any way sponsored by them.*
***BEFORE APPLYING FOR ANY CREDIT CARD, PLEASE READ CAREFULLY***
Each credit card will have a different approval rate. Be sure not to overextend and apply straight for the Chase Sapphire Reserve with a $450 annual fee. Review the card details before submitting your application.
Best things to look for in a credit card if you wanna travel with it.
Annual fee? If so, is the card worth it?
Foreign transaction fee? I mean, if the purpose is to travel with it, I wouldn't want to pay a fee every time I use it.
APR (also known as the interest rate)? However, if you intend to pay off your entire statement balance every month, then you never need to worry about this. Interest is only applied to a credit card if you do not pay the full amount.
Intro bonus? What is the requirement to receive the bonus? For example, the travel card I have gave me an intro bonus of 50,000 miles after I spent $1,000 on purchases in my first 90 days. That roughly equals $500 in travel credit! *This card promo is no longer being offered, which is why I am not disclosing which card it is.
Visa, Mastercard, AMEX, or Discover? Yes, this matters more than you think. Merchants don't always accept all 4. In fact, many smaller countries only do Visa or Mastercard. Even look at Costco! They only take Visa, not even Mastercard!
Very important for those new to credit: Approval rating? The credit card disclosure will tell you what credit score you would need to be considered for the card. Be sure that you are applying for something that is in your range.
Last but not least, the REWARDS! What does the card offer you on your daily purchases? 3x points per $1? or 1% cash back? Make sure the card will offer you a benefit. That's the whole point, right!
Good luck on your hunt for your next credit card!