Packing Hacks
How to Reduce the Stress of Packing for Any Trip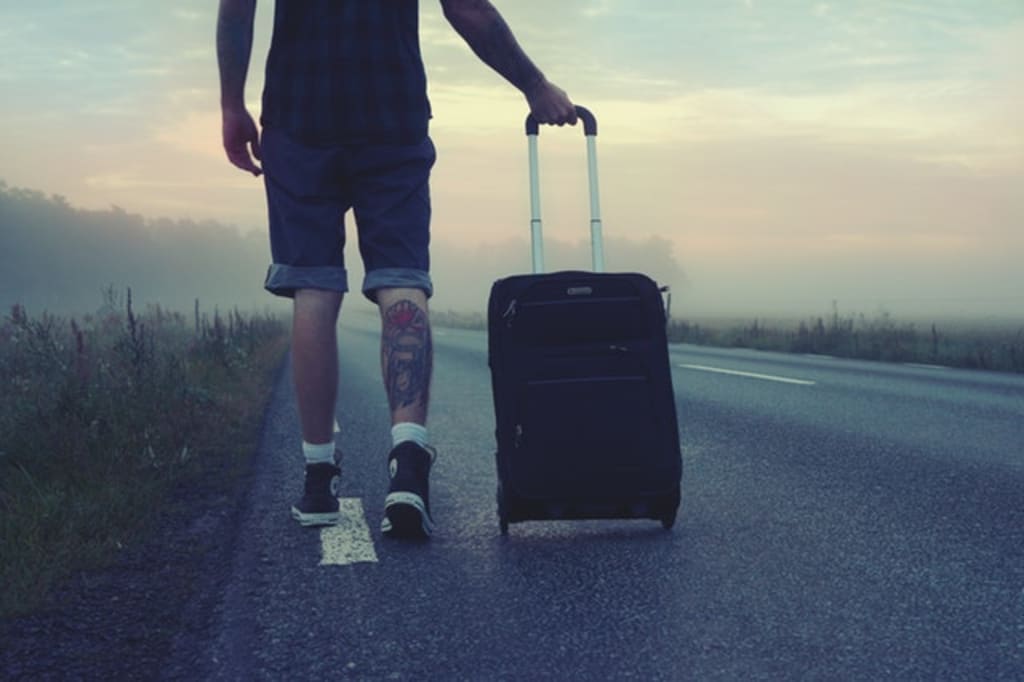 Man walking on road with black suitcase during sunset. Photo credit: Pixabay
For some, packing for an overnight adventure, a long weekend, or even a two week vacation, is like second nature. There is nothing they can't fit into a suitcase and still meet the weight limits for all major airlines.
For others, even packing a lunch for work can be a nightmare, never mind packing to leave their house for longer than 24 hours. But never fear! I have five creative packing hacks to help you get everything you need into (and back out of) your suitcase with minimal stress.
First, roll your clothes together.
Plan outfits (pants or skirts, shirts, socks, underwear) for every day you will need a fresh change of clothes. If it helps to organize, do the same for the day you dress at home as well (you're obviously not going to pack these clothes, but sometimes it helps to see that you still have a clean pair of jeans for that day). Fold each pair of pants in half so they are only the width of one leg. If they are pants with pockets, put a pair of socks in one pocket and a pair of underwear in the other; it doesn't matter if they don't fit perfectly, it's just a way to keep everything together. If it's a skirt or pants without pockets, just lay these smaller things at the waistband. Fold the shirt or shirts you plan to wear with those pants so that it is roughly the same width as the pants and lay it over the pants so that the collar is lined up with the waistband. Now, roll it all together, leaving a bit of the shirt out along the side so that you can quickly and easily find it later. Roll everything as tightly as possible and repeat for each new outfit. Then stack them in your suitcase like firewood.
Fill your shoes.
Stuffing your shoes full of cylindrical items like shampoo or hairspray bottles accomplishes two goals: First, it allows two items to occupy the same space, and second, it helps prevent both the shoe and the bottle from being crushed. But it might be a good idea to put the bottle in an old shopping bag anyway, just to be safe.
If there is enough room in the toe of the shoe, that is an excellent place to store small valuables or even extra cash, which brings me to my third hack.
Split up your cash.
Even though many people have migrated to a strictly plastic financial world, some of us do still like to have some cash on hand for emergencies (like when you're 1,000+ miles from home and get a call from your bank about suspicious credit card activity). But carrying large amounts on your person is not safe and putting all of it in the suitcase is risky if you're ever going to let that out of your sight. So split it up. Take only what you need for the day of travel for your purse or wallet. If you are flying and using a carry-on bag in addition to checked luggage, put half of what's left in one bag and half in the other. That way, if anything gets lost, damaged, or stolen, you still have reserve cash.
Save your grocery bags.
Not all of them, unless you already do that for recycling (and if you don't, why don't you?), but save a few to pack. Use them for garbage bags (especially if you order take out to your hotel room and don't want leftover food stinking the place up; pack it up and take it outside), to collect dirty undergarments as you go, to separate a wet bathing suit from everything else, or, in a pinch, a way to carry home your souvenirs if you accidentally get overly spendy. Side note: If you plan to get spendy, scout out a UPS or FedEx near your hotel before you leave home. Some hotels even have a shipping center on-site. For a few extra bucks, you can save yourself the stress of packing (potentially fragile but definitely extra) souvenirs on the plane and just ship them home instead.
Combine things wherever possible.
Just like rolling your clothes together to save space, you can also do the same with other items. Taking a beach towel and coverup to lay by the pool? Roll them together. If you need to pack a pillow and blanket, fold the blanket and slide it into the pillow case, or fold it into a pillow case if your pillow doesn't have a case. Get a small pouch for your ID and tickets and put your purse inside your carry-on bag so you don't have to worry about juggling more than one item through the airport or train station.
With just a few tricks, you can become the kind of person for whom packing is a breeze.