NHS Plunged In To Chaos Due To Nursing Strike
Routine Appointments And Medical Procedures Cancelled Due To Lack Of Nursing Staff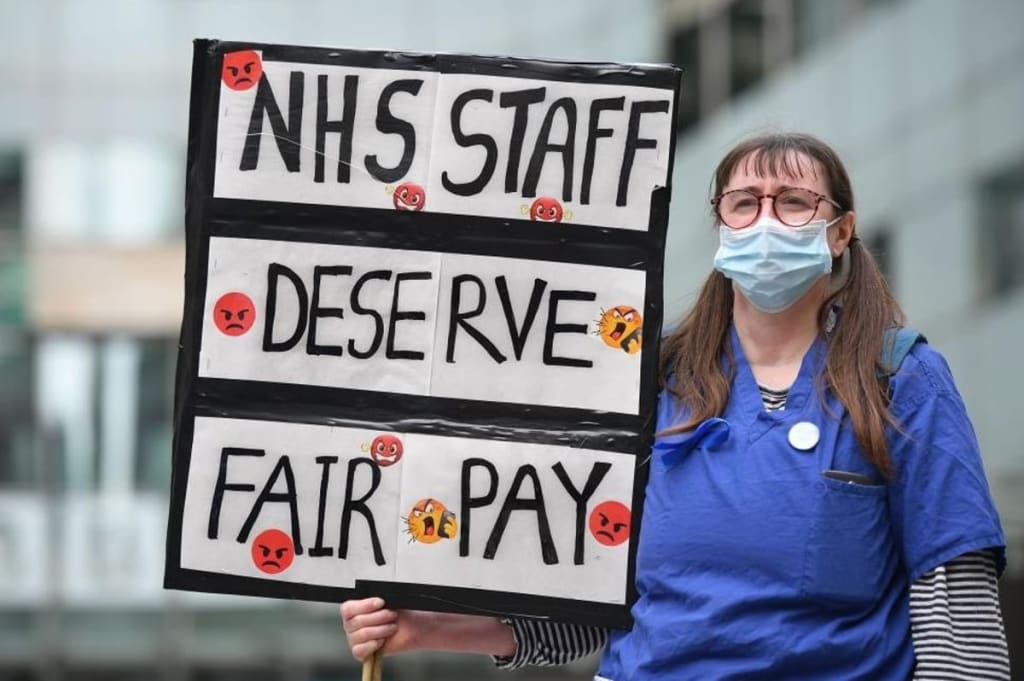 Image: National World
The UK us going through a Cost Of Living Crisis at the moment which has been caused by the cost of goods and services that people need in their daily lives increasing dramatically. There are many reasons for this, one of which includes the price of raw materials which are used to make certain products increasing. This may be because they are from Russia. Due to the ongoing conflict between Russia and Ukraine, the cost of these materials has increased so that they are unaffordable to people who need them in their every day lives.
Another reason for the Cost Of Living Crisis is the amount people receive in the pay packets has dropped dramatically. The main reason for this is during the Covid 19 pandemic, people were advised to stay in doors at home and avoid going out to see other people. They were also only allowed to go out shopping when it was for items that they needed in their every day lives. These symptoms combined has caused the rate of inflation in the UK to rise to a record rate.
The ONS has released its latest inflation data up to February 2022. Overall, this is the highest year-on-year inflation level for 30 years, recording 6.2% on the CPI index and 5.5% on the CPIH index. As a comparison, the old RPI measure inflation reached 8.2% up from 7.8% to January 2022.
Following an official ballot from the Royal College Of Nursing, nurses around the country have voted to go on a number of strikes due to an ongoing dispute over the amount of pay they receive. The union has argued that low pay has driven up chronic understaffing and this puts the quality of care patients receive at risk. Nurses have been left with a feeling of being overworked, underpaid and undervalued.
The first strike was scheduled for Thursday December 15 with a second to follow on Tuesday December 20,
Not all organisations taking part are participating on both days.
Patients who had appointments or medical procedures on these days had been contacted and advised whether or not they should attend hospital. GP surgeries and pharmacies ran as normal so people would be able to get emergency care or medication if they needed it.
 What has the Royal College of Nursing asked for?
The RCN has been calling for a pay rise at 5% above inflation, though it has indicated it would accept a lower offer.
When it submitted the 5% figure to the independent pay review body in March, inflation was running at 7.5%.
But inflation has since soared, with RPI standing at 14.2% in September - which is where the often repeated 19% rise figure the government say nurses are asking for comes from.
But the RCN has not specifically asked for a 19.2% pay uplift.
RCN chief executive Pat Cullen said nurses were asking for "20% that has been taken out of their pay over the last decade to be put back in".
What Has Been Offered
The independent Pay Review Body recommended that the majority of NHS staff on the so-called Agenda for Change contracts are to be given a £1,400 uplift in pay.
The Nuffield Trust has estimated that this is the equivalent to an average of 4.3% rise for qualified nurses.
The RCN has previously said that despite this year's pay award, experienced nurses are worse off by 20% in real terms due to successive below-inflation awards since 2010.
Senior figures from 10 Downing Street said it had no plans to look again at deals for nurses pay, claiming that the Royal College Of Nursing plans were unaffordable and didn't make good economic sense.
Former Conservative health minister Steve Brine told the BBC's World At One programme: "I think the way out is to protect the integrity of the process, go back and ask them to look again.
"Everyone needs to cool it and I think sending it back to the pay review body to have a look would be a sensible answer."
Sir Jake Berry, former Conservative Party chairman, urged the Government to "improve its offer" on pay.
Reader insights
Be the first to share your insights about this piece.
Add your insights