My Favorite Company to Transcribe for
After working for MANY and I mean MANY transcription companies, here is my favorite and this is why.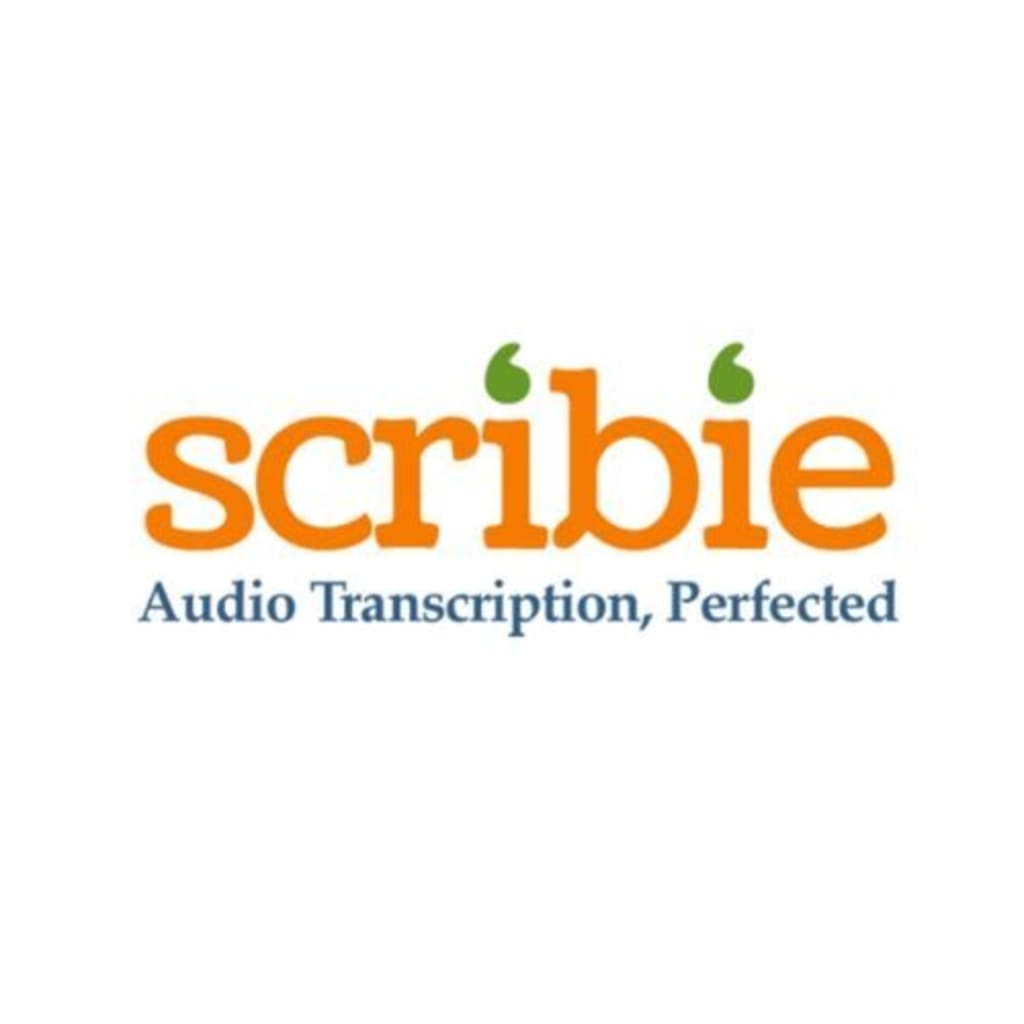 https://scribie.com/account/sign-up?rc=7dd3ad41142b40f5b42d7ca0aa44ca88c816680c
So if you're anything like me, being trapped in the house throughout COVID-19 was a huge struggle and an adjustment to make for sure. I definitely learned a lot about myself during the pandemic, thus far, and I'm sure there is much more to come.
I decided to start transcribing audio files early on, when I had to stop working due to the pandemic. I quickly discovered that it was something that I really enjoyed. The hard part was settling on what company I wanted to transcribe for. And believe me when I say , I checked out all of them, I tried Rev, Speak Write, Tigerfish, Crowd surf, Quicktate and Idctate, I could go on and on. But the one I like the best is definitely Scribie and I can give you a list of reasons why that is, which I will go over with you throughout this blog. The main reason is the fact that they do six minute audio files, as opposed to 20 to 30 minutes like everybody else. (The longest file you would ever see to transcribe is ten minutes.) Thirty minutes may not seem like much, but trust me it is. When you're transcribing an audio file, that truly is a very, very long time to be transcribing. Because, it gets redundant, it gets boring, you get squirrely, and want to stop and at least take a break. However, all of them are timed so your on edge trying to meet this time restriction you've obligated yourself too. Which Scribie gives you two hours. Which in my opinion is plenty of time to transcribe 6-10 minutes of audio.
I feel like six minutes is a way happier medium. You get paid, I've seen, upwards of $3 per audio file, but typically it's about 90 cents per six minutes. So I mean, the pay is crappy with any of these sites. It is not a very profitable field. that's for sure. But judging by how quick you can do the six minute audio file, the pay really isn't that bad depending on how fast you are at it, which I'm I've gotten to the point where I'm pretty quick. It's important to note that the audio file itself is already transcribed. It's been dictated per se. So you have a written transcript of what's already been said on the audio file. You just have to modify it to your liking and to make sure that it fits their guidelines was their guidelines are really clear, concise and easy to follow. That's another thing that I found with other sites it was hard for me to follow the guidelines and I would get reprimanded for it because they were not very concise or laid out for you, there was no consistency. With Scribie, I definitely found that it is 100% consistent and concise throughout my time transcribing with them so far.
So, the way that Scribie does it, to make sure that they get the full audio file transcribed as accurately as possible, is they split it into four different parts. So the first part is going to be the first transcriber. Second part is the Reviewer , third part is a Proofreader. And then the fourth part is QC. Which is the final step, where they go over it, make sure that it's actually good to go, and contains no errors in it whatsoever. And then it gets submitted to the customer. Which is another quality that I liked about Scribie, at other companies I would be that deciding factor on whether it was good enough to get submitted or not. And while there is something to be said for going into any job that you do with confidence, if you're new, you're not really qualified to make those kinds of decisions. It's kind of can be kind of intimidating. And then you get reprimanded if it's not done properly. Which, if you're new, how are you going to make sure that it's done right. so this way it actually goes through four different sets of hands before it's submitted to the customer., Which you work your way up as you are transcribing per audio file per audio hour. This was the only company that I saw that did things like that. Every other one of them was either one or two people looking it over and then submitting it.
I also like the fact that starting out you didn't have to add Speaker Labels to the file they were already there. You don't have to do that until Part Two when you become a Reviewer and at that part you're a little bit more experienced and you know a little bit more about what you're doing and what to expect and it's a little easier to kind of take a little bit more responsibility on at that point. Also, the speaker labels are already there you just have to make corrections as necessary.
And for aspiring customers, I know I went over what we get paid kind of I'll go more in depth on that in a second here, but for customers it is 10 cents per audio minute
And that is a promise of a 95% accuracy rate for American speakers and 80% for any other foreign accents that might be present
And I think it is important to note that they will also re redo it for free if you're not happy with the work that you receive so you can have it resubmitted and get it done to your satisfaction at that point if you're not satisfied with the first go around, and that is free of charge, and you can also log into your account and see the status of your transcription at any point in time.
There's no obligations, no monthly commitments, and there's no withdrawal limits. All you have to do is set up a valid PayPal account and they pay you through that platform. You can withdraw at any point. Whether you have made $2 or $200. You can withdraw it and it'll be with into your PayPal account within, they say eight to 10 hours, but I've always gotten it within an hour or two.
Another key point that I liked is, you don't have to have the files assigned to you. So you get to choose your workload. And not to mention, you get to preview what the audio file sounds like prior to actually accepting it. They don't penalize you for canceling either. So if you choose a file, select it, search, transcribe it and don't like it and want to cancel it. There's no penalties for that, as long as you do cancel it and don't just not submit it. If you don't, if you don't submit it, then you get penalized. But if you just decide, hey, I can't understand it or there's too much background noise I want to cancel you can do that without penalty. Which the file description does specify before you select a file what the difficulty level of low, medium, or high. But again, if you do decide that you want to cancel there's no penalties for that.
All you really need to transcribe for these guys is the latest version of Firefox, Chrome or Safari web browser. There's nothing special required, no foot pedal, which is nice if you have it but if not you don't need it.
The main thing that they want to know is that you know how to correct manual or automated transcripts. If you're looking for type only jobs, this is not going to be the one for you.
And PayPal is also the only way that they pay so there is no other way to get paid by them. No direct deposit, it's just strictly through PayPal, like I said which can be pulled at any time. And they have you verify that before sign up.
Lastly I wanted to go over the sign up process for you guys. The certification process looks like this, you sign up, confirm your email and then set up your Pay Pal and have that confirmed, submit your test file and then become certified. Which, the test file was extremely easy, in my opinion. You choose one of the files listed and then transcribe it and submit the transcript. Note that your submission will be rejected if any guideline violations are found. So you do want to go through the guidelines prior to submitting your test files except submission but like I said, it was super easy.
It wasn't anything too serious and like I said, I've gone through a lot of these different transcription companies and there's other ones that were harder. Believe it or not, the typing test I actually struggled with a couple times which I didn't think that would ever in a million years be an issue, so I was glad there wasn't one with these guys.
They're grading system looks as so, it ranges from A which is a five/Excellent. Two a D/Poor. And they're based on major and minor mistakes found within the submission. They make an average of the grades of the last 100 submissions to makes up your overall grade using a metric system to track that performance. Becoming a reviewer becomes enabled after one hour of audio transcript submissions have been credited. Proofreading will be enabled after five hours review submissions have been credited and your overall grade has to be above 3.5 to get promoted to Quality and Control and that's happens after 10 audio hours of proofreading submissions have been credited. And that grade has to remain above a four. A minimum overall rate of 2.5 has to be maintained for you keep working with Scribie at all. You cannot work on any files at all if the marker falls below that mark. Your account will remain active and it can still accrue referral and affiliate commissions, which they do offer and I did list my code up above if anyone needs any files transcribed :)
But you can also opt to delete your account and retake the transcription test after six months from the date of the account deletion. So you do have to wait six months in order to reapply. Therefore it's just best if you see yourself struggling what I've done is if I'm getting some low markers, I'll take on smaller shorter transcription audios. So, I'll do like a two minute or a one minute file that I know that I can do perfectly and get a five on it to kind of level that back out and bring my overall grade back up. So I do that if I've seen myself falling below that three, I try to keep myself in the 3.5, I take on a shorter, easier file.
That's about it though! The possibilities are endless with these guys. You have a lot of room for growth. It's super chill, self directed work. like I said, you get to choose the audio files that you're transcribing. They don't assign anything to you and you do get paid more as you get promoted. So as you go up to Quality. You get paid more and more and more potential monthly earning for Transcription is $200 to $300 a month. Transcription and Reviewer is $300 to $500. Transcription to Proofreader is $500 to $700. Transcription reviews, proofreading and qc is $700 to $1000. So, the more time that you spend on this, obviously, the more money that you're gonna make. If you have the skills and you're able to pick up the work, your earnings will double the amount I have listed it's just kind of up to you. Those are conservative amounts as they're an estimate. So it's just an average but like I said it's up to you how much you're going to really make. So the ball is in your court. Head on over to their site which I will list below if you want to make some extra cash :)
Website:
https://scribie.com/freelance-transcription#intro
Affiliate Link:
https://scribie.com/account/sign-up?rc=7dd3ad41142b40f5b42d7ca0aa44ca88c816680c
Reader insights
Be the first to share your insights about this piece.
Add your insights