Liveable Tiny Houses
Here are the most realistic, liveable, and aesthetic tiny houses and rvs, at least in my opinion
Recently I went to an RV show with my mother because she had seen an advertisement for it and it wasn't too far away or expensive. She has always fantasized about living in an RV, traveling the country once she retires. We saw so many gigantic monsters of RVs! Of course they were expensive, but they were also horrible for the environment, intimidating, and representative of excess. This was not the life that my mother wanted. Eventually we found the less popular, smaller RVs including one that looked like home to me! It was the GreyWolf Forest River 2020. A few key things about this RV jumped out to me as particularly liveable. I could see my day to day life happening in this trailer. It had:
A bedroom area
Possible office areas
Enough room for pets
A good, but not overwhelming size
A sufficient bathroom
A kitchen area
AND it looks nice
This became my criteria for a future home or, as I'd prefer, tiny home. Other personal considerations were that I wanted it to be mobile and not include a loft.
Now, I bet some of you are wondering what distinguishes a mobile tiny home from an RV. In my opinion, not all that much. The first thing that distinguishes the two is the exterior. As you'll see below, tiny homes have the exteriors similar to what you might see on a regular home. RVs have more of their own signature style. Another difference is that some RVs are maximized for recreation. They may have special storage for recreational vehicles, massive speakers, or outdoor kitchen set ups. Tiny houses, on the other hand, tend to have day to day amenities like laundry machines and desk areas. Still, I personally could make either work as a full time abode. So,here are some of my favorite tiny houses/RVs that fit my criteria!
1.The Legacy Models by tiny heirloom are versatile, sleek, and customizable. It comes in three different styles; farmhouse, craftsman, and modern. At 24' by 8'6" these models can travel with relative ease. My favorite part about these are their nicely angled and colored exteriors.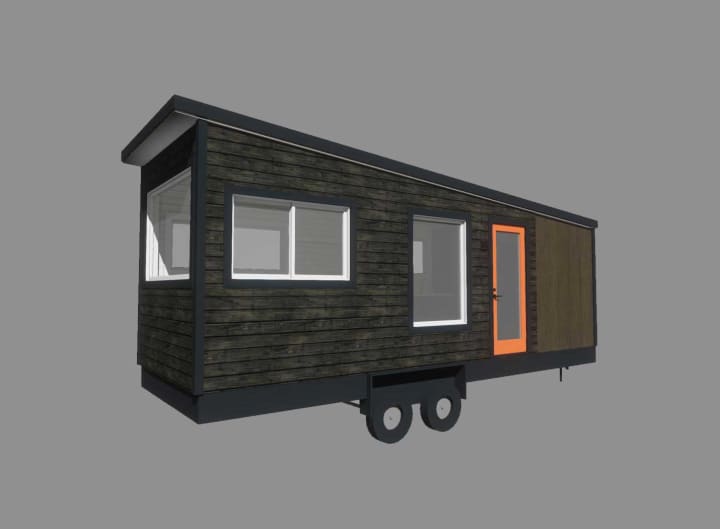 They start at just under 50k.
2. Next up is the tiny studio by tiny home builders (Video Above). Though it's named after the type of apartment, it has a very rustic, cabin feel. In fact, it is covered in wood, inside and out. It has a unique raised kitchen which helps to create a subtle space divide. This reminds me of a set up in a childhood house of mine. However, the bedroom area is not all that separate. Though you could block it off a bit when guests come over, it's not 100% ideal. It's still a gorgeous, livable model, that, for 24' finished, comes in at around 60k.
3.The Traveler XL is basically a tiny mansion. It does have loft sleeping but it also has a queen sized bed on the ground level. It reminds me of a modern home in the hills. I adore the nearly all around windows perfect for picturesque locations!
At 30' and nearly 80k, it's ummm expensive.
4.The Impact Toy Hauler 311 is a wonderfully homey RV! It meets all the criteria excellently. The only issue is that the steps to the lifted bed area look very narrow. It does, however, have a garage (and a 3d tour!)
It is up there in size and cost at 35'7" and around 80k.
5. And of course, the aforementioned GreyWolf Limited! I already talked a lot about it but I adore the bunk area for guests, or pets!
It is 31'7" and can be snagged for less than 30k (AHHH!).
Additional Sources:
https://www.treehugger.com/tiny-houses/tiny-studio-tiny-house-builders.html
https://www.curbed.com/2017/6/15/15810964/where-to-buy-tiny-houses-new-full-size-kitchen-bath
https://rv.campingworld.com/searchresults?rv_type=towable&condition=new_used&subtype=TH&floorplans=toyhauler,thtt,thfw&slides_max=&sort=featured_asc&zipsearch=true&zip=08628&forcedistance=Any&search_mode=advanced&locations=LAK,BRI#