Lifehacks to Help You Clean Your Car
The task can be daunting, but lifehacks to help you clean your car will save you a lot of money on a professional detail.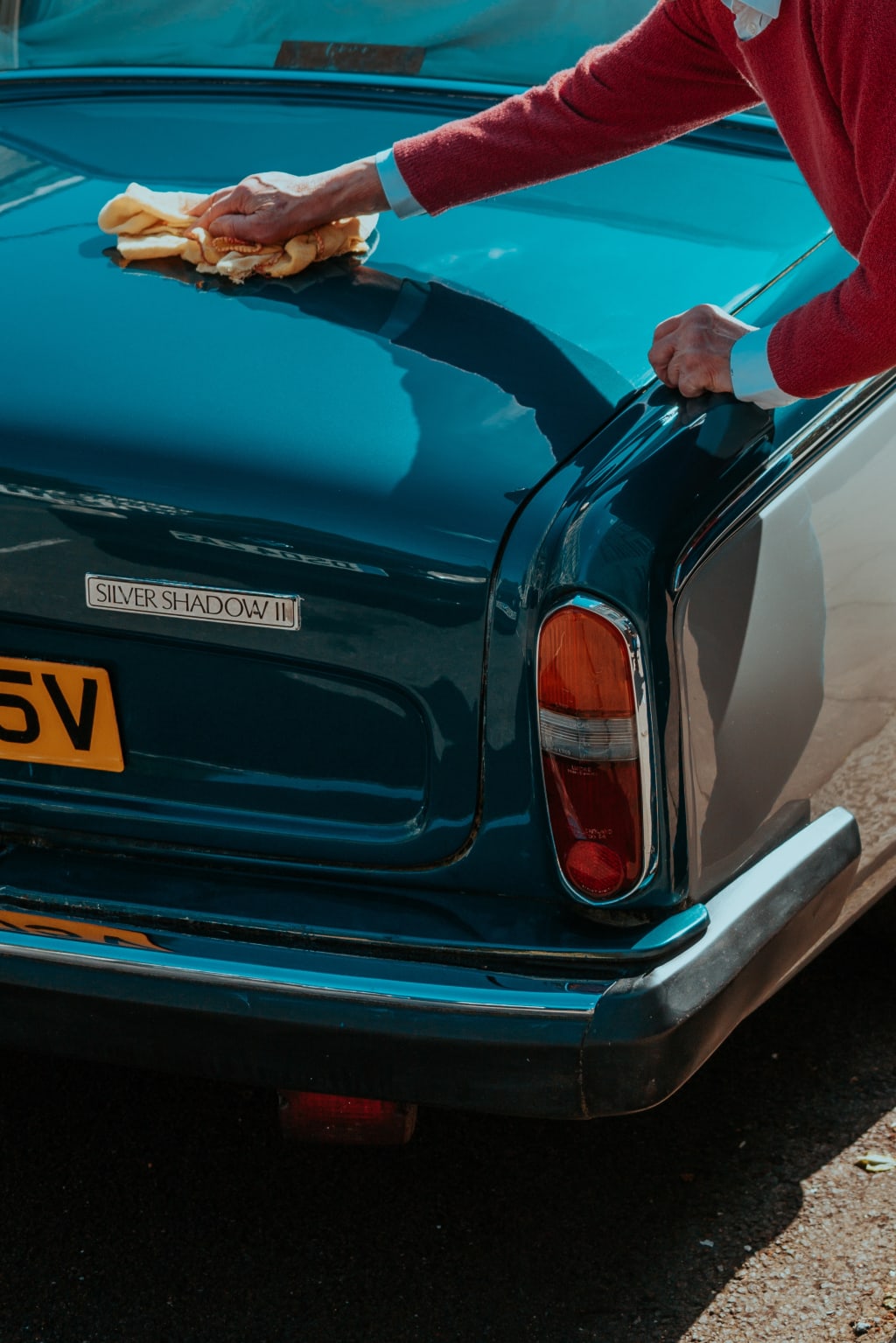 Photo by Brunel Johnson on Unsplash
Cleaning your car can be one of the most daunting tasks on a to-do list, and the longer you put it off, the more daunting it gets, the longer you want to put it off... and on and on. Instead of letting the grim pile up inside and outside of your car though, using lifehacks to help you clean your car and to keep it clean will save you a ton of time in the long run. Let's be honest, too, cutting down the time and effort you have to expend to get your vehicle in tip-top shape will go a long way in motivating you to finishing up what can be a truly horrendous chore.
You can easily use a squeegee to make one of the world's most difficult cleaning problems a breeze: pet hair. The little fuzzy hairs can be a real hassle to remove, especially out of upholstered car seats, but with a squeegee and a spray bottle, you can actually get that hair out pretty easily without using an entire roll of masking tape or any of the other creative lifehacks for removing pet hair you might have read up on. Just mist your upholstery gently with plain water (a few spritzes will do) and run the squeegee across it. It will pick up all that cat or dog hair instantly. For dog owners, especially those whose furry friends love car rides, this can be a major time-saving lifehack to help clean your car and prevent it from accumulating that pet-owner car smell.
Use cupcake holders to handle crumbs and spills.
Some of the simplest lifehacks to help clean your car are preventative. If you can avoid getting hard-to-clean spills, dirt, and grime in or on your car, you don't have to put so much work getting it out. One of the most difficult things to clean out of your car is the gross liquid spills in your cupholders. Coffee, soda, crumbs... they're not only super gross, but also extremely difficult to clean up. A lot of the hassle of cleaning out your cupholders can be avoided by simply placing standard sized cupcake liners, which will catch the worst of spills and crumbs, and can be easily removed and tossed out to make clean-up a breeze.
Cleaning your car isn't just about getting the worst of the dirt and grime out. It's also about making it look brand new again, regaining that shine and pizazz that clean cars have. Even once you get the dust and dirt off of your dashboard and steering wheel, age can make it look dull, worn, and old. Unfortunately, car detailing products you need to buy to make your car look brand new can get a little pricey, right? Well, if you take just a dash of olive oil on a soft cloth or sponge however, you can put that shine back in your car. Just rub a dollop gently over the whole area, adding more only as needed—you don't want oil dripping all over your car, just enough to re-invigorate the look of the dashboard.
Use dryer sheets and PAM for smashed bugs.
Your windshield wipers and wiper fluid might be enough to get a few recently smashed bugs off of the main portion of your windshield, but that's about the extent of their power over splattered bugs. You probably already have these solutions in your house, so: First, you can easily remove stuck-on splatters by spraying them with PAM or another cooking spray, waiting a few moments, and then gently wiping it off. Alternatively, you can use a dryer sheet to gently rub them off. Both of these methods make this daunting chore much quicker and easier.
Even if you regularly wash your car, your lights will get dimmer and duller over time, as fine layers of dust and dirt get more and more stubborn. Eventually, foam brushes and soap won't be enough to remove it all. To re-invigorate the brightness of your headlights, brake lights, and other visible external lights, you can actually use toothpaste to scrub them to a bright shine. You can even use an old toothbrush as well, which make great scrubbers. Just brush the light as you would your teeth (gently, but not too gently), and then rinse it thoroughly with water to get the residue off. The result will be bright, shining lights that look just like new.
Use a cereal container as a trash can.
One of the biggest impediments to maintaining a clean car is managing trash. You're eating on the go, accumulating coffee cups...things start piling up, and the worse it gets, the less inclined you are to clean it up immediately. So to avoid a massive accumulation of trash in your car, do yourself a favor and keep a trash bag going. You can use plastic grocery bags as liners for those plastic cereal totes you buy in the home section of most stores for just a couple of bucks. This allows you to easily remove your trash, without risking it flying around or landing on the floor because you missed the bag. Loose bags or trash cans can quickly add to the mess, but the ability to close the can will help with this issue.
Pretty much all cleaning hacks seem to involve baking soda, don't they? Well, these lifehacks to help clean your car are not immune to the power of baking soda. You can make an easy DIY cleaning solution by utilizing baking soda and vinegar science. This combo will work wonders on your upholstery, removing dirt and grime you didn't even know was there. The baking soda will also act as a deodorizer, removing even deeply ingrained smells from your car. You can also use this solution on the floor carpeting. Just gently shampoo the area, then rinse with water and allow it to dry.
Wipe down the inside of your windshield with a microfiber cloth.
Many people don't realize how grimy the inside of their windshield has gotten until they clean it. Use a gentle microfiber cloth and any window or all-purpose cleaning products you like, and wipe the inner part of the windshield thoroughly. You'll probably be surprised by how much dust, dirt, and grime has accumulated up there and obstructed your clear view. Keeping the inner part of the windshield clean will really improve your ability to see when you drive.
You can easily dust big, flat areas like the top of the dashboard with a feather duster or microfiber cloth. However, those can only go so far when it comes to problem areas like vents. In order to get the dust out of your vents, you can use compressed air and tiny sponges or foam brushes to get into all those little corners and spaces where dust accumulates. This will also work in the little nooks and crevasses of your dashboard where a standard duster won't reach. Just make sure you follow the directions for using compressed air cans, and give the can time to warm up if you're undertaking a massive operation.
Make DIY air fresheners.
Finally, there are many recipes for DIY air fresheners that will really help you out. In fact, air fresheners are really their own genre of lifehacks to help clean your car, so don't feel limited by any one proposal or recipe if it's not quite your vibe. That said, one of my favorite quick, easy air freshener hacks is: clothespins! Put several drops of your favorite essential oil on a clothespin, close it up in a baggy for a few days, then pin it to your vent like one of those vent-activated air fresheners. When the air blows within your vehicle, it will spray a light scent of pleasant air throughout it. When it gets too faint, you can just re-up the essential oils and carry on with your other lifehacks to help you clean your car.