Is Hospice Right For You and Your Loved One?
My Experiences With Hospice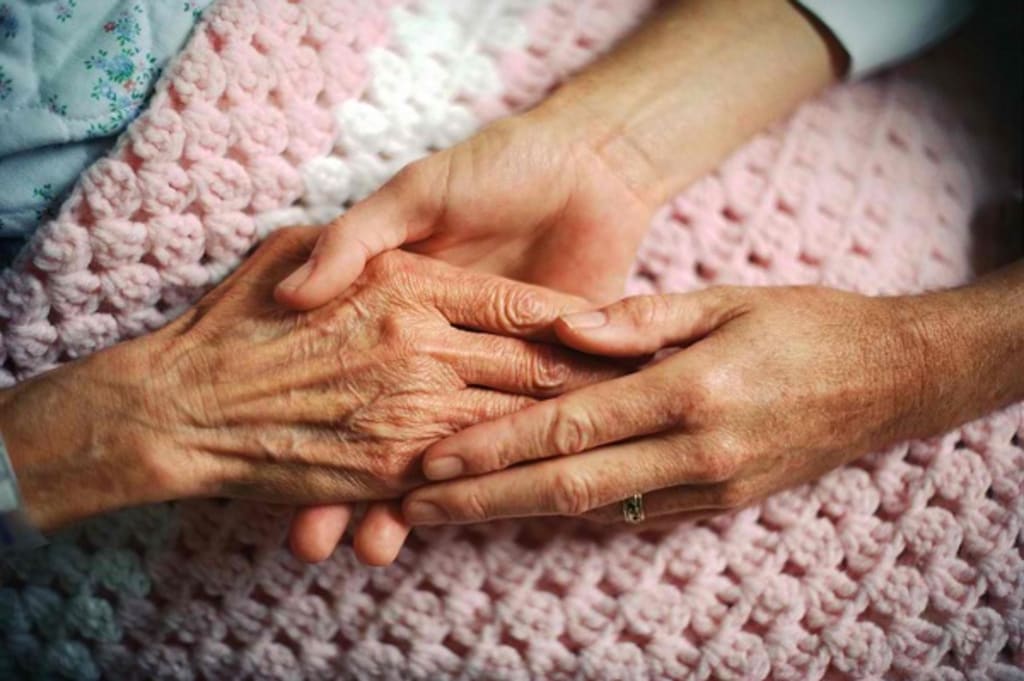 I am the full-time caregiver of my mom. She is a dear sweet person and I love her with all my heart.
My mom is 85 years old. She is completely blind due to glaucoma. She struggles with major depressive disorder and is in the advanced stages of Dementia.
Before, I go any further I want to make this disclaimer: I am not a medical professional. Nor do I know it all and I am certainly not a genius. I'm just a guy of average intellect who lives in the suburbs of Orange County, California.
Now, what I do have is a lot of experience as a caregiver and I have learned how to navigate the system in order to get what my mom and I need.
Just a little bit more on my situation. Many of you already know my story. But for the sake of new readers I will share it again.
The dementia hit the level to where my mom needed round the clock care back in November 2020. At that point in time my brother and I were both caring for our mom. My brother changed his hours to work from 4 am to 10 am. He'd get home at 10:15 am at that point I would leave to to make it to work at 10:30 am. It worked out perfect. She was never alone and we were both able to keep our jobs.
Then around January 24, 2021 my brothers became ill and unexpectedly passed away on January 31, 2021.
This turned my life upside down. I made the decision to leave my job to care for my mom. I considered selling her house to put her in a home but I just could not do that to her. She deserves the love and one on one care I can give her. In the meantime I have not have a steady paycheck since the first week of February 2021. The two of us have been living on my mom's paltry social security.
Oddly, I was never afraid of our finances. I just had faith that we would somehow make it.
At first I was a bit apprehensive going into this without my brother. It was a lot of work for two of us - and even more for me alone. Fortunately one of my friends stepped up to the plate and came by every Thursday to do our grocery shopping, help wash dishes and do some light housekeeping. Then we'd sit and visit for a while (I called this the mental health hour).
It was rough going for the first three months. I wasn't sure I would make it. I was taking only one shower a week on Saturday night. I kept the monitor on the countertop so I could keep an eye on her while I quickly shower. One time, not even a minute after I stepped in the shower, my mom started moving around and she sat up on her bed. I quickly jumped out of the shower and threw a towel around my body and ran to the bedroom. She said she needed to use the toilet. I safely guided her to the bathroom and she was able to accomplish her need. I did not get to take my shower until 2 hours later which is when she finally fell asleep again.
After three months a friend of mine suggested that I get her on hospice. I heard about hospice but did not consider it because I thought it was for people on their deathbed.
I did a bit of research and came to discover that the patient does not have to be on their deathbed. As long as the patient has a terminal illness - cancer, dementia, etc they will qualify. The idea is that the patient has six months or less to live. Every three months the hospice doctor reevaluates the patient in order to continue hospice care. Usually the patient is approved to continue.
In-home Hospice care is about maintaining a comfort level for the patient. It is not about trying to cure the patient. Therefore there aren't any of the usual medical procedures such as blood work, X-rays, colonoscopies, etc. It's only about managing pain and symptoms. It's about helping the patient to be as comfortable as possible.
Hospice has it's advantages and disadvantages.
Let me start out with a list of advantages. Keeping the patient comfortable requires a good amount of supplies and equipment. As you will see in the following list.
• All medications are provided and quickly delivered free of charge.
• Items such as incontinence supplies are furnished ie; briefs/diapers, wet wipes, bed pads, ointments, bathing supplies such as soap, shampoo, perineal wash, nutritional beverages such as Ensure or Glucerna, gauze, bandages, etc.
• Durable medical equipment is lent out including a wheel chair, hospital bed, bed table, oxygen machine, nebulizer, hoyer lift, and other equpment.
• If the patient should sustain a wound from a fall or open bed sores than, a wound care specialist will be provided to care for the wounds.
• A nurse stops by the house to examine the patient. They usually take the vitals - blood pressure, oxygen, temperature, listen to the heart and lungs. They will look at the patient's hands, arms, legs, and feet. They will review any ongoing issues such as wounds, constipation, appetite - and will give suggestions or prescribe medication for the problem. They will ask if there are any new problems arising. Last, the nurse will order any supplies or medications that are needed.
• There are also provisions for the caregiver such as a social worker to discuss problems and to receive counseling. There is emotional and Spiritual support, ongoing education about the disease process, assistance navigating community resources, and grief support after the death of their loved one. Most hospice organizations provide short term respite for the caregiver.
As you can see there are many advantages to in-home hospice care. I have learned a lot from our hospice team and feel I am a better caregiver than I was before hospice.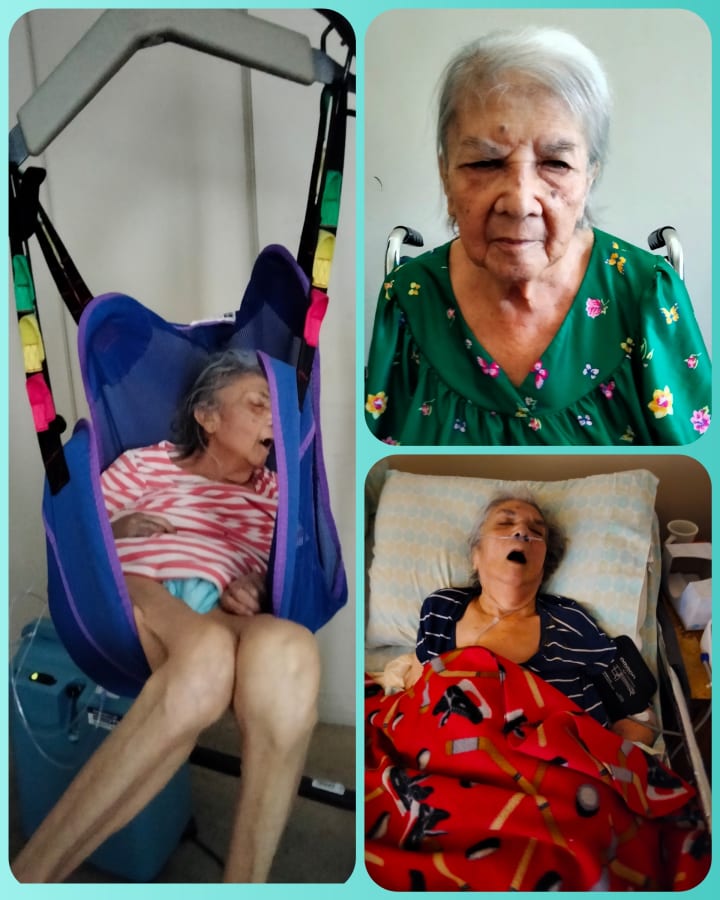 Now for the disadvantages. This list is much shorter - but it is equally important.
The main disadvantage with Hospice care is you must forgo curative treatments. Which means that if the patient gets sick hospice will not work toward curing the illness but will strive to keep the patient comfortable through the illness by prescribing sedating drugs such as lorazepam (ativan) and morphine.
Let me give you an example. In January 2022 my mom ended up getting Covid which in turn infected her lungs with pneumonia and on top of that she had a bladder infection and a urinary tract infection. My mom was very sick. Hospice prescribed some antibiotics, put her on the nebulizer, and had me give her lorazepam and morphine so she would sleep. We did this for about six days and my mom kept getting worse and worse. I could see the writing on the wall. If I did not get her to a hospital quick I just knew she would die in a matter of days. I wasn't ready to let her die from something I knew could be cured with the proper - more aggressive treatment.
Despite what hospice said I had my mom taken to the hospital. She was there for eight days. It is now four months later and my mom is still alive and doing well considering her condition.
The hospice organization that was caring for my mom ended up not reinstating her after she was discharged from the hospital. They said the hospital visit raised to many red flags with Medicare.
I was able to get her approved with another hospice organization on the same day despite the hospital visit and the curative treatment she received.
The way the hospice system works is if you take the patient to the hospital the hospice care will be revoked. After the patient is discharged from the hospital the hospice organization has the choice to reinstate the patient or terminate their care.
Another drawback is you really have to follow-up whenever the nurses order prescriptions or supplies because a lot of times they forget.
One last bit before I end this. Finding the right hospice organization is fairly easy.
First, if you can find a hospice that is a non-profit organization you will probably get better care. But the reality is non-profit hospice organizations are very rare. Here in the OC they are non-existant.
I started by googling hospice organizations near me. Then I looked for the ones that had a good amount of reviews with a high overall rating. I narrowed it down to three.
From there I looked st the websites off all three and decided on two. I had those last two come out to yhe house to do an evaluation and chose the one I felt was the best.
That's a rap on hospice organizations. In a few weeks I will come back with "How To Handle the Financial Burden of Being a Caregiver."
About the Creator
Writing is a distraction for me. It takes me to places unknown that fulfill my need for intellectual stimulus, emotional release, and a soothing of the breaks and bruises of the day.
https://www.facebook.com/groups/vocalplusassist
Reader insights
Outstanding
Excellent work. Looking forward to reading more!
Top insights
Heartfelt and relatable

The story invoked strong personal emotions

On-point and relevant

Writing reflected the title & theme

Easy to read and follow

Well-structured & engaging content
Expert insights and opinions

Arguments were carefully researched and presented

Eye opening

Niche topic & fresh perspectives

Excellent storytelling

Original narrative & well developed characters
Add your insights