I personalized a trash can.
I promise, it's cooler than it sounds.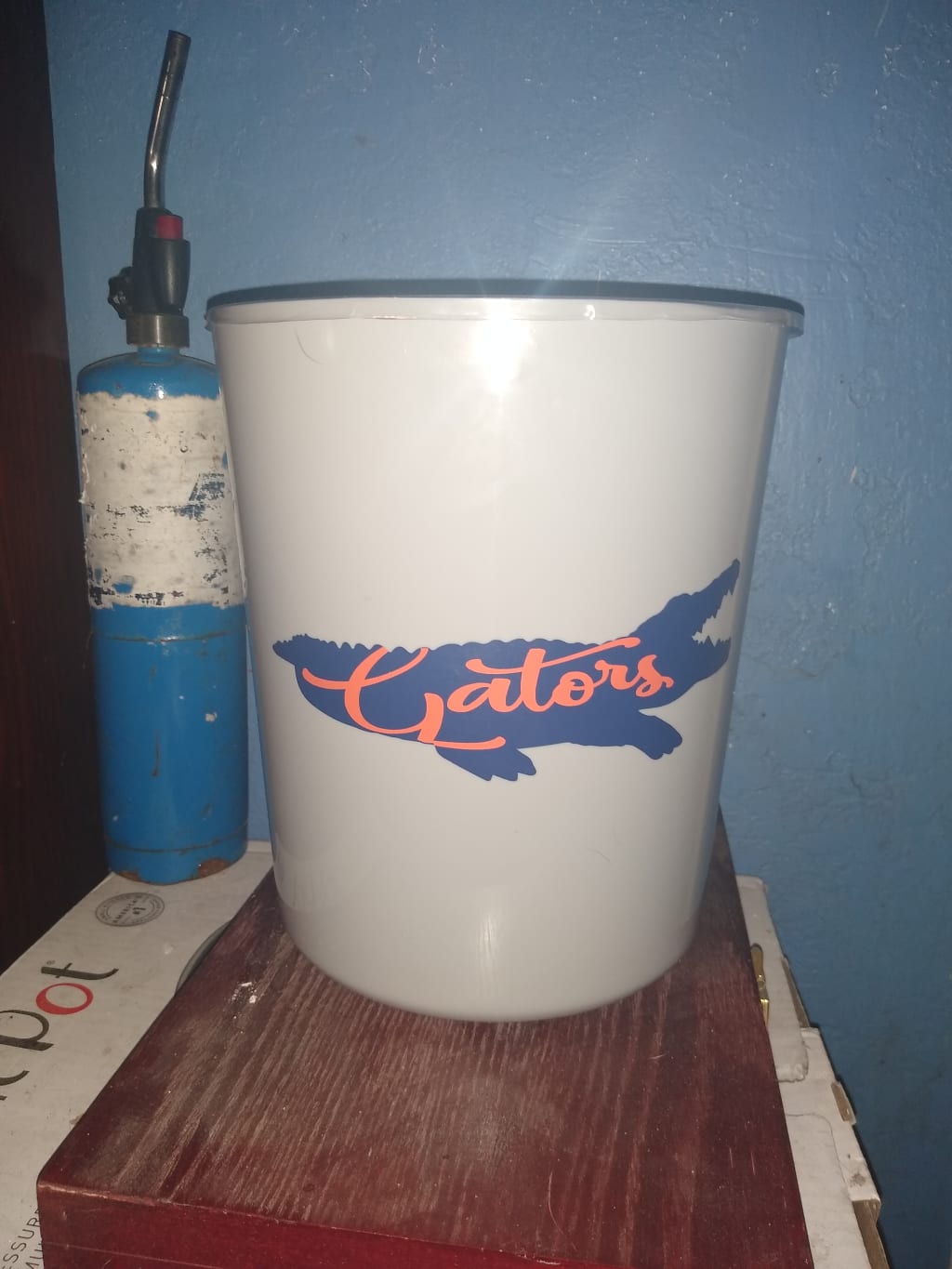 I got a Cricut Explore Air 2 for my birthday this year from my amazing boyfriend. I have made several shirts, mother's day presents and even some shot glasses with it.
Recently we have been working on decorating the house and getting things to feel more like "our" home. The other half has lived here for over a decade, but we will celebrate our first anniversary next month. With two kids, three dogs and full time jobs, it's hard to find the time to devote to house improvements and interior design.
So slowly I have started DIY projects with paint, canvas, odds and ends, and have started the decorating. The paint and improvements might not be able to happen just right now, but that's not going to stop me from getting decorations started. My hopes are that once some of the decorations and stuff is done, it will motivate us to go ahead and spend a weekend to paint the house, and go room by room. It's the thought that counts, right?
Anyway, the plan is to paint our en suite bathroom Gators blue, and accent it with orange. We are big Florida Gator's fans, and in fact the "decorative" towels that hang in our bathroom on a regular basis are Gator themed. Since that paint job is a goal in the near future, I wanted to make our trash can match. I started Googling, and searching Amazon for Gators trash cans and soon realized that I wasn't going to pay the prices they wanted for them.
Instead I went to Wally World, and bought a four pack bathroom essentials set for under $5. I got my trusty Cricut out and went to work. The decal that I made for this trash can, is actually two separate layers. It's actually one of the first projects I had ever done that involved more than one layer. It took a little determination and several attempts to get the orange to line up and lay just right, but it was worth it. It may not be perfect, but we like it. It will match the bathroom perfectly when I get done painting it. Which I have been threatening to do for the last couple of days with all the rain we have been getting.
Now that the trash can is done, I need to finish the rinse cup, soap dish and toothbrush holder, so they all tie together and match.
This is one of the things that I love about the Cricut machine that I have, if I can think it, I can usually accomplish it. There are several other projects that I would love to share, just because of how I took simple and often times cheap things or stuff we already had laying around the house, and turned them into stuff to decorate the house with. We have two canvases in the living room that I have seen similar things online for ten or twenty dollars, and I made with Dollar Tree products and my machine. I made a sign for the she child's room, that took me about a day, because I used spray paint on foam dice and it had to take awhile to dry, but I put a total of $12 and on Crate and Barrel or similar sites, the wooden versions were fifty or sixty dollars.
The $250 for the machine, and the money that we have spent on vinyl, iron on vinyl etc, has totally paid for itself in the few short months that I have had it. I can't wait to create more things with it, and share it with y'all.
Sharing this, not only shows how easy it is to craft, but it is my hope that it encourages others to try their hands at crafting, when maybe they thought they couldn't do it before.
About the Creator
A lot of ramblings about kids, art, food, pets, life and work and trying to make it all make sense.
Feel free to laugh at me and the dogs on Insta @dirtfloorfamilyliving
Reader insights
Be the first to share your insights about this piece.
Add your insights