Supported By Lull
I Didn't Know I Was Sleep Deprived Until I Tried Lull
I was determined to get the best mattress for the best night's sleep possible. Then I found Lull.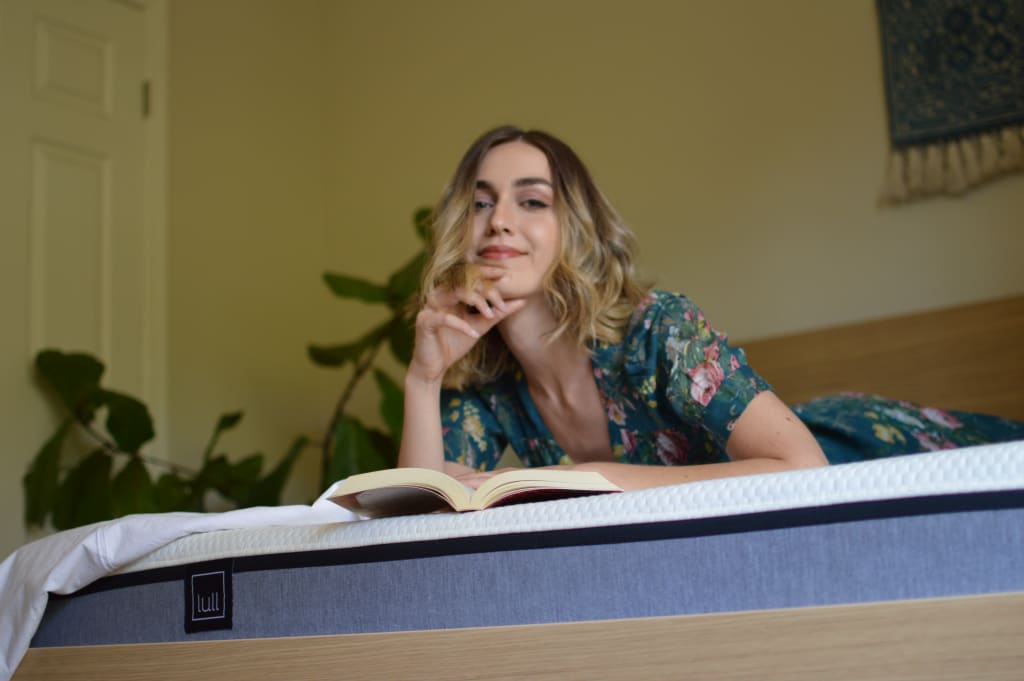 For the past few months, I've been feeling completely out of sorts but couldn't put my finger on the exact reason. The red flags were there; brain fog, grogginess, anxiety. It wasn't until my watch-style sleep tracker spelled it out for me that I realized: I wasn't getting enough shut-eye. On top of that, the quality of sleep I was getting ranked in the low, low digits. I know I'm not alone in the struggle to get great sleep. Sleep deprivation takes a toll on your health, happiness, and overall energy levels. In a constant virtual and homebound lifestyle, restfulness often takes a backseat to productivity. So, in an effort to upgrade my personal wellbeing and my sleep, I began the hunt for a new mattress. I was determined to get the best mattress to get the best night's sleep possible, so I did the research and read all the reviews on the best-rated mattress options out there. All of my research kept leading me back to one brand: Lull. After reading their raving reviews and hearing about how easy the buying process was, I upgraded to an Original Lull Mattress and couldn't be happier with my decision. Once I started sleeping on my new mattress, I knew with certainty that I was sleep deprived on my old mattress. Here's how my experience with Lull went.
For anyone who may be a little skeptical about the process of ordering a mattress online, don't be. Lull offers a 365-night in-home trial to decide if the mattress is right for you. This is especially beneficial if you're making the switch from an innerspring to a memory foam mattress. Oftentimes, mattress stores and companies allow for a 30-day period of adjustment and only a couple of minutes to feel the mattress in the store. With a 365-night trial, Lull allows you to truly make sure this is the mattress for you. If you still aren't completely satisfied with your new way of sleeping, Lull offers a 100% refund, no questions asked. . There was nothing that could put my mind more at ease than a year-long trial period and a hassle-free return policy. In short, the company gets customer service right (customer satisfaction is 95 percent with over 40,000 reviews!), and that, to me, was reassuring. I couldn't wait to give Lull a try! So I placed my order online and within only a few days, a brand new mattress showed up at my doorstep.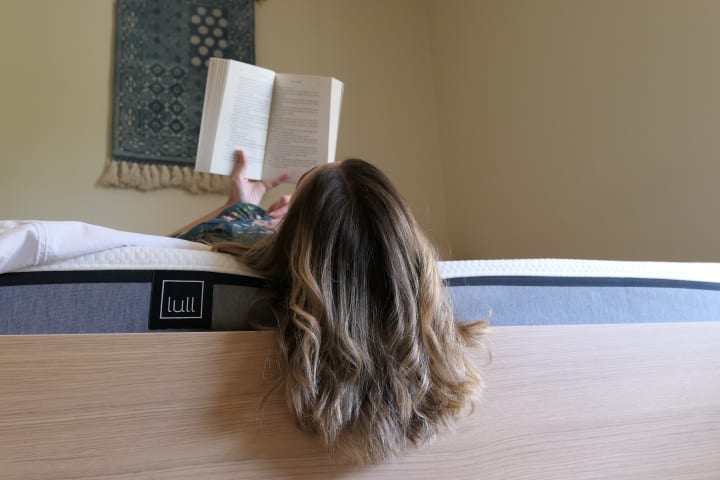 A few weeks ago, my stomach filled with butterflies as I heard a muffled thud outside my apartment. I immediately knew that the package I'd been waiting for was here (and it arrived so quickly!). A brand spanking new memory foam mattress from Lull. I opened the door to a compact box on my front step that stood less than four-feet tall. Yes, a beautiful mattress was tucked away in a neat box, thanks to Lull's nifty packing technology. It couldn't have been more convenient and completely beats the hassle of going to a brick-and-mortar store, transporting, hauling, and maneuvering a heavy mattress home. Not to mention, the delivery was free, contactless, and fast. It only took a few days for the solution to my sleeping woes to come to my rescue in a four-foot box on my doorstep.
With it's convenient handles, I moved the box to my bedroom, cut it open, pulled the mattress out, unfolded it, and placed it on my bed in only a matter of minutes. The mattress was compressed and protected in plastic wrapping which allowed it to be in such a small box. I cut the wrapping, peeled it off and watched the mattress expand , quickly growing into its shape. I couldn't believe how easy the unboxing process was! That evening, just a little past 10 p.m., I changed into my favorite pair of loose-fitting pajamas and, with much eagerness, climbed under my duvet. I felt that crisp, icy chill of slipping into a freshly made bed on a cool night — such a simple luxury — and instantly, the day's stress washed away. My Lull Mattress instantly began molding to the shape of my body like a much-needed hug at the end of the day. From the first time I laid down on my Lull, I knew my struggles with sleep deprivation were finally over.
Let me tell you a little more about how Lull has cured my sleep deprivation. Their mattresses are made with advanced sleep technology and three layers of the highest quality foam. These three layers work together flawlessly to guarantee your best sleep EVER. The base, a 7-inch foam foundation layer, is sag-proof, substantial and specifically made to last for many years. The top 1.5-inch layer is a gel-infused viscoelastic layer, which is designed for maximum breathability. It works to pull heat away from your body and increase airflow, while conforming comfortably to your curves. I felt this effect in play immediately. Sleeping on my old, battered mattress, I would often be flush with undulating waves of heat and struggle to find the right sleeping temperature. Lull has done a great job at regulating my body temperature and keeping me cool throughout the night.
Sandwiched in between the top and bottom layers is the proprietary foam layer, which is designed to provide your body support and proper spinal alignment. As someone with spinal stenosis, a mattress that supports and takes the strain off my back is really pivotal to a good night's sleep. Unlike most mattresses, my Lull has kept my weight evenly distributed, so I never get that "sinking" or "stuck" feeling that's usually a big concern with memory foam. This stayed true throughout the night as I shifted positions and rolled on my back.I also love that my Lull has an excellent ability to distribute motion, which is ideal if you have a pet or partner that gets up/moves around in the middle of the night. My dog always jumps on the bed at night, and quite often, that's enough to wake me up — even though she's light as a feather. But Lull addresses the issue of jumping pets and restless partners. It isolates movement so you don't feel your disruptive furry bedfellows or night-owl significant other crawling into bed after a Netflix binge. If you don't sleep alone, you'll find that point particularly appealing. I know I did. First impressions? I was smitten.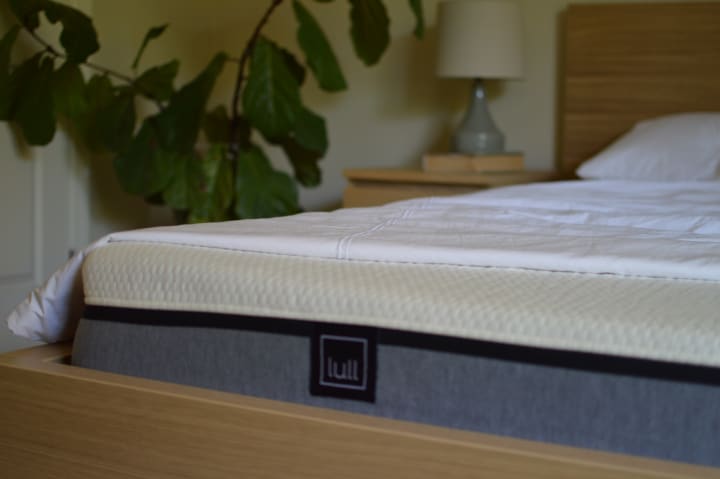 When it comes to finding the right sleeping surface for your body & sleeping habits, mattresses are so personal. Finding the right one for you is often like weeding through date after date for "the one." There are so many options, and everyone's level of comfort and sleeping preferences are so vastly different. Factors like weight, musculoskeletal health, and body temperature can have an impact on what kind of mattress will offer you the best sleep. Just as importantly, your go-to sleeping position comes into play as well. I'm a stomach-sleeper for the most part, (though I will often roll over to my back and sometimes end up on my side) which made Lull a perfect match for me. Lull's topmost gel-infused layer is the perfect thickness paired with the base layer, which offers me enough support when I sleep on my stomach.
I've been sleeping on my Lull Mattress for a few weeks now, and every night has been more restful and restorative than the last, which is what your sleep should be like. After all, this is the activity we spend one-third of our lives doing. Yep, let that sink in! With all the wealth of science that reaffirms just how critical sleep is for our overall health and well-being, it's important that we pay attention to not just how many hours we sleep, but how well we sleep. Having a solid, perfect-for-your-body mattress may mean the difference between a night of rollin', rolling' rollin' and a fulfilling snoozefest that'll energize you for the day ahead. I have started to notice different areas in my life improving since I upgraded to my Lull. Not only am I no longer sleep deprived, I also feel more motivated and have noticed a positive difference in my overall mood throughout the day. Looking back, I laugh to myself thinking about how easy and impactful this life change as. Something I would say to my younger self? Upgrade to a Lull Mattress now!
About the author
Hi, there! This is Mari. I'm a journalist based in Los Angeles. I'm a lover of all things design, fashion and food, and I can never pass up anything topped with shredded mozz and a scattering of basil.
Reader insights
Nice work
Very well written. Keep up the good work!
Top insight
Easy to read and follow

Well-structured & engaging content
Add your insights