I Can See The Future (And It's So Bright!)
Create your own happiness in the present moment AND the future with a vision board.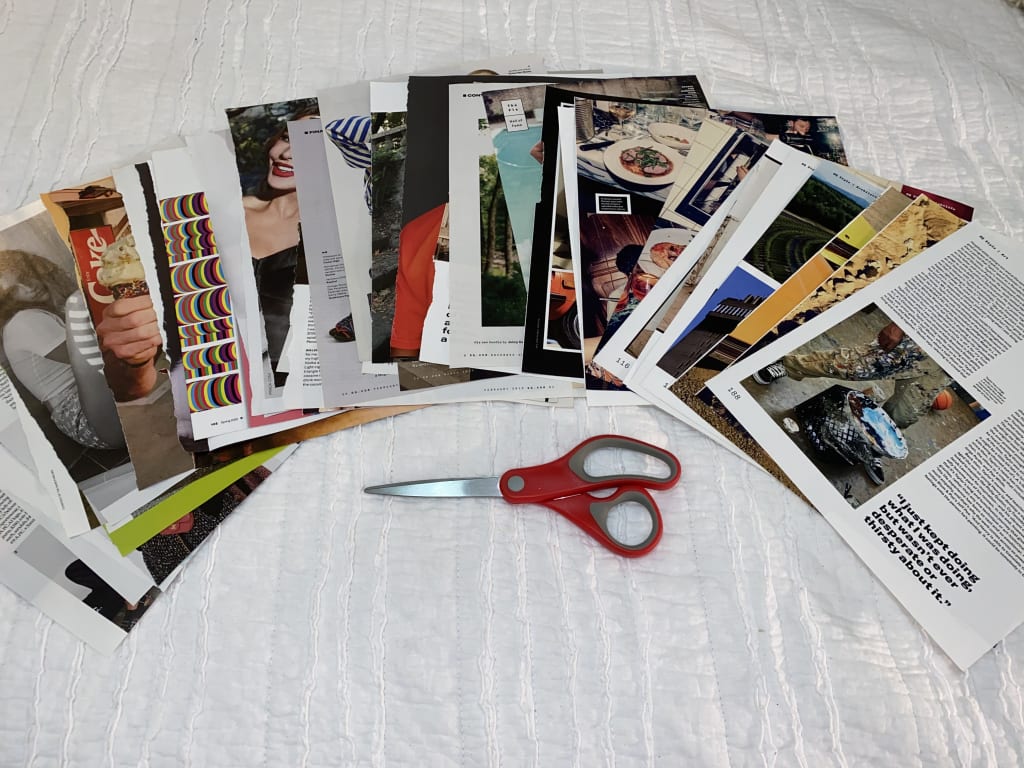 Did you know you can make your fantasies become your reality by thinking about and visualizing yourself already having the things you want most in life? It's a technique I use every day called manifestation, and I'm going to teach you how to do it.
What is manifesting?
Manifesting is making use of your mind, the Law of Attraction, and gratitude to draw your deepest desires into your life. First of all, you must get really, really clear on your goals. The universe is always trying to give you what you want, but if you're constantly switching up ideas, it won't understand what you're saying. I like to ground myself through meditation each morning, then daydream about the things I'd like to achieve while I stretch on my yoga mat.
Next, use the Law of Attraction to begin to draw these ideas to you. The Law of Attraction is one of the laws of the universe that states you can attract whatever you want into your life by vibrating at the frequency of your desires. So, if you want love, you must open yourself up to love by loving yourself first! You attract what you are. If you want money, you have to open yourself up to receive it and be confident that you are already your most abundant self.
Whether you know it or not, you've manifested every single thing that exists in your life right now. Look around... What are you? The things you think about become your reality.
One craft that helps me with my manifestations is a vision board. A vision board is a collection of photos that spark inspiration in you. These photos represent an aspect of the life you want for yourself and include things that light that fire and passion in you. Vision boards are amazing for a few reasons:
The tingly feeling you get while envisioning yourself living the life you've created on paper is the key. Hold onto that positive feeling and carry it with you throughout the day and watch what happens. (Hint: it's magic.)
The deeper understanding that the desires, wishes, and goals you've included in your project was created by something vulnerable and honest within you that should be honoured, and you should be proud every time you look at your finished vision board.
Carving out the time to plot your future and imagine your best self is a really special way to participate in an act of self-care. They're also super fun to make and they get your creative juices pumping.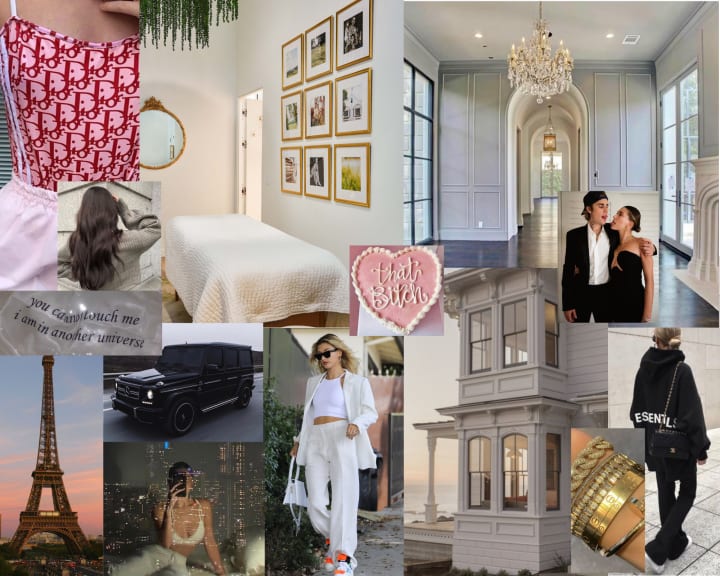 As you can see, I've included the Eiffel Tower because I am manifesting a girls trip to France, I put the blacked-out G-Wagon in there for obvious reasons, I've got my dream home by the beach, the Cartier bracelets, and Justin and Hailey Bieber simply because I love their aesthetic together and her style is unmatched. Each time I open my laptop this is what I see. I stop to take a moment to picture myself drinking my morning coffee on the porch of that beach house.
Making a vision board the old-school way by cutting up magazines and finding their perfect placement on a canvas you can hang somewhere you'll see is every day is much more personal however, which really gets the energy where you need it to be. All you need for this craft is some magazines or photos you found online that you've printed off, scissors, glue, and a posterboard or canvas. Find photos of the products you want, the clothes you want to wear, the types of people you want to attract into your circle, the quotes that make you think bigger.
The best part is that you can get as creative as you want with this project! There are no rules. This is all about you and only what you find attractive and want to bring into your life.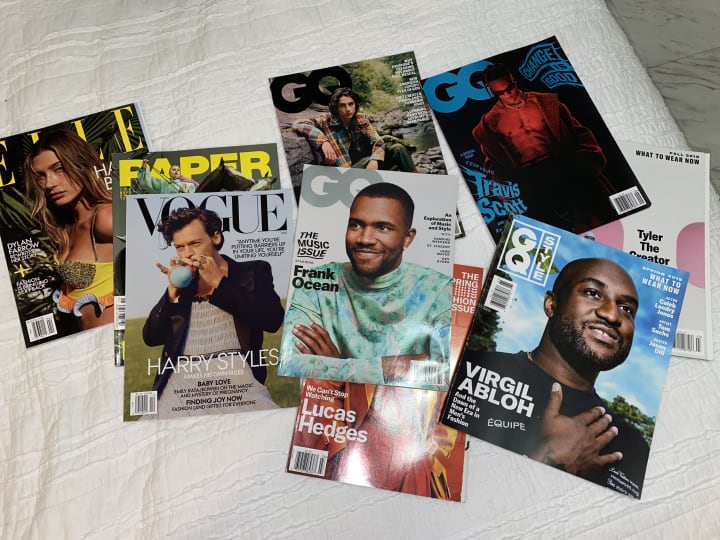 I have a deep love for magazines so I almost shed a tear while cutting up these gorgeous pieces of artwork... but my mentality is like... When I'm rich and successful, I'll just be able to buy even more magazines, right? Right.
Spend some time flipping through your old magazines. I mean, really spend some time here. You've got nowhere to be but here in the moment. Light some candles, put on your favourite music, make your favourite snack. This is your special me time, babe.
After you've cut out your photos, place them in an arrangement that makes sense to you. It doesn't have to make sense to anyone else and it probably won't anyways, so don't worry. Just dive into those good vibes and really imagine yourself attaining everything you glue down. Picture it like your goals are locked and loaded once it's glued to the posterboard.
Here is my final product and yes, that's a kitten with mushrooms floating around using a Cartier bracelet as a halo. Like I said, there are no rules: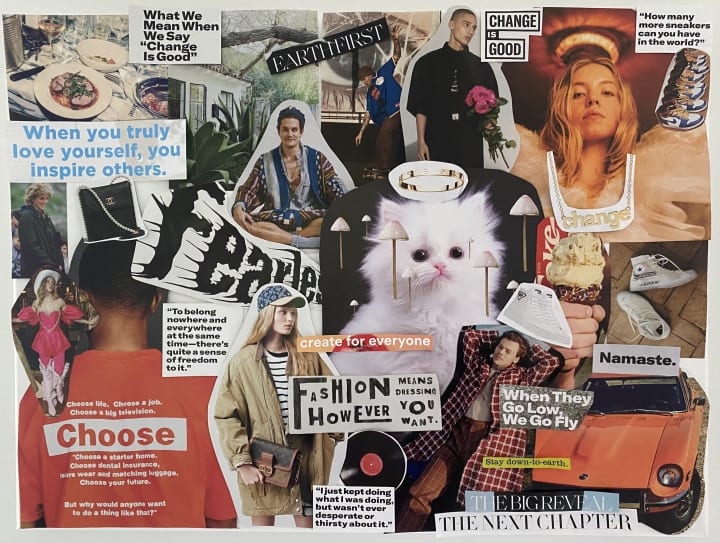 For me right now, a big theme in my life is change. I've included quotes like "CHANGE IS GOOD" and I found a photo of a necklace that I now very obviously need that says change on it, too. I am also manifesting new sneakers, a new wardrobe, a zen John Mayer, sharing delicious meals with friends, a dreamy home surrounded with plants, skater boys bringing me flowers, and embracing the next chapter or "THE BIG REVEAL."
As you can clearly see, the vision board I made today has a completely different vibe than the vision board I made for my desktop photo only a few months ago. It is so wild to witness how my desires change as I continue to grow. Looking at this vision board, I'm seeing someone who is becoming more present, someone who is celebrating living in the now and is more focused on the smaller things, which are equally as beautiful as the big things, if not more. Whereas my previous vision board is ultra materialistic (and that's okay), this vision board is about embracing change. That's interesting.
So... what do y'know, you might even learn a thing or two about yourself by making a vision board. This craft is a really special way to create your happiness in the now because you become focused on yourself and your heart's true desires, and when you envision yourself living that life and match its frequency, you're creating happiness for your future, too. You're double winning, and that's when the magic starts to happen; that's when the universe starts making moves in your favour.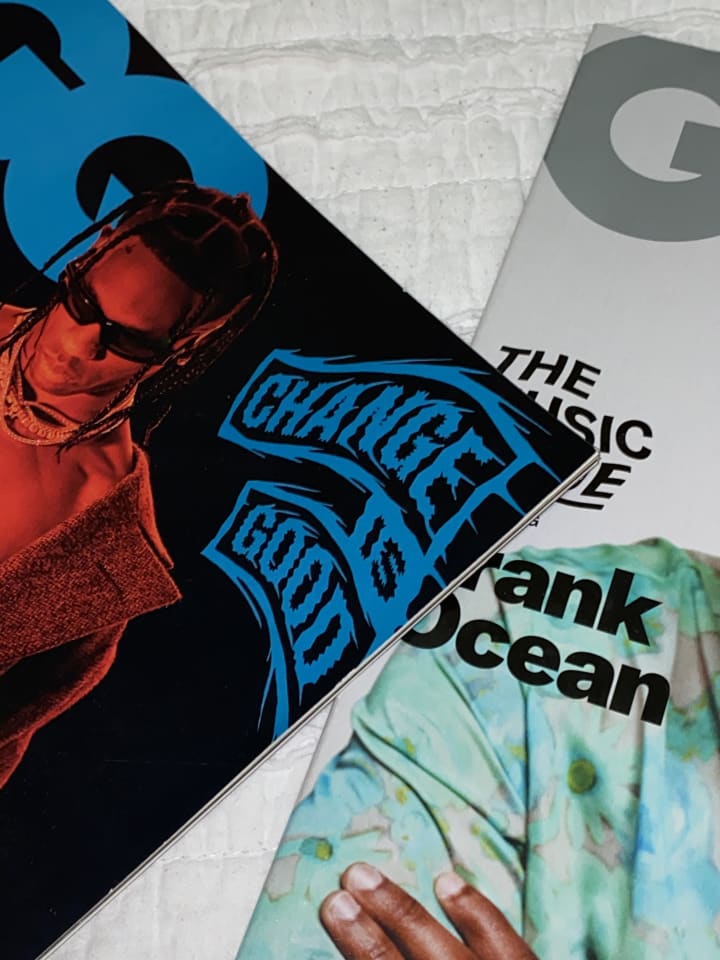 The last step of manifesting is the most important. It's all about having gratitude for the things you already have in your life. Being grateful for your surroundings, your friends, family, the food in the fridge, the roof over your head, your health, wealth, and happiness—showing appreciation for it all ensures the blessings will keep coming. When you are vibrating from a place of gratitude, you are vibrating at the highest frequency of pure love and abundance.
Once you master gratitude and fully believe that you deserve all this goodness, you must let it go and have full faith that your blessings are on their way to you. Your life will rapidly change as you continue to bring positive energy into everything around you.
There is one more rule of the universe I want to leave you with, and it's this: What is for you will never miss you. If you're manifesting something and it's not coming, don't force it. What is meant to be will be, and perhaps it's still coming, but the universe will only give it to you when you're ready for it. So, if you're manifesting but you aren't actively working on healing yourself or taking baby steps towards these goals, your manifestations will take longer to get to you. Taking action = manifestation.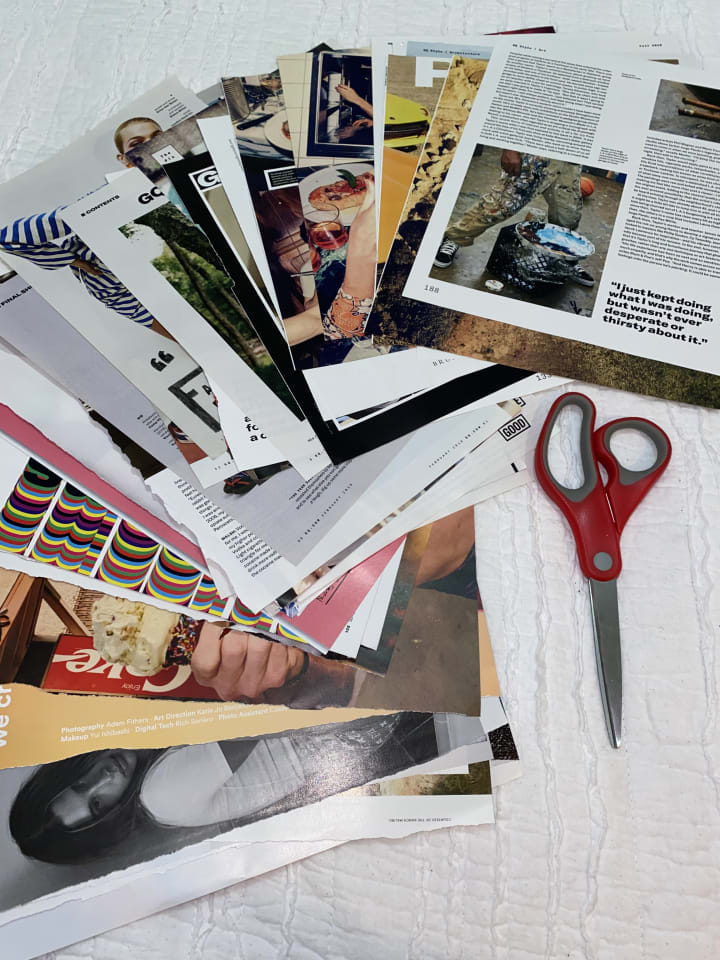 Everybody deserves to live their happiest, most abundant life. Telling yourself anything otherwise is only feeding into the lies that have been programmed into your subconscious over time whether it be from society, the patriarchy, unhealthy relationships, or even advertisements you've seen on television. Flip the script and believe you deserve it, because you do. I mean that.
Go get that dream life. Happy manifesting!
Hey, thanks for reading! If you enjoyed this story, let me know by dropping a like. Tips are always greatly appreciated. Cheers!
crafts
Freelance writer in Vancouver, BC.
Instagram: @babybix
TikTok: @jessbixby