I Bought My $3,000 e-Bike With a Credit Card. Should You?
It depends on your credit score and cash savings.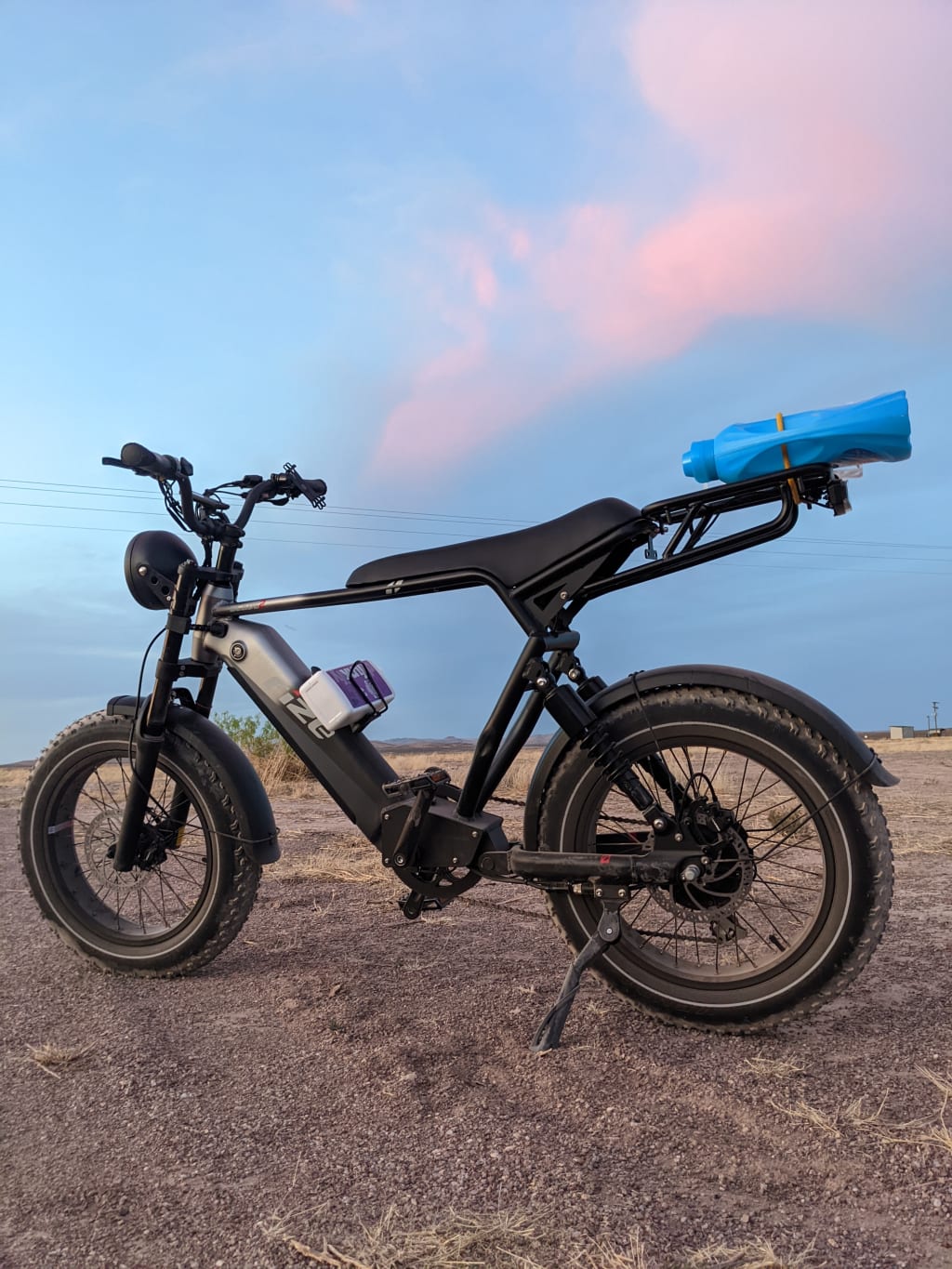 Hardcore bikers won't blink twice at shelling out $12,000 for a mountain bike with no motor. But, for your everyday hobbyists, even $1,200 is much too high for our budgets. Nevertheless, if you're considering an eBike, that's the bare minimum.
So, how do you find the credit or cash to pay thousands of dollars for an eBike? Well, I used my credit card. Should you?
Why Did I Buy My Bike With a Credit Card?
Ideally, I would not have funded my bike purchase with a credit card. But, when the decision came down to using the card or not having the bike, I chose the former. The original plan was to finance the eBike via Affirm or Klarna. Most sellers have this option on their websites.
So, what was the issue? Because I travel full-time and maintain four legitimate residential addresses, the companies could not verify my identity. Consequently, they approved me three times but then flagged me as suspicious and rejected the order at the final purchase stages.
Every.
Single.
Time.
It was frustrating―to say the least―and prompted me to consider my other options. Before we get into why I chose my credit card, let's look at all other potential options.
How Can You Finance an eBike Purchase?
If you happen to have $3,000 lying around to spend on a bike, kudos to you. This post is for people like me who might have the money but need to spend it on more necessary expenses―such as building an eco-dome in the middle of nowhere. It's also for people who might not have the cash at all. Consider these options.
1. Klarna or Affirm
I looked at about 20 different eBike manufacturers and seller websites. Most of them allowed you to finance your eBike for 4 to 24 months via Klarna or Affirm. Some boasted interest-free offers, while others did not.
The ones that didn't offer 0% APR didn't advertise their interest rates. After applying, Klarna offered me a rate of 4.5% before flagging me as suspicious.
2. Personal Loan
When Klarna denied me, it told me that my credit score was 750. I figured I could get a decent personal loan rate online with a score that high. I started shopping around with Credit Karma, but the interest rates were still much higher than the 4.5% Klarna had initially offered me.
The best offer came from LendingClub. It offered an APR of 10.67% and 36 monthly payments of $93. If you have a higher score, you might get much better rates.
3. Balance Transfer Credit Cards
A high credit score also means I qualify for balance transfer offers with extended promotional periods. Credit Karma offered me 0% APR on cards for up to 18 months. Some had a 0% purchase APR for the same period.
These were great offers, well worth considering. Nevertheless, I chose not to apply for a new card and will explain why later. However, you should look into this if you don't have other options.
4. Working Capital Loan
One of the great things about being a self-employed digital nomad is the gear I can write off as company equipment. My RV, for instance, is my mobile office. An eBike would be part of branding as the outdoorsy adventurer, so I checked good old PayPal for a working capital loan.
Unfortunately, I haven't been paid through PayPal as much this year, and that's the only information it uses to qualify you for a loan. There is no credit check and no monthly payments. It simply withdraws a predetermined percentage from each payment you receive from clients.
When Should You Use a Credit Card to Buy an eBike?
I cannot, in good conscience, advise anyone to buy a bike with a credit card. It's a terrible idea for most people. But, it was an excellent idea for me. If your finances also share these traits, it might work for you:
You would like to get travel miles or cashback rewards for such a big purchase.
You have cash saved that you can use to pay off the loan if the interest rate catches up with you or gets too high.
You have a credit score of 700 or better, so you can find more suitable credit options later.
You intend to write off the bike for tax purposes. Note that Biden's proposed Build Back Better tax plan could give you back up to $900 on your purchase for an eBike under a $4,000 price tag. Check with your state or local government to see if it has any existing programs.
Before the next billing cycle, you can reasonably expect to take advantage of a 0% APR offer from your existing credit card companies.
In my case, I received a 0% balance transfer offer for an existing credit card within a few days of making the purchase. No credit check, no income information required. In other words, I have 12 months to pay off my bike with 0% interest, but I did pay $150 for the transfer.
How Do You Set a Reasonable Budget for an eBike?
To determine a reasonable budget, let's compare a high-end bike to a budget option. There are super expensive Trek bikes that cost as much as I paid for my tiny home on wheels. We won't get into those because, ironically, the specs are not always that great. Instead, we're talking about everyday high-end bikes that give you value for your money.
Rize Blade 2
Here's what $3,000 bought me from a Canadian-based company. I own the Rize Blade 2:
Exceptional customer service and local support from Native English speakers who know bikes and love their product (I've called them twice!)
Fast shipping (My bike arrived in about three days!)
1000-watt motor
Full suspension
Bright headlamp
Taillight that brightens when I brake
Class I, Class II, and Class III capabilities
Max speed of 32 mph when unlocked
Premium look and a motorbike style
Built-in cargo rack
Keyed lock on the battery
Phone holder, horn, and mirror bundle upgrade
Lectric 2.0 and Lectric Lite
On the opposite end of the spectrum is a Lectric Bike. The Arizona-based company sells its eBikes for about $1,000 and recently released a Lite version that retails for about $799. You also get excellent customer service from a US-based team.
However, the bikes have a 500-watt motor, are not as stylish, do not go nearly as fast, and have no rear suspension. They do have a small headlight and taillight and you can upgrade to suspension seats. The best thing about the bikes is that they fold and are easy to take with you. These are great for casual riders.
Other eBikes
I will add that Lectric is an outlier in this price range. The standard prices I have seen for a good bike from a North American company are roughly $1,200 to $1,900. Here are some other companies I looked at and would recommend:
Gen3
Doheny
RadPower
Nireeka
Some of the Asian brands had terrific reviews. However, I prefer to buy something North American. When my folding bike broke, the issue was a simple fix. The problem was no U.S. bike support and no way to find the right parts. I don't ever want to experience that again, but the risk is yours to take.
One thing to note is that a bike brand isn't good solely because it's North American. For example, I was intrigued by the Wing Fatty 2. The day I was supposed to buy it, I started scrolling through online forums. The reviews and complaints were awful and turned me away.
How Can You Get the Best Deals on eBikes?
Most companies had good deals when I looked at eBikes in March. That's because spring is usually biking season, and people are often looking to replace or upgrade their old bikes.
Beware of sneaky companies, though. I watched one company raise its bike prices by $100 and then offer a spring sale. So, essentially, you were paying the same price for the bike anyway.
If you want good deals on used bikes, try checking in the fall and winter, when people might feel more willing to part ways. You can also find good sales on brand-new bikes for Black Friday and major holidays.
After looking at eBikes for 18 months, I recommend following as many of them as possible on Instagram. They all post their sales there. Then, sign up for their newsletters. Some companies will even give you a coupon for doing so.
The Bottom Line
If you're trying to beat these record-high gas prices, an eBike is a great way to do it. I got one that was fast and powerful with full suspension, so I could ride it to the store and offroad in the desert.
Consider what your needs are before deciding which one is right for you. But, if you want the best of both worlds, I highly recommend the Rize Blade 2. Happy riding!
Did you like this article or find it helpful? Feel free to pledge or tip me, so I can keep writing more like it!
Reader insights
Be the first to share your insights about this piece.
Add your insights