How to Throw the Ultimate Casino Theme Party
Casino Theme Party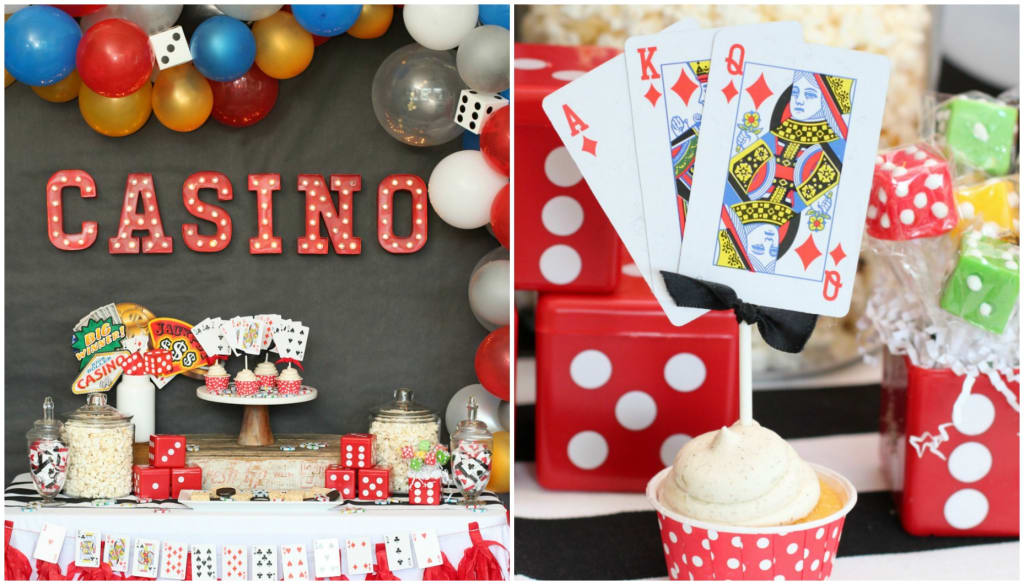 An event demands something extravagant, happening, and thrilling to keep you and your guests on your toes. What could be a greater concept than bringing Las Vegas casinos to you? You can make your bridal shower, bachelor party, birthday party, or any other occasion come to life.
A casino themed party can never go wrong. But to put together a casino theme party, you need much more than just a deck of carks and dice rolling around. Hiring event planners who are professionals at putting up a casino royale theme party is the best method to accomplish this flawlessly.
However, if you have enough time and want to do things yourself, this is the post for you. We've put up a guide with tips, party ideas, and activities that you can enjoy while raising funds for a good cause.
How to decorate for a Casino theme party?
To have a themed party, you must create an atmosphere that feels like an actual casino in an attempt to thrill your guests. If you've been to a casino, you probably know what kind of mood it should have, and for the specifics of a casino (that you might not have noticed when visiting one), read on.
1) Use traditional colours
When you think about casinos, the first thing that comes to mind is the colours: black, red, and white. As a result, your whole colour scheme should revolve around experimenting with these precise colours. But don't forget about green (the colour of money), which will assist you in balance and lighting up the entire space.
2) Turn the party into a time machine
No, we don't mean that you create a time machine; instead, we recommend that you theme your party around the 1920s. This will transport your guest back to a time when entering a casino was prohibited, adding to their excitement. Don't forget to tell them to dress appropriately.
3) A red carpet is necessary!
Treat your guests to a VIP experience by setting down a magnificent red carpet. Add a velvet rope, a spotlight or two, and a photographer to make an A-list arrival. It will undoubtedly be the most thrilling method to get to the party.
How to add more fun and games to the party?
If the party becomes dull after a particular amount of time, all of your efforts will be for naught. To keep everything going, you'll need engaging games because they're the focal point of any gathering. It is difficult to obtain a slot machine for rent, and obtaining one on your own might be quite costly. However, you can definitely add it to your party by a casino party theme hire.
1) Table games
What good is a casino night if there are notable games? Blackjack, roulette, craps, and baccarat are some of the most popular games you may play with your pals. You may set up these simple games and start with a helpful sheet where they can learn the basics before playing.
2) Poker
A poker game is a must-have for any casino-themed party. If your guests are already familiar with the rules and how to play, they will have a good time till the end. And the guests who didn't how to play will realise how excellent they can be while maintaining a poker face.
3) Bingo
Make your guests play bingo if you want to balance out the enthusiasm. This game is playful, and it will undoubtedly assist you in providing your guests with a relaxing environment while also allowing them to have fun. This will provide them with a respite from the fast-paced games.
Which foods and beverages would be ideal for a casino-themed party?
You can't expect your guest to enjoy themselves while they're hungry, can you? An excellent party should without a doubt have the best cuisine available. And if it's a themed party, as a host you need to make sure the menu suits the mood.
1) Appetizers
Begin with a variety of small bites as the guests play table games and try their luck at poker. You may serve them yourself, enlist the assistance of friends, or employ a waiter. Lighten things up with cheese and crackers, finger appetisers, or savoury tarts.
2) Buffet
Rather than a sit-down menu, most casinos provide a self-service buffet where guests may assist themselves and enjoy their meals. This will assist you in sticking to a few items such as sandwiches, pretzels, nuts, salad, and so on.
3) Casino themed dessert
Even if you don't provide themed snacks, your dessert table is a great opportunity to experiment with your casino theme. To add some visual flair to your sweets, make your own DIY playing card cupcake toppers. Icing may be used to turn brownies into dominoes, while filled cookies can be used to make poker chips.
We hope that this guide will assist you in planning an unforgettable casino night for your special occasion. However, if you are short on time and want to host a party that will be the talk of your town, leave the job to the pros. They will assist you in creating your casino themed party from the ground up.
Reader insights
Be the first to share your insights about this piece.
Add your insights