How to Snack, Italian Style
With similarities to tapas, happy hour, or even a buffet, aperitivo brings people together.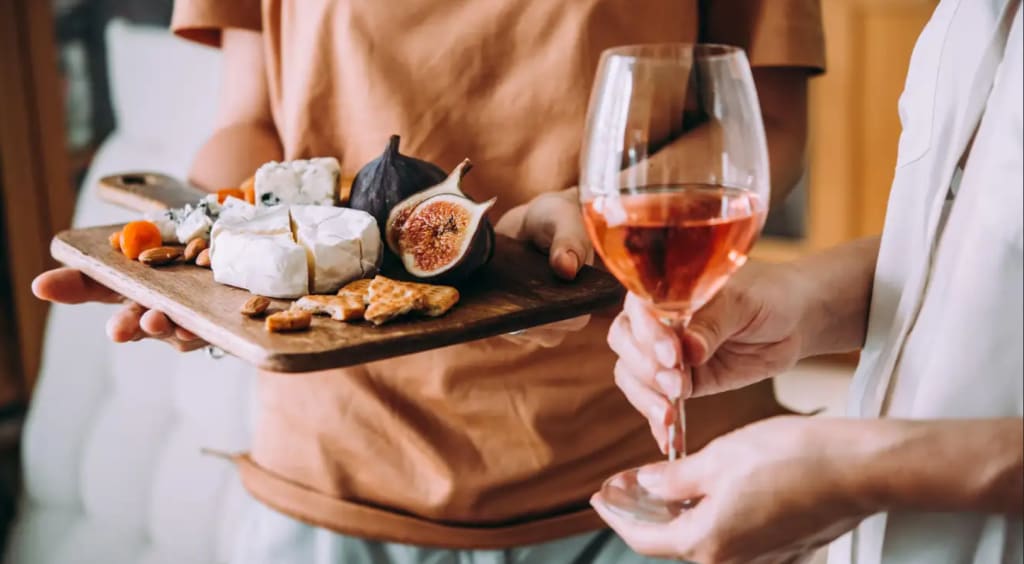 Been to Italy? Or know someone who has? They probably talk about aperitivo. It's a tourist rite of passage, well known by students who just got back from their first semester abroad and seasoned travelers alike. With similarities to tapas, happy hour, or even a buffet, this uniquely Italian tradition brings people together after work, and in some extra leisurely instances, after lunch.
While it can be heavy on meats and cheeses, aperitivo is more than a cheese plate or a charcuterie board; it's a mood, a lifestyle. In big Italian cities, there's a culture to it, one of opening up the appetite before dinner, a snackiness that you can amplify to match your hunger, or the timing of your dinner reservation. You can even do "apericena," and eat enough free bites to call it dinner, if you're feeling extra frugal.
Aperitivo is as old as Ancient Rome, but evolved into its current incarnation during the Industrial Revolution in Northern Italy. Aperitivo today is usually a free-with-purchase exchange, where a small bite like arancini, mini sandwiches, or a cheese and preserved vegetable-laded spread is handed to you upon ordering a drink. You'll spot everyone's favorite Italian classics in hand, like the Negroni, Aperol Spritz, and Americano—all traditional appetite-opening drinks served in huge quantities in the bustling squares, especially those of big cities.
In the United States, it's rare to encounter aperitivo in its true form. Instead of a free-item-with-drink-purchase, you get a bill for everything you order, right down to the tiny bites. Pound for pound of prosciutto, if you want to recreate or adopt the magic of the "appy hour,"' it's cheaper to do it at home. Make it easy by preparing everything ahead of time, then pull it all out when folks start to show up. Let them snack and sip while you finish up dinner, or let just let the snacks serve as supper.
Begin with the beverages
Bitter bevs set the tone for a bigger meal; Italians believe this palate shock opens up your appetite for more food. By all means, spritz up your life as spring arrives, but don't settle for Aperol if that's not your thing. Swapping Aperol for Campari gets you a more bitter blend, while fortified citrus wine has a lower-ABV, but feels spiritually aligned with the spritz. You can also exchange fortified wines for Campari in a Negroni. Play around with it, until you settle on your signature aperitivo cocktail.
Don't imbibe? Worry not. There are plenty of Italian options for you too. Nonalcoholic drinks like Ghia or Sanbitter mimic the flavor profile of aperitivo cocktails incredibly well, with herbal notes similar to those found in complex Italian liqueurs, but without the booze.
Manage your meat costs
When purchased all at once, a cheese plate, charcuterie board, a few little fried things, and perhaps a little sandwich or two is going to cost over $100 at most restaurants in America. That's before you order a drink, which are often $16 to $20 a pop in this writer's city. For the cost of a tab for two, you can serve four to six people at home in high Italian style.
While four ounces of prosciutto can run $16-$20 at a restaurant, you can get a full pound for that much at the local butcher. Pistachio-speckled Mortadella on a simple bread is another staple aperitivo bite, and just like prosciutto, the fancy bologna is much cheaper when purchased at a grocery store. Even vegan cold cuts and analogues cost less in the shop than in the street. Design mini sandwiches and meat boards to your dietary preferences, tastes, and budget for best results.
Count on sheep's milk cheeses
Aged pecorino is a great grated cheese, but there are other ages to consider. Younger pecorino is moist, milky, and sweet, and pairs perfectly with fatty meats like mortadella or soppressata. Sharp and salty mature pecorino isn't just for spaghetti; it melds beautifully with fruits like fresh strawberries or dried apricots better than any cheddar.
Cheese plates are one way to serve formaggio, but you could also skewer up blanched veggies and cheeses for an elegant crudite, slice it thinly on plops of jam for bruschettini, or create a spread with fresh milky cheeses like ricotta, traditionally also made from sheep's milk, or stracciatella for the moo variety.
Whether it's dwelling on the inside of a rice ball or shaved generously on top of panelle (a type of Sicilian chickpea fritter), cheese is everywhere at the aperitivo. Tu vegano? Recreate the cheesy spirit with funky pickled veggies, or bold spreads like vegan bagna cauda. Also, it never hurts to add acid; squeeze fresh lemon onto anything fried for zippy seasoning in a flash.
Little fried and grilled foods are how Italian southerners do their own unofficial aperitivo, from the above mentioned panelle (chickpea fritters) and arancini (rice balls) to potato croquettes, dough balls, artichokes, and especially offal. Mini calzones, scaccia (rolled pizza breads), and other bready treats are spread with red sauce and cooked hot and fast.
One perfect small bite you may not be familiar with is mozzarella en carozza, a breaded and fried grilled cheese, sometimes served with anchovies tucked inside. To make it, make a mozzarella sandwich with white bread and dredge it in egg and breadcrumbs. Fry it up and enjoy with a bitter soda called Chinotto (to help stay hungry for the next snack).
There's no deal better than the real Italian aperitivo, but until we have large piazzas dedicated to socializing and outdoor dining (or some relief from inflation), your lovely patio or porch will have to do.
Reader insights
Be the first to share your insights about this piece.
Add your insights