How to Make Your Home Water-resistant?
Waterproofing Company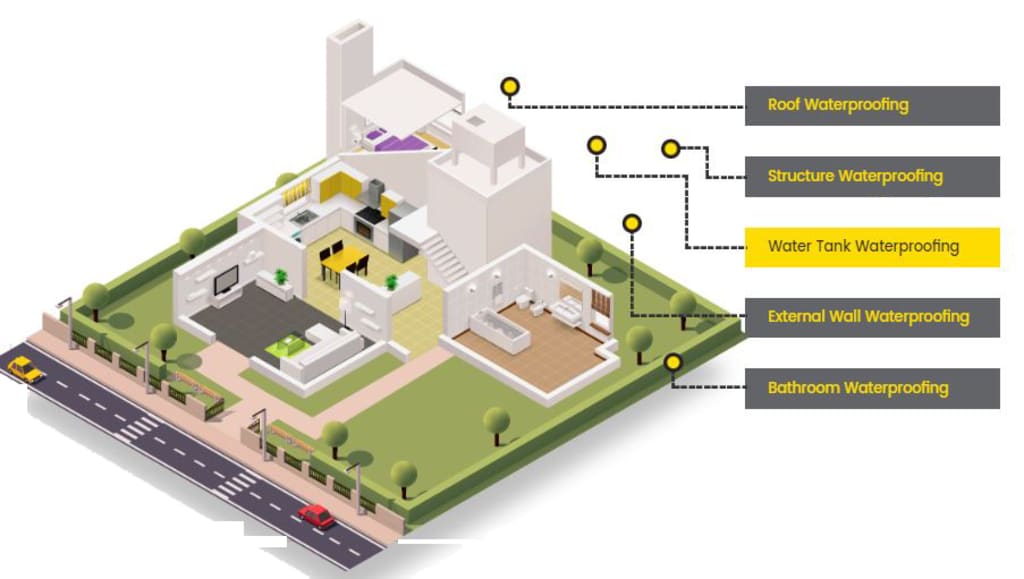 Water Seepage or Water leakage is a very common problem which the majority of Indian Households must have had encountered at some point in time. It damages the house. The impact of Water seepage is watermarks, blisters, bubbled paintwork on the walls and ceiling of the room. Through the Water Seepage moisture and dampness comes and it spread result in fungal and bacterial growth which in turn could cause various allergies. Water seepage generally generates by the floor and walls. Water leakage often takes place via holes, cracks, gaps, or air movement in the home. Some additional reasons for Water Seepage that cause flooding in the underground room are broken, clogged, or improperly installed drainage system, leaky pipes, leaking windows, sewer water backup, etc. We can face serious structural issues, such as foundation sinking or settlement, and ultimately by Water Seepage, its collapse altogether. For example, if the base of your home is wooden, the water will cause them to rot. The effect of Water Seepage can turn into expensive repair projects for homeowners.
Here, you can find different types of waterproofing
1. Cementitious Waterproofing:
It is usually rigid or semi-flexible waterproofing hence used at interior places such as toilets & areas not exposed to sunlight and weathering. Cementitious Waterproofing is very easy to use.
2. Liquid Waterproofing Membrane:
We find a liquid membrane in a form of liquid. We use liquid membrane by brush or roller. It provides us extra flexibility as compare to cementitious waterproofing. It is available on market at a cheap rate.
3. Bituminous Coating Waterproofing:
Bituminous coating waterproofing is flexible and protective against water that can be affected by polymer grades and reinforcement of fibers also called asphalt coating.
5. Polyurethane Liquid Membrane:
The polyurethane liquid membrane is used for flat roofs, which is exposed to weathering and has high ductility. It fills the crack, holes, and gaps in the roof. It has excellent mechanical strength. It is a good Waterproofing solution for the terrace.
6. Injection Grouting Waterproofing:
Injection grouting waterproofing, a low viscous injection resin for waterproofing application in small to medium infiltration used in bricks, concrete, and other structures like the basement, tunnels, etc.
7. Brick Bet waterproofing:
Brick Bet Waterproofing protects our house from Water leakages, Water Seepage, and dampness.
Advantages of Waterproofing
• Through Waterproofing then Water absorption can be decreased.
• Waterproofing gives us safety from the formation of cracks on the concrete floor.
• If you will use Waterproofing then the appliance is easy.
• Waterproofing will increase the lifetime of solid construction.
• It prevents corrosion of reinforcement.
• If you will use Waterproofing then the maintenance cost of the building will be decreased.
• The property value can be increased.
• Waterproofing supplies a healthy environment, good waterproofing system helps in making a clear living workspace.
• Waterproofing protects the property as well as the people present therein.
With so many options available, to make a home Waterproof, strong, and attractive. . Through a Waterproofing Company, we can make a home or shelter waterproof or water-resistant so that the Home remains unaffected by water or resisting by the Water Seepage. Waterproofing Construction protects us from water seepage. A variety of options are available in Waterproofing, We can use a Waterproofing system indoors or Outdoors.
So go ahead and take the services of Mahiinnovations to make your home waterproof and strong. You can visit the Website to know more. We are the Best Waterproofing Contractor in India.
With so many options available making a Home Waterproof, strong, and attractive. So go ahead and make a house with mahiinnovations. You can visit the website before making home.